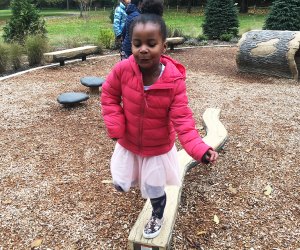 25 Family Staycation Ideas for the NJ School Holidays in November
School kids across the country are looking at abbreviated November schedules, but New Jersey kids have several holidays to look forward to this month. First up is Election Day, Tuesday, November 2, 2021. While not all schools are closed, many are off or have half-days. Many NJ school districts go a step further, taking the entire first week of the month off.
Of course, don't forget about Thanksgiving at month's end, when kids have off on Thursday, November 25, and Friday, November 26, 2021; some even have a half-day or no school the Wednesday prior, too. Yikes! That means more time off than the December holidays for some NJ school kids.
With that in mind, we've pulled together this list of 25 fantastic things to do to fill those days off. Lucky for you, dear parent, the approaching holiday season also means plenty of fun staycation activities. Read on for our top ideas.
Don't forget to find more fun in our Activity Calendar. It might also be a good time to check off one or two items on our list of 100 things to do in New Jersey with kids before they grow up.
OUR LATEST VIDEOS
2. Get Outside
Enjoy FREE or inexpensive programming at nature centers around the state: outdoor adventure awaits at Tenafly Nature Center. You can also visit the indoor complex at Watchung Reservation to see the mini aquarium, book nook, and more.
3. Go Hiking
Take a hike to take in the beautiful fall foliage.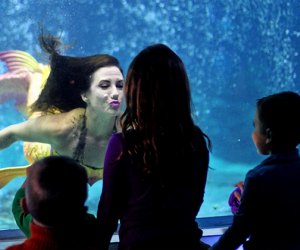 Visit the mermaids at Adventure Aquarium. Photo courtesy of the aquarium
4. See Sea Life
Meet a diver, see adorable little blue penguins, or visit the sharks at the Adventure Aquarium.
5. Hang Out at a Museum
Find a vacation-day mini camp at a museum.
6. Explore American Dream
This North Jersey mega-complex keeps adding kid-friendly features, like an aquarium and Legoland Discovery Center.
RELATED: Polar Express and Christmas Trains for NJ Kids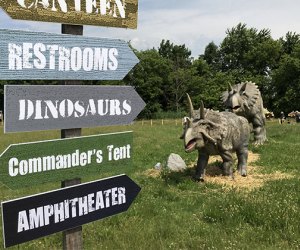 See the dinos before they're gone for the winter. Photo by Rose Gordon Sala
7. Go Back to Dinosaur Times
Play paleontologist at Field Station: Dinosaurs before the beasts pack it up for the winter Sunday, November 14, 2021.
8. Visit a Living History Farm
Go back in time to one of our state's living history farms.
9. Go to an Indoor Water Park
Pretend it's summer vacation while you splash about at one of New Jersey's indoor water parks like Sahara Sam's.
10. Head Downtown
Stroll through one of New Jersey's walkable downtowns. We're crushing on Hoboken and Verona right now!
11. Go Biking
Pedal your bikes along one of these NJ pathways.
12. Visit Legoland
Hit the road, and head to the brand new, mega-sized Legoland New York, which is open on weekends and select weekdays, including Thanksgiving!
RELATED: 10 Pennsylvania Getaways For Families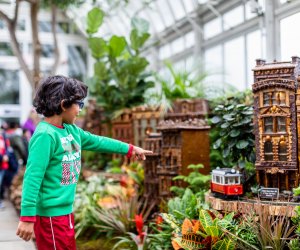 The NYBG Train Show opens in time for the Thanksgiving holidays. Photo courtesy of NYBG
13. See the Big Apple
Take a day trip into NYC to catch some of the best of the holidays in the city like the New York Botanical Garden's awesome train show, or just check off one of our 100 best things to do in NYC with kids.
14. Visit Van Saun Park
Ride the mini train or carousel at Van Saun Park.
15. Visit an Indoor Play Space
Drop-in for playtime at an indoor play space, like the brand new CAMP at the Garden State Plaza, The Village Play Cafe, or the FREE Disney Junior Play Zone.
16. Plan a Farm Trip
Plan one last farm trip before it gets too chilly. We've found 15 family-friendly farms chockfull of entertainment all across the state.
17. Go Down the Shore
Build a sandcastle or just stroll along a deserted Jersey Shore beach or boardwalk. Fall is one of my favorite times to visit the beach!
RELATED: CAMP Debuts New Hybrid Toy Store and Play Space at Garden State Plaza

Catch the Thanksgiving Day Parade. Photo courtesy of Macy's
18. See the Macy's Thanksgiving Day Parade
Pack the big kids onto the train to see the Macy's Thanksgiving Day Parade, which returns to the streets on Thanksgiving Day.
19. See Skylands Stadium Christmas Light Show
Pile into the car for the drive through the Skylands Stadium epic Christmas Lights extravaganza, beginning Wednesday, November 24, 2021.
20. Go to LSC
See the Paw Patrol exhibit—and the rest of the fun—at the Liberty Science Center. LSC is open on all the school holidays except Thanksgiving Day.
21. See a Show
Visit the renovated and recently re-opened State Theatre to get in the holiday spirit with a children's show like Rudolph the Red-Nosed Reindeer, The Musical, or Cirque Dreams Holidaze.
RELATED: Hit the Serene Columbia Trail for a Family-Friendly Hiking Adventure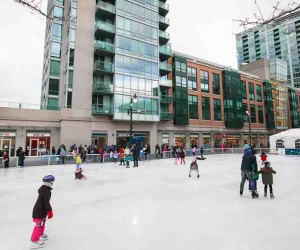 Newport Skates generally opens for the season in November! Photo courtesy of the mall
22. Go Skating
Glide over to an indoor skating rink, or bundle up for an outdoor one, like Newport Skates, which generally opens for the season in November.
23. Themed Eating
Go out to eat at one of NJ's unique themed restaurants.
24. See Disney on Ice
Join Mickey and friends on a fun-filled adventure in Disney on Ice: Mickey's Search Party, from Wednesday, November 3-Sunday, November 7, 2021.
25. Take a Train Ride
Board a Polar Express train for an early winter treat.
Looking for more? Check out our daily Events Calendar for what's happening in your neighborhood.
This post has been updated for 2021.