20 Car Games, Podcasts, and More to Keep Kids Busy on Road Trips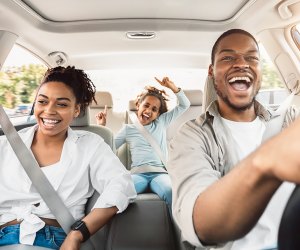 Whoever said getting there was half the fun has clearly never sat in bumper-to-bumper holiday traffic in a minivan filled with bored kids. If you are heading out on a road trip with kids this holiday season, check out this list of tried and true backseat entertainment options, including fun car games, engaging audiobooks, and the best podcasts for kids. From verbal car games to printable games to play in the car (and even a few surprises), this list will surely keep the kids busy while you drive over the river and through the tunnel.
Want to get out of town, but you need some suggestions for where to go? Check out our Guide to Weekend Getaways and Day Trips near you.
Games to Play in the Car for Kids and Families
1. The Animal Game
A happy distraction, this game always gets the conversation flowing. One person thinks of an animal, and everyone else has to try to guess what it is. You can really tweak the rules so that kids of all ages can play. For example, younger kids can get unlimited questions, while older kids can challenge themselves with a certain amount of "yes" or "no."
2. Twenty Questions
This classic car game will keep everyone entertained for a good chunk of time. The rules are simple—one person thinks of something, and everyone else gets 20 yes or no questions to try to guess what it is. If someone guesses correctly before the 20th question, that person is the winner and goes next.
3. Would You Rather
The premise is simple: One person presents two scenarios, and you have to pick the "best" one. For example, Would you rather stay your whole life as a child and live with your parents forever, or grow up overnight and immediately be on your own? Check out our list of 100 Would You Rather Questions to keep the game going.
4. Car-Ride Karaoke
Take a page from the popular James Corden show and host your own car-ride karaoke. Before your trip, line up a playlist of songs that will get the whole car singing along.
5. A My Name Is Alice
This is another one of those classic car games that the entire family can play. Players go through the letters of the alphabet while adding a feminine name, a masculine name, a geographical location, and an item that all start with that letter. For example, "A my name is Alice and my husband's name is Al. We come from Alabama and we sell apples."
RELATED: Road Trip Essentials to Keep Kids Occupied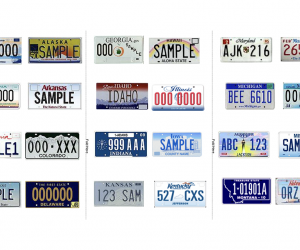 License plate bingo is one of those classic car games that can make the hours pass quickly.
Printable Car Games for Kids and Families
6. License Plate Bingo
License Plate Bingo is one of the most classic car games. Have fun searching for license plates from all 50 states on the other cars as they pass you by.
7. Travel Memory Game
This two-player game will put your short-term memory to the test. Give each player one minute to look at this picture. Then take the picture away and see how many objects each player can remember.
RELATED: Best Podcasts for Kids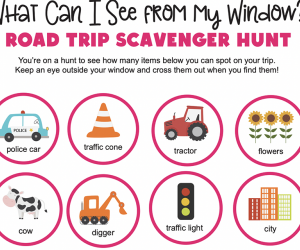 Search for vehicles, animals, street signs, and more during a road trip scavenger hunt.
8. Road Trip Scavenger Hunt
A road trip scavenger hunt is one of those car games that will entertain the whole family while gazing out the window. You can create your own personalized scavenger hunts, or download one of these from Fun-Loving Families.
9. Word Searches
Word searches are not only fun, but also a great way for kids to brush up on their spelling and vocabulary skills. Download some age-appropriate word searches, or go old-school and buy a word-search book!
10. I Spy
All you need is a highlighter and this printable to set the stage for some healthy competition along your journey. Have carloads of fun while seeing who can find the most items on their Road Trip I Spy game.
Best Audiobooks and Podcasts for Kids
From classics like Bambi and 101 Dalmatians to popular favorites such as Toy Story and Finding Nemo, the Disney Storyteller Collection is a treasure trove of car-ride entertainment. Each story features highlights from these popular movies and a mix of narration and songs so everyone can sing along.
RELATED: More Cool Car Games for Long Road Trips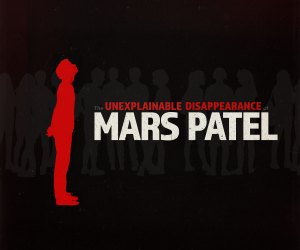 The Mars Patel podcast will keep tweens on the edge of their seats.
This award-winning serialized mystery podcast is perfect for tweens (although younger kids will enjoy listening as well). Mars Patel is a sci-fi adventure that is part Goonies, part Spy Kids, and a whole lot of fun to listen to!
Yes, this podcast is for children. But, don't kid yourself—the adults in the car are going to enjoy listening to it too! Story Pirates has a steady rotation of special guests ranging from Lin-Manuel Miranda to Lake Bell, making it one podcast that the whole car can agree on.
Based on the popular book Good Night Stories for Rebel Girls, this podcast tells entertaining stories about admirable and inspiring women.
The Storynory podcast is filled with a variety of classic stories, myths, and fairy tales that are perfect for kids of all ages, but entertaining enough for adults, too.
Surprises to Keep Your Kids Entertained in the Car
16. Mad Libs
Mad Libs are great because kids can play them by themselves or get the whole car in on the action. Whatever the case may be, they are always a good time.
17. Busy Box
If you have a little time to prep for your journey, take a moment to put together a busy box. Consider this your Swiss Army Knife of car ride preparations—you will definitely be prepared for whatever curves your travels throw your way.
18. Lollipops
When you pack your snack bag, make sure to throw in some lollipops! Lollipops are the perfect car treat—they take a little while to eat so they will certainly occupy your kids (and maybe even keep them quiet for a moment or two).
19. Stickers and Sticker Activity Books
Make sure to put one or two sticker activity books in your seat pockets. Many of these sticker sets can be reused for hours and hours of car-ride fun.
20. Small Toys
Small toys like LEGO bricks, magnetic tiles, or any of these screen-free toys are perfect for a road trip. Free of gimmicks or complicated directions, these toys provide hours of open-ended creative play.