Toys Sure to Entertain Kids for Hours and Hours Again and Again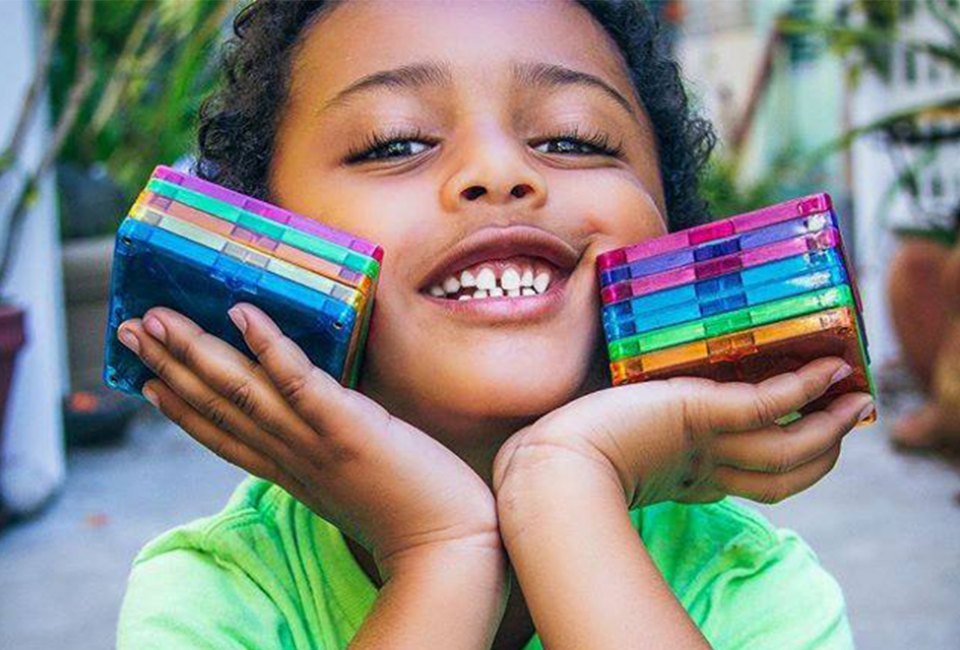 5/19/20
- By
Kimberly Rae Miller
Toys dominate the landscape in any family home, yet hardly any toys get played with for more than a few minutes before cries of, "I'm boooooored!" echo down hallways and through walls. As long as there have been families, parents have searched for the perfect toy, the one that one keeps children entertained for hours.
We've surveyed our friends and family, conferred with colleagues, and our social media audience and asked them all the same question: What toys keep your kids busy for hours? The answers probably aren't too surprising to longtime parents. All of these highly recommended picks force kids to use their imaginations and build worlds of their own, which, in turn, translates to more extended playtime, and a little more peace for parents.
We've also got parent-tested picks for the best outdoor toys to entertain kids and this great big list of 100 fun things to do when kids say "I'm bored."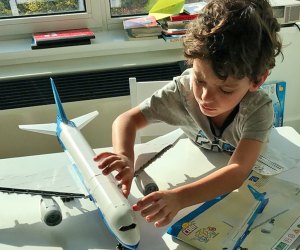 Airplane-obsessed kids get a kick out of building this Lego 787 Dreamliner. There's seemingly a Lego set for any interest. Photo by Sara M.
1. Legos
There may be no toy that stands the test of time better than Legos, and this classic toy is one that grows with your kids. Start their collection with the toddler-centric Duplos and graduate to traditional Legos once they stop putting everything in their mouths. Whether your kid is into race cars or princesses, Star Wars, or Harry Potter, there's a specialty set to keep them busy building for hours. As a bonus: There's an excellent resale market for Legos if you're budget-conscious.
2. Magna-Tiles
After Legos, the most lauded toy by the parents we surveyed was another one geared toward imaginative building. A relatively new kid on the block, Magna-Tiles are colorful geometric shapes with magnetic edges that come together effortlessly to create castles, dragons, rocket ships, sailboats, and more. They're safe for all ages, easy to clean up...and not quite as painful to step on.
RELATED: Five One-Pot Meals to Make With Kids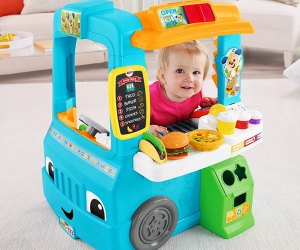 The Laugh & Learn Servin' Up Fun Food Truck offers hours of role-playing and hands-on activities. Photo courtesy of Fisher-Price
3. Fisher-Price Laugh & Learn Servin' Up Fun Food Truck
This is my own personal recommendation for readers with little ones. There aren't many toys that keep my 13-month old busy for more than a few minutes. Her current favorite toys are remote controls, car keys, and my belly button, but the Fisher-Price Food Truck we bought for her first birthday has been a lifesaver, keeping her and her big brother busy for long stretches. It has everything a toddler loves: lights, noises, and things to throw on the floor. Her big brother takes full advantage of the pretend kitchen to keep us fueled with make-believe smoothies and tacos.
4. Barbie & the Barbie DreamHouse
It turns out the same toys that kept you busy for hours as a kid are great at keeping your kiddos occupied while cooped up at home—including Barbie. Times have changed, and so has Barbie. She's now available in a variety of body types, heights, abilities, skin tones, and hair textures. Of course, she'll need a DreamHouse to call her own, too.
RELATED: 64 Easy Science Experiments for Kids To Do at Home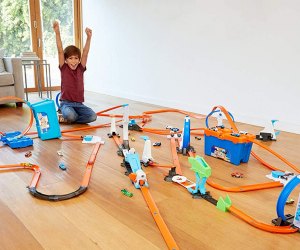 The Hot Wheels Track Builder Multi-Loop Box stores 10 feet of track. Photo courtesy of Hot Wheels
5. Hot Wheels + Hot Wheels Tracks
The Hot Wheels Track Builder Multi-Loop Box is a customizable track neatly packed in a storage box, which also serves as a ramp. Building new and increasingly elaborate tracks is only part of the (time-consuming) fun. Once the course is built, kids can test out all their Hot Wheels to see which car completes the track fastest. Bonus: It's only about $30.
6. Bracelet Looms
Got a crafty kid? Not only are looming sets like Wonder Loom or Rainbow Loom super affordable, at about $10 a pop, but they'll also keep your little crafter busy for hours on end making all sorts of creative bracelets, rings, charms, and more to gift to friends and family.
RELATED: Find Free and Affordable Online Classes, Parties, and Camps on Poppins@Home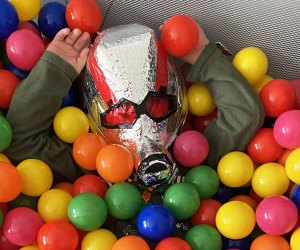 Combine two top toys: Dress-up in favorite costume, then jump into a homemade ball pit! Photo by the author
7. Homemade Ball Pit
By far the best investment I made during the coronavirus quarantine was in 1,000 plastic ball pit balls. It seems like a lot of balls, but it's just enough to fill an old Pack-n-Play and transform it into a ball pit, which has quickly become a permanent fixture in my living room. No other investment I've made has resulted in as many giggles from my kids. Don't have an old playpen available? A kiddie pool or pop-up ball pit work just fine.
8. Beyblades
As a toddler mom, Beyblades are outside my jurisdiction, but all the tween moms I surveyed said their kids spend hours playing with these toys. Based on the anime show of the same name, Beyblades are intricate battling tops that spin-off against one another in an arena. Kids can collect various tops and toy arenas for them to compete.
RELATED: 20 Ways Kids and Teens Can Help Others During the Coronavirus Outbreak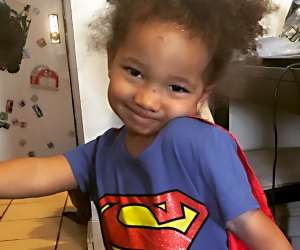 Supergirl makes everyone feel safe! Photo by Jody Mercier
9. Dress-up Clothes & Accessories
Whether your kid is alone or with friends or siblings, there's something about putting on a costume that gets those creative juices flowing and keeps kids engaged. In our house, we're fans of the Melissa & Doug costume series. The costumes are empowering, highly detailed, easy to get on and off, and, most importantly, machine washable. Some favorites include the doctor, police officer, and astronaut.
10. Play Kitchens
Play kitchens have come a long way since the aluminum Rainbow Brite set I rocked in the '80s. Nowadays, kid-sized kitchens look like they come straight out of home décor magazines, as does the realistic food used to stock them. While kids may get classier places to pretend, the hours spent whipping up intricate make-believe meals, caring for dollies, and playing house with friends are as fun as ever.
RELATED: Cheap Outdoor Toys and Games for Kids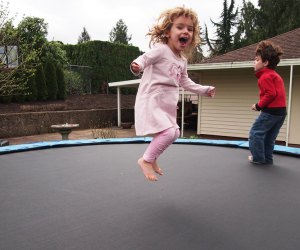 Kids can bounce the afternoon away on a large trampoline. Photo by Sara M.
11. Trampoline
Looking to invest in something to keep your kiddos busy and also tire them out? Enter the trampoline. Whether you've got a big backyard and the means to invest in an outdoor trampoline or live in a tiny apartment with just enough room with for a personal-sized jumper, there's a trampoline-induced nap in your kid's future.
12. Kinetic Sand
While the majority of us won't be spending all that much time on the beach this summer, kids can still spend their days building sandcastles (among other things) with Kinetic Sand. Appropriate for ages 3 and up, this sensory-friendly medium keeps kids occupied for long stretches.
This article contains some affiliate links, which means we might earn a small commission if you make a purchase. There is no extra cost to the reader. We only recommend products and services that we have personally used or have thoroughly researched.
t Click Here to Sign Up!