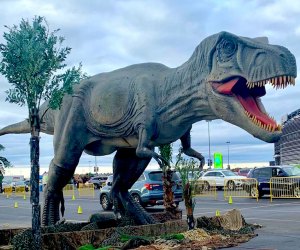 Jurassic Quest Drive-Thru Delivers Prehistoric Thrills
Parents of pint-sized paleontologists take note: The Jurassic Quest Drive-Thru is roaring through town, and if you live with a dino-loving kid, this outdoor exhibit is worth the price of admission.
With more than 70 life-like dinosaurs, some animatronic and others statuesque, Jurassic Quest is one-part museum exhibit and one-part theme park ride, only you're the driver. Read on for all the details on this prehistoric tour, which plays at the Meadowlands in New Jersey through Sunday, November 1, before heading to Washington, DC from Friday, November 6 through Sunday, November 15, where it takes over RFK Stadium's parking lot.
Subscribe to our FREE newsletters to get stories like this delivered to your inbox.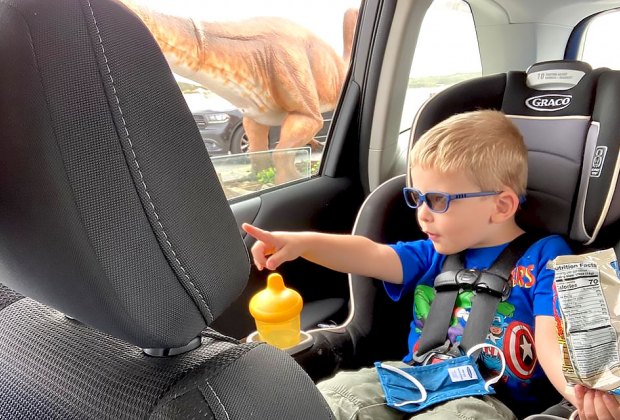 Guests drive through realistic scenes and enjoy the prehistoric thrills from the comfort and safety of their cars.
Drivers start their Jurassic Quest tour in the early Cretaceous Period, a pretty tame period by prehistoric standards. The excitement soars up as you enter the Jurassic and Triassic Periods. Fan favorites like Tyrannosaurus rex, Allosaurus, Spinosaurus, and Triceratops are within arms reach of your windows; many move and roar as your car rolls past.
RELATED: 9 Must-See Dinosaur Theme Parks and Attractions for Kids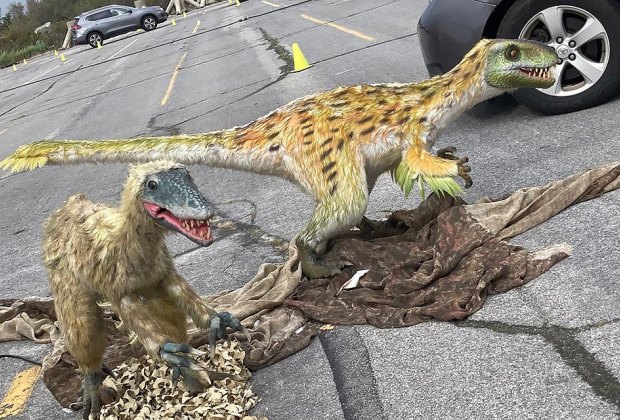 The online audio tour leads visitors through the thrilling dinosaur safari.
Created in conjunction with actual paleontologists, each dinosaur is remarkably accurate and detailed, with features like feathers, scales, and fur bringing them to life. Even my 4-year-old dinosaur expert learned a thing or two he didn't already know, most notably that Velociraptors were adorable, about the size of a turkey, and covered in colorful feathers.
An audio guide can be streamed from your phone and explains each dino in detail. It even adds a bit of Jurassic Park-style drama to the 45-minute tour. Be sure to download the audio tour to before you go. While streaming is an option, reception issues can leave you scrambling to find your spot on the tour and holding up traffic.
RELATED: Top Children's Science Museums Across the US for Families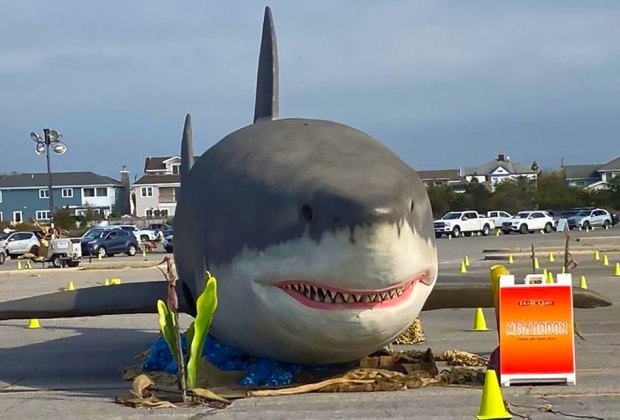 The 50-foot-long Megalodon makes sharks of today seem tiny!
While Jurassic Quest originally toured North America as an indoor exhibit, it has been re-imagined as an outdoor outing to allow for social distancing while COVID-19 restrictions are in place. Seeing dinosaurs set against the backdrop of a parking lot requires a little suspension of reality, but my kids didn't seem to mind. In fact, my 19-month squealed in delight with each animatronic roar we encountered. I counted it as a win, traffic cones and all.
The cost for the experience is $49 per carload, which is about the same as a day at the museum. Know before you go: Touching the dinosaurs is prohibited, and visitors must stay in their cars at all times. Go slow and take it all in, as you'll only get one chance to traverse the route. Refunds are not issued for inclement weather. Port-a-potties are available on-site, but masks must be worn upon exiting your vehicle.
Photos by the author