Jurassic Quest Drive-thru Returns This Summer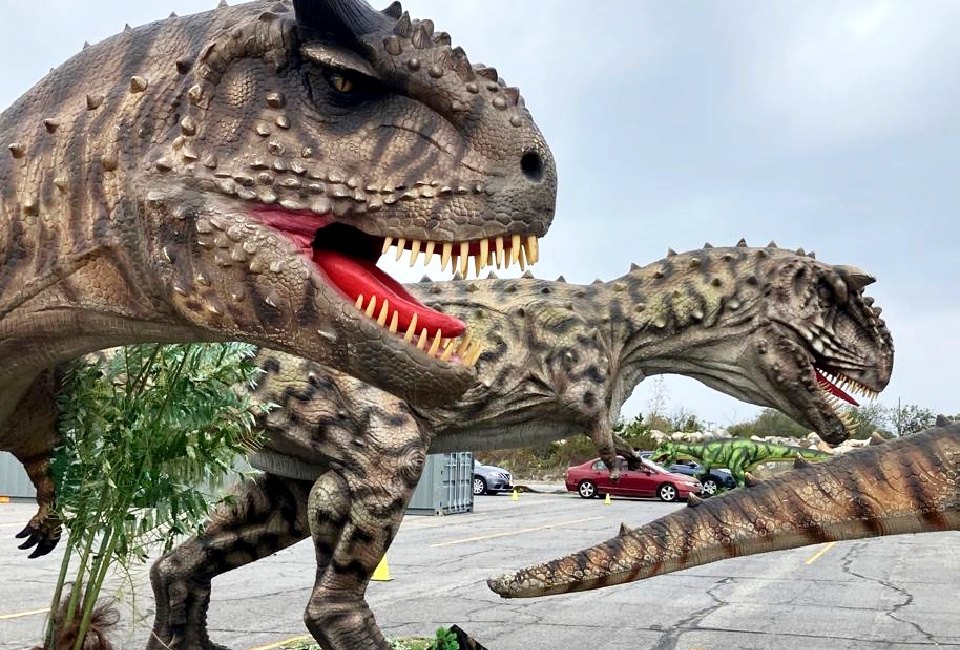 7/10/21
- By
Kimberly Rae Miller
Parents of pint-sized paleontologists take note: The Jurassic Quest Drive-thru is roaring into town once again, and if you live with a dino-loving kid, this outdoor exhibit is worth the price of admission.
With more than 70 life-like dinosaurs, some animatronic and others statuesque, Jurassic Quest is one-part museum exhibit and one-part theme park ride—with you as the driver. Read on for all the details on this prehistoric tour visiting the Rose Bowl in Pasadena, CA (starting July 23) and Rentschler's Field in East Hartford, Conn. (starting July 30). Catch these guys for their return appearance before they go extinct (again).
Subscribe to our FREE newsletters to get stories like this delivered to your inbox.
(Note: Our Mommy Poppins writers have visited the Jurassic Quest drive-thru in multiple cities. The tour is traveling the country, making stops—and return appearances—in various cities and stadiums.)

Guests enjoy the prehistoric thrills from the comfort and safety of their cars. Photo by Mommy Poppins
Drivers start their Jurassic Quest tour in the early Cretaceous Period, a pretty tame period by prehistoric standards. The excitement soars up with the Jurassic and Triassic Periods. Fan favorites like Tyrannosaurus Rex, Allosaurus, Spinosaurus, and Triceratops are all (almost) within arms reach out the windows, and many move and roar as cars roll by.
An audio guide is available for streaming via a QR code that visitors scan at the entrance (or load up in advance from the website). This narration explains each dino in detail, and even adds a touch of Jurassic Park-style drama to the 45-minute tour. The recording actually plays on a Youtube video, so be sure to have your phone / audio connection sorted out in advance. Also, don't plan on using the same phone for taking photos and playing the audio, because the Youtube video will stop every time you snap a photo.
RELATED: 9 Must-See Dinosaur Theme Parks and Attractions for Kids

An online audio tour leads visitors through the dinosaur safari. Photo courtesy of Jurassic Quest Inc
Created in conjunction with actual paleontologists, each dinosaur is remarkably accurate and detailed with features like feathers, scales, and fur bringing each one to life. Toddlers and adults alike are bound to learn dino details they didn't know before this day trip; no one in our car knew that Velociraptors were so adorable, about the size of a turkey and covered in colorful feathers. And no matter how many dinosaur names your kids know, guaranteed there will be a few mentioned at Jurassic Quest that they haven't heard before.
RELATED: Top Children's Science Museums Across the US for Families

These brave dinosaur whisperers wave hello as you drive by. Photo courtesy of Jurassic Quest Inc
While Jurassic Quest originally toured North America as an indoor exhibit, it has been reimagined as an outdoor outing to allow for social distancing while COVID-19 restrictions are in place. Seeing dinosaurs set against the backdrop of a parking lot requires a little suspension of reality, but my kids didn't seem to mind. In fact, my 19-month squealed in delight with each animatronic roar we encountered. I counted it as a win, traffic cones and all.
For sure, this experience is a bigger hit with littler kids; our toddlers were thrilled within an inch of their dino sippy cups. We also saw several kids in the age 5 to 8 range getting a charge out of poking through their sunroofs for a true dino safari experience; convertible passengers looked pretty darned thrilled as well. As far as older kids, it takes a patient teen who really loves his younger siblings to join in the spirit; but in COVID times, when fun outings are scarce, even that is possible.

Every carload gets a souvenir photo.
The cost for the experience is $49 per carload, which is about the same as a day at the museum. Know before you go: Touching the dinosaurs is prohibited, and visitors must stay in their cars at all times (except to visit a bathroom). Go slow and take it all in, as you'll only get one chance to traverse the route. Refunds are not issued for inclement weather. Porta-potties are available on site, but masks must be worn when outside the vehicle.

See you in the Cretaceous Era. Photo courtesy of Jurassic Quest Inc
Don't forget to get tickets for the Jurassic Quest Drive-thru in advance online. Oversized vehicles (and vehicles with 9 or more people) are allowed, but you must contact customer service before purchasing tickets.
Like in any other museum, there is a gift shop on the way out; we noticed many parents had planned ahead by bringing along a car full of dinosaur toys, which kids waved out the window all the way through. But even if you speed past the dino paraphernalia, be sure to slow down for the professional family photo included with every ticket.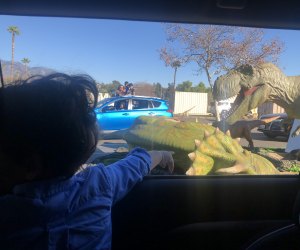 This is one dino museum where no one gets tired feet. Photo by Mommy Poppins