Virtual and Social Distancing Birthday Party Ideas for Kids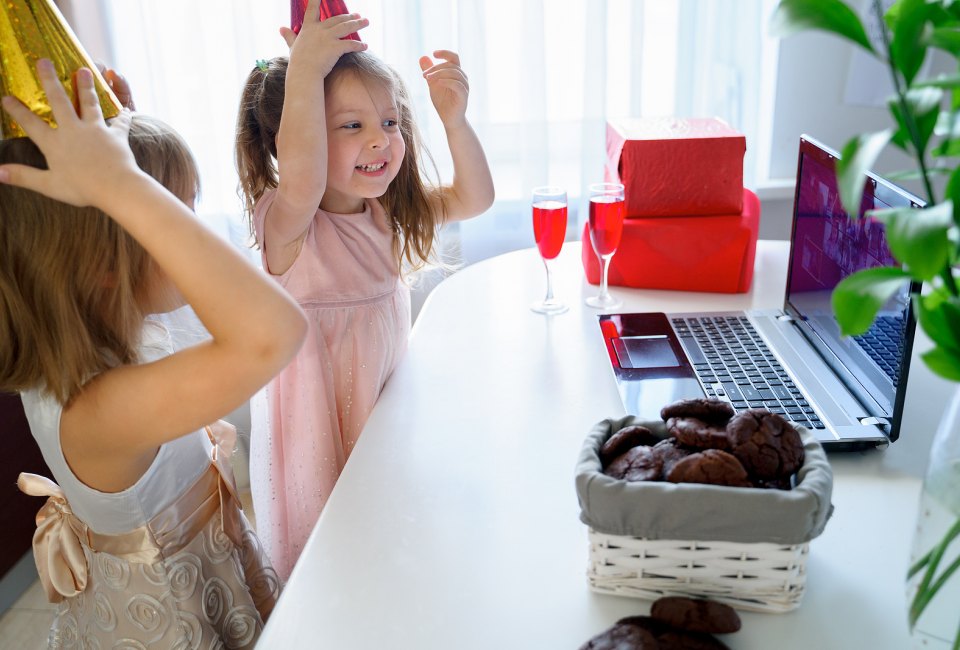 1/12/21
- By
Kimberly Rae Miller
It's a new year, which means some parents are (gulp!) starting to plan a second round of virtual birthday parties for kids. By now, our little humans are experts at all things screen time and know a thing or two about virtual bonding. With a little creativity, online shopping, and maybe some help from digital party entertainers, parents can make magical birthday memories for kids that will last a lifetime. We've pulled together our favorites from the creative solutions we've found for socially distant celebrations.
Making kids feel special on their birthday isn't only about big parties and lots of presents, of course; it's also about enjoying a day together and reminding them just how important they are. Check out our list of 30+ Free Ways to Celebrate Your Kid's Birthday at Home for even more ways to spend the special day.
Visit Poppins@Home for fun virtual learning and party planning options with skilled virtual educators and performers. Our Stay-at-Home Guide also has hundreds of ideas for keeping kids busy and happy at home.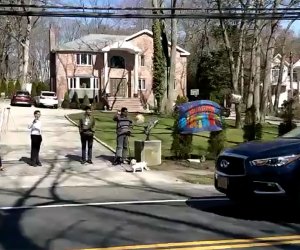 Ask neighbors, friends, and family to participate in a big drive-by birthday celebration. Photo by Shaifali Rametra
Virtual and Socially Distant Birthday Parties Parents Can Plan
Contact friends to plan a time, and make arrangements for kids to honk, dance, sing, watch, cook, paint, and more—together, yet apart.
Throw a Parade Party
What kid wouldn't love a parade in their honor? Ask friends, neighbors, and nearby family to drive by your home or dance down your block (appropriately distanced, of course) at a designated time on your child's birthday with homemade signs to help celebrate their special day. Even if you don't have a large network where you live, there are social media groups where parents are organizing parades for kids in their communities.
Make kids feel even more special by having the lawn decorated with details of their special day. Personalized lawn signs for birthdays (and other milestones) are available at sites like Card My Yard, Sign Gypsies, and local party supply stores. When possible, shopping locally is important to sustaining the strength of our communities.
Celebrate with a Day at the Museum
Visit The Louvre, Metropolitan Museum of Art, or The Van Gogh Museum! Check out some dinosaurs at the Smithsonian Museum of Natural History or learn all about the space program by virtually visiting NASA. We've collected all those and more in our Giant List of Virtual Tours and Field Trips. Don't let quarantine keep your kiddos from normal birthday-style outings to their favorite places. Cultural institutions all over the world are offering virtual tours for FREE during the COVID-19 pandemic.
Virtual Karaoke Party
What kid hasn't wanted to subject all their friends to a private concert? Virtual Karaoke party apps like VoiceBox and Singa provide the music and lyrics while kids provide endless hours of entertainment. Encourage kids to dress up as their favorite pop star alter ego and rock out with their favorite friends. This type of party is best for kids who can read scrolling lyrics (or don't mind making up the words). Rates are hourly and around $15 per hour per party, which makes for a pretty reasonable birthday party price tag.
At-Home Painting Party
Give your little artist a birthday party they'll always remember. Virtual painting parties from Dragonfly Designs, Painting to Gogh, and Art Fun Studio mail all the art supplies to your party guests before the big day, then guide kids through a fun and meaningful group activity in your little one's honor.
Host a Watch Party
If you've got a theater lover in your midst, why not dress up for a night at a Broadway show from the comfort of your own living room. A number of Broadway shows are now streaming through services like Amazon Prime, Broadway HD, and PBS Passport.
Miss that movie-going experience? Host a virtual movie party with friends. Hulu, Amazon Prime, Netflix, and Disney+ all have party extensions that allow users to watch the same movie at the same time from different households and interact in real-time. Apps like Scener allow you to see your friends watching along with you.
Cooking Parties
One of the cooler aspects of virtual parties is that you get to hire experts from anywhere in the country to lead your kids in their special day activities. If your kiddo loves getting creative in the kitchen, a virtual cooking party with friends may be right up their alley. Cooking schools, restaurants, and private chefs all over the country are now offering party options for all age groups. While the options are almost endless, start by checking out kid-friendly classes offered by Cookology, Culinary Artistas, and Baking with Melissa.
Throw a Zoom Dance Birthday Party
Whether you ask Alexa to play "Baby Shark" on repeat, get everyone doing the "Chicken Dance," or just blast the radio, invite your kid's classmates to join in on a virtual dance party. The kids will love seeing each other and showing off their silliest moves, and everyone can use a little exercise these days.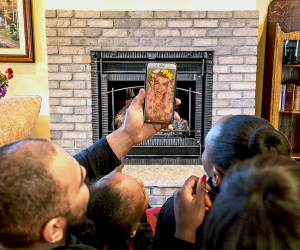 Listen to stories and fun music with A Faery Hunt's performers for a magical birthday. Photo courtesy of A Faery Hunt
Hire a Virtual Birthday Party Performer
Many party performers are transitioning their acts to digital platforms like Zoom or Google Hangouts so kids and their friends can still have all the great group activities of a traditional birthday party. As an added bonus, these virtual shindigs are often much more affordable than their in-person alternatives. Here are a few options to consider:
A Faery Hunt
Who couldn't use a little more magic in their life? How about a virtual visit from a real-life faery to help celebrate your little one with up to eight of their closest friends. A 30-minute live faery visit from one of A Faery Hunt's trained performers includes stories and music and starts at $90.
BubbleDad
Even bubbles have gone virtual! BubbleDad, Chris Catanese, will start off your virtual party with a bubble-based magic show. He'll wow kids by creating amazing characters out of bubbles and then show them how to make DIY bubble wands and their own bubble solution that's bound to keep them busy—and soapy—while they're home from school. Parties start at $200.
The Fashion Class Virtual Sewing Party
The birthday fashionista can choose from designing a ball gown to making a dream catcher or any of 11 other party activities. Over the course of a 90-minute party, a live instructor from The Fashion Class will run your virtual kids' birthday activity from start to finish. The $150 party package includes a fashion game and rallying the guests to sing Happy Birthday.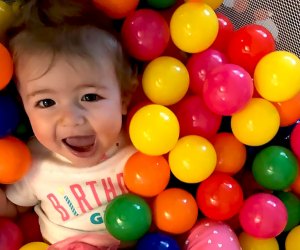 Get creative and set-up a play space! Photo by the author
More Birthday Fun at Home
Why limit the celebrations to just the party? Make the whole day extra special.
Go on a Birthday Scavenger Hunt
Half the fun of opening presents is the anticipation, so help build up some suspense by scattering clues around the house leading to a big birthday surprise. Katrina Holden-Buckley, of Boston, created a scavenger hunt using her 4-year-old daughter's own artwork as clues to find her birthday presents. Holden's daughter scavenged for each part of her party, first finding her party decorations, then cupcakes, and then followed her watercolor paintings to her presents and a Google Hangout of her family waiting and ready to sing "Happy Birthday."
Stage a Pretend Play Space
While playspaces may be closed for the time being, there's no reason why you can't create your own at home. Break out your old pack-and-play and fill it with balls to make an impromptu ball-pit, bring the water table into the bathroom for water play, make a living room fort, dust off the trampoline (or just jump on the bed), and if you have one, blow up that backyard bounce house or pop a tent. Create carnival-style games with balloons and darts, buckets and balls, or bob for apples. There's no limit to the fun you can create at home.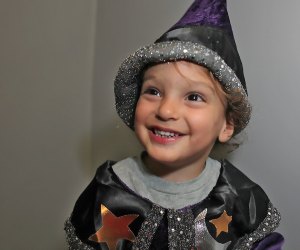 Play dress-up for the whole day to make the birthday kid feel extra special. Photo by Sara M.
Enjoy a Dress-up Day
Get in character by spending the day in costume. Wake the kids up for the day while dressed as a princess, or create a makeshift wand for a little at-home sorcery. Encourage the birthday child to spend the day in a favorite costume while the family plays along dressed as their favorite characters. Speak in silly voices and party like it's coronation day in Arendelle!
Organize a Homemade Birthday Card Drive
Ask friends and family to send homemade birthday cards to your kiddo! They could include their favorite thing about your child, what they can't wait to do together once life goes back to normal, or a favorite memory or picture with the birthday boy or girl. If cards arrive before the big day you can scatter them all over your home so kids can be reminded of just how special they are wherever they go.
Click Here to Sign Up!
i