Giant List of Virtual Tours, Field Trips, and Museums with Free Educational Programming Online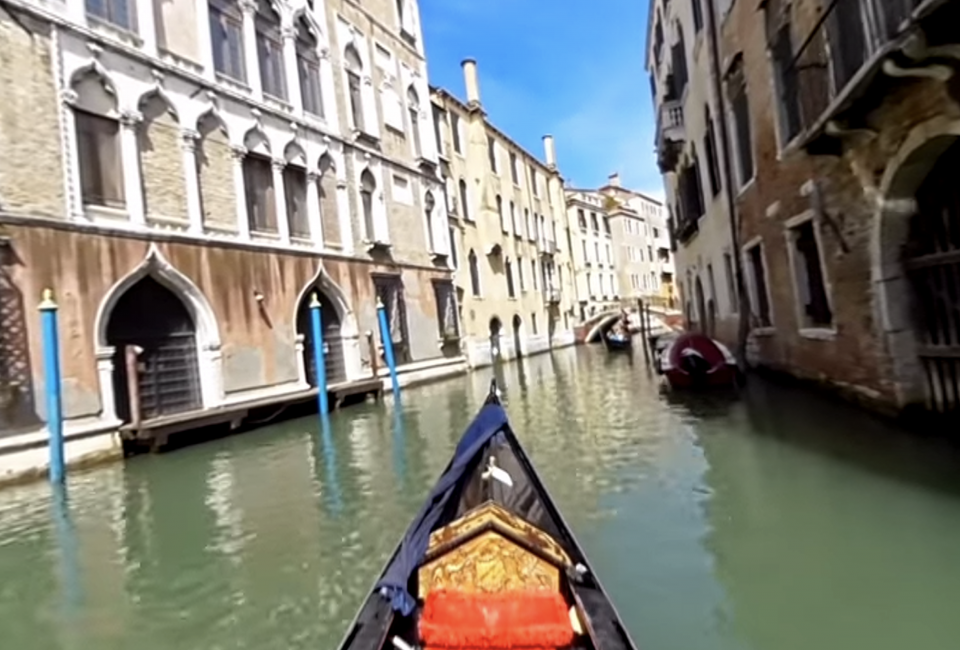 4/17/20
- By
Christine Mooney
Cultural attractions may be shuttered due to coronavirus, but when one door closes, a (browser) window opens. World-famous museums, zoos, theaters, historic sites, and natural wonders are offering amazing virtual tours, free online educational programs, and web-based STEM and art projects. So if you feel like your kids could use a boost of excitement while learning from home, why not let them tour Buckingham Palace, "walk" the Great Wall of China, or see Everest up close? They may have to skip field trips right now, but that doesn't mean they have to miss out on the fun!
For more ideas, info, and activities for kids during the health crisis, check out our Stuck-at-Home Guide for Parents and our Realistic Guide to Homeschooling.
Virtual Field Trips to Historic Sites

Take a peek at the Throne Room among other fabulous rooms on a tour of Buckingham Palace.
1. Buckingham Palace
On a virtual tour of Buckingham Palace, kids can zoom in royally close to the portrait of the Queen's beloved corgis, watch exclusive videos of Her Majesty's garden parties, and dive into royal life—without waiting for a knighthood to do it.
2. Colonial Williamsburg
See what America was like 300 years ago on Colonial Williamsburg's website. Explore Governor's Palace, "say hi" to George Washington, learn a colonial instrument, and take a dancing lesson.
3. Ellis Island
More than 40 percent of Americans can trace their roots back to NY's Ellis Island. Is your family one of them? Take a tour and learn about immigrants on the Ellis Island website.
4. The Canals of Venice
Ever dreamt of taking a gondola ride through the canals of Venice, Italy? Take a serene VR ride through the historic waterways, courtesy of Geneeo, or satisfy your curiosity about those recent dolphin rumors, in this boatride through the empty, quarantined canals of Venice.

Travel to ancient Greece and visit the Acropolis.
5. Ancient Greece
From the Acropolis to Marathon, travel around breathtaking Greece and learn about the famed architecture of the ancient world through virtual tours and 360-degree panoramic images.
6. Fort Mifflin
Philadelphia's Fort Mifflin has introduced a series called #MakeItBetterMondays to teach kids about wartime culture, from the American Revolution forward. Watch videos, eat like a revolutionary soldier, and learn to knit.

Take in 360-view of The Great Wall of China.
7. The Great Wall of China
Travel across the globe and plan a dream trip to one of the true wonders of the world, The Great Wall of China, with a virtual tour of popular segments of this ancient structure.
8. Jamestown-Yorktown
Kids can "visit" colonial Virginia to watch videos, download coloring pages, and find out what type of revolutionary soldier they would be via an online quiz at History Is Fun - At Home!
9. Liberty Bell
Take a virtual reality field trip to the famous Liberty Bell in Philadelphia, and learn about this iconic and historic symbol of American independence.

Learn what it takes to climb Mount Everest.
10. Mount Everest
What's it like on top of the world? Search for Mount Everest via Google maps, click on one of the highlighted areas, and search in the sidebar for photos labeled "360" to see panoramic photos of Everest. For a deeper learning experience, relive the three-month expedition of earth scientists via the Everest Climbers Journal, which includes videos, photos, journal entries, and complete lesson plans that parents can adapt for kids at home.
11. Mount Vernon
Mount Vernon, George Washington's beloved Virginia home, offers a virtual tour and fun at-home activities, including berry ink making, interactive coloring pages, and animal webcams.
Museum Virtual Tours and Experiences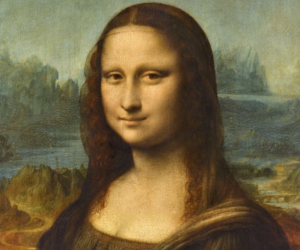 The Mona Lisa is virtually the most famous painting in the world—and can only be seen at the Louvre.
12. The Louvre
Immerse yourself in art and history—no plane ticket to Paris required! Four stunning, self-guided virtual tours of the Louvre are available online.
13. British Museum
Zoom through history with the British Museum's amazing interactive timeline. Spanning from 2,000,000 BC to modern times, kids can click on and "visit" any era that intrigues them. From schooldays in ancient Iraq to the Atomic Apocalypse, each spot includes audio recordings, images, and more.
14. Guggenheim Museum of Art
Tour the iconic spiraling halls of the Guggenheim Museum of Art in NYC, and then head to the educators' resources page for interesting video features on artists and questions to get kids thinking critically about modern art.
15. Museum of the American Revolution
Bring the American Revolution to life with Philadelphia MoAR's virtual spring break. Make a Hessian helmet, go on a field trip with a costume maker, or bake hard bread just like a revolutionary soldier.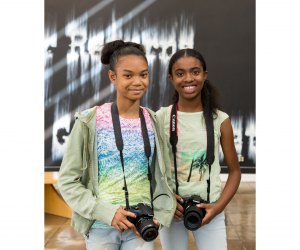 ​Learn photography skills with a workshop at CAAM.
16. California African American Museum
For the budding photographer, the upcoming workshop at LA's CAAM is a must. With a camera or even a phone, students will learn how to stage and photograph still life in their own homes.
17. Franklin Institute
While we can't walk through the Philadelphia museum's ginormous beating heart exhibit right now, Franklin At Home is offering some pretty cool activities, like heading out on a nature scavenger hunt led by an environmental scientist, or gazing at the stars with an astronomer.
18. The J. Paul Getty Museum
"Walk" inside the dramatic architecture of LA's J. Paul Getty Museum, and then watch videos on mummification, create your own works of art, or learn how to write a haiku online. And for photography-loving teens, download the free app, Getty Unshuttered, that gives kids a safe place to share their photos.
19. Lincoln Center
Ideal for children ages 2 to 10, Lincoln Center's Pop-Up Classroom live videos teach kids how to write a song, practice the art of bookmaking, and make puppets. Families can enjoy watching the ballet, the symphony, and musical performances together without a trip to Manhattan.
20. Hawai'i State Foundation on Culture and the Arts
Take a virtual tour of a volcano, groove with musical performances, and save a shark with an online game, courtesy of the Hawai'i State Foundation on Culture and the Arts's website.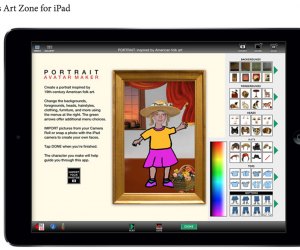 Make an avatar with NGAkids Art Zone app.
21. The National Gallery of Art
This one saves you a trip to Washington, DC! With "Look Together" virtual tours and activities, kids and parents can develop an eye for art together. Ready to make your own art? Download the NGAkids Art Zone app, which features a built-in sketchpad to create your own masterpieces.
22. National Air and Space Museum
Have out-of-this-world questions? Learn about the moon, space missions, space photography, and more on weekly live chats via Facebook, hosted by the Washington, DC museum and experts in the field.
23. Norton Simon Museum
Color in a Dega or Goya or create a wire self-portrait with the unique at-home art projects provided by LA's Norton Simon Museum.
24. Petersen Automotive Museum
Perfect for kids who love all things cars, LA's Petersen Automotive Museum is offering online learning that teaches kids about automotive history and science and then applies it with hands-on activities, such as how to build a balloon car.
25. Smithsonian Museums
The Smithsonian's events calendar is filled with live chats with scientists, storytimes, and watch parties. Join the National Portrait Galley for story and play time, take a guided meditation session with the Asian Art Museum, or watch movies and documentaries with #AloneTogether watch parties.
Free Children's Museum Programs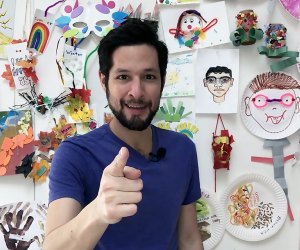 Join the Cayton Children's Museum online for music, story time, and art projects.
26. Cayton Children's Museum
Every kid knows recess is the best part of school, so kids won't want to miss out on the SOuthern California Cayton Children's Museum's online recess, a twice-daily livestream of playful stories, crafts, and music.
27. Children's Museum of Atlanta
Each weekday brings something new to CMA's virtual play hour, including cool activities like flower dissection on "STEM Tuesdays" and animal yoga on "Health & Wellness Fridays."
28. Children's Museum of Manhattan
Build a mini neighborhood, learn a Haitian dance, or construct an astronaut obstacle course with CMOM at Home activities. Each day, three different projects, crafts, or cultural lessons are uploaded to the site.
29. Creative Discovery Museum
Check out Tennessee's Creative Discovery Museum on YouTube for Creativity TV, which showcases culinary lessons, musical performances, and creepy-crawly encounters. Stop off at the CDM at Home page to download some great at-home STEAM activities, like bread goo and mustard slime.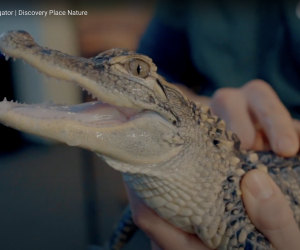 Discovery Place features many of its animals in Stay-at-Home Science.
30. Discovery Place Science
With whole-family fun in mind, the North Carolina children's science museum Discovery Place is offering videos and Stay-at-Home Science projects about beekeeping, tricky mazes to try, and more.
31. Kidspace Children's Museum
What kid wouldn't want to virtually attend something called Weasel Wednesdays? The creators behind the beloved children's book World of Weasel series are reading the books during live-stream storytimes, teaching kids how to draw animals, and doing at-home crafts, courtesy of this Pasadena institution.
32. National Children's Museum
Build a pasta tower, create art from items found on a nature walk, and learn about science with a hair dryer: Each day, DC's National Children's Museum posts awesome new projects on Facebook.​
Virtual Science Experiences

Take a tour of the International Space Station.
33. NASA
Aspiring astronauts should land on NASA's cool website. Kids can take a tour of the International Space Station, join in at-home STEM activities, and more out-of-this-world stuff.
34. California Science Center
Each day, the California Science Center website has kooky and entertaining science activities that can be done with simple household supplies in its Stuck at Home Science series. (Bird poop splatter art, anyone?)
35. Cincinnati Museum Center
Meet a turtle, make flexible chocolate, and build a catapult out of office supplies with CMC's WonderZone activities.
36. The Academy of Natural Sciences
Download unique coloring pages from this Philadelphia science museum's collection of books and archives. Or try one of the many simple Science At Home projects, like making an aquarium out of a pie plate.
37. Discovery Education
​Get up close with the polar bears on this fascinating virtual tour of the icy tundra, available through Discovery Education.
38. Kentucky Department of Fish & Wildlife Resources
Kids learn how to mimic amphibian and other animal sounds via the Kentucky's Department of Fish & Wildlife Resource website. Join wildlife conservation lessons on daily Facebook live videos.
39. NASCAR Hall of Fame
Kids will love engineering their own race cars and building a race track at home via SPARK!, North Carolina's NASCAR Hall of Fame online learning portal.
40. Pacific Science Center
Check out Pacific Science Center's Curiosity at Home for live-streamed science events and STEM projects out of Seattle, including cookie bakes and animal webcams.
Performing Arts on Demand

Take a class with the Chattanooga Ballet.
41. Chattanooga Ballet
Watch The Chattanooga Ballet perform, and then practice positions and pirouettes in virtual ballet classes via the ballet company's YouTube channel.
42. London's National Theatre
On London's National Theatre's YouTube channel, breathtaking, full-length productions are being streamed for free, including Treasure Island and Twelfth Night.
43. Children's Theatre of Cincinnati
Check out TCT Everywhere for full theatrical productions (like Sleeping Beauty) and join in on vocal lessons, online games, and more.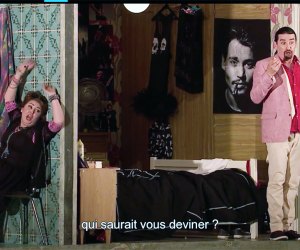 Be fancy and watch an opera performance from the Paris Opera, like Le Barbier de Séville.
44. Paris Opera
Enjoy the classics at The Paris Opera's website, where it's offering some of its most famous productions online for free.
45. Cincinnati Symphony
​Join the Cincinnati Symphony for performances, at-home music lessons, and DIY musical crafts via its CSO Educator Network Facebook page.
Zoo, Farm, and Aquarium Virtual Tours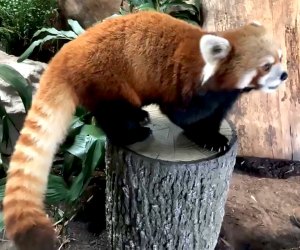 Meet the residents of the Houston Zoo.
46. Houston Zoo
Go live with the zookeepers from the Houston Zoo every weekday on Facebook. Check in on adorable otters, the friendly elephant siblings Joy and Tilly, and backflipping seals.
47. American Dairy Association
Kids can learn about life as a dairy farmer and get "up close" to cows and farming equipment on the American Dairy Association's virtual tours.
48. The Atlanta Zoo
Spot the zoo's popular giant pandas on its live Panda Cam. There are also storytime videos, a new augmented reality game, coloring sheets, and more on The Atlanta Zoo website.
49. Cincinnati Zoo
See how cute a newborn wallaby is with ​The Cincinnati Zoo's daily Home Safari. Learn about new animals, take a walk around the botantical gardens, and make a feast for an ape with chalk art, too.

Make amazing science projects with Jungle Island.
49. Jungle Island
Take a trip to Miami's Jungle Island for fun at-home projects. Kids can make elephant toothpaste, design their own animals, and create a primate exhibit.
50. Louisville Zoo
Watch the falcons soar on live animal webcams, track polar bears, and make fish goggles out of household items with Louisville Zoo's Lift Up Lou!, a clever online program with fun videos, crafts, and activities.
51. Monterey Bay Aquarium
Dive into the Monterey Bay Aquarium for live webcams of your kid's favorite sea animals, and sign up for free online courses for kids, including how to be a tidepool scientist.
52. Philadelphia Zoo
Check in with The Philadelphia Zoo each weekday at 2pm Eastern Time and meet a 14-pound giant rabbit named Goliath, see just-hatched goslings, and watch a jaguar play with a pinata.
53. Woodland Park Zoo
Play like an otter, see newborn agouti pups, or relax with springtime "bug" yoga, courtesy of Seattle's Woodland Park Zoo website.
54. ​San Diego Zoo
The San Diego Zoo Kids website has loads of educational resources and projects. Kids can make a dog treat or a polar bear out of marshmallows, watch their favorite animals on live animal webcams at the world-famous zoo, or "go on safari."
Photos courtesy of the venues/institutions
t Click Here to Sign Up!