Cheap Spring Break Travel Ideas for Families on a Budget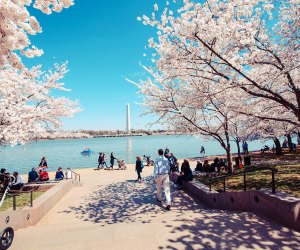 Is there a way to travel for cheap with kids during spring break? The short answer is... yes!
While some might automatically head to Orlando or even the Caribbean for spring break, airfare for a family of four can quickly add up to waaaay over budget. Families-in-the-know deploy a few tricks to plan a fun spring break vacation for the kids without blowing their mortgage payment, from scoring a secret deal to compromising a bit on the location.
There are plenty of family-friendly cities and destinations that cost a bit less but don't scrimp on the family attractions, including top museums, eateries, beaches, and even amusement parks.
Read on for some of our editors' favorite hacks in planning a cheap spring break and where they like to vacation as a family!
How to Save Money
Road trip. The first way to possibly slice your spring break travel bill right in half is to skip the flight. Opt to drive instead. I know it sounds painful. I didn't want to do it either, but if you really want to save money, a road trip is the best way to go. Take out the map and take a look at how far you're willing to go. Could you actually get to enjoy a couple of cities by adding an overnight stop along the way, possibly staying the night with friends or family? And that's tip No. 2
Bunk with friends or family! If you can, stay with family or friends, even for a night or two of the trip and suddenly there might be a few hundred extra dollars in your pocket to spend on a nice night out or an extra special attraction during the vacation. Alternatively, book a hotel with family-friendly amenities, such as a kitchen to save on meals (stock up on staples for breakfast and lunch) or pull-out beds and bunk beds to maximize the space. It might even be possible to split the cost of the room with friends if there are enough beds.
Find a deal. Look for coupons, online savings at sites like Priceline or the HotelTonight app, and scan the deals listed on your targeted location's tourism site. Sign up for the email alerts from a resort or destination you're eyeballing, so you'll be the first to know when prices drop. You can also do this through various travel planning sites. Opt for the cheapest room you can comfortably stay in within the best hotel you can afford, advises one of our travel-happy moms. Some of our editors even recommend stalking your favorite resorts or destinations on social media for special discounts. Once you select your destination, start looking for the ticket deals to the main attractions within the town or area. Reserving tickets online usually knocks a few dollars off the admission price to theme parks and other attractions, and then there are also bundle deals available through services, such as CityPass.
Head north. Lastly, if you're not chasing the sun, you might get a deal in a more northern climate, such as Canada, New England, or the Midwest.
Best Spring Break Destinations for Those on a Budget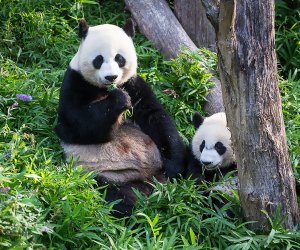 See Giant Panda Bei Bei hanging at the Smithsonian's National Zoo. Photo by Skip Brown for the zoo
1. Washington, DC
Free museums, monuments, and plenty of public space, not to mention the possibility of those stunning annual cherry blossoms and more signs of spring, make Washington, DC, a popular spring break for many families. Even the National Zoo offers FREE admission in DC. It's also an easy drive or train ride from most Eastern cities, including the Boston area, New York City, or Philadelphia, and points more south.
RELATED: Best Family Travel of the Year: Where to Go Next with the Kids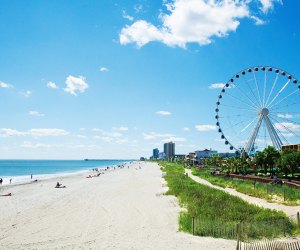 Myrtle Beach has beautiful beaches, a boardwalk with rides, and warm spring weather. Photo courtesy of the Myrtle Beach Visitors Bureau

2. South Carolina
Make your way to South Carolina to fully thaw out in fun cities, such as Charleston, or beach-centric spots like Myrtle Beach and the chill Hilton Head. Easy to find Airbnbs and other home rentals abound in beachside condos, as well as plenty of family-friendly hotels with suites. Myrtle Beach has boardwalk rides and games, as well as a zoo and aquarium.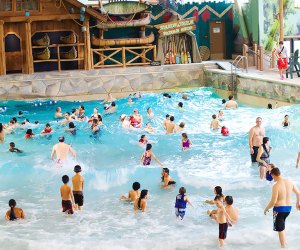 Enjoy a night or two at a balmy indoor water park, such as the Great Wolf Lodge. Photo courtesy of Great Wolf Lodge
3. Indoor Water Park
Escape to your localish indoor water park resort, such as Great Wolf Lodge, where the air and water temperatures are balmy year-round. A night or two is long enough to feel like you've gotten away, and the kids, if they're anything like ours, will be in absolute heaven with a full day of water park fun tacked onto a spring staycation.

The sun sinks low at the Cholla Cactus Garden in Joshua Tree National Park. Photo by Brad Sutton for the National Park Service
4. Southern California
Do like a local Angeleno and make a break for Palm Springs or another SoCal desert spot for a little non-city retreat that won't totally break the bank, while delivering moderate temps. Hit the pool for the day, or break a sweat with a morning hike in the hills. Consider a more rustic getaway with a family campout in Joshua Tree National Park or stunning Anza Borrego, California's largest state park, where inexpensive hotels are an option if you want to skip the tent. Added bonus: This year's wet winter will likely mean a really stunning wildflower display this spring, says our LA editor.
RELATED: Best Vacation Spots for Families Who Hate Winter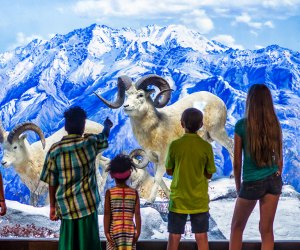 Visit the creatures at the Academy of Natural Sciences in Philly, the oldest natural history museum in the Americas. Photo by Jeff Fusco for the museum
5. Philadelphia
Philly is a great walking city with tons of family-friendly sights, as well as a great train. Check out our list of 100 things to do with kids in the city of brotherly love. Definitely save room for family hot spots like the Franklin Institute for all ages or the Please Touch Museum with toddlers and preschoolers, as well as these top picks for first-time visitors. Grab a CityPass or Philadelphia Pass for deals on entry passes. Our Philly editor says Airbnb is very popular and families could really stay in the city or any of the pretty surrounding towns, especially on the Main Line where for good restaurants and even microbreweries. Most towns have a direct train to Center City. Philly also puts you in good proximity to other road-trip worthy stops, such as Adventure Aquarium in Camden, Dutch Wonderland and Lancaster County, or Hersheypark.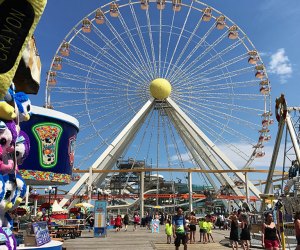 Get ready for family fun with blocks and blocks of beachfront amusement at the Jersey Shore. Photo by Rose Gordon Sala
6. New Jersey Shore and Boardwalk
It might not be sunbathing (or swimming) season yet, but the boardwalks of the Jersey Shore open up for weekends and holidays come springtime, including spring break. Rides, Easter Egg hunts and breakfast with the Easter Bunny will be available up and down the shore. Hotels and home rentals will also be much cheaper than in summer's prime time. Opt for a stay in pretty Cape May for a quieter holiday, and then tack on a day trip just for the kids to one of our favorite New Jersey amusement parks like Six Flags, Diggerland, or Storybook Land.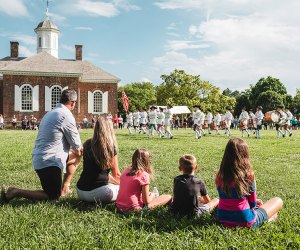 Take a step back in time at Virginia's Colonial Williamsburg, a living history museum. Photo courtesy of The Vacation Channel
7. Williamsburg, Virginia
Enjoy the open-air historical attraction of Colonial Williamsburg during spring break and you'll also get to bask in those warm springtime Virginia temperatures. Colonial Williamsburg is a fully immersive museum experience with street theater, costumed actors, and historical buildings and exhibits, but also events, shopping, and great eats. There are plenty of inexpensive hotels nearby, some of which run shuttles straight to the living history museum, as well as the other big attraction here: Busch Gardens. So yep, it's a vacation that offers kids both a little education and plenty of playtime. If you're feeling inspired, continue on to Virginia Beach for a night or two. Don't expect beach weather, but there will be plenty of local attractions already open for family fun. Or, fill up on Americana by tacking on a couple of nights in DC to your Williamsburg trip.

Portland, Maine, is a city filled with history, culture, natural beauty, and truly great food. Photo courtesy of the Maine Office of Tourism
8. Maine
It's known as "vacationland" by many, and it's not just the summer months that the rocky coast, wooded forests, and charming New England towns inspire family travel. Portland, Maine, is a great destination for families with kids all year around. There's a terrific children's museum, train museum, award-winning restaurants, ferry rides, hikes, and plenty more to do in this seaside city. Still hanging on to ski season? Head further north for one last run at Sugarloaf, the state's highest ski mountain and largest resort. Also, the hotels and B&Bs that remain open year-round in the Downeast region of the state will likely offer wicked cheap rates and deals until the season kicks in on Memorial Day weekend. Hint: See Acadia National Park without the crowds! Just pack the kids' long underwear for nighttime and remember that a number of the seasonal attractions will be closed. The whole state is truly welcoming and friendly toward families, so if you're willing to put up with a little lingering winter, Maine might be the perfect spring break getaway.
RELATED: Best Things to Do in Phoenix with Kids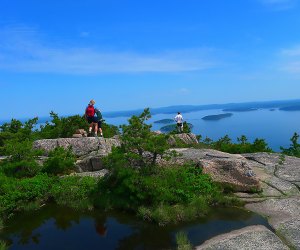 Get breathtaking views hiking in Acadia National Park during the off-season. Photo courtesy The Maine Office of Tourism
9. National and State Parks
A camping trip to (or staying in the local lodge or hotel) a national or state park, or even a staycation day trip adventure, can make for a memorable spring break. We've already named a couple of our favorite national parks—Acadia and Joshua Tree— but there are so many from which to choose! We highly recommend the family-friendly hikes at these additional state and national parks, such as Mt. Rainier (Washington) and the Shawnee National Forest (Illinois). Parents might also take a look at what's within driving distance. Plan out a few hikes with the kids, and then also look for nearby attractions that offer a few more creature comforts, such as an indoor water park (see above), amusement park, or a great children's museum or science center. A number of national parks will waive admission fees on April 20 in celebration of National Parks Week, making this an extra budget-friendly option.
10. Pittsburgh, Pennsylvania
OK, you might not think of Pittsburgh as your first spring break option, but if Jack and the rest of his family on This Is Us have taught us anything, it's that this city has heart. But also, a ton of things for kids to do! The city of Pittsburgh is loaded with museums, including a children's museum, science center, natural history museum, sports museum, a cartoon museum, and even the Andy Warhol Museum. There's also the National Aviary to visit and a zoo and aquarium. Plus, you'll find plenty of affordable housing through Airbnb and at the local hotels.
11. Galveston, Texas
Local Texans know the island of Galveston is a Gulf of Mexico gem for families. Enjoy the beaches, an amazing children's museum, a water park, kiddie rides, and more boardwalk pursuits. Of course, there are plenty of water sports, including kayaking and fishing, and more outdoor fun, such as hikes, camping, and boating, too. It certainly offers enough attractions to keep everyone from uttering the dreaded: I'm bored!
Check out our Mommy Poppins City Guides for more family-friendly locales that might appeal to your brood, from Boston to San Antonio to San Francisco and Vancouver. And if travel isn't in the budget this year, I bet the kids will be just as wowed by a fantastic spring staycation fueled by awesome local events.