Free Museums Near DC to Visit with Kids
1/13/23
- By
Jennifer Marino Walters
Looking for a fun indoor activity with kids that won't break the bank? Bring your family to one of the many free museums near DC that are engaging, fun, and provide a much-needed dose of culture. While many of these free museums in DC and Northern Virginia are Smithsonian institutions, there are also several other great ones relating to language, the US Army, the Holocaust, and more.
Here are 15 free museums near DC that will excite kids of all ages and interests, from art enthusiasts to history buffs to airplane and dinosaur fanatics. While they're listed in no particular order, one of my family's favorite museums—the incredible National Air and Space Museum—is at the very top. Read reviews of some of these museums in our Museum Guide for Kids and Families in Washington, DC, and check out our guide to free things to do in DC with kids for more fun ideas that won't cost you a penny.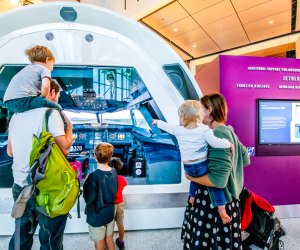 The many aviation exhibits at the National Air and Space Museum will delight airplane lovers. Photo courtesy of the museum
Smithsonian's Free Museums Near DC that are Great for Kids
The National Air and Space Museum reopened eight of its exhibits in October 2022, nearly four years into a seven-year renovation that will cost roughly $1 billion. Open exhibits include a planets gallery, exhibits on the Wright Brothers and early flight, and more. The museum, which had been closed since March 2022, currently requires visitors to reserve free timed-entry passes online. Families can also visit the museum's companion facility, the Steven F. Udvar-Hazy Center in Chantilly, Virginia, to see plenty of historic airplanes and the Space Shuttle Discovery up close. Both museums are free, but parking costs $15 at the Udvar-Hazy Center.
The National Museum of American History is one of the best free museums near DC for kids. Families can see gowns worn by First Ladies, the actual American flag that inspired the national anthem, all sorts of pop-culture memorabilia in the new Entertainment Nation exhibit, and so much more. There are also two great spaces just for kids: Spark!Lab, where young visitors' innovative spirits are encouraged; and Wegmans Wonderplace, which offers hands-on exploration of small-town American life for the 0-6 crowd.
From the iconic African elephant display to fossils, Ancient Egyptian mummies, and more, the National Museum of Natural History is one of the most visited of the Smithsonian museums. The museum houses a collection of more than 145 million specimens and is truly a bucket-list item that every family should try to check off. Two interactive learning spaces, Q?rius and Q?rius Jr., are currently closed due to COVID, but are a must-visit for kids in non-pandemic times.
RELATED: National Children's Museum Opens in Washington, DC

Expose kids to fine art at the National Gallery of Art. Photo courtesy of the gallery
Whether it be a painting, a sculpture, or a drawing, some of the most iconic pieces of art are housed in the National Gallery of Art, a must for any family looking to explore great art with the kids. Don't forget to explore the outdoor Sculpture Garden on a nice day, and in the wintertime—for a fee—try taking a lap around the outdoor ice skating rink.
Children can witness and learn about the rich and fascinating history, community, and culture of African Americans at the NMAAHC. More than 3,000 objects are on display, including an actual stool from the Greensboro lunch counter sit-ins, a dress worn by Rosa Parks, and Chuck Berry's red Cadillac convertible. Free programs for kids include online educational talks, downloadable activity booklets, and more.
This museum near Union Station, dedicated to the history of the postal system, is surprisingly kid-friendly. Kids can climb aboard a historic railway mail train and a modern mail truck, design their own stamps, recreate the path of mail, and participate in many other hands-on activities. Baseball fans will especially love the Baseball: America's Home Run exhibit, on display through January 2025.
A visually rich experience, the Hirshhorn and its outdoor sculpture garden captivates kids and gives them a great first experience with contemporary art. On Wednesdays, the museum hosts a popular storytime that explores a new artwork each week, complete with a hands-on activity.
RELATED: 17 Free Things To Do in DC on Cold and Rainy Days: Indoor Places to Play

Mitsitam, the cafe at the National Museum of the American Indian, is one of our favorite places to eat on the National Mall.
This is one of our favorite free museums near DC for kids because of its imagiNATIONS Activity Center. This amazing children's exhibit is filled with interactive elements and hands-on activities like basket-weaving, building a giant igloo, and playing inside a life-sized tipi. There are also plenty of other exhibits kids will love throughout the museum. One is Americans, which displays images and objects from American brands that were influenced by American Indian culture. Don't forget to stop in at the museum cafe, Mitsitam; it's one of our favorite spots to eat on the National Mall.
This museum on the National Mall is comprised of two art galleries, the Freer Gallery of Art and the Arthur M. Sackler Gallery, that exhibit more than 45,000 pieces of Asian art. The works date from the Neolithic period to today and originate from all throughout Asia. The museum offers a variety of free art workshops and events for kids and families.
With over 11,000 pieces in the collection, visitors are invited to celebrate the beauty and diversity of Africa's art at the National Museum of African Art. The museum offers several activities for home on its website that allow kids and their families to continue their exploration at home.
The National Portrait Gallery houses the country's only full collection of presidential portraits outside of the White House. There are also more than 20,000 other works in the museum's collection, including paintings, photographs, drawings, and more. Check out the free weekend workshops and other family programs.
RELATED: Little Eyes Can Spy at International Spy Museum DC

See the US founding documents at the National Archives Museum. Photo courtesy of the museum
Other Great Free Museums Near DC
Head into the famed Rotunda of the National Archives Museum and come face to face with the original and founding documents of the United States, including the Declaration of Independence, the Bill of Rights, and the Constitution. Visitors will also want to go beyond the Rotunda and spend some time in the public vaults, where they can listen to audio recordings from the Oval Office, telegrams that Abraham Lincoln sent, and interactive exhibits to bring these archives to life.
For older children, a visit to the United States Holocaust Memorial Museum will help teach about a painful era in human history as well as celebrate the strength and survival of the human spirit. Remember the Children: Daniel's Story is geared towards young people and their families. The exhibit, which tells the story of one family's experiences during the Holocaust from a boy's perspective, brings visitors into realistic environments where they can touch and engage with items and places from the boy's world.
This museum celebrates the history of the US Army through a variety of immersive exhibits. Army vehicles, uniforms, and many other objects from various wars and time periods are on display. Virtual-reality and motion-theater experiences are available for purchase. Kids ages 4-8 can do crafts and other fun stuff on weekend mornings from 9am-12pm in the on-site Experiential Learning Center, which is full of hands-on activities for children of all ages.
RELATED: Visiting Arlington National Cemetery with Kids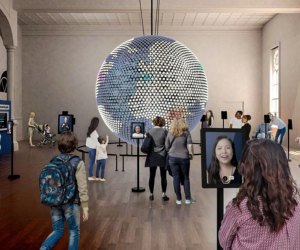 Explore the world of language at Planet Word. Photo courtesy of planetword.org
Planet Word is one of the most unique free museums near DC because it's the world's first voice-activated museum. Planet Word includes interactive galleries and exhibits that bring words and language to life in fun ways. Kids can marvel at a 22-foot talking word wall, deliver a famous speech using a teleprompter, enter a magical library, sing karaoke, and much more.
A version of this article was originally published in 2019. Additional reporting by Christine Mooney
Sign up for the Mommy Poppins Newsletter today!