30 Fun Winter Activities Near Washington, DC for Kids and Families in 2023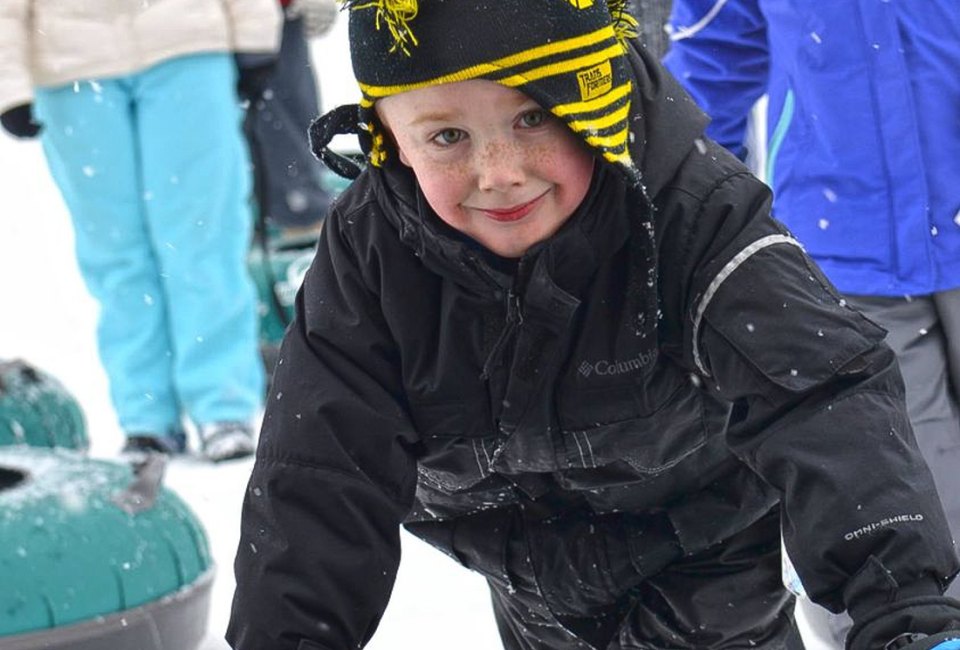 1/6/23
- By
Jennifer Marino Walters

Bask in the glow of the DC Winter Lantern Festival. Photo courtesy of the festival
Outdoor Winter Activities Near DC for Kids and Families
Every weekend through February 12, 2023, Lerner Town Square in Tysons, Virginia shines with the glow of over 1,000 Chinese lanterns portraying Chinese myths, legends, and zodiacs.
Ice skating is one of the most popular winter activities, and there are plenty of places to skate in the DC area. Glide around the ice at one of these outdoor ice skating rinks in DC, Northern Virginia, and Maryland. Many of them require booking ice time in advance, so check the details before heading out.
This interactive and magical woodland trail in Leesburg, Virginia's Morven Park bring characters, creatures, and scenes from the Harry Potter and Fantastic Beasts films to life. If you haven't yet visited, hurry—it's only in town until January 29, 2023.
RELATED: Top Tourist Attractions in DC: The Best Things To See and Do with Kids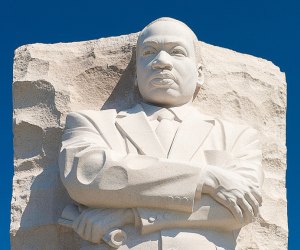 There are so many ways to celebrate Martin Luther King Jr. Day in the DC area. Photo courtesy of the Arlington National Cemetery Tour
4. Honor Martin Luther King Jr.
What better time to visit the Martin Luther King Jr. Memorial than on MLK Day itself on January 16, 2022? The memorial to the civil rights icon is near the National Mall. Families can also join the MLK Holiday DC Peace Walk & Parade or participate in the MLK Day of Service by helping to clean up the Mount Vernon Trail or Montgomery County parks.
Winter can be a gorgeous time to visit the 446-acre U.S. National Arboretum. Many shrubs have berries or blossoms that visitors won't see in other seasons, and evergreen trees such as pine, cedar, spruce, and hemlock trees abound. Be sure to stop by the on-site Washington Youth Garden. Admission is free.
Whatever the weather, a visit to Mount Vernon is always worthwhile. What better time than on Presidents Day or on George Washington's birthday, when admission is free? Get tickets for a mansion tour so your family can warm up indoors for a bit.
RELATED: The Best Ski Resorts in the US for Family Vacations



There are lots of places to hit the slopes near DC. Photo courtesy of snowshoemountain.com
7. Hit the Ski Slopes
There are also several great ski resorts near DC that are perfect for everyone from young kids and beginners to the most seasoned skiers. Many of them are also on our list of snow tubing spots near DC, so you can have a full day or weekend of wintry fun in the snow!
8. Go Snow Tubing
Take a day or overnight trip to one of these great places to go snow tubing near DC and participate in one of the most classic winter activities there is. Don't forget hats and gloves!
9. Take a Winter Hike
Bundle up, go out in nature, and get some exercise! Head to a national park like Rock Creek Park (free every day) or Great Falls Park, hit one of the kid-friendly trails at Theodore Roosevelt Island, or try a state park such as Mason Neck State Park in Lorton, Virginia or Seneca Creek State Park in Gaithersburg, Maryland.

See traditional lion and dragon dances in the DC Chinese Lunar New Year Parade. Photo courtesy of DC Parade
10. Celebrate Lunar New Year
Celebrate the Year of the Rabbit by heading to the free DC Chinese Lunar New Year Parade on January 22, 2023. It includes traditional lion and dragon dances, live music and marching bands, Kung Fu demonstrations, and more, culminating in a firecracker finale.
11. See DC's Famous Monuments and Memorials
With thinner crowds, winter can be a great time to visit the National Mall and Memorial Parks. Bundle up and check a bunch of the monuments and memorials off your list. Hint: Climbing or jogging the steps at the Lincoln Memorial and the Thomas Jefferson Memorial can warm you up quickly!
RELATED: The Best Children's Museums in the US

DC is a treasure trove of free, kid-friendly museums. Photo courtesy of the National Gallery of Art
Indoor Winter Activities Near DC for Kids and Families
12. Visit a Free Museum or Two (or Three!)
There are so many free museums in DC to visit with kids, including the Smithsonian's 23 museums, galleries, gardens, and zoo. The National Air and Space Museum reopened in October 2022 after being closed since March, nearly four years into a seven-year renovation costing roughly $1 billion. Check out the new Entertainment Nation exhibit at the National Museum of American History. Take young sports fans to Baseball: America's Home Run at the National Postal Museum or All American: The Power of Sports at the National Archives Museum. Or see the Yayoi Kusama exhibit at the Hirshhorn before it closes in the spring.
13. Learn and Play at a Children's Museum
Visit the recently reopened National Children's Museum in DC. Or, take a trip to Baltimore to check out another of our favorite destinations, Port Discovery Children's Museum.
Let your child unleash their inner spy at the International Spy Museum, located at L'Enfant Plaza in DC. This unique destination puts kids in the shoes of spies embarking on an undercover mission.

Dinosaurs have roared into DC! Photo courtesy of Dinos Alive: Immersive Exhibit
15. See Dinosaurs
The Dinos Alive: Immersive Exhibit in DC's Rhode Island Center features over 80 life-sized animated dinosaurs. Bring your dinosaur lover soon—the exhibit closes January 22, 2023.
Swimming may not be one of most common winter activities, but you don't have to wait until summer to have fun in the water. Just head to one of 15 amazing water parks near DC for families.
If your kid has the wiggles and it's too cold for the park or playground, head to one of our 10 favorite indoor play spaces in the DC area.
18. See Artists at Work
The Torpedo Factory Art Center in Alexandria is home to the nation's largest collection of working artists' open studios under one roof. Stroll through, watch the artists while they work, and see some of their finished products on display. Be sure to visit the Alexandria Archaeology Museum on the third floor to see artifacts from Alexandria's past. Admission is free!

Step inside King Tut's tomb at Beyond King Tut:The Immersive Experience. Photo courtesy of the exhibit
Through February 6, 2023, the National Geographic Society's headquarters houses this immersive exhibition that takes guests on a journey to one of the greatest archaeological discoveries of all time. Innovative video projections and soundscapes transport visitors to Egypt, where they experience the Great Sphinx, enter King Tut's tomb, meet Egyptian gods, and more. The exhibition celebrates the 100-year anniversary of the discovery of the tomb.
Nature centers are like mini zoos at which visitors can see reptiles, amphibians, fish, and other small animals up close. They also offer plenty of hands-on activities, crafts, and special programs like animal feedings. When it's cold, families can stay warm inside the nature centers or bundle up to explore the trails and other outdoor areas.
21. See a Live Show
The DC area offers many opportunities to introduce kids to the theater. Try one of the Kennedy Center's performances for young audiences, a show from the George Mason University Center for the Arts' Family Series, or a performance at Imagination Stage in Bethesda or Adventure Theatre in Glen Echo. Or, check out our giant list of live shows touring the US to see which ones are headed to the DC area.
Learn to cook, dance, swim, and more at one of these top Mommy & Me classes in the DC area.
23. Go to the Library
Visit your local library to borrow books and participate in free events for kids and families, like storytimes and sing-alongs. Or, head to the largest library in the world—the Library of Congress!
RELATED: 21 Teen Birthday Party Ideas in DC: Cool Party Places for Teens

Try your luck on the Trampoline Reactionator at ZavaZone in Woodbridge, Virginia. Photo by Jennifer Marino Walters
Bounce, jump, and more at one of the DC area's great indoor trampoline parks. One of our favorites, ZavaZone, has locations in Rockville, Maryland and Sterling, Virginia.
25. Experience the Life of a Law Enforcement Officer
The National Law Enforcement Museum is the only national museum dedicated to the history of American law enforcement. It includes a variety of immersive exhibits and over 100 interactive elements. Teens will love the Driving Simulator and Decision Making Simulator for ages 13 and older. Each quarter, the museum hosts a Family Fun Day with free admission, family-friendly activities, performances, and demonstrations.
26. Become a Scientist
Visit the Children's Science Center in Fairfax, Virginia, a small museum where families can explore STEM concepts through hands-on exhibits, activities, and experiments. Or go all-out and head to the Maryland Science Center in Baltimore.
27. Escape with the Kids to an Escape Room
While escape rooms are all the rage, they're usually geared towards teens and adults. But Escapology in Fairfax, Virginia offers all five of its themed escape rooms in Kid Mode for ages 7-14. Parents can relax in Escapology's cozy lobby while the kids solve puzzles and clues to work their way out of the room.
RELATED: 15 Fun Indoor Birthday Party Places Near DC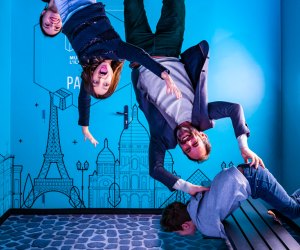 The Museum of Illusions will turn your world upside down. Photo courtesy of the museum
This museum, which opened in December 2022 in CityCenterDC, wows grown-ups and kids alike with over 50 interactive exhibits including a tilted room, an infinity room, a vortex tunnel, and plenty of other optical illusions. In the Smart Playroom, visitors can challenge themselves with puzzles, dilemma games, impossible knots, and other brainteasers.
While the DC area's outdoor mini-golf courses are closed, there are plenty of places to play putt-putt indoors. Check out our list of great places to play indoor mini golf near DC.
30. Visit Sea Creatures
Head to the National Aquarium in Baltimore's Inner Harbor to get up close to more than 20,000 aquatic animals.
Writers James Smith, Drew Kristofik, and Christine Mooney contributed additional reporting.
Sign up for the Mommy Poppins Newsletter today!
i