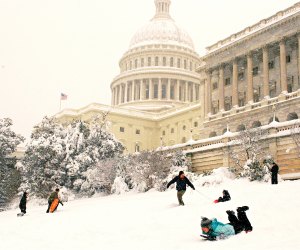 15 Fun Things To Do in Winter with DC Kids
Winter in the Washington, DC area can be a parenting challenge in the best of times. This year has taken us to the next level in our quest for FUN. But there's no stopping us.
We at Mommy Poppins DC are here to help you keep boredom at bay during this winter of snow and sleet. And we're confident that with everything Washington, DC has to offer, even the most finicky kids will remain entertained until the warmer weather returns in April.
So enjoy, be careful out there, and don't forget to check our events calendar regularly for more fun winter ideas in the DC area as they develop. And remember, ​subscribe to our FREE newsletter for the best events, ideas, and happenings in the area delivered right to your inbox.
If you prefer to remain indoors during this challenging time in DC, why not enjoy a Mommy Poppins@Home class. Choose from Castles, Kingdoms, and Wizards, music and movement, science and alphabet, and more.
While we try to promote safe activities that occur outdoors or with social distancing guidelines in place, keep your family and others safe by wearing a mask and maintaining appropriate distance. If you arrive at an event that appears too crowded, try using the "nearby" search feature on our event calendar to find something else to do.
Great Things to Do With Kids this Winter in Washington, DC
1. Sledding by the U.S. Capitol
What could be better than an afternoon of sledding in the shadow of DC's historical district. Since 2016, outdoorsy families have been able to go sledding down Capitol Hill. As an outdoor activity, with masks on, it's fairly easy to social distance.
2. Ice Skating in the Washington, DC Area
While DC rinks aren't operating at the moment, Northern Virginia, and Maryland boast a number of entertaining ice rinks. You can see our list here. Grab your skates and glide around the ice. Indoors or out. Just remember that this year you'll need to book ice time in advance.
RELATED: DC Area Ice Skating Rinks for Great Family Fun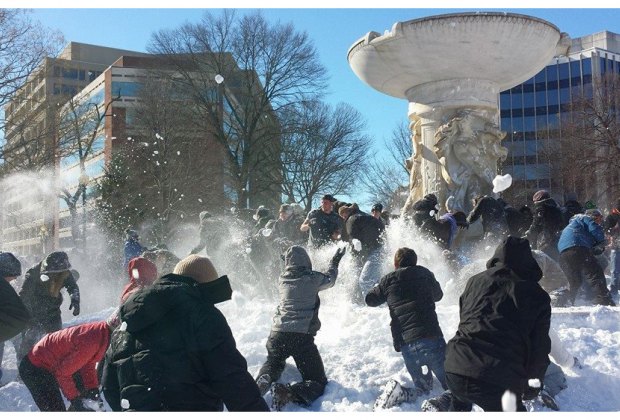 ​
Enjoy a safe snowball fight with DC's resident experts. Photo courtesy of the Washington DC Snowball Fight Association/Facebook
3. A DC Snowball Fight
The Washington DC Snowball Fight Association, celebrating its 11th anniversary in 2021, promises an old-fashioned outdoor donnybrook once snow hits the capital area. Join a "battle" or start one of your own with family or friends. We've been assured it's kid-safe and Covid-regulation compliant.
RELATED: 50 Things to Do with DC Kids Before They Grow Up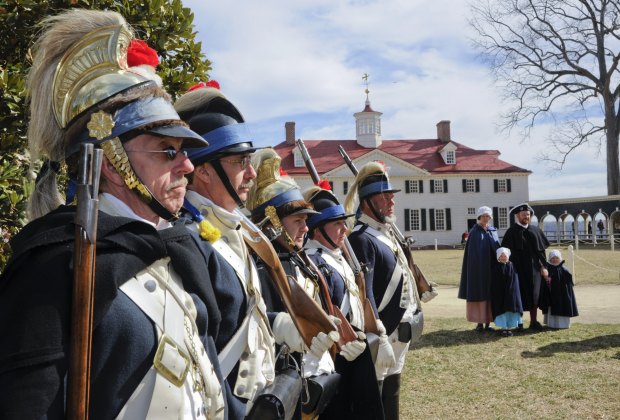 Join in the celebration of George Washington's birthday at Mount Vernon. Photo courtesy of Bob Creamer for Mount Vernon
4. Mount Vernon with Kids
Whatever the weather, a visit to Mount Vernon is always worthwhile. What better time than during President's Week or on Washington's birthday itself, February 22?
5. A Nature Center Right in DC
The Rock Creek Nature Center in DC offers kids a chance to discover the natural world. And while the center's planetarium (the only one in the National Parks Service system) is currently closed, hiking trails are open. It's a great way to get some fresh air, even in the colder months..
6. Stroll the Wharf in DC
The Wharf has re-energized the DC area. Tour the Potomac River harborfront with the kids and enjoy hot drinks and holiday movies around a private firepit on Transit Pier, or roast s'mores at the recently reopened Camp Wharf firepit and Airstream trailer in District Square.
7. Wander through the U.S. Botanic Gardens
Although the Conservatory and the gated outdoor gardens ("National Garden") are currently closed, Bartholdi Park is open from dawn to dusk daily, including all weekends and holidays. Keep an eye out for signs of spring!
8. Port Discovery Children's Museum in Baltimore
Take a trip to Baltimore and visit another of our favorite destinations, the Port Discovery Children's Museum. The museum is currently open on Saturdays from 10am to 3pm and Sundays from 11am to 4pm. Pre-purchase timed tickets online.
9. Go Sleuthing at the International Spy Museum
Let your child do some sleuthing at the International Spy Museum, now located at L'Enfant Plaza in DC. This unique destintaion puts kids in the shoes of spies embarked on an undercover mission, and it's open to the public with pre-purchased timed ticket requirements.
10. MLK Events for Kids in DC
What better time to visit the Martin Luther King, Jr. Memorial than on MLK Day itself, Monday, January 18, 2021? The memorial to the civil rights icon is near the National Mall, and Lincoln and FDR memorials.
11. Explore Life in the Early Days of the Republic
Dumbarton House is open for weekend self-guided tours (with timed tickets purchased in advance, of course). Take a trip back in time to the 1800s and see what life was like for Treasury Register Joseph Nourse and family.
12. Check in at Lincoln's Cottage
The grounds at Lincoln's Cottage are open to visitors. Purchase tickets in advance for self-guided, timed tours.
13. Celebrate the Phillips Collection's Centennial
With a planned opening on February 21, the Phillips Collection is launching its next chapter, and next 100 years of exhibiting the healing power of art, with Seeing Differently, a new exhibit of more than 200 works from 1900 to now.
14. Hop on a Big Bus Tour and Play Tourist
Think you know all there is to know about DC? Climb aboard a Big Bus and prepare to be surprised. The nighttime tour is especially magical this time of year, and buses run Thursday through Sunday. Hygiene and social distancing measures are in place, and you can opt to sit outside, on the top deck, if the weather cooperates.
15. Dive into the Blues at Artechouse
Through February 28 explore the Crystalline exhibit at Artecthouse and take a technology-powered journey through an illusory, blue-hued castle.
Writers James Smith and Drew Kristofik contributed additional reporting.