Visiting Arlington National Cemetery with Kids: What to Know Before You Go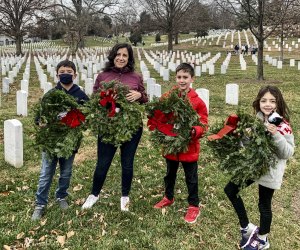 7/3/22
- By
Jennifer Marino Walters
Arlington National Cemetery is one of the oldest and most famous cemeteries in the US. Established in 1864, this hallowed ground serves as the final resting place of over 400,000 veterans and their spouses and children. Service members from every major American war are interred there, as well as many famous Americans including Presidents John F. Kennedy and William Howard Taft, Supreme Court Justice Ruth Bader Ginsburg, and astronaut John Glenn.
With its rows and rows of perfectly aligned, identical white headstones, Arlington National Cemetery is a truly breathtaking sight. But while it is indeed a solemn place, it is also a wonderful place to visit with kids and teach them about American history. Arlington National Cemetery's beauty and historical significance have landed it on our lists of 100 things to do in DC with kids before they grow up and the top tourist attractions in DC.
Here's everything you need to know about visiting Arlington National Cemetery with kids.
Things to Do at Arlington National Cemetery with Kids

The Tomb of the Unknown Soldier is guarded 24/7. Photo by Kyler Becker (CC BY-SA 4.0)
Arlington National Cemetery's most iconic memorial, the Tomb of the Unknown Soldier, is a white marble sarcophagus located on a hill overlooking DC. Since 1921, it has served as the final resting place of one of America's unidentified World War I service members. Other unidentified soldiers from later wars were added in 1958 and 1984. The site has come to symbolize the service and sacrifice of all unidentified service members who have died in combat.
Every day of the year, 24 hours a day, in any weather, the Tomb of the Unknown Soldier is guarded by a rigorously trained service member. The guard on duty marches 21 steps down a black mat behind the tomb, turns and faces east for 21 seconds, turns again and faces north for 21 seconds, takes 21 steps down the mat in the other direction, and repeats the process over and over again.
Visitors are welcome to come watch the guard on duty at any time, but the real treat happens every 30 minutes on the hour and half-hour with the Changing of the Guard. That's when a new guard comes to replace the guard on duty in an elaborate ceremony involving salutes, a white-glove weapon inspection, and more. It is an absolutely chilling experience that never gets old for my family. We've been going to the Changing of the Guard since our kids were toddlers, and there is something about the solemnity of the event that has always kept them quiet, well-behaved, and enraptured. No visit to Arlington National Cemetery is complete without witnessing the Changing of the Guard.
Related: Top Tourist Attractions in DC: The Best Things to See and Do with Kids

Discover the gravesites of many famous people. Photo courtesy of the author
At over 600 acres, Arlington National Cemetery is huge, and many of the notable gravesites are very spread out. So map out which graves you would like to visit ahead of time. A good bet would be to download the ANC Explorer app, which will help you locate gravesites and other points of interest. You can also download the cemetery map.
The most popular gravesite in the cemetery is the John F. Kennedy gravesite, where an eternal flame burns from the center of a circular granite stone. President Kennedy's wife, Jacqueline Bouvier Kennedy Onassis, is buried next to him, along with two of their children who died as infants. Some other notable gravesites to visit with kids are as follows:
President William Howard Taft
Senators Edward and Robert Kennedy
Supreme Court Justice Ruth Bader Ginsburg
Thurgood Marshall, the first African American Supreme Court Justice
Astronauts John Glenn and Gus Grissom
General Colin Powell
Robert Todd Lincoln, the first son of President Abraham Lincoln
The Arlington National Cemetery Welcome Center, located by the main entrance, offers exhibits about the cemetery, maps and brochures, and a bookstore. Here you can also purchase tickets for an interpretive tour bus that stops at several notable sites in the cemetery.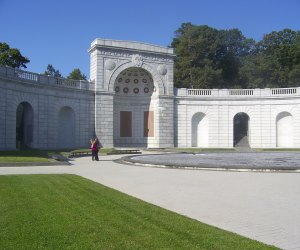 The Military Women's Memorial pays tribute to America's servicewomen. Photo by Patrick Jones (CC BY-NC-ND 2.0)
This unique tribute to America's servicewomen includes an education center, interactive exhibits, a world-class collection of women's stories, and a gift shop. It's a great little museum to explore with kids and the perfect place to take an air-conditioned break from the heat.
Each December on National Wreaths Across America Day, the public is invited to lay wreaths at the gravesites of fallen service members and their families at Arlington National Cemetery and over 2,500 additional locations. This year the event takes place on December 17, 2022, and I highly recommend you bring the kids if you can. My family did it in 2021 when our twin boys were 10 and our daughter was 7, and it was such a moving and memorable experience for us all. The looks of pride on the kids' faces as they carefully laid the wreaths against each headstone were priceless. Even if you can't make it for the event, try to visit the cemetery during the holidays to see the beauty of the green wreaths lying against nearly every white headstone.
Know Before You Go
Arlington National Cemetery Hours and Admission
Arlington National Cemetery is open daily from 8am-5pm. All visitors age 16 and older must present valid photo ID and go through a security screening to enter. Wait times for security screenings can be up to 20 minutes on busier days, so bring minimal or no bags to expedite the process.
Pedestrians can enter the cemetery through one of four access points: the main entrance on Memorial Avenue, Ord-Weitzel Gate, Joint Base Myer-Henderson Hall Old Post Chapel Gate, and the Service Complex Gate off Columbia Pike.
Arlington National Cemetery Parking
The cemetery's parking facility is located at the main entrance on Memorial Avenue, next to the Welcome Center. At press time parking cost $3 per hour, up to a maximum of $12 per day. The garage closes promptly at 6pm, one hour after the cemetery closes.
Related: 100 Things To Do in DC with Kids Before They Grow Up

The cemetery is notable for its sea of white headstones. Photo courtesy of Arlington National Cemetery Tours
More Tips on Visiting Arlington National Cemetery with Kids
Wear the right footwear.
You'll be doing a lot of walking at Arlington National Cemetery, so make sure everyone in your family is wearing comfortable shoes. Most of the pathways are paved and stroller-friendly.
Know where the restrooms are.
Restrooms are located only in the Welcome Center, Memorial Amphitheater, and the Columbarium. All of the Welcome Center restrooms have changing tables.
Prepare for heat.
There is limited shade, so wear sunscreen and hats on hot days, and bring refillable water bottles. Water fountains are located in the Welcome Center, Memorial Amphitheater, and other locations throughout the cemetery. Bottled water is also available for purchase in the Welcome Center.
Eat before you go.
There is no food allowed in Arlington National Cemetery, so make sure everyone eats before you go, and leave snacks in the car to munch on as soon as you leave.
Teach kids proper cemetery behavior.
Remind children that a cemetery is a place of respect. They should use their inside voices, walk instead of run, and avoid climbing on headstones and monuments. They should also not remove anything that family members may have placed near headstones, such as flowers, toys, or flags. If a funeral procession passes by, kids should stand out of the way and stay still and quiet until it passes.
To enhance your visit to Arlington National Cemetery with kids, download the children's activity packet and the Tomb of the Unknown Soldier activity packet.