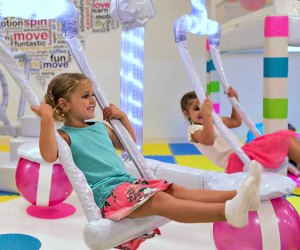 The Best Indoor Play Spaces for DC Kids
Parents of little ones agree: Getting kids out of the house and burning off that youthful energy is a must for wintertime survival. It shouldn't be surprising the DC area has tons of indoor things to do, even with most of its museums temporarily closed due to COVID.
If you just want kids to run, jump, climb, and play (without causing a storm inside your house), DC has parents covered even in these challenging times.
While most of the DC/MD/VA indoor play spaces on our list have an entry fee, don't forget about your local library. With storytimes and children's areas with books, blocks, and toys, the library can be a great (and free!) place to get the winter wiggles out.
Read on for our list of 12 of the DC area's best and most interesting indoor play spaces.
While we try to promote safe activities that occur with social distancing guidelines in place, keep your family and others safe by wearing masks and maintaining appropriate distance. If an event appears too crowded, try using the "nearby" search feature on our event calendar to find other exciting options.
Prefer to stay home this weekend? There is plenty of fun to be found on Poppins@Home. Virtual STEAM Labs, a plane, trains, and automobile series, and a tween/teen cooking class await DC kids.
The Best Indoor Play Spaces for Kids in the DC Area
Washington, DC
Elemeno Club might just be the coolest place on our list for young families. Designed for children ages 6 and younger, this two-story oasis in the heart of metro DC offers something for both kids and their parents. From an indoor playground ideal for free play and directed family social time to family dinners and free coffee, beer and wine for the grown-ups, Elemeno looks to provide "the village" moms and dads need in order to navigate parenthood, while keeping a social life and growing closer to their children. For working parents, there's even a kid-free coworking space that provides professional level office space with video monitoring of your child playing as you work. Memberships start at $122 per week and require a two-month minimum committment.
COVID policy: Cohorts are capped at 10 students and virus protection practices are in place. Staff wear protective equipment and the play room has been redesigned to maximize social distancing.
Washington, DC
NOTE: This location is closed indefinitely due to COVID.
With an indoor playground, bilingual programming, and drop-off child care, Magic Ground in DC gives kids a fun place to run off those winter crazies with activities based on age group. Parents appreciate the flexibility this indoor play space offers with various drop-off times, including two-hour, half-day, full-day, and date-night times available. Walk-ins are welcome, and the cost of each drop-off ranges from $25-$80.
Various locations
At locations in Chevy Chase, Maryland and Falls Church and Fairfax Corner, Virginia, BusyBees offers indoor playgrounds designed for kids under 48 inches tall. There are also special events and date nights each month so parents can enjoy some alone time. The price for an all-day pass varies by location, but passes can be purchased that discount admission. Bringing more than one of your children? The first child pays the full amount, but siblings get in at a reduced rate. Weekday open play hours are 9am-5pm and weekend hours are 11am-5pm unless a private party is booked. So be sure to check the website for the most up-to-date weekend hours.
COVID policy: Staff undergo temperature checks daily. Capacity is restricted and play slots are limited to 90 minutes after which the facilities are cleaned. Play spots must be reserved in advance. Adults must wear masks at all times.
Annapolis, MD
The BeWithMe Playseum, a children's book and toy store, offers kids and parents a unique setting to make fun family memories. The location is segmented into CityShops, various themed stops where kids can pretend to shop at the grocery store, create art in the studio, or decorate a cupcake in the bakery. This indoor play space also offers storytimes throughout the week as well. Admission is $12 per person for those 1and older. Note: Another location, in Bethesda, is closing January 22.
COVID policy: Masks are required for all and sanitization stations have been increased. Access to CityShops is restricted to one family at a time.
RELATED: The Best Snow Tubing Spots Near Washington, DC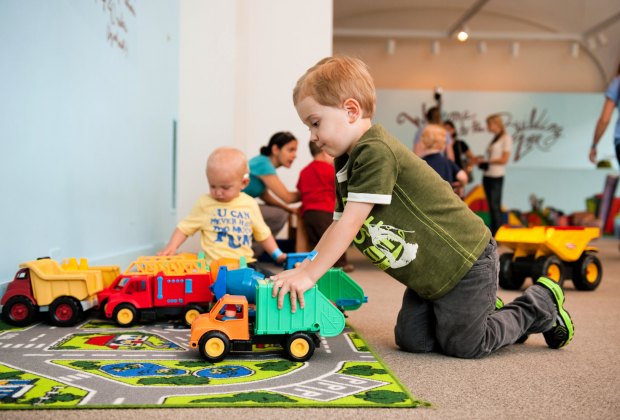 It's trucks and more at the National Building Museum's Building Zone. Photo by Kevin Allen
Washington, DC
NOTE: This location is closed indefinitely due to COVID.

While most of the National Building Museum is meant for bigger kids and grownups, there is a part that's just right for kids ages 2 to 6: The Building Zone. From building LEGO towers to exploring a playhouse, to donning construction gear and playing with big construction trucks, young children will enjoy this space made just for them. Admission to the Building Zone is included with general museum admission and there is a 45-minute limit on play time in the area. The maximum number of visitors at one time is 40 and peak visiting hours tend to be between 10am and noon.
Springfield, VA
While most of the spots on our list are geared toward younger kids, Super, Awesome & Amazing is an interactive waterpark, eSports and VR gaming facility, rock climbing gym, trampoline park, and obstacle course in one, which is just right for big kids. With 30,000 square feet to explore, expect to spend several hours here. Pricing varies depending on the length of your visit and whether you plan to enjoy the waterpark or entertainment center. If you and your family love going there, you might want to consider a membership, which nabs you a discount on each visit.
COVID policy: The waterpark is currently closed. The entertainment center is only open Saturdays and Sundays, 9am-7pm.
Alexandria, VA
Designed as a European-style play center, there's something for everyone at Scramble. Babies can practice tummy time, toddlers can run, jump, and role play, older kids can practice their soccer skills. Even homeschooling families and co-op groups can do something together. The facility is divided by age so crawlers through 2 year olds are in one spot, toddlers in another, and kids up to age 10 in a different area. The play space is open 9:30am-4:30pm Fridays, Sundays, and Mondays; and 9:30am-7:30pm on Saturdays. Pricing varies by age and day and ranges from $10 to $20 for an all-day pass (discounts are available for groups).
COVID policy: Reservations are limited to allow for mamium social distancing. Thn play room is cleaned repeatedly. Those with COVID symptoms are asked to stay home.
RELATED: Washington, DC Winter Fun Guide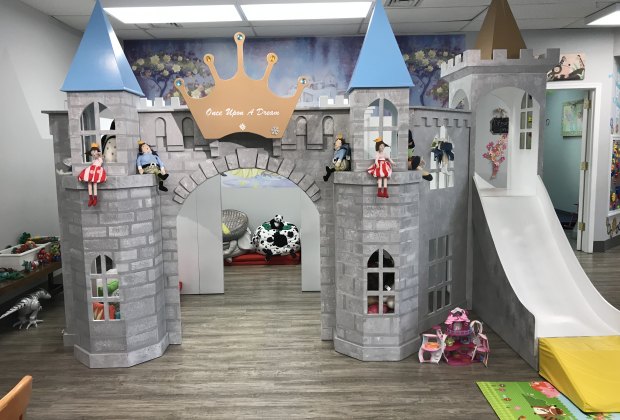 Play, imagine, and explore at Once Upon a Dream. Photo courtesy of Once Upon a Dream
Sterling, Vienna, VA
Stocked with open-ended toys and places to get the wiggles out, Once Upon a Dream is an indoor space designed to spark children's imaginations through play. Open-play areas include science, cupcake decorating, art, music, and dance activities. Special events fill up the facility's calendar so be sure to check that out. There's also a cafe stocked with healthy snacks, as well as coffee and tea for grown-ups. If parents need to get work done while their little ones play, an onsite work space is available. Need to run some errands or grab a cup of coffee? Once Upon a Dream also offers drop-off care. Once Upon a Dream is open at 10am daily. Admission is $20 for the first child and includes an adult. Babies 9 months and younger are free.
COVID policy: Masks are required of all adults; reservations are required for open play and the adult work space. The rooms are routinely cleaned and disinfected.
Columbia, MD, Chantilly, VA
NOTE:Play areas are closed indefinitely at the Columbia location due to COVID.

Play N' Learn is a playground superstore. If you're in the market for a new backyard playset, this is the place to go. But even if you're not, this store is more than just that: It's an indoor play space complete with a trampoline park, basketball goals, swing sets, and more. Kids ages 2 to 8 can try out any of the equipment in a space designed for hands-on play. No advance tickets are available on weekdays, but for weekends and school holidays, parents will need to grab tickets in advance online for two hour of play.
COVID policy: Tickets must be purchased in advance online for weekend and holiday play in Chantilly.
Alexandria, VA
Chinquapin Park Recreation Center is a large facility with a year-round pool, basketball courts, racquetball, and more. But for kids ages 5 and younger, the biggest draw is the soft playroom, where young children can use up some energy in a clean, safe environment. Open daily at 9am, Alexandria residents are admitted for $8 and nonresidents are $12 (the first chaperone is free with additional chaperones' admission of $1 for residents/$4 nonresidents).
COVID policy: Modified hours and access are in place in response to COVID-19. Admission is by appointment only.
RELATED: Mommy-and-Me Classes in the DC Area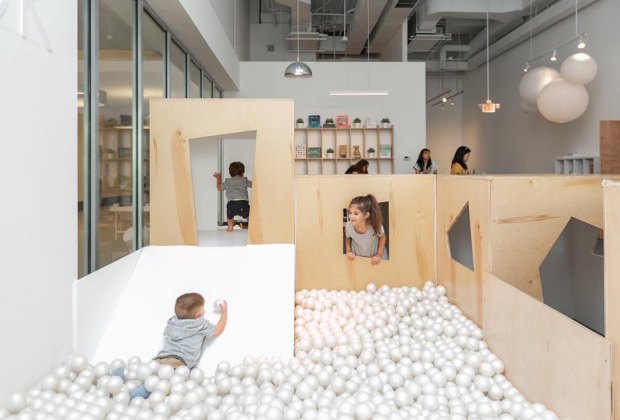 Minimalist, modern play is available at Nook. Photo from Nook on Facebook.
Arlington, Fairfax, VA
Nook offers a modern play environment that's more about activating creativity than overstimulation. So if you'd like your child to play in a sensory-friendly, low-key but fun and imaginative environment, this indoor play space is for you and your children who are 5 or younger. Special events for kids are offered, and parents can join in talks and classes, Open and private play sessions are available.
COVID policy: Open-play sessions are limited to five adults and five children and are sold in blocks of four sessions for $240. Private play for five adults and five kids is $175 per two-hour session. Masks are required for those 5 and older and locations are routinely disinfected.
Crofton, MD
This engaging, 5,700-square-foot space is filled with interactive toys, play structures, and even a ninja course that will keep kids running with enthusiasm. Parent-friendly amenities include coffee and lounge chairs that look into the play area, so you can keep an eye on your children all during your stay. There is also a quiet room, ideal for those moments when your toddler needs a break from all of the excitement
COVID policy: The Wiggle Room is open for private play only. It features a state-of-the-art ionization and HVAC system.
Don't miss out! Subscribe to our free newsletter and get the best events, ideas, and happenings around the DC area - delivered right to your inbox.
This post was originally published in 2019. Writer James Stephen Smith contributed to this 2021 update.