Top Indoor Playgrounds in DC, Maryland, and Northern Virginia for Kids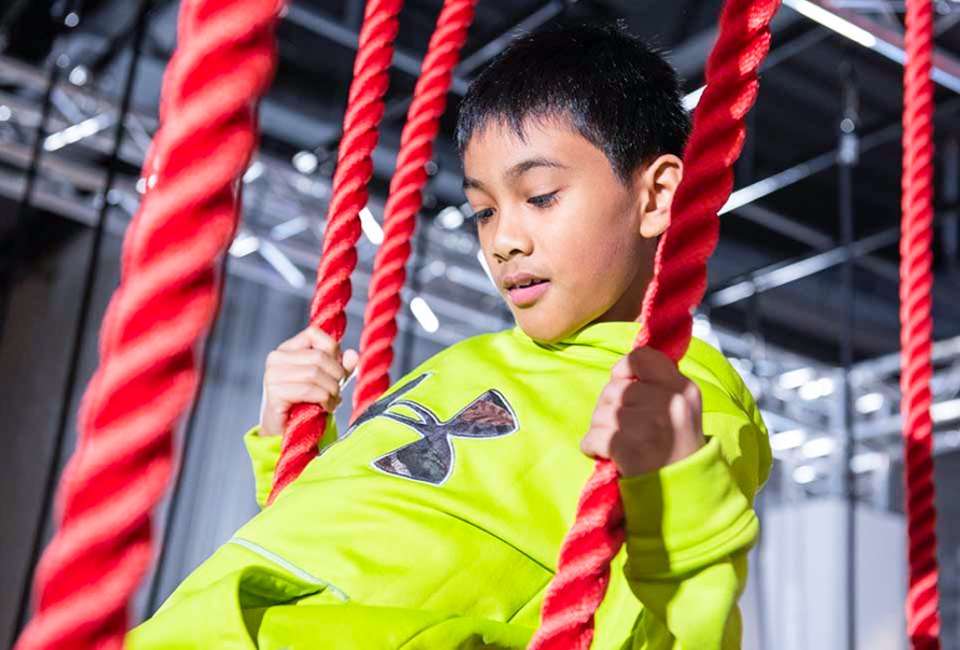 1/20/23
- By
Christine Mooney
While getting kids out of the house to burn off that youthful energy is a must for everyone's sanity, it's not easy on cold, hot, or rainy days. But there are lots of indoor playgrounds in DC and beyond that allow kids to crawl, run, jump, climb, and play to their hearts' content without causing a storm inside your house. Most of these indoor playgrounds in DC and its surrounding areas offer open-play options, and many include extra perks like free WiFi, cafes, and more.
Here are 20 of the best indoor playgrounds in DC, Maryland, and Virginia to visit with kids on those bad-weather days. For more ideas for indoor fun near DC, from awesome trampoline parks to amazing indoor water parks, check out our Guide to Indoor Playgrounds and Play Spaces for Kids in DC.

Toddlers have their own soft space to play at the National Children's Museum.
The Best Indoor Playgrounds in DC for Kids
While there are plenty of hands-on exhibits at the National Children's Museum, it may be hard to pull your kids away from the Dream Machine, a three-story climbing structure and slide for ages 5 and up. As they crawl, climb, and scamper through the structure, children will discover unique elements such as a floating-cloud seesaw, a buoy maze, a cloud-simulation ring, and more. Little ones ages 0-3 can play in the cloud- and flight-themed Little Dreamers exhibit or in the Little Movers free-movement space full of soft-play structures.
Unlike other indoor playgrounds in DC, Gymboree Play & Music in Woodley Park does not offer drop-in play for non-members. However, its programs for kids ages 0-5 are so wonderful, we had to include it on this list. Classes are offered Tuesdays through Fridays, with the benefit of a "try before you buy" preview option. There are a variety of memberships available, including unlimited monthly sessions, six sessions per month, or a 10-class pack. Memberships include access to open-gym times.
While most of the National Building Museum is meant for bigger kids and grown-ups, Play Work Build is a good alternative, even for preschoolers. Hands-on block play is perfect for young construction workers, and kids at the older end of the age range might be entranced by the digital interactive element that allows children to build an entire virtual wall... and knock it down. Peak visiting hours tend to be between 10am and noon, so go after lunch if you want fewer crowds.
Ivy City's massive two-story indoor play space, The Lane, includes multiple play areas for babies and young children with slides, climbing walls, nets, a ball pit, magnet and peg walls, soft play, building toys, a book nook, and more. The on-site cafe offers breakfast sandwiches, snacks, juice boxes, coffee, and—we're not kidding—wine and beer. Families can drop in for open play or purchase an unlimited monthly membership.
In addition to a castle-themed indoor playground, Magic Ground also features a toddler cave, arts and crafts, a building area, educational computer games, and more. The on-site, full-service restaurant offers kid-friendly fare such as pizza and grilled cheese along with grown-up options like a grilled chicken panini and sweet plantains. Families can purchase tickets for one hour, a half day, or a full day of play, as well as monthly, seasonal, and annual memberships. If you need to run some errands or get some work done, there's a two-hour drop-off option on weekdays from 8am-6pm. Or, drop off kids ages 2 and up for parents night out on Fridays and Saturdays from 6-8pm. Magic Ground also offers music, art, ballet, and other classes.
RELATED: Free Museums in DC to Visit with Kids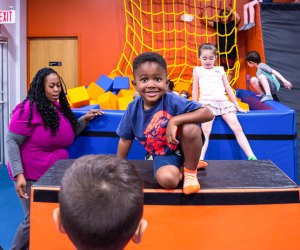 Kids can tackle the ninja course at The Wiggle Room.
The Best Indoor Playgrounds in Maryland for Kids
This engaging, 5,700-square-foot space is filled with interactive toys, play structures, and even a ninja course that will keep kids age 12 and under running with enthusiasm. Parent-friendly amenities include free coffee and lounge chairs that look into the play area, so you can keep an eye on your children all during your stay. There is also a quiet room, ideal for those moments when your toddler needs a break from all of the excitement. Families can drop in for open play or purchase a monthly membership or pass pack. The Wiggle Room also offers art, music, and movement classes.
At the Be with Me Playseum in the Columbia Mall, kids can pretend and play at over 20 CityShops, themed stops that mimic real-life places including a courthouse, a coffee shop, a farm, an auto-repair shop, a bakery, and so many more. Parents can also buy their kids Playseum Dollars, which children can use at various Creation Stations around the Playseum to do fun activities like arts and crafts, soap- and slime-making, petting live animals, and more. There's also a bookstore and a toy store on site. The admission fee covers the whole day, so families can leave to grab lunch or shop and then return for more playtime.
This unique indoor playground for toddlers and younger kids is filled with fun playhouses that promote pretend play, including a fire station and fire engine, a beauty boutique, a grocery store, a diner, an animal hospital, a service station, an ice cream truck, and a fishing dock and boat. Snacks, coffee, tea, and juice are available for purchase, but families are also allowed to consume outside food and drink in the party room. Parents can enjoy free WiFi while the kids play.
This roughly 5,000-square-foot indoor playground was designed especially for infants, toddlers, and young children. Little ones can explore a large climbing structure and ball pit, dig in a cypress-wood "sandbox", build block towers, create art, and more. Kids Ground also offers yoga, Spanish, and Zumbini classes for ages 0-5, as well as drop-off nights for potty-trained kids ages 3.5 and older.
10. Hyper Kidz! — Baltimore and Columbia
This massive indoor playground, one of our favorite Black-owned businesses near DC, includes three play areas for kids of all ages. The Big Kid Zone—a four-story play structure for children four feet tall and over—features slides, ramps, obstacles, and interactive play features. The Kid Zone, for ages 2 to 7, includes a two-story balloon house, motorized rides, a giant light-up wall, and more. And the Mini Zone, for babies and toddlers up to age 2, has soft play equipment. Hyper Kidz! also has a location in Ashburn, Virginia.
RELATED: 15 Fun Indoor Birthday Party Places Near DC

There's a reason it's called Super, Awesome, & Amazing...
The Best Indoor Playgrounds in Northern Virginia for Kids
While many of the spots on our list are geared toward younger children, this one is just right for big kids. Located within the St. James sports complex, Super, Awesome, & Amazing is an interactive water park, eSports and VR gaming facility, rock-climbing gym, trampoline park, and obstacle course in one. There's even a Nerf Battle Zone! With over 30,000 square feet to explore, expect to spend several hours here. Pricing varies depending on the length of your visit and whether you plan to enjoy the water park or entertainment center. If you and your family love going there, consider a membership, which nabs you a discount on each visit.
12. Scramble — Alexandria and Falls Church
Designed as a European-style play center, there's something for everyone at Scramble. Babies can practice tummy time; toddlers can run, jump, and role play; older kids can practice their soccer skills. Even homeschooling families and co-op groups can do something together. The facilities are divided by age so that crawlers through 2-year-olds are in one spot, toddlers are in another, and kids up to age 10 are in a different area. Grab a bite and a drink at the on-site cafe, and check out the bookstore full of Usborne books for kids of all ages.
RELATED: 17 Free Things To Do in DC on Cold and Rainy Days: Indoor Places To Play

The Wonder is a low-key indoor play space that encourages kids' creativity. Photo by Abby Jui, courtesy of Mickus Projects
The Wonder, formerly known as the Nook, offers a modern play environment that's more about activating creativity than overstimulation. Kids ages 5 and under can play in a sensory-friendly, low-key but fun and imaginative environment. The Wonder is set up like an imaginary pool, inviting kids to act like fish and play with beach balls. Children can also explore various sensory bins, dance at a bubble disco, create art, and more. Weekly, monthly, and annual memberships are available.
This ocean-themed indoor playground features a large, multilevel play structure for kids up to age 13, a smaller play area for ages 2-7, and a baby section for little ones ages 2 and under, making it a great place for families with children of multiple ages. Lots of windows flood the space with sunlight. Jolly Yolly Kids offers daily open-play hours, with a drop-off play option for potty-trained kids ages 3 and up on Mondays through Fridays. A new location is coming soon to the Westfield Montgomery Mall in Bethesda, Maryland.
This massive (nearly 25,000 square feet!) indoor playground in the Manassas Mall features climbing structures, slides, tunnels, a ball pit/ballistics arena, sports courts, an arcade, and more. Younger kids can enjoy the Mini Beez area just for them as well as the Honey Comb Village, a tot-sized town featuring a hospital, a pizza shop, a school, and more. Even the grown-ups will have a blast here!
RELATED: Visiting ZavaZone Trampoline Park with Kids: What To Know Before You Go

Luv 2 Play offers three levels of climbing, sliding, running, and crawling fun.
The highlight of this 12,000-square-foot play center in the Fair Oaks Mall is its three-level indoor playground with slides, tunnels, crawl tubes, and more. A separate baby area and toddler area for ages 1-4 feature soft play equipment, sensory panels, and toys. There are also redemption video games, kiddie rides, a cafe with favorites such as pizza and fries, and a lounge area for adults with TVs, free WiFi, and nursing spots. Family can drop in to play or purchase a monthly membership.
Play N' Learn is a playground superstore with locations in both Chantilly and Columbia, Maryland. If you're in the market for a new backyard playset, this is the place to go. But even if you're not, this store is more than just that: It's an indoor play space complete with a trampoline park, basketball goals, swing sets, and more. Kids ages 2-8 can try out any of the equipment in a space designed for hands-on play.
All photos courtesy of the venues unless otherwise indicated
Don't miss out! Subscribe to our free newsletter and get the best events, ideas, and happenings around the DC area delivered right to your inbox.
This post was originally published in 2019. Writers James Stephen Smith, Drew Kristofik, and Jennifer Marino Walters contributed to this 2023 update.
Sign up for the Mommy Poppins Newsletter today!
i