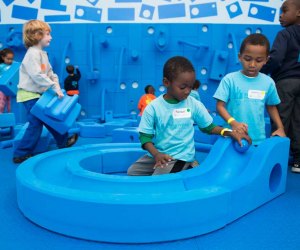 The Best Indoor Play Spaces for DC Kids
Parents of little ones agree: Getting kids out of the house and burning off that youthful energy is a must for everyone's sanity. In the winter, you need an indoor space to stave off the cold; in the summer, it's the swamp heat that can drive everyone back indoors. It shouldn't be surprising the DC area has tons of indoor things to do, even with most of its museums still temporarily closed—or only partially open—due to COVID.
If your kids just HAVE to run, jump, climb, and play (without causing a storm inside your house), Mommy Poppins DC has parents covered even in these challenging times.
While most of the DC/MD/VA indoor play spaces on our list have an entry fee, don't forget about your local library. Many are doing a post-COVID tiptoe back, with storytimes (mostly outdoors) and children's areas with books, blocks, and toys.
Read on for our list of 10 of the DC area's best and most interesting indoor play spaces.
The Best Indoor Play Spaces for Kids in the DC Area
Washington, DC | Alexandria, VA
Gymboree offers plenty of indoor play programs for DC-area parents and little ones, with the benefit of a "try before you buy" option. Sign up for six visits a month for just $49 for the first month, or get a play group together for a pod play session for up to 20 people.
COVID policy: Masks are required for all, and temperature checks are done at the door.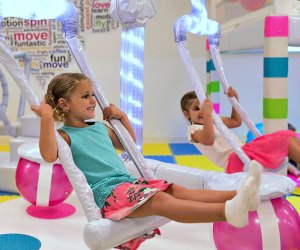 Swing into some cool indoor fun. Photo from BusyBees Chevy Chase
Falls Church
BusyBees offers indoor playgrounds designed for kids under 48 inches tall. There are also special events and date nights each month so parents can enjoy some alone time. Since capacity is restricted, all kids pay the same: $15 for 90 minutes; there are no sibling discounts. Weekday open-play hours are 9am-5pm and weekend hours are 11am-5pm unless a private party is booked. So be sure to check the website for the most up-to-date weekend hours.
COVID policy: Staff undergo temperature checks daily and wear protective face gear. Capacity is restricted and play slots are limited to 90 minutes after which the facilities are cleaned. Play spots must be reserved in advance. Adults must wear masks at all times. Currently, only the Falls Church branch is open (Chevy Chase and Fairfax Corner remain closed).
Annapolis, MD
The BeWithMe Playseum, a children's book and toy store, offers kids and parents a unique setting to make family memories. The location is segmented into CityShops, various themed stops where kids can pretend to shop at the grocery store, create art in the studio, or decorate a cupcake in the bakery. This indoor play space also offers storytimes throughout the week. Admission is $12 per person for those 1 and older, or purchase a one-month membership for $85 if you plan to return often.
COVID policy: Masks are required for all and sanitization stations have been increased. Access to CityShops is restricted to one family at a time.
RELATED: Family-Friendly Campgrounds near DC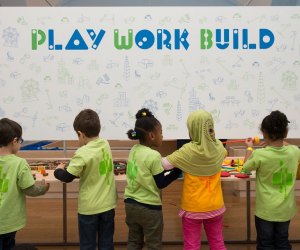 Keep your child engaged at the National Building Museum's Play Work Build exhibit.
Washington, DC
While most of the National Building Museum is meant for bigger kids and grown-ups, and the Bulding Zone is closed, Play Work Build—with its current capacity limit of 20 children—is a good alternative, even for preschoolers. Hands-on block play is perfect for young construction workers, and kids at the older end of the spectrum might be entranced by the digital interactive element that allows kids to build an entire virtual wall ... and knock it down. Peak visiting hours tend to be between 10am and noon.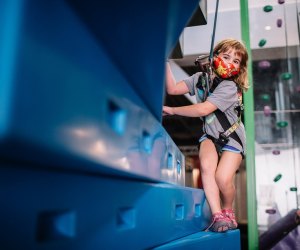 The sky's the limit at Super Awesome and Amazing.
Springfield, VA
While most of the spots on our list are geared toward younger kids, Super, Awesome & Amazing is an interactive waterpark, eSports and VR gaming facility, rock climbing gym, trampoline park, and obstacle course in one, which is just right for big kids. With 30,000 square feet to explore, expect to spend several hours here. Pricing varies depending on the length of your visit and whether you plan to enjoy the waterpark or entertainment center. If you and your family love going there, consider a membership, which nabs you a discount on each visit. The waterpark is open Saturdays and Sundays only, from 10am to 6pm. The rest of the facility is open Mondays, 10am-7pm, and Saturday-Sunday, 9am-7pm.
COVID policy: Masks are required for visitors ages 3 and older. The facilities are cleaned frequently.
Alexandria, VA
Designed as a European-style play center, there's something for everyone at Scramble. Babies can practice tummy time, toddlers can run, jump, and role play, older kids can practice their soccer skills. Even homeschooling families and co-op groups can do something together. The facility is divided by age so crawlers through 2-year-olds are in one spot, toddlers in another, and kids up to age 10 in a different area. The play space is open 9:30am-5pm Sunday-Thursday; and 9:30am-7:30pm on Fridays and Saturdays. Pricing varies by age and day and ranges from $10 to $20 for an all-day pass (discounts are available for groups).
COVID policy: Reservations are limited to allow for mamium social distancing. The play room is cleaned repeatedly. Face masks are required for unvaccinated guests.
RELATED: Great Lakes and Swimming Holes for DC Families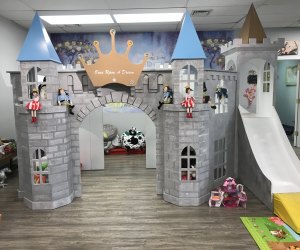 Play, imagine, and explore at Once Upon a Dream. Photo courtesy of Once Upon a Dream
Sterling, VA
Stocked with open-ended toys and places to get the wiggles out, Once Upon a Dream is an indoor space designed to spark children's imaginations through play. Open-play areas include science, cupcake decorating, art, music, and dance activities. There's also a cafe stocked with healthy snacks, as well as coffee and tea for grown-ups. If parents need to get work done while their little ones play, an onsite work space is available. Need to run some errands or grab a cup of coffee? Once Upon a Dream also offers drop-off care. Once Upon a Dream is open Monday-Friday, 9am-4pm, and closed on weekends. Admission is $20 for the first child and includes an adult. Babies 9 months and younger are free. Note: The Vienna location is now closed.
COVID policy: Cloth face coverings are required for all adults and for kids ages 3 and older; reservations are required for open play and the adult work space. The rooms are routinely cleaned and disinfected. Hand washing is required before entering the play areas.
Columbia, MD
NOTE:Play areas are closed until the fall in Chantilly as the store is undergoing renovations.

Play N' Learn is a playground superstore. If you're in the market for a new backyard playset, this is the place to go. But even if you're not, this store is more than just that: It's an indoor play space complete with a trampoline park, basketball goals, swing sets, and more. Kids ages 2 to 8 can try out any of the equipment in a space designed for hands-on play. Tickets ($9/child) must be purchased online in advance. The open-play facility is open on weekdays only, 10am-5pm.
RELATED: Mommy-and-Me Classes in the DC Area
Arlington, Chevy Chase (as of July 20), VA
The Wonder, formerly known as The Nook, offers a modern play environment that's more about activating creativity than overstimulation. So if you'd like your child to play in a sensory-friendly, low-key but fun and imaginative environment, this indoor play space is for you and your children who are 5 or younger. The Arlington location is set up like an imaginary pool, and invites kids to act like fish and play with beach balls. Summer hours are Tuesday-Friday, 9am-5pm, and 9am-11am on Saturdays. A day pass is $20. The Chevy Chase location is set up like an old-school summer camp.
COVID Policy: Children ages 2 and older and unvaccinated adults must wear face coverings. Cleaning is ongoing, throughout the day, with EPA-approved, non-toxic cleansing agents.
Crofton, MD
This engaging, 5,700-square-foot space is filled with interactive toys, play structures, and even a ninja course that will keep kids running with enthusiasm. Parent-friendly amenities include coffee and lounge chairs that look into the play area, so you can keep an eye on your children all during your stay. There is also a quiet room, ideal for those moments when your toddler needs a break from all of the excitement. Open weekdays and weekends, $13/child.
COVID policy: Limited capacity means you must book time in advance, online. It features a state-of-the-art ionization and HVAC system.
Don't miss out! Subscribe to our free newsletter and get the best events, ideas, and happenings around the DC area delivered right to your inbox.
This post was originally published in 2019. Writers James Stephen Smith and Drew Kristofik contributed to this 2021 update.