21 Fun Things to Do with Teens and Tweens in DC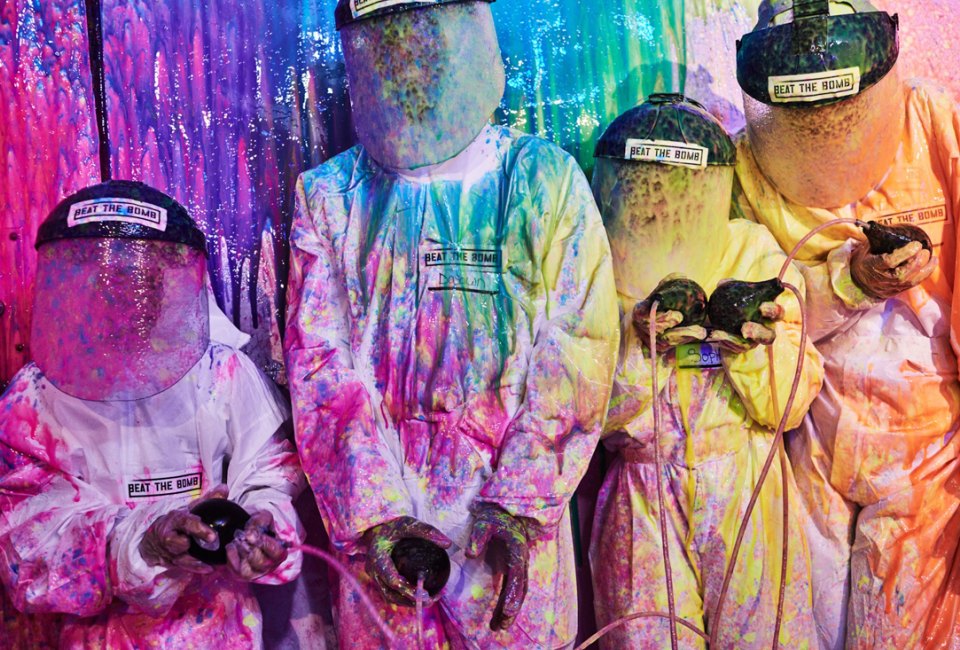 7/28/23
- By
Meredith Kiryakov
It can be challenging to find family activities that will entertain your teens and tweens—they're generally too old for playgrounds and a bit too young to wander around DC alone. Plus, that teenage attitude and desire for independence can put a damper on fun family activities.
However, the DC area is brimming with fun activities, and these 21 things to do with teens and tweens near DC can get even the most jaded teenagers off the couch and away from their screens. You never know—they may be having so much fun, they won't even worry about being seen in public with Mom or Dad.
For more fun things to do in DC with the whole family, check out our guide to the best museums in DC for kids, a roundup of thrilling water parks, and a list of our favorite mini golf courses.
Fun Things to Do with Teens and Tweens Near DC
1. Create Something Amazing
Maker spaces are the perfect place for a teen or tween to unleash their creativity. The Fab Lab at DC Public Library's Martin Luther King Jr. Memorial Library is a free maker space for kids ages 13 and up with 3D printers, a universal laser system, and sewing machines. ARTLAB at the Hirshhorn Museum is an innovative digital art studio for kids over 13 that teaches teens skills in video gaming, graphic design, video production, 3D design, and more with access to professional technology.
2. Tackle a Ninja Warrior Obstacle Course
There are several ninja warrior gyms and obstacle courses near DC that are perfect for tweens and teens. The Agility Center in North Bethesda, Maryland has 10,000 square feet of space dedicated to ninja warrior training and gymnastics, with open gym times in addition to agility classes. And on a nice day, check out the outdoor warrior challenge course at Locust Shade Park, next to the Quantico Marine Corps base in Triangle, Virginia, which was built in partnership with the Department of Defense.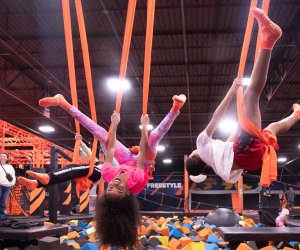 Trampoline parks have a little something for kids of all ages. Photo courtesy of Sky Zone in Manassas
3. Bounce at a Trampoline Park
The DC area's awesome trampoline parks are great places to visit with kids of multiple ages because they've got something for everyone, including tweens and teens. One we love is ZavaZone Trampoline Park in Sterling, Virginia and Rockville, Maryland. It offers a wide range of indoor climbing, jumping, balancing, and obstacle challenges for all ages so your teens and their younger siblings can all have fun. Other great ones are Sky Zone (with 11 DC-area locations) and Flight Adventure Park in Springfield, Virginia, which was remodeled in August 2022.
4. Play a Round of Mini Golf
There are some great indoor mini golf courses—most of which glow in the dark—scattered throughout DC, Maryland, and Northern Virginia. Most of them also have other fun activities tweens and teens love, like laser tag, arcades, virtual reality, bowling, and more. And from spring through fall, you can challenge your teen to a round at roughly a dozen other great outdoor mini golf courses in the DC area.
5. Go Roller Skating...
Skate N' Fun Zone in Manassas, Virginia offers laser tag and an arcade in addition to roller skating. Skate Zone in Crofton, Maryland has lots of themed days and special events. And in the summer, head to the outdoor Anacostia Park Roller Skating Pavilion, a free public skating rink that's part of the National Park System.
6. ... Or Ice Skating
Tweens and teens can hit the ice at a plethora of outdoor ice skating rinks near DC in the winter, but they can lace up their skates all year long at indoor rinks like Fairfax Ice Arena in Virginia; MedStar Capitals Iceplex (where the Washington Capitals practice) in Arlington, Virginia; and Rockville Ice Arena in Maryland. All of them offer public skating sessions, so check their websites for days and times.
RELATED: Where to Play Indoor Mini Golf Near DC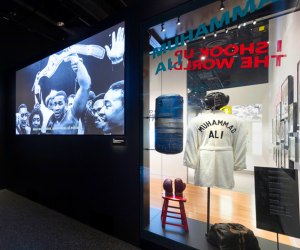 Photo courtesy of the Smithsonian National Museum of African American History and Culture
While the monuments and memorials on the National Mall are fun to visit with kids of any age, tweens and teens can really appreciate the history and meaning behind them. Climb the iconic steps of the Lincoln Memorial, ride the elevator to the 500-foot observation deck of the Washington Monument (reserve online tickets 30 days or 24 hours in advance), gaze up at the 30-foot statue of Martin Luther King Jr., and so much more.
8. Enjoy Over-the-Top Gaming
At the VR Arcade in DC and the VR Arena and VR Escape Room in Rockville, Maryland, players can select from more than 200 virtual reality game titles available and experience the latest technology, including free-roaming games in a warehouse that you play with a team. For an extra-unique experience, try Beat the Bomb in Ivy City, where your tween/teen and their friends will feel like they're in a real-life video game for an hour. They'll suit up in hazmat gear, dodge lasers, and crack codes to try to beat a paint or foam bomb before it explodes all over them.
9. Go Rock Climbing
Tweens and teens can challenge themselves at one of the DC area's fun indoor rock climbing gyms, which offer climbing walls for everyone from beginners to seasoned climbers. Three great ones to try are Vertical Rock Climbing & Fitness in Manassas and Tysons, Virginia; ClimbZone in Laurel, Maryland; and Sportrock Climbing Centers in Alexandria and Sterling, Virginia.
10. Splash and Slide at a Water Park
While there are many free public swimming pools in DC and membership-based community pools in its surrounding suburbs, step up the summertime thrills for tweens and teens with a visit to one of the area's outdoor water parks. There they can enjoy twisting water slides, wave pools, lazy rivers, and more. In the spring, summer, and fall, visit one of the amazing indoor water parks near DC instead.
RELATED: Top Attractions in DC for Kids and Families

Busch Garden is always full of thrills. Photo by Ally Noel for Mommy Poppins
11. Catch Thrills at an Amusement Park
Now that your kids aren't little anymore, they're not afraid of roller coasters—right? Find out at a nearby amusement park! Six Flags America in Upper Marlboro, Maryland is the closest one, with over a dozen thrill rides and many more family rides. Adventure Park USA in Monrovia, Maryland has rides, a virtual-reality arcade, bowling, mini golf, laser tag, rock climbing, bumper cars, and more. And, of course, you can always venture out to Kings Dominion or Busch Gardens.
12. Have an Adventure on the Water
At Harpers Ferry Adventure Center, you and your teens and tweens can go rafting, river tubing, and kayaking on the Shenandoah and Potomac rivers, whether you're looking for a relaxing float or a whitewater river adventure. There's also a zip line and a ropes course so you can combine your adventures. Or, go kayaking, canoeing or paddle boarding at one of the many places that offer these activities in the DC area.
There's something for every teen or tween to love at this amazing (sorry, we couldn't resist) entertainment center at The St. James in Springfield, Virginia. Tweens and teens can make a splash at an indoor water park, test their skills on a ninja warrior course, tackle a ropes course and climbing structures, and even participate in virtual-reality and e-sports video games.
RELATED: Visiting Washington, DC's National Mall and Memorial Parks with Kids

The Holocaust Memorial Museum is a powerful experience for older kids, teens, and adults. Photo courtesy of the museum
14. Explore a Free Museum
Tweens and teens are at the perfect age to enjoy any of the multitude of free museums near DC, including the Smithsonian ones. But the Holocaust Memorial Museum is an absolute must. Take your teens or tweens and be prepared to have thoughtful conversations with them about the significance of the Holocaust and what we can learn from it to prevent future atrocities.
15. Enjoy a Spa Day
It's stressful being a tween or teen these days. Help yours relax and enjoy some self-care with a teen-friendly spa day. One of our favorites is Kosmo Nail Bar (with locations in McLean, Virginia and Rockville, Maryland) with its budget-friendly manis and pedis inspired by cocktails. Or, visit Nail Saloon in Logan Circle or Capitol Hill for a manicure or pedicure accompanied by a free beverage, including juice, soda, hot chocolate, and more (even wine or beer for the grown-ups).
16. Try a Ropes Challenge Course
Go Ape! in Springfield, Virginia and Rockville, Maryland offers four different adventures in the trees with zip lines, rope bridges, climbing, and more. For tweens and teens looking for a challenge, the Treetop Adventure is a two- to three-hour experience with 70 different obstacles. On a not-so-nice day, head to Summit Ropes in Sterling, Virginia, the largest indoor ropes course in the US. Book a pass and your kids can spend up to two hours exploring over 120 obstacles.
RELATED: Best Ninja Warrior Gyms, Obstacle Courses, and Parkour Near DC

Hit the lanes! Teens can get dropped off for a safe afternoon with friends. Photo courtesy of Bowlero
17. Go Bowling
Bowling is not the no-frills sport it used to be. The DC area's high-tech bowling alleys will really impress tweens and teens (and their parents) with fun features like blacklight bowling, arcades, full food and drink menus, lounge areas, and more. Bowlero is a great chain with several locations in Maryland and Northern Virginia. Pinstripes, with locations in Georgetown and Bethesda, Maryland, is especially upscale and offers bocce (which—trust us—is cool again) in addition to bowling.
18. Try Your Hand at Archery
Did you know there's such a thing as archery dodgeball?! Now you do! Let your tweens and teens battle it out safely with bows and foam arrows at Ultimate Archery in Sterling, Virginia. Grown-ups can join in the fun, too!
19. Race Go-Karts
Teens who feel the need for speed can drive up to 50 miles per hour at Autobahn Indoor Speedway, which has two locations in Northern Virginia (Manassas and Dulles) and two near Baltimore. Autobahn also offers junior karting for kids and tweens ages 8-12. Junior karts offer seat belts, automatic shutoff, and speeds up to 25 miles per hour. Advance online reservations are highly recommended.
20. Conquer an Escape Room
Work together with your teens and/or tweens to find clues and solve puzzles in an immersive escape room. The Escape Game in DC is one of the highest-rated escape rooms in the region, with different difficulty levels and themes ranging from the Curse of the Mummy to the Titanic. Escapology in Fairfax offers each of its five escape rooms in Kid Mode, designed for ages 7-14, so your tweens or young teens and their friends can play without an adult.
21. Have a Paintball Battle
At Pev's Paintball in Aldie, Virginia, tweens and teens ages 10 and up can battle it out with their friends on 10 unique courses. Low-impact paintball is also available for ages 8 and up, as well as gelly ball and Nerf battles for ages 5 and up, outdoor laser tag for ages 7 and up, and archery tag and Airsoft for ages 10 and up. Central Avenue Paintball in Bowie, Maryland is another great park for tweens and teens, with both standard and low-impact paintball available along with gelly ball and Airsoft.
Sign up for the Mommy Poppins Newsletter today!