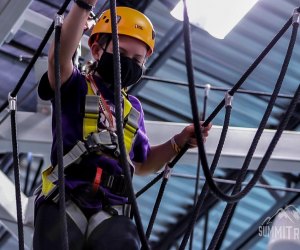 12 Fun Things to Do with Teens and Tweens Near DC
It can be challenging to find family activities that will entertain your teens and tweens—they're too old for playgrounds and a bit too young to wander around DC alone. Plus, that teenage attitude and desire for independence can put a damper on fun family activities. But the DC area is brimming with fun things to do with teens and tweens, from museums to water parks to mini golf.
If you've done all of those activities and are looking for new things to do with teens and tweens near DC, check out these 12 ideas that are interesting enough to get even the most jaded teenagers off the couch—and off of their screens. Some of the outdoor activities are only open in the warmer months, so be sure to call or check their websites before you go!
Fun Things to Do with Teens and Tweens Near DC
1. Tackle a ninja warrior obstacle course.
Sky Zone Trampoline Park in Springfield, Virginia offers a wide range of indoor climbing, jumping, balancing, and obstacle challenges for all ages so your teens and their younger siblings can all have fun. For something more intense, The Agility Center in North Bethesda, Maryland has 10,000 square feet of space dedicated to ninja warrior training and gymnastics, with open gym times in addition to agility classes. And on a nice day, you can check out the outdoor warrior challenge course at Locust Shade Park, next to the Quantico Marine Corps base in Triangle, Virginia, which was built in partnership with the Department of Defense.
2. Enjoy a spa day.
It's stressful being a tween or teen these days. Help yours relax and enjoy some self-care with a teen-friendly spa day. Two of our favorites are Kosmo Nail Bar in McLean, Virginia with its budget-friendly manis and pedis inspired by cocktails, and Springwater Spa in Fairfax, Virginia that offers a teen facial designed specifically to address acne and other common teen skin care issues.
OUR LATEST VIDEOS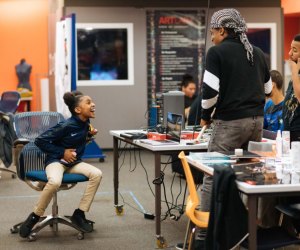 Teens can create a technological masterpiece at ARTLAB. Photo courtesy of hirshhorn.si.edu
3. Create something amazing.
Maker spaces are the perfect place for a teen or tween to unleash their creativity. The Fab Lab at DC Public Library's Martin Luther King Jr. Memorial Library is a free maker space for kids ages 13 and up with 3D printers, a universal laser system, and sewing machines. ARTLAB at the Hirshhorn Museum is an innovative digital art studio for kids over 13 that teaches teens skills in video gaming, graphic design, video production, 3D design, and more with access to professional technology.

Temple Hills Skating Palace hosts themed events with costumed characters, like the Grinch! Photo courtesy of the skating rink
4. Go roller skating.
Temple Hills Skating Palace in Maryland has dollar skating on Monday nights and lots of cool themed skate events with music, lights, and games. Skate N' Fun Zone in Manassas, Virginia offers laser tag and an arcade in addition to roller skating. And in the summer, head to the outdoor Anacostia Park Roller Skating Pavilion, a free public skating rink that's part of the National Park System.
5. Try a ropes challenge course.
Go Ape! in Springfield offers four different adventures in the trees with ziplines, rope bridges, climbing, and more. For tweens and teens looking for a challenge, the Treetop Adventure is a two-to-three hour experience with 70 different obstacles. On a not-so-nice day, head to Summit Ropes in Sterling, Virginia—the largest indoor ropes course in the U.S. Book a pass and your kids can spend up to two hours exploring over 120 different obstacles.

Experience the latest technology in virtual-reality gaming at VR Zone DC. Photo courtesy of vrzonedc.com
6. Experience virtual-reality gaming.
At the VR Arcade in DC and the VR Arena and VR Escape Room in Rockville, Maryland, players can select from more than 200 virtual-reality game titles available and experience the latest technology, including free-roaming games in a warehouse that you play with a team.
7. Conquer an escape room.
Work together with your teens and/or tweens to find clues and solve puzzles in an immersive escape room. The Escape Game in DC is one of the highest-rated escape rooms in the region, with different difficulty levels and themes ranging from the mummy's curse to the Titanic. Escapology in Fairfax offers each of its five escape rooms in Kid Mode, designed for ages 7-14, so your tweens or young teens and their friends can play without an adult.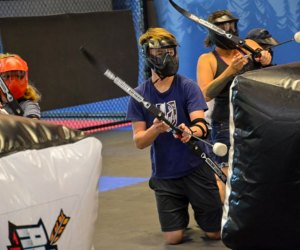 Is it archery? Is it dodgeball? It's archery dodgeball! Photo courtesy of Ultimate Archery, Facebook
8. Try your hand at archery.
Did you know there's such a thing as archery dodgeball?! Now you do! Let your kids battle it out safely with bows and foam arrows at Ultimate Archery in Sterling, Virginia. Grown-ups can join in the fun, too!
There's something for every teen or tween to love at this amazing (sorry, we couldn't resist) entertainment center at The St. James in Springfield. Kids can make a splash at an indoor water park, test their skills on a ninja warrior course, tackle a ropes course and climbing structures, and even participate in virtual-reality and e-sports video games.
10. Head to an amusement park.
Now that your kids aren't little anymore, they're not afraid of roller coasters—right? Find out at a nearby amusement park! Six Flags America in Upper Marlboro, Maryland is the closest one, with 13 thrill rides and many more family rides. Adventure Park USA in Frederick, Maryland has rides, a virtual-reality arcade, bowling, mini golf, laser tag, rock climbing, bumper cars, and more. And, of course, you can always venture out to Kings Dominion or Busch Gardens.
11. Have an adventure on the water.
At Harpers Ferry Adventure Center, you and your teens and tweens can go rafting, river tubing, and kayaking on the Shenandoah and Potomac rivers, whether you're looking for a relaxing float or a whitewater river adventure. There's also a zip line and a ropes course so you can combine your adventures. Or, go kayaking, canoeing or paddle boarding at one of the many places that offers the activity in the DC area.

The Holocaust Memorial Museum is a powerful experience for older kids, teens, and adults. Photo courtesy of the museum
Yes, we know we mentioned museums already, but this one is a must for all older kids in the DC region. Take your teens or tweens and be prepared to have thoughtful conversations with them about the significance of the Holocaust and what we can learn from it to prevent future atrocities.