Visiting Busch Gardens Williamsburg, VA with Kids: What to Know Before You Go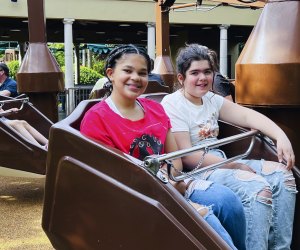 5/21/22
- By
Ally Noel
If you're looking for a vacation that will provide thrills and fun for everyone in the family, an amusement park is a great bet. Most of the 40 top amusement parks in the US for a family vacation offer rides, attractions, shows, and other activities for everyone from toddlers to teens and their grown-ups. My family recently visited one of these theme parks, Busch Gardens Williamsburg in Virginia, and had an absolute blast.
Busch Gardens Williamsburg is a European-themed park that's been voted the World's Most Beautiful Amusement Park by the National Amusement Park Historical Association for over 30 years. The massive park is broken into nine villages that center around six countries—Germany, France, Ireland, Scotland, England, and Italy. Many of the rides, attractions, performances, and foods are themed around those countries. There are also animal habitats to visit. While there's enough to do at Busch Gardens Williamsburg to make it your sole destination, its proximity to Colonial Williamsburg, Jamestown, and other historical sites can also make it one part of a larger family vacation.
Here's what to know about visiting Busch Gardens Williamsburg, VA with kids.
Things to Do at Busch Gardens Williamsburg, VA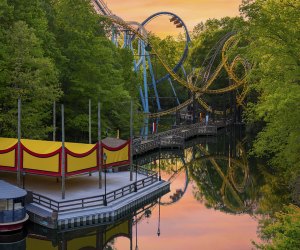 Thrill-seekers will love Busch Gardens Williamsburg's eight roller coasters.
Busch Gardens Williamsburg Rides That Thrill
Busch Gardens is perhaps best known for its gravity-defying thrill rides. The park is home to eight world-class roller coasters including the newly opened Pantheon, the world's fastest multi-launch roller coaster.
During our visit, we decided to start with the non-looping coasters and see if my daughter could work herself up to her first upside-down coaster. There are three non-looping, high-speed coasters: Invadr, Verbolten, and Apollo's Chariot. Make no mistake—just because these coasters don't loop, it doesn't mean they're any less thrilling.

The Loch Ness Monster is the world's only interlocking, double-looping steel roller coaster.
Our first coaster of the day was Invadr, the park's first wooden coaster. It reaches speeds of 48 miles per hour and features nine air-time hills that zip you through a Viking adventure. Our last coaster was the Loch Ness Monster, which earns high praise among park guests year after year. Its claim to fame is that it's the world's only interlocking, double-looping steel roller coaster. We watched the green coaster car go through the loops a few times before deciding to give it a try ourselves. In my opinion, this coaster was the perfect introduction to the wonderful world of looping coasters. It is the perfect amount of thrill for any kid trying their first upside-down experience.
Related: 40 Top Amusement Parks in the US for a Family Vacation

There are plenty of rides and attractions for younger kids at Busch Gardens Williamsburg.
Busch Gardens Williamsburg Rides for Little Kids
Parents of younger kiddos will be happy to know that there are plenty of rides for the little ones at Busch Gardens. One of the things I immediately noticed is that there is always a kiddie ride close by, making it easy to divide and conquer if need be. For example, older members of your group can check out Verbolten while the pint-size crew take a ride on Der Autobahn Jr. (AKA kiddie bumper cars).
Toddlers and preschoolers will enjoy spending some time in the Sesame Street Forest of Fun at Busch Gardens. With seven unique Sesame Street attractions, kids may not want to leave. If you have a little one that wants to feel included in the coaster experience, make sure to check out Grover's Alpine Express.
Related: 12 Great Summer Day Trips From DC for Families

Meet draft horses, Border Collies, and other animals at Busch Gardens Williamsburg. Photo by Ally Noel
Busch Gardens Williamsburg Animal Experiences and World-Class Entertainment
Busch Gardens has so much to offer beyond its rides. We signed up for a Clydes and Collies Animal Tour where we learned about the amazing draft horses that people so frequently associate with Busch Gardens. We got an opportunity to get up-close and personal with these beautiful animals and to throw a ball to a Border Collie. For my animal-loving daughter, this definitely checked a few things off of her bucket list. You can also sign up for the wolf program, Howl to Coexist, and see several other animals in the park. Animal experiences tend to fill up quickly, so make sure to book them in advance.
Taking a cue from the countries featured around the park, Busch Gardens Williamsburg offers a wide variety of entertainment throughout the day. You can celebrate Irish culture with the award-winning Celtic Fyre, spend quality time with your Sesame Street friends at the Sunny Day Celebration, jam out to an Oom-Pah band, or be serenaded by Bel Concertino, and more.
Related: Legoland New York Brings Mega Theme Park Fun to the Hudson Valley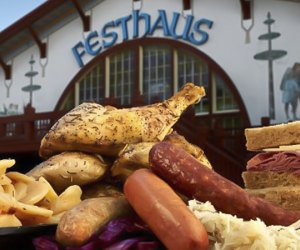 East delicious German food at Das Festhaus in the Germany area of Busch Gardens Williamsburg.
Where to Eat at Busch Gardens Williamsburg
There are eight restaurants at Busch Gardens Williamsburg, but we had our sights on only one—German Pretzels & Beer. I mean, how do you come to Busch Gardens and not eat like a local? Everything at this grab-and-go restaurant is made out of hand-rolled pretzels, including pretzel sandwiches and pretzel-wrapped hot dogs with a variety of dipping sauces to choose from.
Just about every country at Busch Gardens has a restaurant unique to that cuisine. You can check out Les Frites in France, the Brauhaus Craft Bier Room in Oktoberfest, or the Squire's Grille in England. Each one of these dining spots also offers kid-friendly staples like hot dogs, chicken fingers, and fries.

Consult the Busch Gardens Williamsburg map to help you find your way around the park.
What to Know Before you Go to Busch Gardens Williamsburg
1. Check for Discounts
Before you even get in the car, make sure check the Busch Gardens website for specials. During our stay, they were offering a Spring Flex pass, which allowed us to hop between Colonial Williamsburg and Busch Gardens. It also included parking, which saved us about $30. The website has the most up-to-date ticket specials, so check frequently.
2. Experience the Rides in Advance on the Website
Many of the rides at Busch Gardens Williamsburg (including all of the roller coasters) have POV Videos, so you can check out the ride on the website before you go. If you have a kid like mine that has a bit of ride anxiety, this could be a trip-saver!
3. Take Advantage of PhotoKey
Don't risk your phone trying to get the perfect shot—most of the major roller coasters have a PhotoKey that will collect your photos throughout the day. We asked for a PhotoKey card at the first coaster, then continued to scan the same card throughout the day so that all of our photos were on one account. At the end of the day, we simply stopped by the PhotoKey booth and picked which pics we wanted to save (which, naturally, was all of them)!
4. Consider Quick Queue and Reserved Seating
If the park is particularly busy, it may be worth upgrading to Quick Queue or Reserved Seating at performances. There is an additional fee for this, but if you are the kind of person who hates waiting in line, this might be a trip-saver. Just make sure to check out which rides provide this service.
5. Download the App
What modern-day amusement park doesn't have an app? Even if you just download it for your time at the park, the Busch Gardens app will come in handy. It will provide you with step-by-step guidance on how to get to the nearest restroom, how long it will take to walk to a ride, and so much more.
Related: 11 of the Best Outdoor Water Parks in the US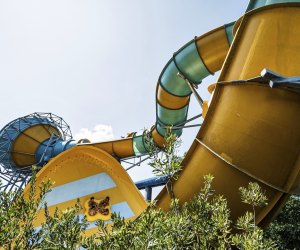 Busch Gardens Williamsburg's water park, Water Country USA, is three miles away and open all summer.
Busch Gardens Williamsburg Hours
Busch Gardens is open year-round—seasonal events such as Christmas Town, The Count's Spooktacular, and the Food and Wine Festival keep the gates open 12 months a year. But, days and times vary from season to season. The website has the most up-to-date operating hours, so check before you plan your trip.
All photos, unless otherwise indicated, are from the Busch Gardens in Williamsburg website.
Places featured in this article:
---
Busch Gardens Williamsburg
Click Here to Sign Up!