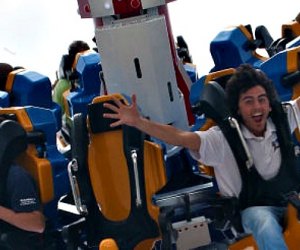 Atlantic City With Kids? You Bet!
No, we do not have a gambling problem and no, we're not the only Mommy Poppins family to bring kids to Atlantic City. My husband received a coupon for 2 free nights in Atlantic City and since we don't like to spend too much time away from our kids, we decided to make a family trip out of the offer and see just how "FREE" we could actually manage. So, we booked a stay at Bally's, loaded up the car, and hit the parkway! Is Atlantic City kid-friendly? See for yourself!
Where we stayed:

Bally's
While not the ritziest hotel, it is actually the perfect location for families because Bally's is located smack in the middle of the boardwalk and is one of the only hotels on the strip that has an indoor pool. We were in walking distance of pretty much everything we wanted to do, plus we could walk right from our room to the beach, which was obviously a huge bonus.

There are many different types of accomodations and we ended up with one of the "Ruby Rooms" which are the boutique hotel rooms within the resort. We had an ocean view, two double beds and each room has a good-sized refrigerator, so stock up on snacks and drinks before you go! My girls loved looking out the window at night watching all of the people, the fountain, and the flashing lights and action of the boardwalk. The staff was very friendly and helpful. Everything was stroller accessible and Bally's provided a crib for our little one.

Where we played:

Bally's Beach
It was our first time ever at an Atlantic City beach and we were happily surprised that the beaches were not too crowded and just close enough to the bar-scene that we could enjoy the live bands. There were lifeguards and more children there than we had anticipated. It was a lot less crowded then some other beaches we have visited at the Jersey Shore. Maybe it's because everyone else is inside gambling?
Bally's Spa and Indoor Pool
Bally's pool is located on the roof, from which you can see almost all of Atlantic City. The indoor pool is large with nice warm water and many hot tubs.

Ripley's Believe it or Not Museum
I decided to skip this one with my two year old, but my husband and seven year old enjoyed the self-guided tour that takes anywhere from 30-60 minutes. Ripley's is open everyday from 10am to 10pm 365 days a year. While they were inside we people-watched from a bench and enjoyed a lemonade.

Steel Pier
The Steel Pier was just a short walk on the boardwalk from Bally's and we were surprised at how nice and family-oriented the amusement section of the boardwalk was. The ride attendants were in uniform, it was shockingly clean, and the rides were newer. They even had tables and umbrellas for snacking and taking a break. There is a kiddie ride section up front and a big kid-ride section closer to the water. The double-decker carousel was a big hit with my girls. They are open every day of the summer.

Pier Shops at Caesars
Um, one good reasons to visit a mall in Atlantic City is:
It'Sugar
A candy lover's paradise. Which automatically makes it a kid's paradise.

Where we ate:
Our kids are both under 10, so at most spots inside Bally's and Caesar's they ate free. One night for a splurge, we ordered a late night tea party from room service. My girls were enamored with all of the jellies, creams, honey, and tea cups on the cart. We also ate at: Johnny Rockets located at Bally's
La Piazza Di Giorgio's - Pier Shoppes at Caesars (you can watch the Water Show while you eat)
Rainforest Cafe - On the boardwalk

Overall we had a great time; not free exactly, but we ended up not spending a large amount which made the trip doubly nice. We had planned at stopping at Storybook Land in Egg Harbor Township on the way home to make the weekend as kid-friendly as possible, but were actually wiped out from all the family fun in Atlantic City itself!
Image: Steel Pier
Originally published 2012