Atlantic City With Kids: 20 Things To Do in the Jersey Shore Town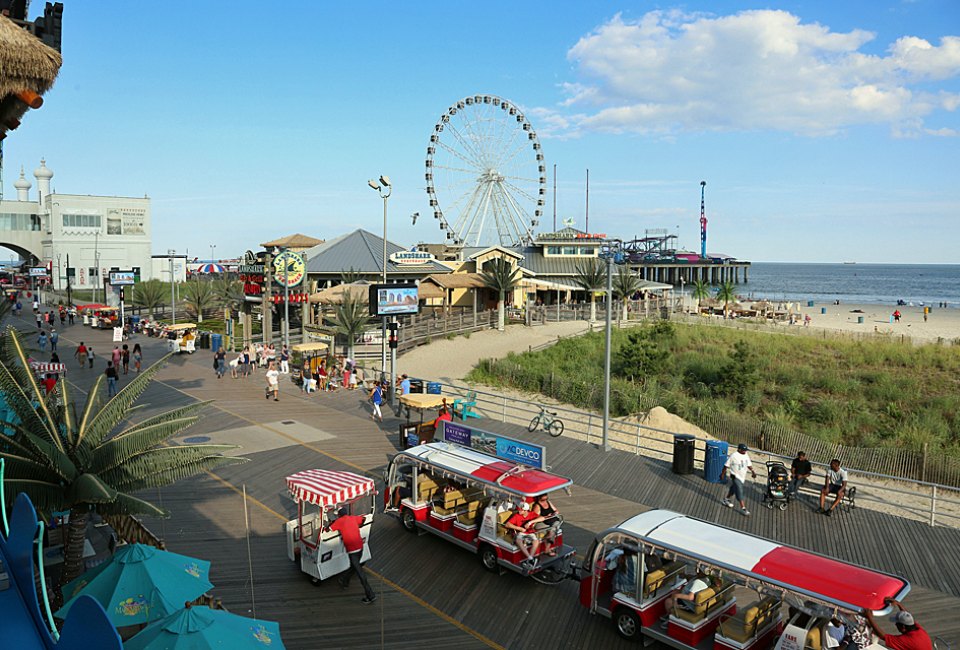 8/15/21
- By
Alyssa Wolford
Subscribe to our newsletters to get stories like this delivered directly to your inbox.
With video games, a go-kart speedway, and games for prizes, you are sure to find a little something for everyone in this arcade, which is even open in the offseason.
One of my family's favorite Jersey Shore family activities is always a round of miniature golf, and Atlantic City Miniature Golf doesn't disappoint. It's a simple, grassy course. If you've got big kids, plan to play under the lights in the evenings.
RELATED: Jersey Shore Family Guide

From classic amusements to helicopter tours, Atlantic City's Steel Pier has it all.
Packed with rides, carnival-type prize games, boardwalk food, vendors selling bubble toys, and the famous Ferris wheel that looks out over the entire city, Steel Pier is as action-packed as ever. For a splurge, climb aboard a helicopter at the end for a 3-minute ride (which feels much longer when you're up there!) along the shoreline. It costs $65 per person to see the shoreline or $110 per person for a tour of the entire city, plus a tip for the pilot.
Another great arcade, Playcade, has plenty of pinball machines, plus video games, and prize games—and it's the self-proclaimed home of the "Best Prizes on the Boardwalk." We'll let you be the judge...
Escape rooms are great with older kids, and my teenage son loves the mental challenge escape rooms provide. Located in the Tropicana Casino and Resort, Escape AC has four different escape rooms to choose from—the Poker Room, Casino Cage, Boardwalk, and Backstage—with each puzzle lasting 60 minutes. The recommended minimum age is 13. A save-for-later idea: The Tropicana's IMAX theater is still shuttered, but a stunning spot to take in a flick.
RELATED: Top Water Parks for New Jersey Kids

Do you dare climb the stairs to the top of New Jersey's tallest lighthouse, Absecon Lighthouse, in Atlantic City?
New Jersey's tallest lighthouse is located at the corner of Pacific and Rhode Island Avenues. Steel yourself for the 228 step ascension to its pinnacle. It's open daily during the summer and closed on Tuesdays and Wednesdays from September to June. Current fees for climbing are $6 for children ages 4-12; $10 for adults. Children ages 3 and younger enter for FREE. There's an on-site museum in the Keeper's House, plus a gift shop on the grounds.
7. Cruise the Boards on a Tram or Rolling Chair
If you need to give everyone's legs a rest from touring the boards, consider traveling via the town's famous "rolling chairs." Dating to the 1880s, these people-powered rides charge by the block, and a tip for your driver is not included, so be prepared to fork over a little extra cash. For a 21st-century upgrade, hop aboard the Boardwalk Tram Service, which offers all-day passes, so you can hop on and off to your heart's desire.
While at first thought, a casino doesn't scream family-friendly, keep in mind many of Atlantic City's famed addresses are resorts unto themselves. Find cool amenities like pools, spas, and world-class entertainment venues, plus themed restaurants and more.
9. Bike the Boardwalk
Whether you brought your own or decide to rent, a family bike ride on the boardwalk is a great way to start the day. Biking is available only select hours during the summer.
RELATED: Best Jersey Shore Beaches for Families: Sandy Hook to Cape May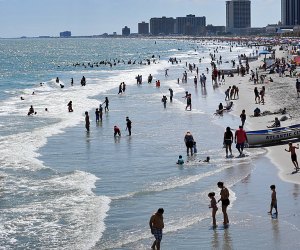 Atlantic City's shoreline is as scenic as you'll find elsewhere on the Jersey Shore, and it's completely FREE.
10. Hit the Shore
Perhaps it seems obvious for a shore town, but most visitors don't flock to Atlantic City for its sandy beaches. The best part, unlike other Jersey Shore beaches, is the Atlantic City Beach is completely FREE.
If you need a place to get away from the masses and just relax with the family, consider visiting Oscar E. McClinton Waterfront Park, where you can relax at the central pavilion while taking in stunning views of the Absecon Inlet. Little kids can run wild at the large playground on-site.
If you are ready for some fun on the water, Gardner's Basin has several options. See the city from a unique viewpoint with Atlantic City Parasail, go on a dolphin-watching or sightseeing cruise with Atlantic City Cruises, or try and catch your dinner with Highroller Fishing. Though currently closed for renovations, the Atlantic City Aquarium is also located here.
RELATED: Ocean City: Family-Friendly Summer Fun on the Jersey Shore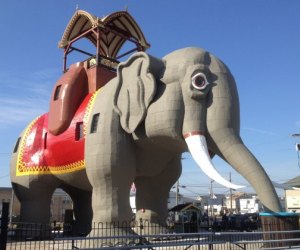 Stand outside Lucy the Elephant or go on a guided tour to see the 360-degree views from atop her back. Photo courtesy of the venue
Nearby Margate City is home to the larger-than-life Lucy the Elephant. This six-story novelty architecture piece is on the National Register of Historic Places. Kids love gazing up at the friendly pachyderm, and you can visit the grounds for FREE. If you want to step inside for a 25-minute guided tour, it'll cost you $4 for children ages 3-12; $8.50 for everyone ages 13+. Kids ages 2 and younger are FREE.
For a sweet treat, step inside the local chain outpost of It'Sugar. This candy-filled wonderland is stocked with all your favorite sweet treats.
Prepare to be awed and amazed by the Atlantic City outpost of this museum dedicated to the strange and unusual. See artifacts, optical illusions, and plenty of eye-popping displays that will leave you scratching your head.
Atlantic City's location makes it a great jumping-off point for a historical day trip. Three of our favorite historic villages are an easy drive away. Head north to visit Historic Smithville (20 minutes) or the Tuckerton Seaport (40 minutes), or south to see Cold Spring Village (1 hour).
RELATED: Jersey Shore Boardwalks and Amusement Parks for Family Fun

The massive King Kong Sundae is only one of Sugar Factory's over-the-top confections. Photo by Matt Harbicht for The Food Network
If you don't get enough sweet treats at the aforementioned candy store, consider booking a reservation at this boardwalk eatery. Whether you just step inside to visit the cafe or opt for a sit-down meal, its desserts are legendary, including the King Kong Sunday, and it's well-known for its "Insane Milkshakes."
Despite the bar in its name, this restaurant has plenty of seating areas for families, and the food and service are fantastic. Reservations are required, so call ahead. Plan to dine early in the evening as the crowd starts to fill in later.
There's seemingly always some FREE event happening along the AC boardwalk, but perhaps none are bigger or more well-known than the annual Atlantic City Airshow, which happens in mid-August. See high-flying stunts from the likes of the U.S. Army's Golden Knights parachute team, the Air Force Thunderbirds, and more.
If bargain hunting is your favorite sport, Tanger Outlets is home to more than 70 shops, from big-name designers, like Coach, to kid-friendly outposts like Old Navy.
This post, originally published 2012, has been updated. Erica Hartman contributed additional reporting.
Unless noted, all photos courtesy of Meet AC
Sign up for the Mommy Poppins Newsletter today!