Historic Villages in NJ That Are Fun for Kids and Families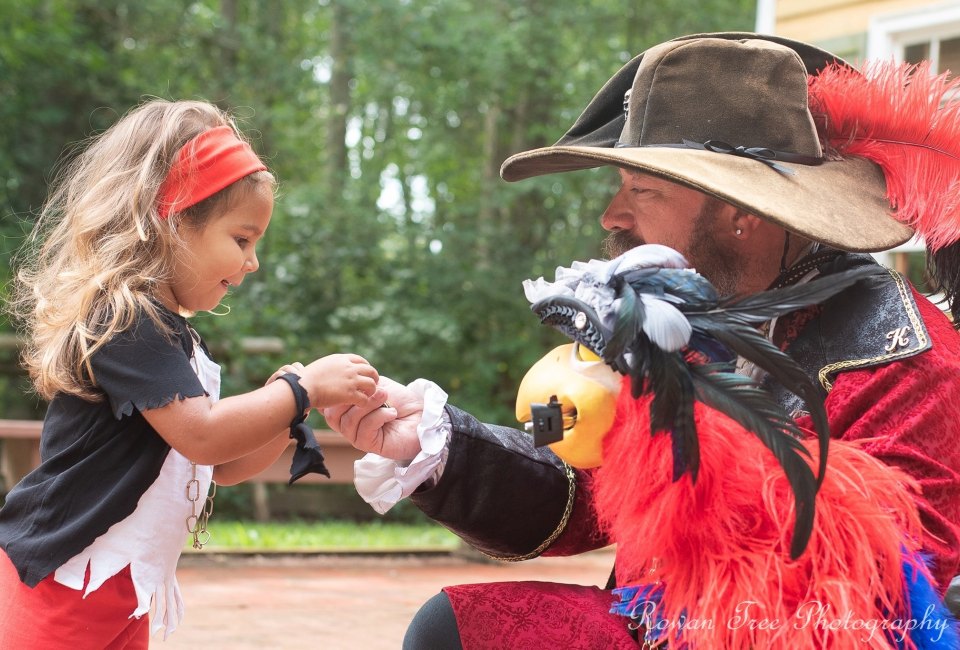 5/18/21
- By
Dore Duhaime
Unplug and step back in time at one of New Jersey's historic villages, which offer families a taste of what life was like in the 18th and 19th centuries.
Located throughout the state, these historic villages feature blacksmith shops, working farms, gristmills, historic houses, general stores, and more, and many host family-friendly events throughout the year. Whether you're looking for an authentic historical outing or an afternoon of quaint shopping, these 10 spots make for a great family day trip.
For more historical day trip inspiration, check out our list of Revolutionary War sites to visit with kids.
Editor's note: While we are trying to promote safer activities that occur outdoors or with social distancing guidelines in place, please keep your family and others safe by always wearing a mask and practicing social distancing. If you arrive at a venue that appears too crowded, try using the "nearby" search feature on our Event Calendar to find something else to do. Please plan your outings in advance, as many venues require timed-entry tickets or reservations to limit crowd size.
2021 update: Face coverings are required in all park buildings and outdoors when social distancing cannot be maintained. Some buildings may be closed to the public during programs.
Visit this wonderful historic site to learn about the evolution of Walnford from an 18th-century industrial village and family farm to an elegant country estate. The heart of Crosswicks Creek Park, the village features an elegant home built in 1774, a 19th-century gristmill, and various farm buildings. On weekends from April through November, visitors can speak and interact with knowledgeable staff as they describe the workings of the mill. The village hosts a variety of family-friendly events throughout the year.
2021 update: Virtual tours and drone videos are available on the park's website.
Once a 19th-century ironworks and glass-making industrial center, Batsto Village is now a museum village with 33 historic buildings and structures. Visitors can learn about the village's rich history by touring Batsto Mansion, a 32-room house that served as the residence for generations of the town's ironmasters. Additional buildings include a post office, gristmill, and general store. There is also a Nature Center, located on the banks of Batsto Lake, offering a variety of programs and displays on Pinelands wildlife and plant life. Canoes are available for guided nature trips on the lake. Check the website for operating hours and tour schedules. Mansion fees are $3 for ages 12+; $1 for ages 7-12; visitors 6 years old and younger are FREE.
RELATED: Exploring New Jersey's Pine Barrens: Best Things To Do With Kids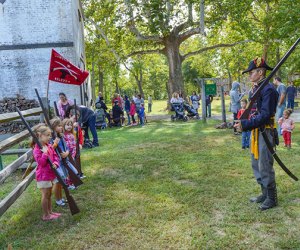 Discover what life was like in a 19th-century industrial town at Allaire Village.
2021 update: The village is currently open on weekends; shops are open Fridays, too. Masks and social distancing are required, and visitors are asked not to touch any of the exhibits.
Travel back to 1836 as you enter this historic village in Allaire State Park. Tour historic buildings, including a blacksmith shop, carpenter's shop, manager's house, foreman's house, and church, to discover what life was like in a 19th-century industrial town. Historic interpreters provide a peek into the everyday lives of early residents, and visitors can join the town's villagers for activities such as 1830s games, chores, crafts, and demonstrations. Stop by the Visitor Center and museum, and visit the General Store for unique items made by Allaire artisans, blacksmiths, tinsmiths, and carpenters. For hours of operation and admission fees, visit the park's website.
Although it operates as a separate nonprofit, visitors to Allaire can also take a ride on the Pine Creek Railroad or check out the seasonal train rides operated by the New Jersey Museum of Transportation: the Haunted Express in October and the Christmas Express with Santa in December.
RELATED: Living History Farms in New Jersey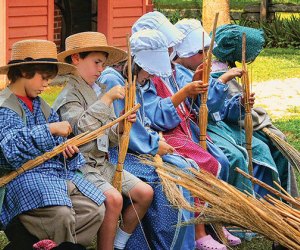 Kids can participate in hands-on crafts and watch demonstrations at Historic Cold Spring Village.
2021 update: The Village is currently closed but will re-open in June.
Cold Spring Village brings to life the day-to-day activities of villagers living in South Jersey during the "age of homespun" (1789–1840). Visitors can connect with the past through educational and hands-on family activities. The 30-acre property includes shaded lanes, gardens, and a working farm where heritage crops are grown. There are 26 restored historic buildings, each housing clothed interpreters who educate visitors about the lifestyles, trades, and crafts of yesteryear. Children can enjoy playing in the activity area, where they can try on costumes, play games, and participate in hands-on crafts. There are also horse-drawn carriage rides on weekdays. Open seasonally, check the website for special events.
RELATED: 25 Things To Do with Kids in Cape May, NJ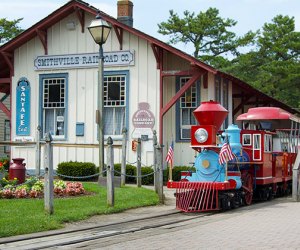 Historic Smithville has charming shops, fun events, and a train ride and carousel for the kids.
If you're looking for a great place to stroll cobblestone streets, enjoy unique shops, and have a great meal, Historic Smithville is worth your time. The Village is comprised of more than 40 small shops selling everything from homemade soap to jewelry and clothing. Foodies will love the Smithville Inn, which has been in business since 1787 and is well-known for its delicious Sunday brunch. Annual events include a Renaissance Faire, Children's Festival, a Living History Encampment, and Mayfest. There is also a fun train ride and carousel for the kids. If you visit in December, don't miss the Holiday Light Show, when twinkling Christmas trees are displayed on the lake. Open year-round; check the website for more information.
RELATED: Best Nature Centers in New Jersey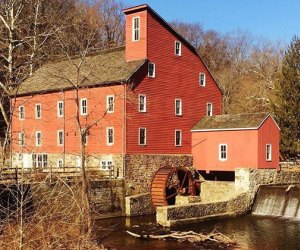 Visitors to Red Mill Museum Village can tour the mill, a schoolhouse, carriage sheds, and a log cabin.
2021 update: Masks are required when social distancing is not possible. The site is regularly sanitized. The Mill itself is closed, the buildings are open for outdoor viewing only. On-site bathrooms are also closed. Temporary hours are Saturday and Sunday, 12-6pm (weather permitting).
The centerpiece of this historic village, nestled along the banks of the Raritan River, is the beautiful Red Mill. Visitors can tour the mill, which is now a museum, and learn about the history of this 19th-century power station. A tour of the museum showcases more than 40,000 historical artifacts. Additional buildings open to the public include a schoolhouse, carriage sheds, and a log cabin. The village offers numerous events, tours, and activities, including monthly children's drop-in activities. At holiday time, be sure to visit Winter Village, a three-day, open-air German Christmas market. Visit the website for hours, admission, and special events.
RELATED: Top Things To Do in Clinton, NJ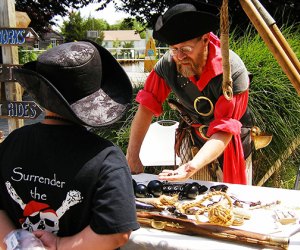 Tuckerton Seaport hosts numerous events throughout the year, including the Privateers & Pirates Festival.
2021 update: Masks and social distancing are required. All indoor spaces and the office are currently closed to visitors. You can visit the lighthouse, and a pop-up gift shop there Saturdays, Sundays, and Mondays, from 10am-5pm.
The Tuckerton Seaport is a maritime village located along historic Tuckerton Creek. The Seaport's 40-acre site includes 17 historic and re-created buildings connected by a boardwalk. Highlights of the Seaport include a maritime forest and wetlands nature trail, a working boatworks building, and the re-created Tucker's Island Lighthouse. Daily demonstrators and traditional artists bring the Jersey Shore's rich maritime heritage to life. Visitors can explore exhibits, take a boat tour of historic Tuckerton Creek, and meet people who lived, worked, and played along Barnegat Bay. Check out the calendar for upcoming festivals, hands-on activities, workshops, tours, and classes.
2021 update: Social distancing is encouraged in all outdoor spaces and on all trails.
This 19th-century village contains a working gristmill, general store, blacksmith shop, canal museum, and historic houses on the banks of the Morris Canal within Allamuchy State Park. A log-cabin farm site and 17th-century Lenape Indian village exhibit are also located in the village. Open seasonally. Special events are listed on the village's Facebook page.
RELATED: Revolutionary War Sites To Visit With Kids in NJ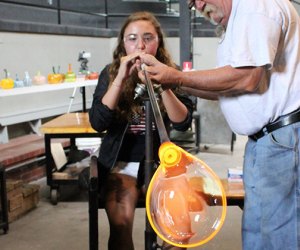 Older kids can try glassblowing at Wheaton Village.
2021 update: Currently, hours of operation are Friday, Saturday, Sunday, from 11am-4pm. Timed-entry tickets are available for purchase on the website. Education programs, group tours, and docent tours are currently canceled until further notice. There will be no facilities rental or special events at this time. Temperature checks and further precautions are administered by staff. Check the website before visiting for further information.
Learn about the history of glassmaking in New Jersey at this one-of-a-kind Arts and Cultural Center. Explore exhibits in the Museum of American Glass, including the world's largest hand-blown glass bottle. Watch glass-blowing demonstrations in the Glass Studio, and interact with artists in the Pottery and Flame-working studios. Discover other cultures in the Down Jersey Folklife Center. It also hosts an interpretive Nature Trail throughout its 45-acre campus and several unique museum stores. A collection of family art workshops video tutorials can be found on its website. Keep in mind that there are many delicate breakables, so this day trip might not be suitable for small children. For more information about hands-on activities, check out the website.
2021 update: Scheduled village tours and moonlight hikes are $10/person, see website for more information. The General Store is currently open Saturdays, from 10am-3pm. Please check out its website and Facebook page for more information.
Once home to the largest cranberry farm in NJ, Whitesbog Village was an early 20th-century company town and agricultural community. Today, Whitesbog includes the historic village as well as 3,000 acres of bogs, reservoirs, forests, and fields. Check out the charming General Store, which sells unique items along with blueberry and cranberry preserves. Part of the Brendan T. Byrne State Forest, the village is open year-round. Visitors can tour the village on their own with maps and brochures available at the visitor center. Check the website for guided tours and scheduled programs.
Photos courtesy of the venues.
This post was originally published in 2015 and has been updated since.