5 Revolutionary War Sites in New Jersey to Visit with Kids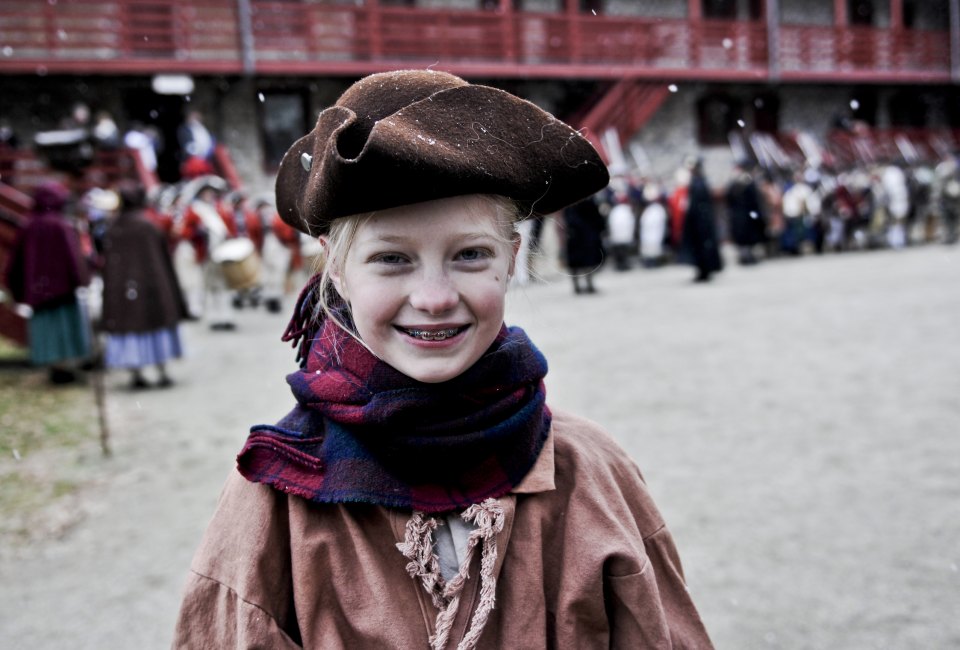 9/26/16
- By
Michelle Vames
In certain parts of New Jersey, it seems like you can't walk more than a few feet without stumbling upon a spot where George Washington and the Continental Army made history during the Revolutionary War. Indeed, New Jersey is known as "The Crossroads of the American Revolution," and Washington spent more time in our strategically located state than anywhere else during the war. It's pretty incredible when you think about it: the Revolutionary War happened all around us.
Whether you're looking to put a little educational spin on your next family day trip or your child is suddenly turning into a budding historian, a visit to one of these historic spots can make a great way to spend a morning or afternoon in New Jersey. You'll see old barracks and monuments, hike along nature trails, and even enjoy hands-on activities and demonstrations at places like the Princeton Battlefield State Park.
Read on for five of the best sites in NJ for kids to soak up a little American history.
Washington Crossing State Park – Titusville
In one of the war's most celebrated moments, Washington and his men crossed the icy Delaware River on Christmas night 1776 and went on to defeat the British in Trenton and Princeton. The spot where they landed, then known as Johnson's Ferry, is now Washington Crossing State Park. Start at the Visitor's Center Museum, where you can watch a short film about the crossing and battles and see hundreds of war artifacts. Then head to the Johnson Ferry House for living history demonstrations, guided tours, and special events. In addition, the park's 140 acres offer hiking, picnicking and camping, as well as a nature center with interactive exhibits, live specimens, and more.
To see the crossing in action, visit Pennsylvania's Washington Crossing Historic State Park (accessible by bridge), which stages a reenactment every Christmas. If you can't make it on December 25, come for the dress rehearsal that takes place earlier in the month.
RELATED: 10 Historic Villages in NJ to Take the Kids Back in Time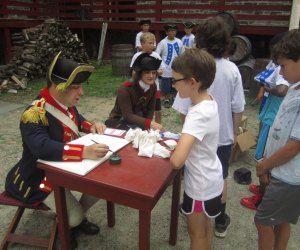 Kids can get a taste of 18th century life at the Old Barracks Museum. Photo courtesy of the museum.
Old Barracks Museum – Trenton
The Barracks played a major role in the American Revolution: as a holding area for British prisoners of war, a training ground for troops, and a hospital for the Americans following their victory in Trenton in December 1776. Today, the museum is located in the NJ State Capitol Complex. Visitors can see 18th century New Jersey come to life in demonstrations and tours, and view a collection that includes what's believed to be the oldest American flag. Be sure to make time to stop at the Trenton Battle Monument, a 150-foot structure that offers amazing views from the top (reachable by elevator). One of the best times to visit Trenton is in December during Patriots Week, which includes battle reenactments, performances, hands-on activities, and more.
Princeton Battlefield State Park – Princeton
Just days after the victory in Trenton, on January 7, 1777, Washington led the Continental Army to Princeton, where they again defeated the British. Marking the spot today is Princeton Battlefield State Park, where the Clarke House Museum features Revolutionary War artifacts and activities such as candle making, games, and open-fire cooking demonstrations. Princeton University also saw some action during the battle, and Nassau Hall still bears battle scars. While you're on campus, head over to the University Art Museum to see Charles Willson Peale's 1784 painting, George Washington at the Battle of Princeton. Last but not least, stop by the impressive Princeton Battle Monument, which was inspired by the Arc de Triomphe in Paris.
RELATED: 20 Things to Do in Historic Gettysburg with Kids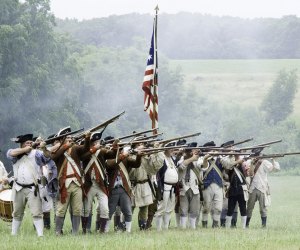 The annual reenactment of the Battle of Monmouth takes place in June. Photo by Zheng Xu via Flickr.
Monmouth Battlefield State Park – Manalapan
The Battle of Monmouth, one of the toughest fights in the American Revolution, took place on a stiflingly hot day in June 1778. Today, you can follow in the footsteps of soldiers by walking trails that mark significant events in the battle. If it's live action you're after, head to the annual Battle of Monmouth reenactment held in June. Also be sure to visit Old Tennent Presbyterian Church, which was used as a field hospital by the Continental Army, and which is rumored to be haunted by the spirit of a soldier whose bloodstains are still visible on the pew where he died.
Morristown National Historical Park – Morristown
Morristown was a hub during the American Revolution, and this park commemorates the Continental Army's six-month stay from December 1779 to June 1780. Today, the park features 27 miles of hiking trails and sites that include: Ford Mansion, where Washington and his aides-de-camp (including Alexander Hamilton) stayed; the Washington Headquarters Museum, which showcases weapons, documents, and other 18th century objects; and the Jockey Hollow Encampment Area, where 10,000 soldiers toughed it out during the brutal winter. You can visit replica huts to learn about the lives of soldiers during the encampment and see the clothing, equipment, and weapons they used. Come in the spring for the Annual Encampment Weekend, which features demonstrations of infantry drills, fife and drums, and cooking.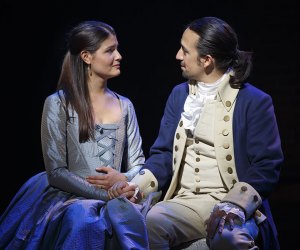 Lin-Manuel Miranda as Alexander Hamilton and Phillipa Soo as Elizabeth Schuyler in Broadway's Hamilton. Photo by Joan Marcus/courtesy of the production.
Hamilton-fanatic bonus stops: Morristown is home to the Schuyler-Hamilton House, where Alexander Hamilton courted Elizabeth Schuyler in 1780. And in Morristown Green you'll find "The Alliance," a statue that depicts the meeting of Washington, Lafayette, and Hamilton in Morristown that same year.
Top image: A young participant at the reenactment of the Battle of Trenton. Photo by Chase Heilman Photography/courtesy of Crossroads of the American Revolution NHA.
Sign up for the Mommy Poppins Newsletter today!