How to Get Free Baby Stuff: Free Diapers, Formula, Baby Gear, and More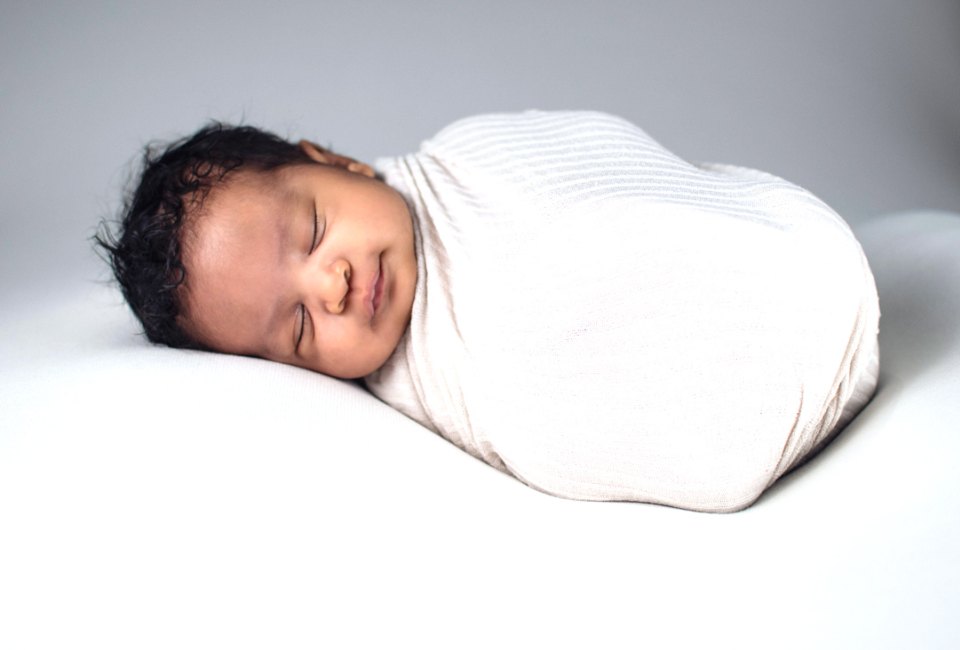 1/5/23
- By
Jennifer Marino Walters
Having a baby is a joyful experience, but it certainly isn't cheap. Factor in all of the diapers, wipes, baby food, and other baby gear and the numbers quickly add up. But there are plenty of places to get free baby stuff to help offset the costs of newborn and infant care.
From baby registry welcome boxes to diaper rewards programs to free baby product samples, there are many free items that new and expectant parents can get from companies. Plus, don't underestimate the generosity of friends, family, and neighbors.
Here are 30 places to get free diapers, formula, toys, and more free baby stuff. And, as your baby starts growing, check out your city's Guide to Free Things To Do with Kids for ways to have fun with your little one without blowing your budget.
Free Baby Sample Boxes
Amazon Prime members can receive a free welcome box when they create a baby registry, complete 60 percent of their registry checklist by checking off items they don't need or already own, and have at least $10 worth of items purchased from the registry by themselves or others. The welcome box contains a variety of full-, travel-, and sample-size items for babies and parents.
Get a free welcome kit valued at over $100 just for creating a Target baby registry. The kit includes discount coupons and sample-size baby items.
Sign up for a free welcome box from Walmart after creating a baby registry. Moms can also opt in to receive a free postpartum care kit just for them when they enter their third trimester.
RELATED: Birthday Freebies for Kids: 60 Places to Get Free Stuff on Your Birthday

Get a box bursting with free baby stuff from Babylist. Photo courtesy of Babylist
A Babylist baby registry can include any item from any store, making it one-stop shopping. Registrants can also receive a free box of goodies for themselves and baby when they add three items from Babylist and three items from other stores to their registry, plus have $10 worth of items purchased from the registry. Note: You'll have to pay an $8.95 shipping fee (plus a surcharge if you live in Hawaii or Alaska), but it's well worth it for all of the free baby stuff you'll get.
Make any purchase at Motherhood Maternity and receive a free gift bag packed with samples, coupons, and special offers. (Hey, you'll need clothing to fit your growing belly, anyway!) Plus, sign up for the store's Preggie Perks programs to get even more special offers sent straight to your door or inbox.
Free Diapers and Diaper Rewards Programs
Turn all those diaper purchases into rewards by joining the Pampers Club and downloading its app. Then, scan the code on each pack or box of diapers you buy to earn Pampers Cash, which can later be redeemed for gift cards, coupons, and more.
Download the Fetch rewards app to join the Huggies Rewards+ loyalty program. Then take pictures of your receipts on the app—or connect your e-receipts for online purchases—to earn points on every Huggies purchase. Each time you reach a spending milestone, you can redeem those points for gift cards to popular stores and restaurants like Amazon, Walmart, and Dunkin'.

Cuties diapers are even cuter when they're free! Photo courtesy of Cuties
Cuties is allowing parents to try its super-soft diapers for free. Just visit the website, enter your email address, and the company will send you a form to fill out to receive a free sample kit.
Sign up online to receive a free two-pack of Millie Moon luxury diapers.
Naty makes diapers using plant-based, compostable materials. Eco-friendly influencers and bloggers can apply to be a Naty Ambassador and get eight to 12 free packs of diapers in their preferred size.
RELATED: Baby Shower Favors That Parents Will Actually Love

Shower your baby with free formula, food, and more. Photo by Jonathan Borba, courtesy of Unsplash
Free Formula, Baby Food, and Breastfeeding Products
Parents who join Enfamil Family Beginnings can earn points for buying formula, reading articles, participating in polls, and more, then redeem those points for free products. Members also receive formula samples, coupons, and a free set of Belly Badges (those stickers you place on baby's belly to mark each month and take adorable photos throughout the first year).
Join Similac Rewards to receive up to $400 worth of benefits, including formula coupons, a free Shutterfly photo book, and nutrition guidance.
Breastfeeding mothers can join Medela Family to receive expert advice and test new products for free.
MyGerber Baby members receive lots of free perks such as free gifts, exclusive savings, expert advice, and more.
New mothers can qualify through their health insurance to receive an Aeroflow breast pump and other postpartum recovery items completely free. Just visit the website and enter your insurance information to see if you qualify.
RELATED: 100 Kids' Books Every Child Should Read Before They Grow Up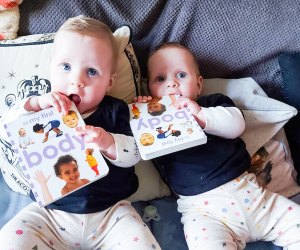 Eventually they'll go from eating to reading the books! Photo by Sarah T., courtesy of Dolly Parton's Imagination Library
More Free Baby Stuff From Companies and Organizations
Dolly Parton's Imagination Library is a free program that mails one high-quality book per month to every registered child ages 0-5. Just check the website to see if the program is available in your area and register your little one, who will receive their first free book eight to 12 weeks later.
Eczema and dermatitis are common skin issues for babies and children. Sign up online to receive free samples of Exederm skin products and coupons.
Taking prenatal vitamins will help ensure your unborn baby gets all of the nutrients they need. Expectant mothers can sign up to receive a free sample kit of Vitafol prenatal vitamins.
MomSquad is the perfect program for mothers who love to try new products and get free baby stuff. The program also allows moms to provide important product feedback and connect with other mothers.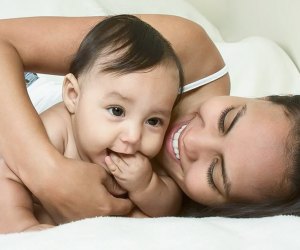 Moms (and dads, too!) can make their voices heard through Kolcraft Mom Matters. Photo courtesy of the program
Moms and dads are both welcome to join Kolcraft's Mom Matters program to receive new products for free in exchange for their honest opinions. Members can also take online surveys to be entered into gift card drawings and participate in focus groups for compensation.
Fill out a short survey online for the chance to participant in the Dr. Brown's product testing program, through which you'll be sent free Dr. Brown's items in exchange for your honest feedback.
Parent Tested Parent Approved is another program that allows parents to receive free products and services in exchange for their honest feedback.
RELATED: Best Bath Toys for Toddlers and Babies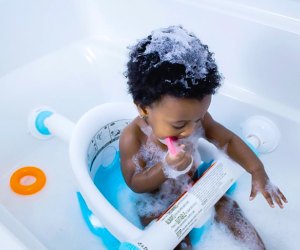 Your little one can be one of the first to try some of the newest baby products! Photo courtesy of the Summer Infant Product Testing Facebook page
Sign up for Summer Infant's product testing program for the opportunity to receive free baby monitors, swaddles, gates, and other gear in exchange for your opinions.
Infantino provides opportunities for parents to try toys and baby gear for free and provide their feedback. Just sign up online to receive the company's marketing emails.
How to Get Free Baby Stuff Locally
25. Facebook Buy Nothing Groups
Neighborhood Buy Nothing groups on Facebook have exploded in popularity worldwide. In them, people offer up items for free—everything from food and books to furniture and electronics—to members of their community instead of throwing them away. Baby items are popular, so these groups are a great resource for parents and parents-to-be. Search on Facebook for a Buy Nothing group in your community. If one doesn't exist, visit the Buy Nothing Project website to learn how to create one yourself.
Nextdoor is a great way for neighbors to share information and recommendations with other. There's also a "For Sale & Free" tab where people can sell or give away unwanted items. Select the "Free" and "Baby & Kids" filters within that tab to find free baby stuff such as toys, clothing, furniture, and more.
Millions of people around the world give away free items in their communities through Freeycle and its alternative interface, Trash Nothing. It's super easy to search the websites for free baby stuff in your neighborhood.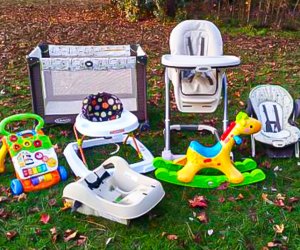 There is so much free baby stuff up for grabs on Craigslist. Image courtesy of the Best of Craigslist
Of course, let's not forget Craigslist, one of the OG websites for people in specific cities to share and find job openings, apartments and houses, items for sale, services, and more. Click on the "free" tab in the "for sale" section, then search for what you need. You just may find the perfect stroller, swing, or other baby item you are looking for.
29. Friends and Family
Friends and relatives with older kids can be a great source of support, advice, and hand-me-downs. Don't be afraid to reach out and ask to borrow items your baby will only need for a few months, like nursing pillows, bassinets, or even clothing. Be sure to let them know you'll return the items or pass them along to another parent when you are finished with them.
30. Baby Expos
We have yet to meet a baby-expo attendee who did not leave with an overflowing bag of samples, coupons, and other free baby stuff, making the ticket price more than worth it. However, there are also plenty of baby expos that are completely free to enter. Just search the internet for baby expos near you, and get ready to be showered with lots of free swag.
t Click Here to Sign Up!