Baby Registry Must-Haves: Your Guide to the Best Tried and Tested Products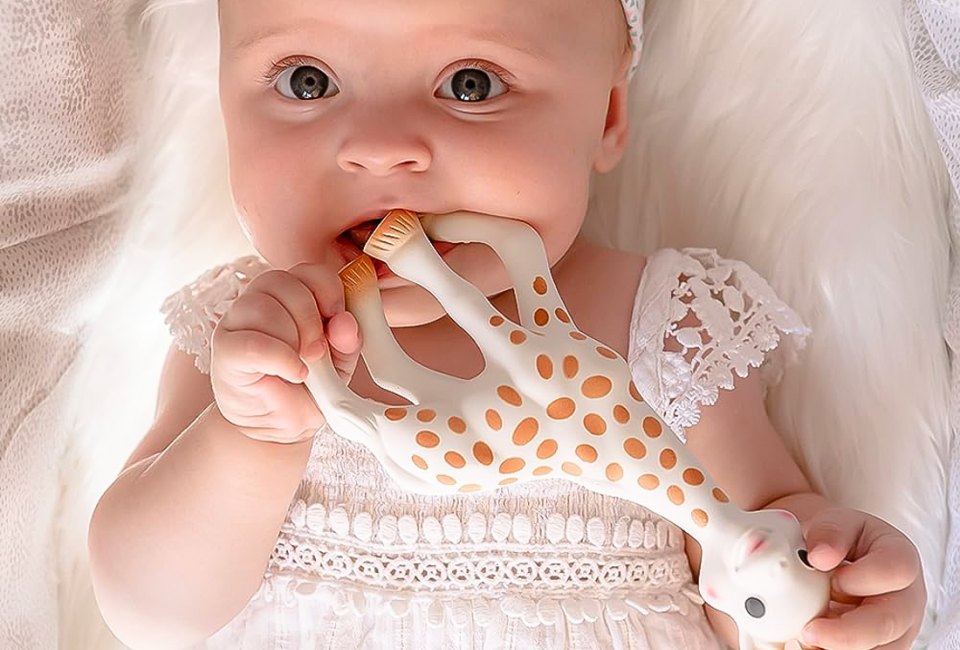 10/5/23
- By
Meghan Rose
Putting together a baby registry? We pooled a whole lot of parenting expertise to put together the ultimate baby registry list!
This baby registry must-have list includes everything, from car seats and strollers to mobiles and snot-suckers. We've got recommendations for a range of items that all the moms and dads at Mommy Poppins have really put to the test—and we've included a range of price points. We also point out which products you'll use multiple times a day and which are fun extras. And finally, we've got some unique and surprising ideas that you don't even know you need!
Read on to get the scoop on just which products belong on your baby registry. For more baby recommendations and expert advice, from where to babymoon to all about baby developmental milestones, check out our Baby and Maternity Guide.
There's been a bit of a baby boom at Mommy Poppins this year, which inspired many, many talks between new moms and veteran moms (and dads, too!) about just what items you really need for babies. We talked about which products we loved, what's new in the world of baby products, and which surprise baby gifts ended up being our all-time favorites.

Check out the Baby Jogger City Mini GT2 All-Terrain Stroller in action! Photo by Kylie Williams for Mommy Poppins
Baby Product Categories
Baby Gear
This is the big stuff, like strollers, car seats, etc.
Baby Nursery & Decor
From the best crib to the softest rug and more.
Baby Bathroom & Health
Oddly, this is my second favorite section! Booger suckers, here we come.
Diapering Necessities
Diaper pails for the win. (Find out which one is both practical and stink-free.)
Baby Feeding
Pumping, bottle feedings, homemade food; we've done it ALL. No matter what route you take, we have the best recommendations.
Baby Clothing
You'll be inundated with cute stuff they can't wear and you don't want to wash. Our picks will become your go-tos (like magnetic closures for midnight diaper changes!).
Baby Toys & Playtime
This is the fun stuff, like the very best books for library building and playmats that grow with kids.
Oddities and More
Okay, this is where you want to direct your besties and parents to shop for you. Everyone wants to get you a cute onesie. But someone who knows and loves you best will shop from this list!
Below you'll find inside tips from all our expert moms on where to splurge, where to save, what you need ASAP, and what you can wait to buy.

Our vote for best car seat? The Chicco Keyfit Car Seat. Photo by Kylie Williams for Mommy Poppins
Baby Gear
Car Seat
The Chicco Keyfit Carseat and Stroller Combo is the #1 car seat among all the parents we talked to. The Chicco Fit 2 Infant and Toddler is also great and lasts a long time as it transitions from baby to toddler. Basically, Chicco is a super solid and reliable choice.
The Doona Infant Car Seat & Latch Base is pricier, but genius, and it's also your car seat and stroller all in one, with wheels that are attached to the seat, and pop right up. Perfect for travel and city parents who don't have a ton of stroller storage space.

Most moms at Mommy Poppins prefer the Baby Jogger City Mini GT2 All-Terrain Stroller. Photo courtesy of the Baby Jogger Store on Amazon
Stroller
The best we've come across, if you need a stand-alone stroller, is the Baby Jogger City Mini GT2 All-Terrain Stroller. One-hand folding, multiple ways to use it, nice and light, fabulous tires you don't need to put air in, and they last forever. putting air in tires, but tires are stronger than Chico or Graco. You can buy an adapter for any car seat.
Baby Bouncer
Some trending products are just the thing of the moment, but the BabyBjörn Bouncer, which seems to be the bouncer of the moment, is also really great. It's stylish, lightweight, easy to store, and grows with babies. As a mom with twins, I will say that my bouncers were the one thing I think I couldn't live without.

Bring baby where you need to be with the Halo Flex BassiNest. Photo courtesy of the Halo Store on Amazon
Bassinet
The Halo Travel Bassinet gets rave reviews from everyone. Whether you use it instead of a crib for the first few months, or just use it for naptime (which can happen in any room of the house with this bassinet) and travel, it's a great staple.
DockATot
One of our writers just had her third baby and said "The DockATot is the most important thing I own. Babies love it because they feel cuddled. Plus you can take it outside, on vacation, and anywhere. Good for younger siblings to feel close to baby, too."
Baby Carrier
Baby Bjorn—we all agree that the mini is the best—is the gold standard, and is great for baby's first year. If you don't live near a store where you can test out a bunch of carriers to see which is the most comfortable for you, this is a really solid choice.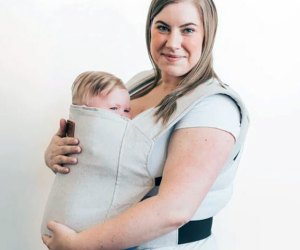 Honest to goodness, this carrier won't hurt your new mom back. Photo courtesy of the Happy! Baby Carrier store
The Happy! Baby Carrier is also a great choice, and several moms told us it was great for women and is so easy on postpartum backs. It's also super chic and stylish.
Both these carriers allow babies to face you or face out and are for babies from 7-40 pounds.
If you're a hiking family, put the Osprey Poco Hiking Carrier on your baby registry. It's the best of the best hiking carriers.

Stylish and affordable, the Delta Essex Convertible Crib is a winner. Photo courtesy of the Delta Store on Amazon
Baby Nursery & Decor
Baby Crib
Looking for a solid, reliable, affordable baby crib? The Delta Essex Convertible Crib is our top pick. It looks great, has an adjustable height, and converts to a toddler bed and then even a daybed and sofa.

However, if this is your place to splurge, NESTiG's The Wave Crib is one of the greatest cribs ever made. It is so sleek you'll want an adult version, and it not only converts into a toddler bed that really looks like an entirely new bed, it also goes from newborn crib to baby crib.


The Storkcraft Premium Hoop Glider and Ottoman will be in your home for years to come. Photo courtesy of the Storkcraft Store
Glider
Storkcraft Premium Hoop Glider and Ottoman is pretty much the only glider anyone ever needs. Yes, some are more stylish or modern. But almost every parent I know has this exact model, and adores it.
Nursery Decor
Crate & Kids makes hands down my favorite nursery and kids' room curtains ever. They're not cutesy, but are instead chic and super durable. (Though, if you think you'll need blackout curtains, the pricey ones at Pottery Barn Kids can not be beat.) And if you need a rug, the Lorena Canals rugs are so soft, you'll get one for every room in your house.
Baby Monitor
While everyone may have a personal preference when it comes to baby monitors, the VTech Upgraded Smart WiFi Baby Monitor is a super solid option that's easy to install, use, and you can check on baby from your phone.
Baby Swing
If you have room for a swing, put a swing on your registry. A few babies don't really take to them, but for cranky babies who love the swings, it's a tired parent's hero product. The Graco DuetConnect LX is safe, sturdy, and gives you an extra option as a bouncer as well as a swing.

Stock up on lovies! Photo courtesy of the Babycolor Store on Amazon
Lovies
Get several lovies in the same exact style, so you can keep one in the car, one in the crib, and one in your diaper bag. This Fox Baby Security blanket is a favorite because of the bright color and silky texture on the flip side. But honestly, any will work! Our real tip here is to be sure to register for several!
Baby Mobile
Here we've got the top overall choice, which is the Tiny Love Meadow Days Soothe 'n Groove Baby Mobile, or the top choice for parents who want a black and white developmental toy: the Manhattan Toy Wimmer-Ferguson Infant Stim-Mobile.
Baby Bathroom & Health
Pacifiers
We're actually hesitant to recommend "the best" pacifier because it really seems to vary from baby to baby. Your baby may only take whatever brand they first set lips on in the hospital (mine did!). But when we polled Mommy Poppins' parents and readers, MAM Original Start Newborn Baby Pacifiers were mentioned the most frequently.

Frida makes an awesome baby bathtub. Photo courtesy of the Frida Store
Baby Bathtub
This cute little whale tub from Skip Hop is a super solid, adorable choice. It grows with baby from newborn through 25 pounds and comes with pretty cute accessories (you'll at least want something that pours water, though a recycled yogurt tub works just as well, it's just not as cute!
Another really popular option is the Frida Baby 4-in-1 Grow-with-Me Bath Tub. I personally loved it because one of my babies was a super wiggly little flipper, and I liked that the leg holes kept them from going face-down in the tub!

Hooded towels are cute and practical. Photo courtesy of the Burt's Bees Baby Store on Amazon
Baby Bath Towels
Not only will you get adorable pictures with these cute hooded baby towels, the hoods keep wet babies warm and snuggly. You'll find that you get a lot of post-baby years use out of these towels, which aren't as pricey as some of the name-brand ones, but are just as cute. My kids kept using them well into their toddler years, and then these became our beach and pool towels!
Humidifier
Anything that helps your baby sleep is a wonder, and this adorable and quiet cool mist humidifier and night light helps babies and kids breathe and sleep easier. The light provides just enough soft light so you won't stub your toes when you stumble in for midnight feedings.
Baby Thermometer
The Frida Baby Infrared Thermometer is the gold standard; it's pricey but accurate and you can get a reading in 1 second with a fussy baby, plus getting readings on bottle temps and room temp! You'll use it until they're teenagers, so it's well worth it.
Nasal Aspirator
While the snot-sucker works, it's honestly kind of gross, and there are enough gross things you have to adjust to as a parent. This bulb syringe works just as well, and works on ears, too.

Pacidose pacifiers are a game-changing idea. Photo courtesy of the Dr. Brown's Store on Amazon
Medicine Dropper
This is my favorite product for sick babies. A baby that wants to avoid taking medicine from a syringe or spoon is one that will make a huge mess. Dr. Brown's Pacidose Medicine Dispenser belongs in your medicine cabinet, and you won't know you need it until you have a sick baby in the middle of the night.
Diapering Necessities
Changing Pad
You'll notice there's no changing table on the list; you don't need one. It just takes up extra space. Put this Bumbo changing pad on your favorite bureau and you're all set. You can also take it with you anywhere in the house or on vacation. And it's easy to clean.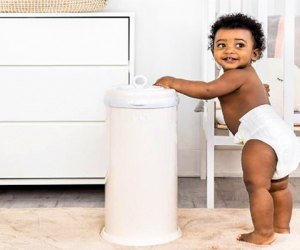 Keep the stink away with a diaper pail. Photo from the Ubbi Store on Amazon
Diaper Pail
While Diaper Genie is the first one everyone thinks of, our pick is the Ubbi Diaper Pail for one main reason; it uses standard trash bags, so you won't run out of the specialty ones most pails require. Also, it's odor-free AND has a childproof lock, so older siblings or visiting toddlers can't get into the dirty diapers. Genius!

The Indo diaper backpack is one of our favorites. Photo courtesy of the Dagne Dover website
Diaper Bag
This kind of feels like recommending a purse, because it's the only thing you will carry with you every day for a few years. It's a pretty personal pick! But to give you a place to start looking, we'll recommend our two favorites. This mommore Diaper Bag Tote is a solid basic everyone should have. It's affordable and has all the bottle pockets/wet compartments/multiple straps/changing pads you need.
However, since this is your registry wish list, we'd be remiss not to include the Indo Diaper Backpack from Dagne Dover. It's chic, super durable, and pretty much perfect.
Diaper Subscription
No matter how many diapers you imagine you will use, you will need more. If someone in your life wants to give you the perfect new baby gift, point them to signing you up for a diaper delivery service. These are our favorite diaper subscription services, any of which ensure that you never will have to do a 2am Target run.
Baby Feeding
Baby Bottles
Bottles are kind of the same as pacifiers - it depends on the baby's preference for different bottle nipples. The two we find people tend to prefer are the MAM Baby Bottles and the NUK Simply Natural bottles.

Once you know what the Tripp Trapp is, you'll see it everywhere. Photo courtesy of the Stokke Store on Amazon
Baby High Chair
If Kleenex is synonymous with tissues and Google is for search engines, the Stokke Tripp Trapp might as well be another word for high chair. It looks nice, doesn't take up much space, and grows with kids. It's a place to splurge.
Breast Pump
If you're going to breastfeed, you're going to need a pump. This isn't the place you go for stylish. Here, we're all about reliable and compact, and the Medela Electric Portable Breast Pump fits the bill.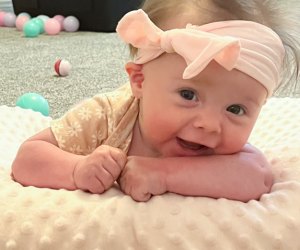 Boppy is still the best nursing pillow out there. Photo by Kylie Williams for Mommy Poppins
Nursing Pillow
Boppy is the original and still the best!
Baby Clothing

Swaddling babies is harder than it looks, but a SwaddleMe makes it easy. Photo courtesy of the SwaddleMe Store on Amazon
Swaddling Blankets
SwaddleMe is great because they have velcro tabs and you don't actually have to do a swaddle that will probably come apart anyway!
Onesies
You will need a lot of these, and you can find great and inexpensive ones at Old Navy and Target. Plain short-sleeved and long-sleeved onesies are the best, but the game changer is making sure you have either onesies with two-way zippers, which makes diaper changes so much easier, or magnet closure onesies. No buttons! They're impossible in the middle of the night!
Baby Toys & Playtime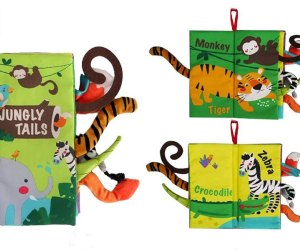 Crinkle cloth books turn babies into bibliophiles. Photo courtesy of the Beiens Store on Amazon
Crinkle Cloth Books
Board books and classics are awesome for building up a library. See our recommendations for 100 books for kids, here. But to make your baby reach for books over and over, get some crinkle cloth books.
Baby Rattle
The Fisher-Price Newborn Maracas is one they can easily grab as their very first toy!
Top Teethers
Sophie la Giraffe has been a favorite for half a century. We don't know why, but babies love her.
This Manhattan toy doubles as a teether and a rattle, and is a baby staple.
Mirrors
Seeing their own faces in the crib or on a playmat for tummy time entrances babies. This Infantino Busy Board Mirror is a great toy.

Lovevery Baby Gym is a Mommy Poppins mom favorite. Photo by Kylie Williams for Mommy Poppins
Play Gyms
The Lovevery Play Gym is our #1 pick, but if it's a little too pricey, the Infantino is adorable, loads of fun, and is less than half the price.
Play Mat
Raise a little musical prodigy with this Fisher-Price Baby Playmat & Play Piano Gym. Babies adore kicking the keys during tummy time.

The Battat Wooden Activity Cube grows with kids. Photo courtesy of the Battat Store on Amazon
Activity Cube
This Battat Wooden Activity Cube is fun for babies to bat at during tummy time, then they can crawl over to it and play, and finally can use it to pull themselves up into standing. We love a toy that grows with kids!
Oddities and More
These are the things you won't ever realize you need as a new parent, but once you have them, you'll be forever grateful for the brilliant veteran parent who got you these gifts!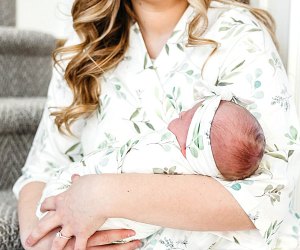 I've got one! This is the softest, comfiest robe out there. Photo courtesy of Copper Pearl
Copper Pearl Robe and Baby Swaddle
My own twins were preemies, so I had no bag packed and ready to go to the hospital! Which was actually great, as there was literally nothing except a toothbrush that I needed. I did, however, send my husband home for a cute robe for me to wear that would look good in pictures and make nursing easy. This Copper Pearl Robe is sooo soft that it's perfect for pregnancy, post-pregnancy, and beyond. AND you can get matching swaddles, which is great, because who knows if you'll need preemie, newborn, or big baby onesies? Plus, you'll look super cute and matching in those first hospital pics. This robe & swaddle, and a toothbrush, are all you need to pack.
Cordless Dustbuster
We were among the first of our friends to have kids, but had one family who already had two kids. Everyone else gave us frilly and cute baby clothes we never used. They gave us a Black + Decker Cordless Dustbuster, and it was our most used baby gift!
Great Coffee Maker
You can get as high-end here as you like, but honestly, this Cuisinart Coffee Maker is perfect because it has the two most important functions: it's programmable, which means you can set it to have coffee waiting for you at your 5am feeding, and it will brew pause, so you can yank the pot out to fill your cup as before it's done brewing.
More Great Gifts
Car wash subscription, because as soon as babies can eat, your car will become a haven of Cheerio crumbs.
A new mattress, because nothing is suddenly as important as a good night's sleep.
House cleaning service, because you will not have time for this!
Uber Eats or local restaurant gift cards, because you're going to need to eat at random times and you will never have food in the house or want to cook when hunger strikes!
This article contains some affiliate links, which means we might earn a small commission if you make a purchase. There is no extra cost to the reader. We only recommend products and services that we have personally used or have thoroughly researched.
t Click Here to Sign Up!