10 Best Babymoon Destinations for Expectant Parents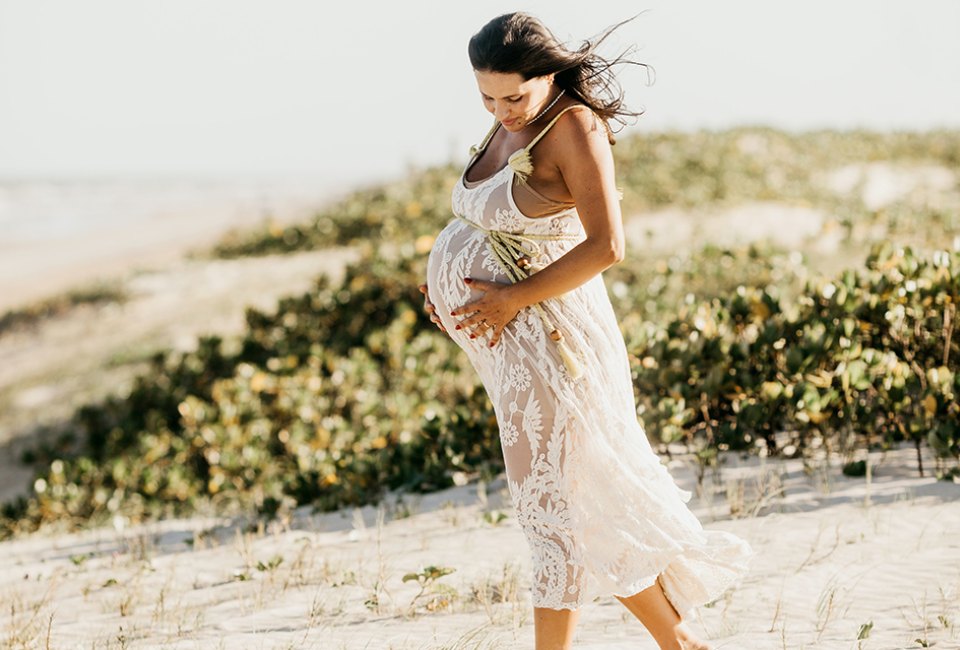 1/14/23
- By
Meghan Rose
The best babymoon destinations vary depending on who you are and what you'll miss most when your Friday night consists of falling asleep on the couch at 8:30pm. If you'll be sorry you're not catching the latest show, your perfect babymoon destination might be a trip to a bustling city. If you're missing those extra hours of shut-eye because you got up at 1am (and 3am and 5am), the best babymoon idea for you is a spa. Here we've picked the top 10 spots for a babymoon, from a glamorous trip to London to a favorite tropical beach destination.
Now pack your bags and get a little fun in before your all-consuming (but very happy-making) bundle of joy arrives. Because the next trip you plan will be as a family, and you'll be using our Guide to Family Travel to find an all-inclusive water park resort or pick the best hotel for families near Disneyland!
What is a Babymoon?
You can probably figure this out; it's exactly as it sounds. It's a honeymoon you take before you have a baby. While honeymoons have been around since the early 19th century in Great Britain (yes, Bridgerton fans, it used to be called the Bridal Tour), the babymoon is a relatively new concept, originating in the US in the 1990s. The idea is to get away and connect with your partner before you only see them in passing, as you pass off the coffee pot or the desperately in need of a change child.
Babymoon Ideas: What to Do!
Since probably at least one of you is pregnant, this is not the time to go on a hike through the remote rainforest, jump from airplanes, or even hit all the wineries. Check with your doctor before making travel plans, too. So, that covers what not to do. Great babymoon ideas for what you should do include thinking about the things you will miss doing when you're a sleep-deprived new parent, and sprinkling in liberal rest time and together time.
But you know the real secret to the best babymoon? Taking one. Anyplace, anywhere. It's really all about bonding and being together, as you embark on the coolest phase of your life. So it doesn't have to be a trip to Paris (though we actually can tell you all the best things to do in Paris, if you decide to go there!), it can just be any getaway at a favorite local hotel or resort for just one night.
Is It a Babymoon if You Bring Kids?
A babymoon, like a honeymoon, can be an idyllic time for a couple to spend time together that's not stressful. However… what if you already have one (or more) kids, and no handy grandparents who can swoop in and take them for a long weekend while you getaway? I've got twins, so I had only one babymoon. But friends with multiple kids from multiple pregnancies have all said that if you need to bring the kids along, it's still great to take a family babymoon.
The pregnant parent can still sneak away for a prenatal massage or yoga class. Everyone can revel in not having to cook and clean. Many hotels and resorts offer babysitting services or kids' clubs, so parents can get a little time alone. And it's also your last time alone as a smaller family. Reassuring your kiddo that you'll always be there for them and giving them some seriously fun intense attention before it's all eyes on baby is something they'll always remember. With that in mind, these picks are all spots that are perfect for a little adult romance and double as memorable family vacations.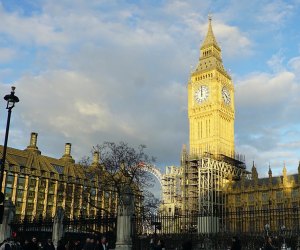 A visit to London with iconic sites and high tea is a lovely babymoon for a mother-to-be. Photo by Jody Mercier
Best Babymoon Destinations: Urban
I may be a bit prejudiced, because this is where I went before my kids were born. We went to London, with a side trip down to Bath. In London, there was tons to do during the day, and easy public transportation to get places so I was never on my (swollen) feet for too long. And as maligned as British food is, there were always places for tea and other snacks to feed my always-present hunger. If you're a theater-lover beware; the old theaters weren't made for tall people, which means the rows are close together, and pregnant people will do best with aisle seats!
A side trip to Bath was heaven for me, for three reasons: Jane Austen, Bath buns, and the heavenly spas. If you're bringing kids, stick to London; if your trip is adults only, I highly recommend a visit to Bath.
So many things to do in NYC. Theater, food, shopping—and all without a trans-Atlantic flight. You can bring kids and hit one of the many museums for kids or shows that they'll enjoy. If you leave the kids at home, you can stroll through the Met, the Library, MOMA, and more while indulging in fine dining and the theater at night. Even if you live in NY, the city makes for a great place for a babymoon; simply book a hotel with a fabulous spa and do all the things you never take the time to relax and enjoy.
If you bring your kids with you, well, you're probably aware of this, but Mommy Poppins started in NYC and we literally have thousands of suggestions of the best things to do with kids in NYC. Thousands.
Music! Food! A gorgeous city with an unparalleled atmosphere; this makes for a perfect babymoon getaway. While the Sazeracs and Hurricanes are out, the gorgeous music halls, po'boys, beignets, and more await. There are incredible gardens to stroll, and fabulous hotels to pamper you. (The Ritz or the Hotel Monteleone are favorites, and centrally located.)
And if you're traveling with kids, there are so many fun things to do that adults also enjoy, including the botanical gardens, zoo, swamp tours, Storyland, and so much more. When with kids, I'd stay at the OMNI Hotel or the Lowes, both of which have fantastic kids programs, so you can get a little alone—or alone together—time.
RELATED: Best Winter Vacation Ideas for Families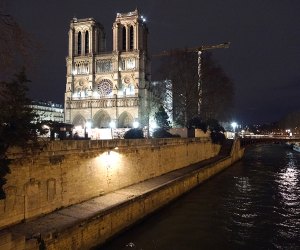 Ah, Paris, complete with a stroll along the Seine, is a romantic vacation before baby. Photo by Jody Mercier
I don't think I need to tell you why Paris is a wonderful and romantic place to take a vacation! I did not chunnel over to Paris on my babymoon getaway, because my favorite things in Paris are shopping, red wine, and runny cheeses. But if you can visit the City of Love without missing those things, it's the most wonderful city, at any time of the year, to celebrate love.
I will tell you that if you need to bring kids along, you can still have a fabulous, and even romantic, trip. From trekking through the Louvre Museum to climbing the Eiffel Tower and wandering the winding, cobblestoned alleys, here are the best things to do in Paris with kids.
Amsterdam is one of the most beautiful cities in the world. It's also easy to get to, which is a big bonus when traveling pregnant (and why, say, Bali isn't on our list). Tour the canals, go for a bike ride (if you can), wander bridges lit with fairy lights and fields bursting with blooms. The museums are incredible and there are 16 Michelin-starred restaurants in the city, plus pies, pancakes, and french fries galore.
Bringing along kids? The science center plus parks and playgrounds everywhere you turn will have them wanting to return again and again. Check out our favorite things to do in Amsterdam with kids.
RELATED: Our Guide to Family-Friendly Resorts and Hotels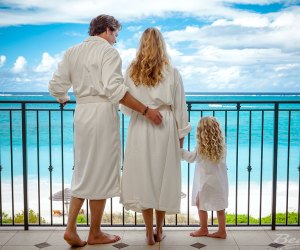 Even if you take your kids on the babymoon, it's relaxing at Beaches Turks & Caicos. Photo courtesy of Beaches
Best Babymoon Destinations: Relaxation
With pillowy white sand, clear turquoise waters, and laid-back vibes, Grace Bay Beach in Providenciales, Turks and Caicos, is consistently voted not only one of the best beaches in the Caribbean, but one of the best beaches in the world. One of our Philly writers stayed at Ocean Club Resort Turks and Caicos, and came back raving about how beautiful and relaxing this resort was, and left us all dreaming of a visit. Don't believe me? Check out her video!
She brought her kids, and said the whole family dreams of returning, so whether you go as a romantic beach babymoon or a family getaway, you won't regret it.
Living on the West Coast, this is where most of my friends usually head for a babymoon, especially for the second or third kid. But it's well worth it as a destination even if you have to fly across the country. The desert landscape makes for a unique getaway, and all hotels are plush and feature spas, massages, and even loads of kid clubs and water parks. You can lie by the pool, hike in nearby Joshua Tree, shop at the outlets (they're amazing), dine in splendor, take a tram to snow, and go up in a hot air balloon.
Basically, Palm Springs has a little bit of everything and a whole lot of style. I used to think it was for old people, but after about a dozen trips over the years, I realize it's for everyone. And kids love it, too.
If you want a tropical island getaway without leaving the US, I highly recommend a trip to the Florida Keys. While Key West attracts most of the attention, you don't have to make the 150-mile, traffic-strewn journey to the southernmost of the Keys to revel in the magic of this extended chain of islands. There are almost too many things to do in the Florida Keys with kids and without them, beginning with Key Largo just 90 minutes south of Miami. You can splash lazily in the turquoise waters or lounge at a spa, get active on boats or meeting animals, and eat Key Lime pie to your heart's content. No passports necessary.
RELATED: Why Sea Island Resort, Georgia is a Great Getaway

Cozy up by the fire after a day of rustic relaxation at Alisal Ranch. Photo courtesy of the ranch
One of my favorite relaxing vacations in recent years has been visiting a dude ranch. Even if you're more of a city slicker, there's something about being away from it all—but with incredible restaurants, spas, and enough activities that you're not just sitting around listening to birds chirp. Though after a few days, I find that pretty relaxing, too. You may not want to hop on a horse when pregnant, but almost every dude ranch on our list also offers gorgeous hikes, decadent spas, fishing, golf, pools, and more. Many ranch experiences are inclusive, meaning you don't have to plan a single outing, activity, or restaurant reservation, which is truly a break from it all.
From Alisal Ranch in California to Rocking Horse Ranch in NY, you can find a great dude ranch near you, which also can cut out the need to fly. (I hated flying when I was pregnant. Too many trips to those cramped plane bathrooms.)
10. Cape Cod (and the islands)
Sure, the Cape is at the top of everyone's getaway list in the summer, but what if your babymoon getaway falls in the winter months? I can tell you that the Cape in the winter is one of my favorite places in the world. My grandparents lived near there when I was growing up, and while the 500 miles of beach are gorgeous in the summer, there's something special about the stark beauty there in the winter. It's also when you can get great deals on the hotels that are open (The Chatham Bars Inn is a favorite that stays open year-round, and has fantastic prenatal massages to boot) and actually get to meet and talk with the locals. From Chatham to Provincetown, plus the islands of Nantucket and Martha's Vineyard, Cape Cod makes for a wonderful babymoon any time of year.
If you bring your kids, I would recommend saving a Cape Cod babymoon for the spring and summer months, when the beaches ensure that the kids have plenty of things to do on Cape Cod and give you a little time to rest and recharge.
Click Here to Sign Up!
i