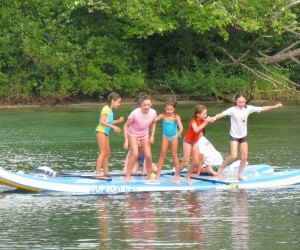 Cape Cod With Kids: 25 Things to Do in Chatham, MA
Ever since I first saw the TV show Gilmore Girls, I have been searching for the fictional town of Stars Hollow—the quintessential New England small town, where everyone knows everyone, and you can walk (or bike) to just about anywhere you'd want to go. I had no idea that after years of looking, I would finally find a real-life Stars Hollow on the Lower Cape: Chatham, Massachusetts.
Chatham is a beautiful and enchanting town, rich in history and tradition. One of my favorite things about the place is its walkability. Main Street is bustling with adorable shops and good restaurants, and the beach and parks are just a short distance away. It may not be practical to live in a town like Chatham year round, but for a weekend getaway, I daresay it's the perfect place. Read on for 25 fun things to do while you're there, in the summertime and beyond. Whether you feel like getting in touch with nature, catching a ball game, sampling some treats, or having some quiet time in a museum or bookstore, there's something here for everyone in the family.
1. Get your bearings—there's a lot to do and see here! Stop by the Captain David T. Bassett House Visitors Center at 2377 Main Street/Rte. 28 to pick up a guidebook and a few tips. There's also a Downtown Information Booth (Open Mid-May through Columbus Day) at 533 Main Street.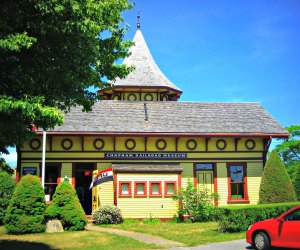 You can't miss the canary-yellow Chatham Railroad Museum. Photo by fullc0de/CC BY 2.0
OUR LATEST VIDEOS
2. Climb into a real caboose and hear the realistic sounds of a train rolling along the track with a whistle blowing and brakes squealing at stops at the Chatham Railroad Museum. Check out the gorgeous Railroad Gothic museum building, which contains the New York Central model locomotives used at the 1939 New York World's Fair, among other exhibits.
3. Boogie with your kids to the big band sounds of the Chatham Town Band every Friday night (summertime only) at Kate Gould Park on Main Street. Bring folding chairs and blankets. Public restrooms available.
4. Get out on the water courtesy of Adventure Chatham. Our absolute favorite rental: The giant Supsquatch, which holds about 8 kids and is affectionately nicknamed "the babysitter."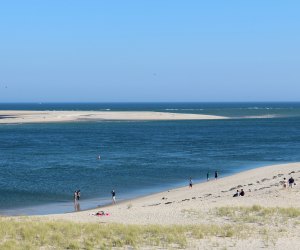 The beaches are wide and wild near Chatham. Photo by Robert Linsdell/CC BY 2.0
5. Hit a big beach. We like Harding's Beach, where there are bathrooms, showers, lifeguards on duty, food trucks, a nature trail, and picnic areas. The water is warm and mild, and the large beach allows for stretching out and playing beach games like Frisbee and volleyball. Walk or ride bikes to avoid paying the parking fee.
6. Relax with little ones at small patch of sand like Oyster Pond Beach, a super accessible beach spot. The water is usually warm and calm, making it the perfect place for tiny tots and their weary parents.
7. Admire Chatham Light from afar (it is an active lighthouse and is not open to the public). Learn the rich history of the lighthouse before you go, and see the original lens and lantern on display at the Old Atwood House and Museum of the Chatham Historical Society.
8. Catch a flick at the old-timey Chatham Orpheum Theater.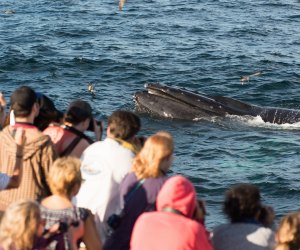 There are more than a half-dozen species of whales moving through Cape waters. Photo courtesy of Bluewater Entertainment
9. Book a whale-watching trip through Bluewater Entertainment, and have a chance to see one or more of the Cape's half-dozen whale species, which visit the region each summer to feed and raise their calves.
10. Pack your teen's skateboard and helmet for some time on the ramps, pipes, grinds, and half-pipe at the recently renovated (and relocated) Chatham Skatepark at Volunteer Park on Sam Ryder Road.
11. Get nostalgic while teaching your kids how to play horseshoes at Volunteer Park on Sam Ryder Road.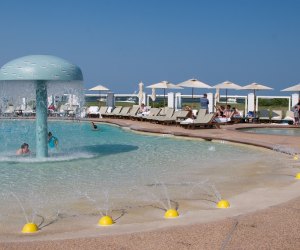 The pool is cool at the Chatham Bars Inn. Photo courtesy of Dave Johnson via Flickr
12. Treat yourselves to an overnight (or more) at the beautiful Chatham Bars Inn, where the pool for kids can't be beat.
13. Stroll along Main Street and pop into the shops. Highlights for kids: Ducks in the Window, where you can get just about any rubber ducky you can imagine in addition to other gifts and toys.
14. Fascinate Titanic buffs and spy kids with a visit to the Chatham Marconi Maritime Center. Kids can ask for game sheets at the front desk to earn a Junior Guide for Chatham Radio WCC Certificate. Open Memorial Day weekend through mid-October. (Adults $, kids under 10 FREE)
15. Breathe in the aroma of freshly made fudge and hand-dipped chocolates at Chatham Candy Manor. Fill your bag with delights for a sugar rush to last the whole afternoon (and maybe even through Halloween). Reading the story of the shop's unconventional beginnings will make your treats taste that much sweeter.
16. Gawk at the town windmill and feel a little more centered after completing the Chatham Labyrinth in Chase Park on Cross Street.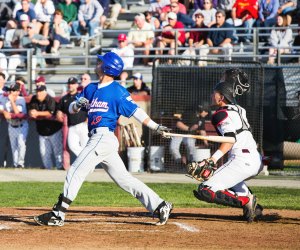 Going to an Anglers game is a summer tradition on the Cape. Photo courtesy of Chatham Anglers
17. Pull on a baseball cap and head to Veterans Field for a Chatham Anglers baseball game from June through mid-August. The whole town comes out to support the A's, so you'll be in good company. Home games begin at 7pm. Field address and game schedule here.
18. Kids climb aboard a ship or lighthouse and ride on a shark or tuna at the Children's Playground next to Veteran's Field.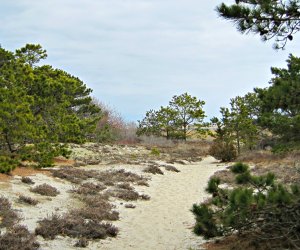 The Monomoy National Wildlife Refuge has the 3/4 mile Morris Island Trail that takes visitors through a variety of coastal habitats. Photo by Keith Shannon/USFWS
19. Visit the Monomoy National Wildlife Refuge headquarters and visitor center on Morris Island to get the 411 on bird and seal watching and find out which hiking trails are best for young children. Open Monday - Saturday 8am-4pm during the summer.
20. Learn about the past, present and future of the fishing industry from seasoned fisherman at the Chatham Fish Pier observation deck on Friday through Monday mornings from late June through Columbus Day, and watch the fish being off-loaded. Go during low tide with a pair of binoculars to see the seals basking in the sun.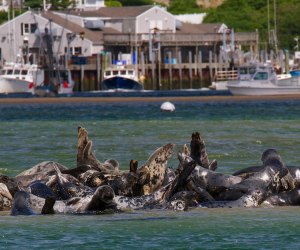 Seals bask in the sun off of Chatham harbor. Photo courtesy of Dave Johnston via Flickr
21. Cool off with an ice cream from Emack & Bolios, tucked away behind shops on Main Street.
22. Enjoy storytimes, tot yoga, and other fun programs at the Eldredge Public Library.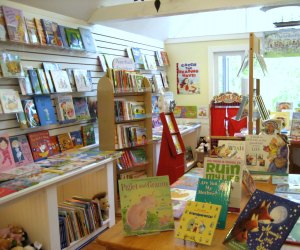 Where the Sidewalk Ends Bookstore & Children's Annex. Photo courtesy of bookstore
23. Pick up a storybook or two at Where the Sidewalk Ends Bookstore & Children's Annex. During the summer, meet characters like Ladybug Girl and Skippyjon Jones during Wednesday Storytimes for Kids or sign up for a Fancy Nancy tea party.
24. Tie-dye shirts at First Congregational Church of Chatham on Wednesday afternoons during the warm months.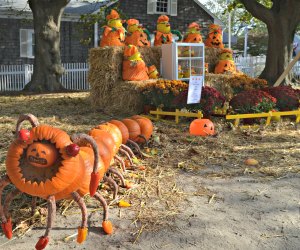 Pumpkin displays are a highlight of Oktoberfest. Photo courtesy of Massachusetts Office of Tourism
25. Escape for a fall weekend to Chatham: Oktoberfest has amazing "pumpkin people" displays, yummy food, crafts and games for kids. Summer isn't the only special time in Chatham!
Top photo: Kids spend the day riding the Supsquatch, courtesy of Adventure Chatham.