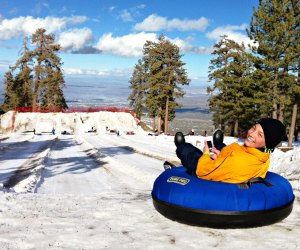 Snow Sledding or Tubing Spots near Los Angeles for SoCal Kids To Play Winter
Snow in LA? Why not! Living near the beach doesn't mean sand sledding is our only winter sport. A short drive up into the mountains allows our SoCal kids the magical mixture of snow, cold air, velocity, and cocoa that makes snow sledding and tubing endlessly enticing. Skiing is great, but there's nothing quite like good, old-fashioned sledding.
Especially this year, when the glorious outdoors is the safest place to be! All our favorite spots are open this year (most by Thanksgiving weekend), with COVID-19 guidelines and restrictions in place. Many have reduced capacity and require advance purchase of tickets. We've included every spot's safety measures and anything else you should know before you go.
The list includes established snow play destinations as well as some off-the-beaten-path places to try. Most of the established spots are open on holidays—assuming there is snow or the ability to make it. Always call or check the websites before heading out. The off-the-beaten-path spots don't produce snow, so for those you just have to keep an eye on the weather.
Also, remember: decent snow for sledding means possible snow and ice in the roads as well. Check the local weather and road conditions (or call 800.427.ROAD) before heading out, as you may need chains for your tires.
Lastly:
- Wear layers so that you can start warm and peel off clothing as needed. Waterproof clothing is best.
- Bring a change of clothes; sledding and tubing can make for wet clothing.
- Wear sunscreen. UVB rays are stronger the higher the elevation. Even though it may be cold outside, the winter sun still reaches your skin.
- This year, bring extra snacks. If you have a long drive ahead of you, some of your usual meal breaks along the way may be closed. This also means many roadside potty breaks are gone, so bring plenty of hand sanitizer in case you need to visit any gas station restrooms.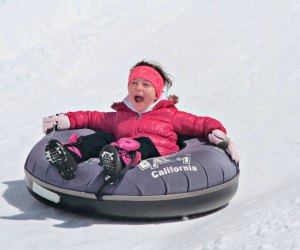 Photo courtesy of Mt. Baldy
Angeles National Forest
Near the border of Los Angeles and San Bernardino Counties
6777 Mt. Baldy Rd.
Mt. Baldy, CA 91759
Tickets
Hours: 3-hour packages begin on the half hour, from 8:30am-1pm
Prices vary by day, (around $59 on weekends); buying in advance online (before 9pm the night before) gives the best deals. Must be over 40" to ride, though at some times you must be 48 inches, so be sure to check when you book tickets online.

Multiple tubing lanes? Some as long as 150 feet? What's not to love? Especially since it's the closest skiing/tubing resort to LA.
Things are a little different this year, and you must pre-book a 3-hour sledding experience, which includes your timed lift up to the sledding park, 2+ hours of sledding and snow play, and a timed departure down the mountain. Top of the Notch Restaurant is open for food, hot drinks (including cocoa), beer, and wine.
COVID-19 safety measures: Mt. Baldy Resort requires that face coverings be worn in all facilities. Designated line markers and rope barriers have been set up in order to keep people moving in the same direction and maintain a distance of at least 10 feet. Call before you go if you have any questions (or have promotional passes) as there are no on-site guest services. For details, check the website.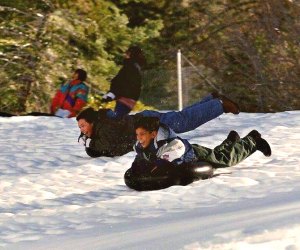 Photo courtesy of Snowdrift Snow Tubing Park
24510 State Highway 2
Wrightwood, CA 92397
2-hour sessions: $35Children 36-42 Inches w/ paying adult are just $25. Parking is $20.
Hours: Weekdays from 9am-5pm, weekends from 9am-8pm. Open weekends starting November 27, seven days a week during the holidays (check for specific dates); then open weekends and holidays through mid-March.
Heralded as Southern California's closest winter resort with no mountain driving, Mountain High is worth a visit. The Tubing Park—Southern California's largest facility—is located at the North Resort and has a very basic bar/restaurant adjacent. Moving carpet lifts mean no lugging up the hill, and tubers get a solid push down the slope by attendants who are happy to strive for the longest run possible. Check out the real-time cameras. (While you're at it, check out our review of Mountain High's Children's Ski Academy).
COVID-19 safety measures: Mountain High requires that face coverings be worn any time you may encounter people. Tickets are only available for purchase online in advance, to reduce attendance levels. Social distancing is required, and hand sanitizer is readily available. For details, check the website.
34600 California 18
Green Valley Lk, CA 92341
(Near Running Springs)
909.867.2640
Hours: Mon-Fri 10am-4pm; Sat-Sun & holidays 9am-5pm
$20/hour per person. Children under 36" free with paying adult.

No fancy lifts here, but there are stairs for your climbing convenience. Snowdrift claims to be Southern California's largest and oldest tubing park. Follow the rules, and you're in for a blast. Note that parking costs $10. Everyone who enters Snowdrift must have a signed release. You can download one off the internet and have it filled out ahead of time, to minimize time spent interacting with other people (and to get playing faster).
Snowdrift is still getting ready for the season as of our publish date, so check the website for opening dates and COVID-19 safety measures.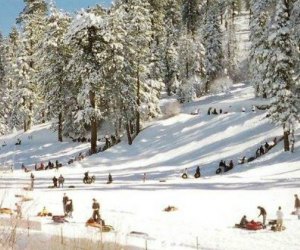 Photo courtesy of Snowdrift Snow Tubing Park
800 Wildrose Lane
Big Bear Lake, CA 92315
909.866.4626
Hours: Daily from 10am-4pm; Friday, Saturday, and holidays from 5pm-9pm.
$35 for all day pass; $35 for evening pass. Children 36" - 42" tall $20. Children under 36" are not allowed past the gate.

Sledding luxury? The Alpine Slide just might have it. What could be more welcoming than a Plexiglas covered (i.e. toasty warm) Magic Carpet lift that carries you back up the hill after your ride? And lights for evening sliding? This tubing destination requires a longer car ride, but thanks to regular snow (and the natural stuff) the conditions are almost always fine. Added bonus: you might get to see a bald eagle overhead.
Alpine is another sledding spot that requires a signed waiver, and doing that on the premises means signing on a public iPad. If you prefer, you can download, print, and sign a copy from Alpine's website before arriving. Only cash is accepted on site, though ATMs are available.
COVID-19 safety measures: Everyone must wear a mask, and lines are marked so families can stay 6 feet apart from other groups while waiting in line.
TEMPORARILY CLOSED AS OF DECEMBER 12, 2020
1 Tramway Rd
Palm Springs, CA 92262
Thuursay-Monday, Trams depart starting at 8am and the last tram down the mountain leaves at 6pm; check online for details about special hours.
Adults $26.95; Children (3-12) $16.95; Under 3 free
Prices and hours of operation subject to change without notice.
888-515-TRAM

Hop aboard the Tram in the desert and take a truly breathtaking slow climb up the mountain with a 360-degree panoramic view of Palm Springs and beyond. Arrive in an Alpine winter wonderland. Bring your own sled and run and romp to various makeshift hills. Snowman building and snowball throwing encouraged.
COVID-19 safety measures: The Tram is running at both reduced hours and at less than 25% capacity, so tickets must be purchased in advance (guests must show tickets before driving up to park). Face coverings are required at both Valley and Mountain Stations, and while riding in tram cars (gaiters and masks with vents are not allowed). There is a temperature check before entering the Valley Station. All the restaurants are currently closed, though packaged salads and sandwiches are available for outdoor dining only—so pack that thermos of cocoa!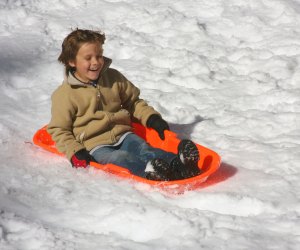 Sledding at the Palm Springs Aerial Tramway: Photo by Jeremy Miles/CC BY 2.0
10678 Sunrise Highway
Mt. Laguna, CA 91948
619.473.8533
San Diego County may be a bit of a trek. But hey, there's lodging, ample space for stomping, and sledding during snow season.
Make Your Own Trails
Save a little money, perhaps, or avoid possible crowds and lines by seeking your own hilly sled trails. Here are a few options:
19952 State Park Rd.
Palomar Mountain, CA 92060
760.742.3462
Acres and acres (more than 2,000) to roam and sled and cross country ski. Check the website for specific spots to head for. A Forest Service Adventure Pass is required. Passes are $10 per day. COVID-19 guidelines for state parks are in place. Museums, visitor centers and restrooms may be closed. Check the website and call before visiting!
Mt. Pinos Ranger District
34580 Lockwood Valley Rd. Frazier Park, CA 93225
661.245-3731
If there's been rain in the city in December or January, there's a good chance that Mount Pinos has snow for the sledding, only 90 minutes away. One day pass for parking in the forest covers a whole carload of snow lovers. We recommend calling Mt. Pinos Ranger District office before making the drive to make sure roads and restrooms are open.

For folks willing to trek farther afield, check out a few other recommendations.

Things to Bring and Consider

Safety: Sledding is usually harmless, and when you're on your own without a tubing attendant, common sense keeps it that way. Make sure you know the sled's path, so you don't end up colliding with a tree, rock, or fence. And always monitor your kids for fatigue and cold. Have water and snacks handy; trudging through the snow builds an appetite. Have a blanket in the car in case traffic is thick on the ride home (and kids are cold or wet). Otherwise, throw caution to the chilly wind and let the snowy decline carry you away.

- Make sure there is snow. Snow levels and conditions vary day to day. Call ahead to make sure snow cover is adequate for sledding.

- Sports stores and Target sell inexpensive sleds, tubes, and saucers. But you can also get creative and supply your own. Cafeteria trays work (I've used them) as do boogie boards and trash can lids. A piece of thick cardboard will even do in a pinch.
Looking for kids' ski schools near Los Angeles? Or Skiing opportunities around the country?
Originally published December 23, 2011