Best Science Museums on Long Island for Families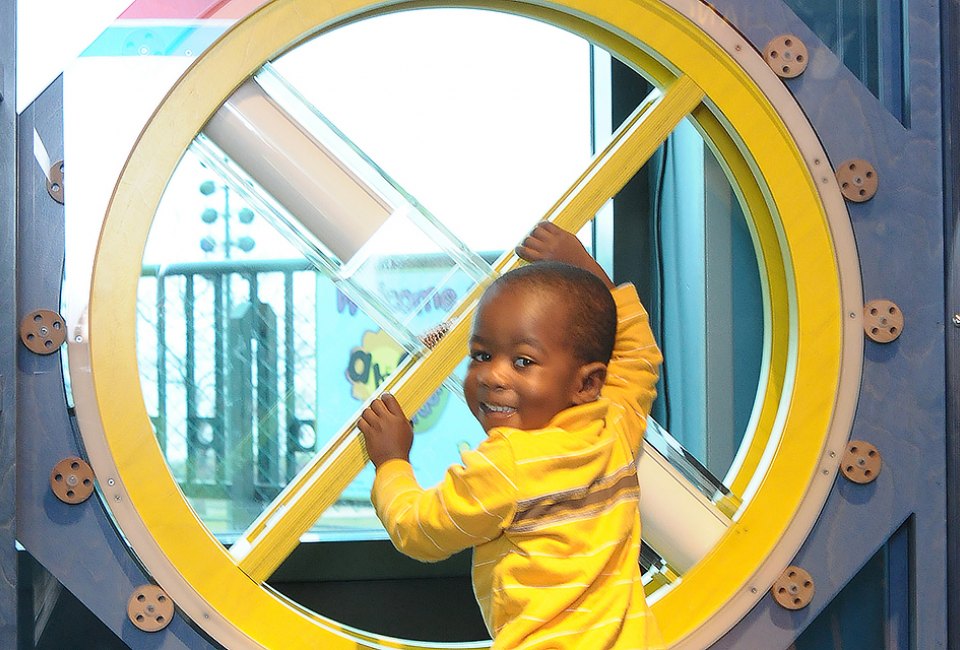 8/18/23
- By
Lisa Mancuso
From astronomy to zoology, Long Island science museums offer something for seemingly every STEM-minded child. At these great destinations, kids on Long Island can enjoy hands-on exhibits, workshops, and even classes.
So why not spend a few hours at one of these 10 science museums that are sure to spark curiosity in your child? That might be all he or she needs to one day become the next Albert Einstein or Nikola Tesla.
For more ways to get kids excited about STEM and STEAM (Science, Technology, Engineering, Arts, and Math), check out our Long Island classes and enrichment guide. Our rundown of Long Island family-friendly museums offers something for kids of all interests.
Long Island Science Museums for Kids in Nassau County
Located in Tanglewood Preserve, this instructional center offers monthly science clinics for children ages 5-12. Its "Just for Kids" lecture series features year-round programs in ecology, geology, zoology, and more. Kids will love the dinosaur exhibit, featuring robotic and skeletal life-size dinosaurs.

Let your imagination soar at the Cradle of Aviation Museum.
Let your child's imagination take flight at the Cradle of Aviation, which celebrates Long Island's aviation history. Exhibits feature airplanes and space vehicles, a hot air balloon, and even an Apollo lunar module. Hands-on exhibits include actual cockpits to explore, a planetarium, and an IMAX theater. Themed events are held throughout the year. The Junior Jet Club is a play area designed for kids 6 and younger. Birthday party packages are available.
This facility on Nassau's North Shore focuses on Long Island's geology and archaeology, and its Native American roots. Kids can learn about Long Island's glacial history and see dramatic displays of changes in its climate and sea levels. Garvies Point Museum Day, held each August, features nature workshops and butterfly and bird-watching tours. Each September the museum sponsors a coastal cleanup day to mitigate beach erosion. Bonus: One of our favorite playgrounds, Garvies Point Playground, is just a 5-minute drive away.
RELATED: Nature Centers Sure to Delight LI Kids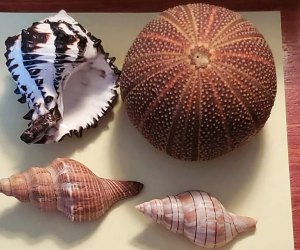 The Hicksville Gregory Museum possesses an extraordinary collection of seashells.
Founded more than 50 years ago by Dr. Gardiner Gregory and his wife, Anne, this museum was originally situated in their Hicksville home. The museum has since has moved to its current location, the Heitz Place Courthouse. The museum's focus is on Earth Science, with exhibits that include fossil collections, fluorescent stones, and more. Tours and children's programs are appropriate for kids ages 4 to 14.
This museum is packed with interactive exhibits, programs, and play spaces that help kids discover how things work. The popular "Bubbles" exhibit teaches all about the interaction of light and molecular structures while the "Communication Station" teaches kids about the development of communication technologies. Past rotating exhibits have included displays on the world of dinosaurs. Birthday party packages are available, plus STEM programs, live performances, and more. Children 3 and younger can enjoy TotSpot, a play space just for toddlers.
RELATED: Great Museum Perks with Your LI Library Card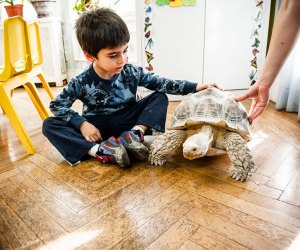 Don't miss Ruby, the Science Museum of Long Island's celebrity turtle.
After-school workshops at this nonprofit science activity at Leeds Pond Preserve introduce kids to STEM subjects such as biology, chemistry, and physics through hands-on experimentation. Separate classes are offered for kids in grades K-3 and those in grades 3-7. Kids can also enjoy summer camps and holiday-season workshops. Birthday party packages are available.
Long Island Science Museums for Kids in Suffolk County
The former Maritime Explorium in Port Jefferson Harbor was rebranded in 2018 to include exhibits from land and sea. Bots, including a Lego robot, teach kids coding, while an interactive garden teaches them about native plant species. Most of the old, maritime-based exhibits remain, including the signal center that allows kids to discover the magic of invisible ink, signal flags, and Morse code; a boat play station teaches kids about measurements. Super Science programs are offered every weekend.
RELATED: Sites That Teach Kids to Code for FREE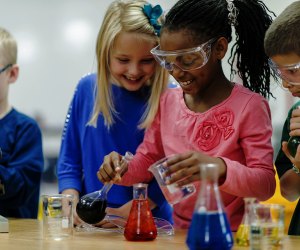 The Long Island Science Center offers an immersive STEAM experience with hands-on experiments.
This Suffolk County institution found a permanent home at Tanger Outlets in 2018. Kids can take a break from shopping and enjoy a fully immersive STEM and STEAM experience that features models of Leonardo da Vinci experiments, augmented- and virtual-reality exhibits, magnet displays, maker spaces, 3D art, and more. The museum is committed to enhancing opportunities for girls in STEM fields.
This museum on Suffolk's North Shore sits on the site of engineer Nikola Tesla's last remaining laboratory and is dedicated to his work. Maker, coding, and ecology-based summer camps are held for kids each summer. "Teslamania" are days of demonstrations from area physics teachers who showcase their inventions and their ideas for improving student engagement in physics. This museum is best for children 6 and older.

Explore undersea wonders at Hall of Fishes Marine Museum within the Vanderbilt Museum. Photo by Kristen Markel
Located in the former Gilded Age estate of William K. Vanderbilt II, this destination is part mansion, part marine and natural history museum, and a must-see for Long Island astronomy enthusiasts. In the Nursery Wing, visitors can view a preserved mummy estimated to be 3,000 years old. The Memorial Wing houses preserved invertebrates, stuffed birds, cases of colorful butterflies, and a collection of ethnographic artifacts. Meanwhile, the Hall of Fishes Marine Museum showcases marine life from Vanderbilt's sea expeditions. But the favored destination for kids might be the planetarium, where the programs include live star talks, full-dome films, and more. The star talks take audiences on a tour of the night sky from the comfort of reclining theater seats.
Unless noted, photos courtesy of the museums.
Originally published in 2018, this post was updated in August 2023.
Sign up for the Mommy Poppins Newsletter today!