Visiting the Long Island Children's Museum with Kids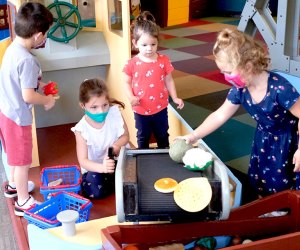 1/2/23
- By
Gina Massaro
Visiting the Long Island Children's Museum in Garden City is a must-do activity for Long Island kids. The museum is home to more than 10 regular exhibits and also has rotating, seasonal shows throughout the year.
The museum's facilities range from a play space geared toward toddlers to climbing structures for older kids. The institution also hosts regular classes and is a popular spot for birthday parties. Read on for a rundown of all its features.
Find out more about Long Island's many cultural institutions in our Museums and Art Guide for Long Island Kids.
Subscribe to our newsletters to get stories like this delivered directly to your inbox.
Top Things To Do at the Long Island Children's Museum
There are 13 exhibits on display at the Long Island Children's Museum, including a rotating exhibit. A seasonal, outdoor water exhibit is also open during the summer months. The museum is chock full of interactive experiences around every corner. The museum also offers monthly Friendly Hours for children with disabilities that have reduced attendance, dimmer lighting, and lower audio volume.
The tiniest members of the family, including crawlers and toddlers, will get a kick out of this interactive play space. There is a farmer's market, train station, post office, and even a working lighthouse. Toddlers can ascend the lighthouse stairs, which are sized appropriately for their little legs, and swoosh down a slide.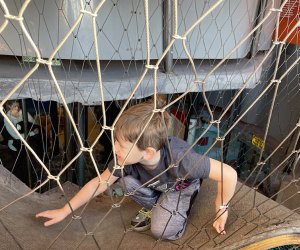 The Long Island Children's Museum's Climb-It structure is one of only 80 in the world.
This exhibit featuring wavy tiers and platforms is one of only 80 climbing structures designed by architect Spencer Luckey in the entire world. The unique installation was designed specifically for the Long Island Children's Museum with little adventurers in mind. Children must be 42 inches to explore.
Sandy Island lets kids explore the beach rain or shine. Play in the sand with toys, grab a pole and catch a wooden fish, or play with sand on the lightbox.
This exhibit attracts kids of all ages, including adults. The giant bubble wands are the star of the show, with multiple soap stations and wands to choose from. On crowded days, you may have to wait for a wand, but it's worth it. Those giant bubbles are mesmerizing. Adults and children can also go into a cylinder structure and pull on a cord to enclose themselves in a gigantic bubble.
RELATED: Imaginations Take Flight at Long Island's Cradle of Aviation Museum

Visiting exhibits, like the Age of the Dinosaurs exhibition in 2022, make seasonal trips to the museum unique.
Rotating Exhibit
The rotating exhibit changes based on the season. A winter favorite is sock skating, which has visitors putting booties over their shoes to slip and slide on synthetic ice. Past exhibits include Age of the Dinosaurs, Dragons, and Fairies and The Art of Andy Warhol. Starting January 21, 2023, the annual sock skating will be replaced by a special Mo Willems exhibit, which features favorite characters of the lauded children's author, including Knuffle Bunny, Pigeon, Piggie, and Elephant.
It's easy to overlook this exhibit since it hangs on the walls, but it's an important feature for budding artists. The gallery is always changing based on the theme, but it features the work of child artists from across Long Island.
Younger kids can build using various materials, like cardboard and glue, while kids 5 and older can use a hammer, nails, and wood. Children can decorate their creations once they're constructed. There are also different machines for children to interact with and examine.
RELATED: 7 Space Museums Near NYC for Out of This World Fun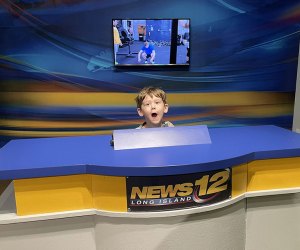 This just in: Anyone can be a news anchor at the Long Island Children's Museum.
You'll find part of the communication exhibit on the way up the stairs, where kids can call each other up on rotary phones. Upstairs, children can pretend to be news anchors at a mock News12 news station, which includes a green screen for weather forecasts.
Explore the magic of rhythm, sound, and music in this exhibit. Large percussion instruments fill up the room, from bongos and drums to less-common ones like PVC pipes.
There are over 10,000 wooden KEVA planks to use for unique creations. Inspirational builds are located throughout the exhibit.
Use light boxes, pattern sheets, and shape tiles to match the tiles to the pattern sheet. Play with wooden balls and insert them into grooves, and check out the crazy mirrors at this second-floor exhibit behind Beasts and Feasts.
Animal lovers won't want to miss this exhibit. Learn all about what different animals eat and play a restaurant game where you serve different animals food based on their diets in the wild. There are also animal skeletons and skulls on display. Live animals include snakes, turtles, tarantulas, and hissing cockroaches. Don't miss the working beehive located inside the back of the workshop room behind the live animals.
Rebuild a child-size wall, pretend to work on the bottom of a car, shine shoes, and do some sewing.
RELATED: Best Science Museums for Kids on Long Island

The seasonal Our Backyard exhibit is a hit during the summer months.
Our Backyard
The museum's backyard space is an outdoor play area with sensory water play features. Kids can learn about the weather and the water cycle, all while splashing and cooling off. The exhibit is only open in the summer.
Children's Theater
Tickets to the children's theater are separate from admission, so you will have to purchase them in addition to museum admission tickets. Different interactive shows run throughout the year. Check the theater calendar for information on what's playing.
Nunley's Carousel is located outside of the museum on the museum row. It has a different operating schedule than the museum itself. Check the Long Island Children's Museum website for scheduling and tickets. Tickets can be purchased inside the museum or at the carousel itself. A separate $4 admission is required for the carousel.
Visiting the Long Island Children's Museum with Kids: Special Events and Experiences
There are multiple birthday party options at the Long Island Children's Museum. Themes include "messy," in which children can make slime or oobleck, and "paint," in which kids can get in touch with their artistic talents. Other parties are aimed at babies and toddlers and include time in the theTotSpot exhibit.
There are parent-and-me music and art classes and a half-hour stART program for preschoolers, which focuses on listening and understanding a story, ending with a take-home craft. STEM classes can be found on the calendar, with different themes like snow and ice.
RELATED: 14 Family-Friendly Museums on Long Island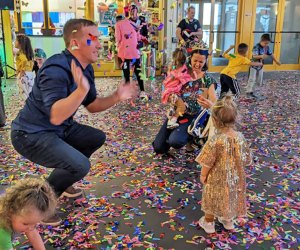 Celebrate New Year's during LICM's annual Countdown to 12! Photo courtesy of the museum
Holiday Events
One of the most popular events at the Long Island Children's Museum is the Countdown to 12 parties to celebrate the New Year. Check the calendar for new and upcoming events.
Know Before You Go to the Long Island Children's Museum
There is no cafe at the Long Island Children's Museum. There is a cafeteria with vending machines on the first floor, but we recommend packing lunch.
Parking is free, but the paved lot fills up quickly on peak days. There is additional parking behind the paved lot.
The museum is closed on Mondays, except during holiday breaks, when it may be open. Generally, operating hours are Tuesday-Sunday, 10am-5pm.
Admission is $15 per person. Babies under 1 are FREE, and seniors receive a $1 ticket. Family memberships start at $200 a year.
All bathrooms are equipped with changing stations. There is a designated nursing room in the TotSpot, but nursing is allowed in any area of the museum.
The museum is handicap-accessible.
TotSpot has timed entry, with cleaning between sessions, so there is usually a line waiting to enter the play space.
Unless noted, photos by the author