7 Space Museums Near NYC for Out of This World Fun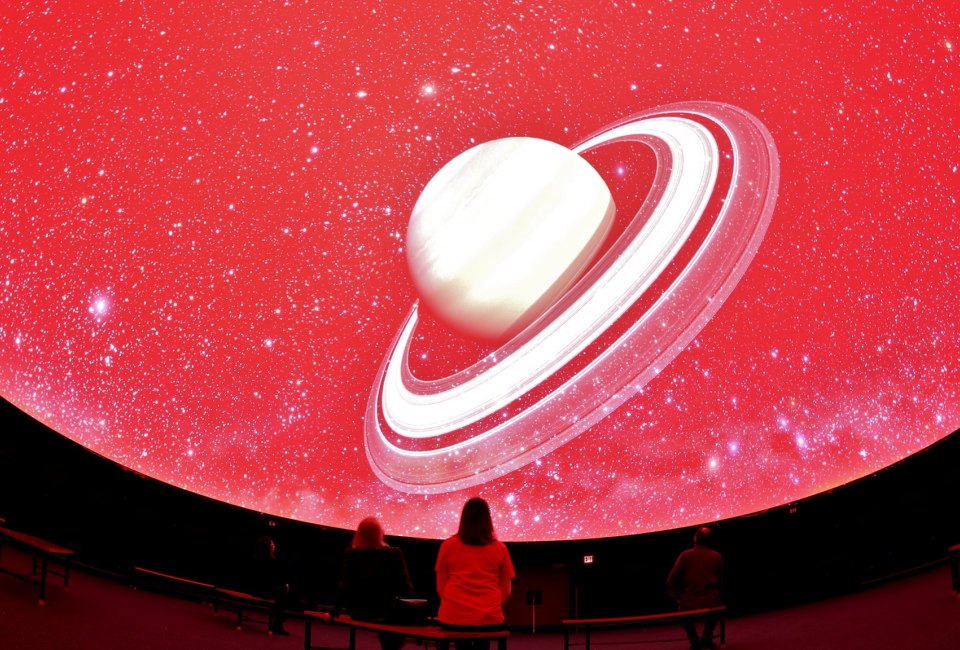 5/19/22
- By
Charlotte Wensley
With space travel increasingly in the news, children's fascination with all things space is sky-high. Being able to get up close to real space artifacts at one of these space museums near NYC is thrilling for any kid, not just those obsessed with space, like somebody in my house!
We've found a collection fo dedicated space museums near NYC, plus some ultra-cool space-themed galleries within some favorite local science museums. At these spots, kids and adults can experience what it feels like to be in space through simulators, interactive exhibits, planetarium shows, or watching a live feed from the International Space Station.
Find more cool museums for kids in our Guide to Museums and Galleries for Kids or find more STEM-inspired fun in our Guide to Science Experiments for Kids.
Subscribe to our newsletters to get stories like this delivered directly to your inbox.



See the galaxy in eye-popping form at the American Museum of Natural History's Hayden Planetarium at the Rose Center for Earth and Space.
There are so many cool exhibits at the American Museum of Natural History, but space lovers head directly to the Rose Center for Earth and Space, one of our favorite space museums near NYC. The dramatic, raised sphere of the Hayden Planetarium dominates the space and is surround by suspended models of our galaxy's planets.
A winding pathway leads you from the main museum down to the floor of the Rose Center, laying out the 13-billion year history of the universe. Geological specimens, including a huge meteorite, are accompanied by information about the formation and evolution of the stars and planets.
Save time to catch a showing of World's Beyond Earth, narrated by Lupita Nyong'o, which tells the story of the solar system's formation.
RELATED: Top Children's Science Museums Across the US for Families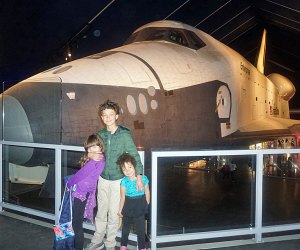 Kids can pose in front of the Space Shuttle Enterprise at the Intrepid Sea, Air, and Space Museum on Manhattan's west side. Photo by Jody Mercier
The Intrepid has been a mainstay on the Hudson River for more than 40 years. The decommissioned aircraft carrier turned museum features many older fighter planes and light aircraft on its main deck, plus the submarine Growler and a Concorde jet.
The highlight for space enthusiasts, however, is the Space Shuttle Pavilion, which houses the Enterprise, a prototype orbiter for the space shuttle program. Also in the Space Shuttle Pavilion are 17 exhibits detailing the Space Shuttle program and the space race. The Intrepid has a large auditorium and has previously held presentations from astronauts who have spent time on the International Space Station. It is worth keeping an eye on the event calendar for similar activities.
As with some of the other space museums near NYC, you can camp overnight on the Intrepid underneath the Enterprise, which makes a great special occasion outing or birthday treat.
About 40 minutes from Midtown Manhattan by car
The Jennifer Chalsty Planetarium at the Liberty Science Center is the largest in America housing an 89-foot, full-dome view of the night sky and distant galaxies. A variety of shows are geared toward different age groups, including a Sesame Street show, where your child can learn about constellations with their favorite characters.
For more space-themed fun, visit the Universe Revealed: Views from the Hubble Space Telescope exhibit on the fourth floor, which features stunning photographs of the universe.
RELATED: 9 NYSCI Exhibits Every NYC Kid Needs to See at Least Once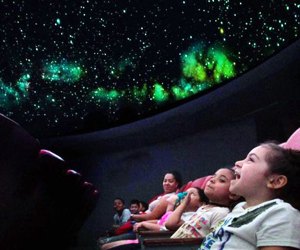 The Hudson River Museum offers 30-minute, family-friendly planetarium shows.
About 45 minutes from Midtown Manhattan by car
The Hudson River Museum is predominantly an art museum, but its on-site planetarium is enough to land it on this list of space museums near NYC. The planetarium offers half-hour shows on weekends and school holidays. More than 15 different titles are offered and cater to different age groups and audiences. Some are even shown in Spanish. A good bet for kids is Magic Tree House: Space Mission, where the stars of the popular book series—adored by my kids—give you a peek into the tree house and some of Jack and Annie's space adventures.
See the calendar for current showtimes and book your tickets in advance!
About 1 hour from Midtown Manhattan by car
The Cradle of Aviation Museum is completely dedicated to aviation and space travel—and pays homage to the Long Island's history of contributions to the industry. This space museum near NYC includes 75 air and spacecraft exhibits spread over eight galleries. The exhibits are arranged chronologically over 100 years of aerospace history and include everything from hot air balloons to cockpits kids can climb inside.
The Exploring Space gallery has lots of interactive exhibits and an actual Apollo lunar module, which would send my son into a NASA-induced frenzy!
The planetarium at The Cradle of Aviation includes shows such as The Birth of Planet Earth, which presents stunning visuals, and the 25-minute Asteroid: Mission Extreme, which is narrated by Alien star Sigourney Weaver. This show uses asteroids as stepping stones into other worlds.
About 2 hours from Midtown Manhattan by car
The Space Command Exhibition at the Franklin Institute features several interactive exhibits. Kids can watch a live feed from the International Space Station, touch a real meteorite, and see a moon rock that was collected during the Apollo 15 mission.
Kids (and adults!) learn about gravity, other planets within our solar system, and how the sun impacts each of the planets. Like many of the space museums near NYC, the Franklin Institute has a planetarium where you can learn about the night sky or even travel through the human body!
Unique to the Franklin Institute is the Holt and Miller Observatory, which has a 10-inch Zeiss refracting telescope that allows guests to see most of the galaxy's planets, star clusters, and the moon, as well as other galaxies.
RELATED: 64 Easy Science Experiments for Kids to Do at Home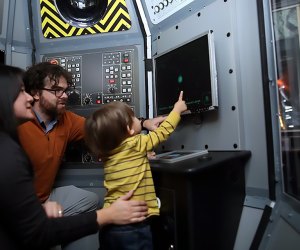 Explore the lunar module and more fun space exhibits at the Connecticut Science Center.
About 2 hours, 30 minutes from Midtown Manhattan by car
The Connecticut Science Center makes up for its smaller size by including some wonderful interactive exhibits. Its Exploring Space gallery has simulations where you can control a lunar lander and navigate to Mars from Mission Control. At this science museum near NYC, you can also tour the outer reaches of space in a space pod. A collection of 3D movies covers a variety of topics and its blog is peppered with interesting articles about space and beyond.
Unless noted, all photos courtesy of the museums