10 Things to Love About the Intrepid Sea, Air, and Space Museum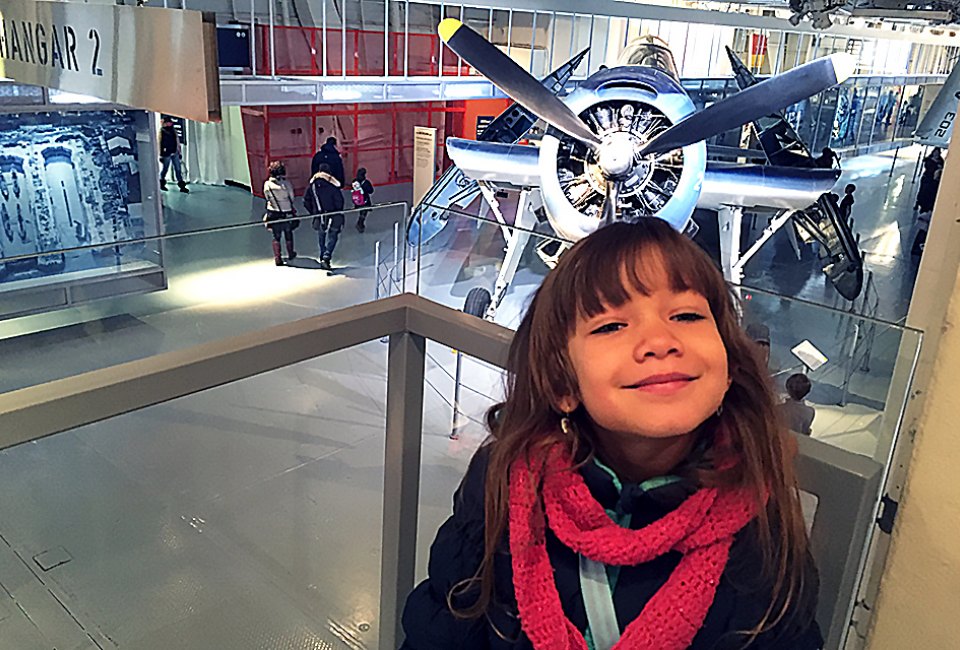 3/29/19
- By
Jody Mercier
Ever since my son could read, he's been a history buff. Our family tree is filled with brave men who have served our country, so military history has always been a subject close to his heart. We've loved exploring the city's National Parks and Monuments and learning about the storied military past of Governors Island together, but nothing has sparked his curiosity or inspired as many return visits as the Intrepid Sea, Air & Space Museum.
A decommissioned Essex-class air craft carrier, the Intrepid is a floating museum docked in the Hudson River at Pier 86. It was commissioned in 1943 and served a varied history spanning from WWII to the space age. During WWII, it survived a torpedo strike and five kamikaze attacks. Later it was used in the Cold War, as a NASA recovery vessel in the 1960s and as a "special attack carrier" in Vietnam. Decommissioned in 1974, the Intrepid was saved from the scrapyard and converted into a museum in the early 80s. It was remodeled between 2006-08 and returned to Pier 86 as the museum we know today.
With that bit of history under your belt, read on for 10 reasons we love to visit the Intrepid Sea, Air & Space Museum.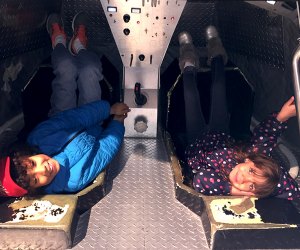 Hang out in a space capsule.
1. The Exploreum: If your kid isn't a full-on history nerd, this section of the Hangar Deck (the main exhibition space) is the most kid-friendly spot on board. This interactive space lets kids climb into a cockpit, pose as the pilot of a small helicopter, explore a submarine's tiny quarters, or fold up like a pretzel to squeeze into a space capsule. There are plenty of kid-friendly buttons to push, steering wheels to twirl, and more.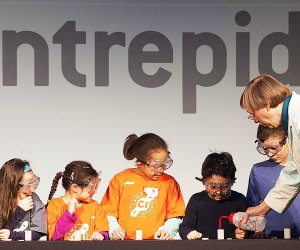 Kids Week is chock-full of programming from the Intrepid and other partner programs. Photo courtesy of the museum
2. Kids Week: The Exploreum is also where you'll find the Intrepid's annual Kids Week programming, held during the NYC public school Midwinter Recess. This week is always chock-full of programming from the Intrepid and other partner programs, and introduces a variety of STEM topics to children in age-appropriate ways. Because my daughters aren't quite as into the museum's history as my son, this is always a great week to visit. They can do arts and crafts or catch a live show while he is happy to revisit all his favorite haunts in the other exhibition areas. During Kids Weeks past, we've participated in character meet-and-greets with Nick Jr. stars, crafted pinwheels and tops, watched puppet shows and magic demonstrations, and even met a menagerie of live animals. I can't recommend a visit during Kids Week enough.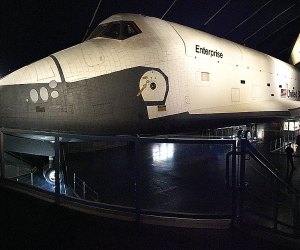 The Enterprise is housed in the Space Shuttle Pavilion on the ship's flight deck.
3. Space Shuttle Enterprise: This one might be even more thrilling for parents who grew up in NASA's heyday than for the kids, but I think we've made enough visits that my kids have come around to just how cool the shuttle program was. The first of NASA's orbital space shuttles, the Enterprise was awarded to the Intrepid and flown to New York City piggybacked aboard a 747 when the shuttle fleet was decommissioned, and is now housed in the Space Shuttle Pavilion on the ship's flight deck. While you can't go inside the shuttle, just standing in its shadow or on the platform near its nose is awe-inspiring. In addition to the shuttle, you'll find many of the museum's space artifacts in this wing. Even the entrance, which takes you down a long hallway filled with a soundscape of mission control voices before your view opens up to the shuttle, is an amazing experience. There's also an Educational Zone here where museum educators conduct experiments to the delight of families.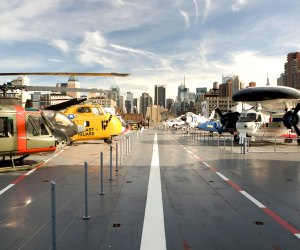 Step on to the Flight Deck where planes launched and landed during wartime. Photo courtesy of the museum
4. Flight Deck and Bridge: The top level of the Intrepid is the Flight Deck, where planes would launch and land during wartime. Planes are no stranger to the runway now even though its service days are long over. More than two dozen of the museum's expertly restored planes from its aircraft collection now live on the flight deck. While you can't get in them, or even get very close, just seeing them lined up on display is a marvel, especially with the towering buildings of Midtown Manhattan behind as a spectacular backdrop. From the Flight Deck, you can choose to climb the stairs to the bridge to discover how the giant ship was controlled and learn about navigation and the communications devices it used.
5. Video Presentations: The Intrepid's regular programming includes a pair of video performances. You can access a theater from the Hangar Deck to catch an 8-minute film entitled The Story of the Intrepid, which provides an overview of the ship's history narrated by some of the sailors who called her home. It's a solid introduction to the ship and its various missions throughout time. In the middle of the deck, there's a memorial to the sailors who lost their lives in service on the ship. At posted times, a screen drops down from the ceiling for a multi-media presentation entitled Kamikaze: Day of Darkness, Day of Light, which takes visitors back to November 25, 1944, when two kamikazi planes struck the very spot killing 69 members of the ship's crew. A word to the wise: The presentation can be too much for little kids to handle, so steer clear if you've got young children in your party. I'd say it's best for ages 10+.
6. Flight Simulators: If you prefer something even more interactive, the Intrepid has a series of flight simulators you can add on to your admissions package. Train with the Screaming Eagles, fly a supersonic jet, or immerse yourself in a 4-D presentation for an experience that puts you in the middle of Intrepid's action. A pair of mixed-reality and virtual reality experiences are also available in the Space Shuttle Pavilion.

Some of the crew slept in the torpedo rooms!
7. Growler Submarine: Docked opposite the Intrepid across Pier 86 is the USS Growler, the only American guided missile submarine open to the public. You'll be able to walk through the crew mess, see the control room and one of the sub's two torpedo rooms, where, in addition to the torpedoes, nine crew members slept...yikes! There are height requirements (40+ inches) to enter, and you must be OK with claustrophobic spaces. Keep in mind, too, that you'll feel the movement of the mighty Hudson while you're inside the Growler.
8. The British Airways Concorde: The plane that made the fastest ever Atlantic crossing at 2 hours, 52 minutes, and 59 seconds is on display on Pier 86. While you can admire it from afar with a general admission ticket, to explore its interior you'll need to purchase a guided tour.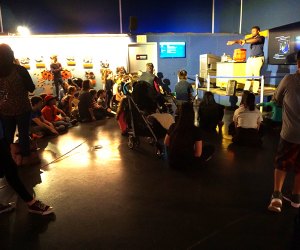 The Intrepid offers a variety of educational programs.
9. Educational Programming: The Intrepid offers a variety of educational programs meant to bring the ship's history to life both during the museum's regular hours and beyond. Its G.O.A.L.S. for Girls summer program offers STEM-obsessed girls a chance to fine tune their academics, plus foster leadership skills. Younger kids can participate in its Camp Intrepid, while families of special needs children will appreciate its monthly Access programs.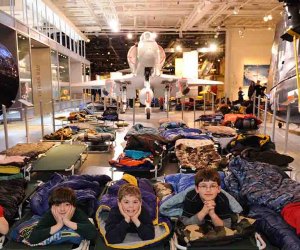 For a fun night, grab your sleeping bag and head to the Intrepid for Operation Slumber. Photo by Erika Kapin
10. After-Hours Fun: While there's plenty to discover on the hulking warship during the day, after-hours fun aplenty is available, too. Whether you splurge for Operation Slumber and stay overnight, or just hit the flight deck for summer movie night, sometimes the best time to visit is when the museum is closed.
Know Before You Go
Wear comfortable shoes: There's lots of walking involved (just getting to the far West Side is a schlep in itself) and much of it is on the unforgiving steel surface of the ship. Your legs will be more tired than usual after taking a pounding all day.
Leave the stroller behind: If at all possible, travel on two feet, whether that means waiting until your toddler is a little older or bringing a carrier for baby. There are elevators, but the museum is not 100 percent accessible and some exhibits are totally inaccessible if you're bringing a stroller along.
There are a pair of restaurants on site: The Aviator Grill and Intrepid Marketplace both serve a variety of food. If the kids will settle for a simple snack, consider picking up some astronaut ice cream in the gift shop, or cross 12th Avenue for my personal favorite, Underwest Donuts, located in (where else?) a car wash frequented by TLC vehicles for a very NYC snack.
Purchase tickets in advance: By buying online you'll avoid a long line and lots of confused tourists. The Space Shuttle Pavilion is now included in the general admission package, but you'll have to shell out a little extra for an audio tour, guided tour, or any of the simulators. Membership packages are also available.
Getting there: Located on Pier 86 at 46th Street and the Hudson River, the Intrepid is reachable by walking from any Times Square subway line or take the M42 or M50 crosstown buses to the West Side.
A previous version of this post was published in 2013.
Unless noted, photos by the author
Places featured in this article:
---
The Intrepid Sea, Air & Space Museum
Click Here to Sign Up!