Belize Family Travel Guide: Where to Stay, Best Resorts and Top Things to Do with Kids in Belize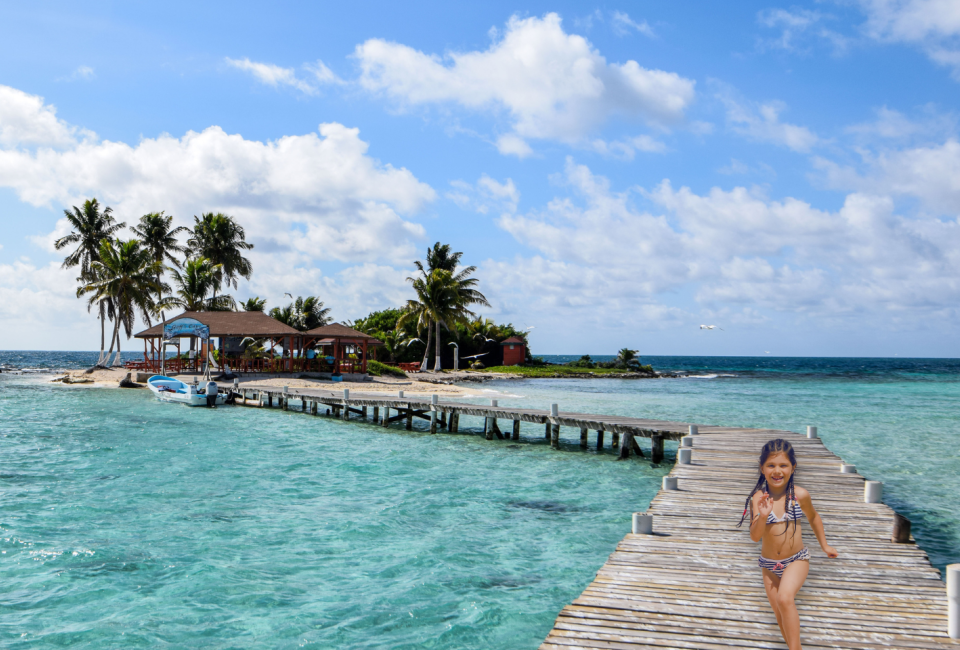 8/26/23
- By
Anna Fader
If you're always on the lookout for those hidden-gem vacation destinations, here's your PSA to put Belize on your family travel bucket list before the masses discover it.
Whether you love an all-inclusive Caribbean beach resort or like to stay active with lots of activities, cultural experiences, and natural wonders to explore, Belize offers a unique blend of the Caribbean and Central American cultures. That makes it a fascinating destination for families looking for a bit of everything, from beaches and reefs to jungles and ancient Mayan ruins.
The fact that English is the official language makes Belize a particularly convenient destination for English-speaking travelers, without sacrificing its exotic allure.
With a native Belizean (and dad) from Travel Belize as my guide, I was able to get the real inside scoop on the best things to do in Belize—plus some great kid-friendly resorts for families—to help you plan an amazing trip to Belize for your next family vacation. Read on for our Belize family travel guide, then see our Guide to the Best Caribbean Family Travel for even more warm and sunny family vacation ideas.
Best Reasons to Visit Belize For Your Family Vacation
English-speaking
With English being the official language of Belize, the ease of communication makes it simpler to navigate and interact, making the trip stress-free for parents.
Affordability
With an advantageous exchange rate and a variety of affordable accommodation options, a trip to Belize does not have to break the bank.
Culture and Mayan Sites
Belize has multiple Mayan ruins to visit with out hordes of tourists, plus many other opportunities to learn about Mayan and Garifuna cultures.
Beach, Jungle, or Both!
Belize offers a wide variety of locales from remote islands to rainforest refuges—and some places offer both!
Range of Activities
From world-class snorkeling and diving for the teens to cave tubing and jungle safaris for younger kids, there's something for everyone in Belize.
Safety
Belize is generally safe for families, so it's easy to go beyond the typical tourist attractions to truly explore what the country has to offer.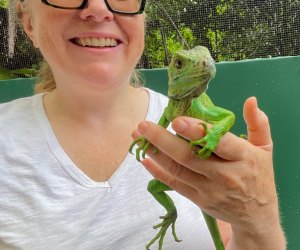 In San Ignacio you can visit the Green Iguana Conservation Project.
Top 5 Family-Friendly Destinations in Belize
San Ignacio
Perfect for families who love nature, San Ignacio offers kid-friendly jungle resorts. Explore the surrounding rainforests, visit Mayan archaeological sites, and indulge in activities like horseback riding that are suitable for kids.
Hopkins
This beach resort town is a one-stop destination for families. Close proximity to Mayflower Bocawina National Park allows for jungle treks, and the town itself offers cultural experiences that are educational for kids.
Ambergris Caye and San Pedro
Popular among American families, these destinations offer luxurious beach resorts with kids' clubs and the best snorkeling opportunities at the Belize Barrier Reef—educational and exciting for the young marine biologists in your family.
Placencia
Known for some of Belize's most beautiful beaches, Placencia is perfect for families who like to keep it simple. The slow-paced life here is ideal for quality family time, and kids love riding around in golf carts.
Caye Caulker
This laid-back, car-free island offers a different kind of family vacation. Its proximity to the Belize Barrier Reef makes it ideal for older kids interested in snorkeling or diving. Plus, the relaxed atmosphere is perfect for quality family bonding.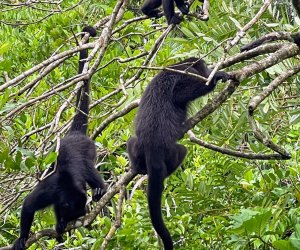 Get up close and personal with monkeys, jaguars, and tapirs at The Belize Zoo.
Top Things to Do With Kids in Belize
This small zoo is home to more than 160 animals representing 43 native species, all of which have been rescued from the illegal wildlife trade, transferred from other rehab facilities, or born there. Families can visit toucans, pumas, tapirs, and more.
Snorkeling and Scuba Diving
Belize is home to the second-largest barrier reef in the world. Younger kids can snorkel in shallow waters while older ones go on a scuba-diving adventure.
Zip Lining
Soaring over the jungle canopy on a zip line is an exhilarating way to see the forest from a different perspective.
Cave Tubing
Float through underground caves and learn about the geological and cultural importance of these formations.
Wildlife Spotting
From birdwatching in the jungle to visiting a jaguar reserve, there are plenty of opportunities for kids to get close to unique wildlife.
Mayan Ruin Exploration
Sites like Xunantunich offer family-friendly hikes and the chance to learn about ancient civilizations.
Best Jungle Lodges for Families in Belize
This family-owned boutique hotel in the Cayo District provides a cozy, intimate setting on a 17-acre private estate. Located just five minutes from popular San Ignacio Town, families can easily explore local attractions. The resort offers the award-winning Running W Restaurant, featuring meats from the family's ranch, as well as an on-site tour company for family adventures. A highlight is the Green Iguana Conservation Project, an interactive experience that's fun and educational for kids.
This luxury jungle lodge offers not just modern accommodations, but also a range of eco-adventures and experiences tailored for family interest. With attractions like a butterfly farm, archaeological sites, and even an on-site organic garden, there's something to keep every member of the family engaged and active.
Situated in the heart of Mayflower Bocawina National Park, this eco-lodge is perfect for families interested in sustainable tourism. The resort offers a range of family-friendly adventures and activities, such as guided jungle hikes and birdwatching, to make your family's stay both exciting and educational.

Relax in a luxurious beachfront suite at The Lodge at Jaguar Reef.
Top Family-Friendly Beach Resorts in Belize
Located in Hopkins, Almond Beach Resort is part of The Belize Collection, which offers two adjacent resorts that share the same scenic beach. Families will find private casitas and family suites equipped with amenities that cater to all ages. Want a luxurious experience? The Lodge at Jaguar Reef next door offers modern luxury accommodations, including family suites with private plunge pools that are ideal for family-friendly fun in a secluded setting.
Situated in the bustling heart of San Pedro and Ambergris Caye, Ramon's Village offers families the flexibility of choosing between beachfront rooms or jungle cabanas. The resort also provides suites with kitchenettes, allowing families the convenience of preparing their own meals—an especially useful feature for those with young children.
As one of the top luxury resorts in Ambergris Caye, Grand Caribe offers a range of accommodations, from large family suites to a spacious five-bedroom villa perfect for extended family gatherings. Additional family-focused amenities include a kids' club, a game room, and a kids' pool, making sure that the younger members of the family are always entertained.
For families seeking the comforts of home, VRBO listings include adorable beachfront cabanas and villas, offering private spaces where families can unwind and enjoy the ocean's beauty at their own pace.
Local Foods for Kids to Try in Belize
Rice and Beans
A staple in Belize, rice and beans are often cooked in coconut milk.
Fry Jacks
This puffy fried bread is often enjoyed at breakfast.
Conch Fritters
Seafood lovers should not miss this local delicacy.
Tamales
Filled with meat or vegetables, tamales are a must-try in Belize.
Belizean Stew Chicken
This is a comforting meal that can be enjoyed by the whole family.
Salbutes
A salbute is similar to a tostada, but with a soft, deep-fried tortilla layered under chicken, avocado, and other toppings.
Tips for Traveling with Kids in Belize
Travel Insurance
Make sure to have comprehensive travel insurance that covers the activities you plan to undertake.
Local Currency
US dollars are widely accepted in Belize, so changing money isn't necessary. Just note that if you use dollars, you will likely get Belizean change.
Drinking Water
It's recommended to only drink and brush teeth with bottled or filtered water.
Local Etiquette
I found Belize to be very child friendly and tolerant, but make sure children know how to behave, especially when visiting Mayan sites.
What to Pack
Make sure to pack sunscreen, insect repellent, hats, and lightweight, quick-dry clothes—you'll need them!
This guide was researched thanks to a hosted trip. All opinions are those of the author. Visit Travel Belize to learn more and plan your trip.
Click Here to Sign Up!