21 Best All-Inclusive Resorts in the US, Caribbean, and Mexico for Kids
2/11/23
- By
Rose Gordon Sala
All-inclusive resorts are the way to go when you need a family vacation that's both relaxing and activity-packed, where delicious food and drinks flow freely, and where you don't have to worry about pulling out your wallet. The best all-inclusive resorts offer so many fun activities for grown-ups and kids, such as swimming, sports, arts and crafts, and more. Many of them even have kids' clubs so the adults can get a break. Plus, the plethora of fabulous all-inclusive resorts in the Caribbean and Mexico make it easy to escape the cold weather for a warm and sunny winter getaway.
We've rounded up some of our favorite all-inclusive resorts in the US, Mexico, and the Caribbean for families. Of course, they don't always come cheap, so we've included a couple of more budget-friendly options, too. These soup-to-nuts getaways will please the most discerning pint-sized guests (and their paying adults).
Check out our Guide to Family Resorts and Hotels for even more great places to stay on your next family vacation.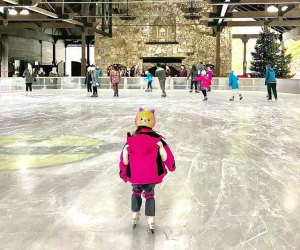 Get away from it all with a retreat to Mohonk Mountain House in New York's Catskills.
Best Family-Friendly All-Inclusive Resorts in the US
This pretty Hudson Valley resort beckons families year-round with outdoor adventures like hikes and swimming as well as old-timey indoor pursuits, from board games to dancing. A stay here includes three meals a day, a kids' club, evening entertainment, a number of sports and fitness programs, and innumerable perks such as nightly turndown service. Enjoy the view from the room's balcony or family time around the en-suite fireplace.
Plentiful meals, activities galore, and bedtime-friendly evening entertainment are all included in the price at this top-notch rustic resort on a scenic lake in the Poconos. There's a petting zoo, a playground, paintball, and much more, so no one will ever get bored. An indoor "splash zone" with slides keeps tots happy year-round. If you're searching for a multi-generational getaway with the grandparents or a family reunion spot, hospitable Woodloch is a fine choice. This family-run resort is kid-friendly in every way, but adults can have fun on their own when they head to the serene spa at the stunning sister property, The Lodge at Woodloch, located just two miles away.
RELATED: 50 Things To Do in Portland, Maine with Kids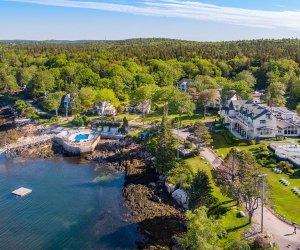 Slather on the sunblock and enjoy a ride through Boothbay Harbor while staying at Maine's Spruce Point Inn.
Few towns spell summer as quintessentially as Boothbay Harbor, Maine. Its throwback quality is tailor-made for families, with its iconic harbor brimming with lobster boats and schooners. Spruce Point Inn is a seasonal resort set on 56 bucolic acres, and while it's not entirely all-inclusive, it does come with some nice perks, such as a complimentary day-camp program for guests ages 5-12 and spacious lodging for families. Seaworthy vessels of every kind, a variety of room and cottage configurations, and locally sourced food make this place special.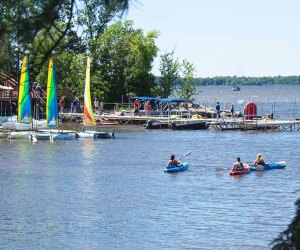 Families can suit up for water sports at The Tyler Place, where personal nannies are on hand for babies.
4. The Tyler Place — Highgate Springs, Vermont
This seasonal resort is excellent for families with babies and toddlers. The children's program is comprehensive and includes a personal nanny for newborns to 1-year-olds. They have plenty of baby gear, so no problem if you forget the stroller. Parents will have plenty of time to unwind in strategically placed hammocks. Nearly everything is included in the price (all meals, bike rentals, etc.), but there is an additional fee for the personal nanny.
RELATED: 9 Must-Try Dude Ranch Vacations for Families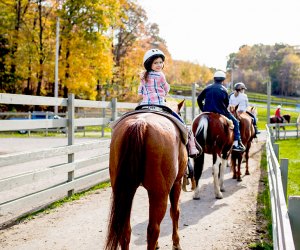 Families get unlimited horseback riding at Rocking Horse Ranch.
With supervised programs for babies to teens, parents have the option to choose whatever blend of kid-free time they desire. Three daily meals and all activities are included in the relatively modest price, including an indoor water park, playgrounds, hikes, and nightly entertainment. Ponies and horses abound. Rocking Horse Ranch is only about a two-hour drive from Manhattan.
RELATED: 10 Best Florida Beach Vacations for Families

Florida's Sandpiper Bay Resort offers all the amenities of all-inclusive resorts without leaving the US.
Kids will make themselves at home hitting the splash park at this Florida all-inclusive resort that dishes up all of the typical all-inclusive amenities without the need to pack a passport. Located along the St. Lucie River, water sports such as sailing are the top activities here, but so is lounging by the pools. There's also tennis, soccer, beach volleyball, golf, and kids' clubs. Explore nearby Florida cities and attractions, including West Palm Beach and Miami. Families can choose from a number of kid-friendly accommodations, including connecting rooms.
This gorgeous, sprawling resort set in the foothills of the Great Smoky Mountains gets high marks for its delicious food, an abundance of outdoor activities (some cost an extra fee), and its friendly staff. Kids will adore meeting the animals at the mountainous estate, hitting the hiking trail, and trying out archery and other old-timey pursuits while parents duck into the spa, drool over the extensive wine cellar, or relax at the pool. Everyone will enjoy horseback riding, carriage rides, and various water sports available on the rivers that run through the area. Choose among luxurious hotel rooms, cottages, and even five-bedroom houses with bunk beds and game rooms for the kids at this favorite American all-inclusive resort. Kids under 4 stay for FREE, and a kids camp gives children and parents a chance to explore. Private babysitting is also available.
RELATED: 45 Fun Things To Do in Phoenix, Arizona with Kids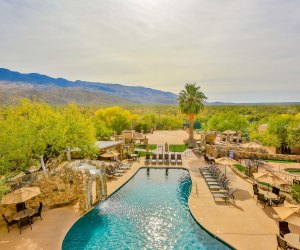 Enjoy the desert and mountain views at Tanque Verde Ranch.
This stunning ranch nestled in the Tucson desert with Saguaro National State Park as the backdrop is on every little cowgirl and cowboy's wish list. A full slate of complimentary children's programming is available for those who opt for an all-inclusive package, with plenty of horseback riding options, hiking, crafts, nature programs, tennis, and swimming. Parents can unwind at the indoor or outdoor pools, while doing yoga or trail rides, or at the top-notch spa, while the whole family will enjoy cowboy cookouts and scrumptious southwestern fare daily. There are a number of Santa Fe-style, adobe-walled cottages and rooms from which to choose, and even a glamping option for the adventurous.
RELATED: Why Ocean Club Resort Turks and Caicos is Tops on Our Family Vacation List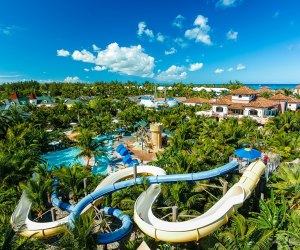 The water park at Beaches Turks & Caicos draws kids to its lazy river, water slides, and pirate ship.
Best Family-Friendly All-Inclusive Resorts in the Caribbean
A trip to the famed Beaches resort in Turks & Caicos isn't soon forgotten. We're still reminiscing about our 2014 trip to Beaches when the luxury, all-inclusive Caribbean resort opened another "village" within its grounds. Visitors can choose from myriad themed villages with varying accommodations and dine at 21 restaurants, all of which are included in your stay. Kids, no doubt, will be busy manning the cannons and surfing the lazy river at the Pirates Island Waterpark. Miles of white-sand beach, all-inclusive water sports, a complimentary kids' camp for babies and up, and 10 swimming pools make for a scrumptious getaway. Of course, it all comes with a hefty price tag.
RELATED: 35 Warm and Sunny Family Vacation Spots

Spacious rooms, kid-friendly pools, and a "vacation nanny'" make FDR one of the top all-inclusive resorts for families.
Families love the low-key, practical approach to the Jamaica all-inclusive resort model Franklyn D Resort delivers. The beachfront resort comes with all the typical trappings, including pools, water slides, a spa, offsite excursions, sports courts, and more, but the piece that really attracts parents is the "vacation nanny." The resort assigns a nanny to each family to help watch and entertain the kids for the duration of your vacation! The kitchenettes and spacious rooms make this resort a win for many families, even if some reviewers have started to describe the property as a bit "dated." It is smaller than some of the other big Jamaica all-inclusive resorts, but that is part of the appeal for those with young kids.
RELATED: Secrets of Atlantis: 10 Tips for a Bahamas Family Vacation with Kids

A dip in the beachfront pool at Sunscape is enjoyed by all ages.
This family-friendly all-inclusive resort on the charming Dutch Caribbean island of Curaç​ao flies under the radar of many. Adjoining rooms, an all-day kids' club, a teen zone, sports, and nightly entertainment endear this luxurious resort to families. Explore the resort's attractions, including pools, the beach, six on-site restaurants, and more, or catch a ride into town to see the shops and brightly colored homes that dot the seashore of the nearby capital city of Willemstad. The spa offers both kid and adult services, and the restaurants love to whip up mocktails for the kiddies.
A water park, a kids' club, multiple pools, and all sorts of water sports including snorkeling and paddleboarding make this St. Lucia south coast resort a hit with kids of all ages. Friendly staff, solid food, and the beach win over parents, too. Don't miss the lazy river and the spa! Families can pick an adjoining room for the kids or twin trundle beds if they have a larger family.
RELATED: Visiting CocoCay, Royal Caribbean's Private Bahamas Isle, with Kids

A low-key but high-end retreat awaits at the Spice Island Beach Resort.
Located on stunning Grand Anse Beach, the casually elegant, intimate Spice Island Beach Resort tops the list of all-inclusive resorts for families seeking an exclusive retreat. Family-owned and operated, your every whim is accommodated. Children age 3 and older can hang out at the Nutmeg Pod, a full-service kids' club. They will arrange child care for younger kids and make sure cribs and any baby gear you need are available. The food is outstanding and the rate includes all meals, even British-style afternoon tea. All beaches in Grenada are public, so you'll be able to mix with friendly locals.
Access to at least five pools and the beach mean kids are never without activities at this all-inclusive Punta Cana resort. Bilingual lifeguards patrol the pools attentively and an enthusiastic band of poolside entertainers keep little ones mesmerized. Our writer's kids, none of whom are close to legal drinking age, were regular patrons at the swim-up bars, where staff served them virgin daiquiris and pina coladas, soda, and juice. The resort features a host of top-tier restaurants, which tend to fill up at peak vacation periods. However, there is a well-portioned buffet nightly for those who neglected to make restaurant reservations. Excursions are available to nearby zip lines, amusement parks, and water sports.
RELATED: Best Family Resorts with Water Parks: All-Inclusive Family Resorts and More

The water park at Nickelodeon Hotels & Resorts Punta Cana comes with slides and a side of slime if you like!
The friendly staff at Nickelodeon Punta Cana go out of their way to make guests comfortable, providing everything you need from cribs and bottle warmers to more juice boxes and Frosted Flakes for the kids' minibar. Butlers help book dinner reservations, offsite excursions, and everything else. Modern, luxurious rooms with family-friendly perks, such as sliding doors that create a private bedroom, mean rest and relaxation are immediate. Splurge on a swim-up suite for a room with a pool. The grounds are manageable enough that you can hop from the beach to the pools to the Aqua Nick water park and still have time to throw on your flip-flops for dinner at one of nearly a dozen all-included eateries. Parents appreciate the low-key vibe and 24-hour room service, while the kids thrill to meet big-time characters like the Teenage Mutant Ninja Turtles, SpongeBob, and Paw Patrol friends. Relax at the spa while the kids enjoy the ball pit and slide at the complimentary kids' club.
Club Med is known for its excellent all-inclusive resorts. High-end luxury with a boutique feel, an all-ages kids' club, and endless all-inclusive activities make this Club Med a fan favorite. Kids can try the trapeze and acrobatics with the Creactive program from Cirque du Soleil while the parents lounge at the pool, play golf, or just slough off stress at the spa. Enjoy breakfast at a beachside terrace and ponder how much, or how little, you'd like to do today! The separate kids' room within a Family Superior Suite makes bedtime a breeze.
RELATED: Best Winter Vacation Ideas for Families: Affordable Vacation Spots for Kids of All Ages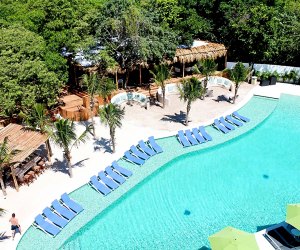 Azul Beach Resort delivers a full all-inclusive package, including baby amenities, a kids' club, and meals.
Best Family-Friendly All-Inclusive Resorts in Mexico
17. Velas Vallarta — Puerto Vallarta, Mexico
Velas Vallarta has all the trappings of a great all-inclusive resort for families—10 acres of gorgeous beachfront, three pools, three restaurants, a kids' club, a luxury spa, spacious suites, and on-site activities including tennis, water volleyball, dancing, and crafts. But what sets it apart is its commitment to being Earth-friendly. Its green initiative has been recognized by EarthCheck—the world's leading organization in certifying sustainable tourism—with gold and silver status. We were thrilled to learn on our recent trip that Velas Vallarta composts all of its organic food waste and uses it as fertilizer for the gardens, irrigates the landscaping with reused laundry water, and heats the showers with solar panels.
This luxurious all-inclusive resort spoils families rotten with touches like constant minibar refills, 24-hour room service, and bilingual concierges eager to fulfill any request. There are also amazing kids' and teen clubs, a fabulous spa, three infinity pools, seven gourmet restaurants, and plenty of family activities. Like its sister resort, Velas Vallarta, Grand Velas makes lots of efforts to be eco-friendly, including using recycled ground water for thirty percent of its water use.
Azul Beach Resort is one of the best all-inclusive resorts in the Riviera Maya region of Mexico. It's delivered by the same folks behind the Nickelodeon Punta Cana, so you can expect the same delicious Karisma Gourmet All-Inclusive meals and activities, along with the baby amenities (diaper pails, bottle warmers, strollers, and more). When we first visited in 2013, our reviewer called it a "Caribbean dream vacation for grown-ups that is equally attentive to their needs as parents." There's also a playhouse, a kids' club, cooking classes, various sports and activities, and of course, the pools! Meanwhile, find me at the spa or indulging in the 24-hour room service.
The Reef Playacar is one of those dream all-inclusive resorts for those traveling with kids thanks to its family-friendly rooms, a range of all-inclusive packages, a kids' club, a spa, and the option to hit the beach, the pool, or the city of Playa del Carmen. Nightly entertainment, kayaks and paddleboards, bicycles, three meals, and afternoon tea and ice cream are included in the most basic package.
Endless beachside activities for kids, adjoining rooms, multiple pools, and attentive staff help this all-inclusive resort on Mexico's Caribbean coast rack up glowing reviews from families. A kids' club with an indoor romper room, plunge pools, and delicious food help, too. It's a short drive from the Cancun airport to checking in here for some tropical R&R.
A version of this article first ran in 2016 by Allison Tibaldi, but it has since been revised and updated.
All photos courtesy of the hotels and resorts