Secrets of Atlantis: 10 Tips for a Bahamas Family Vacation with Kids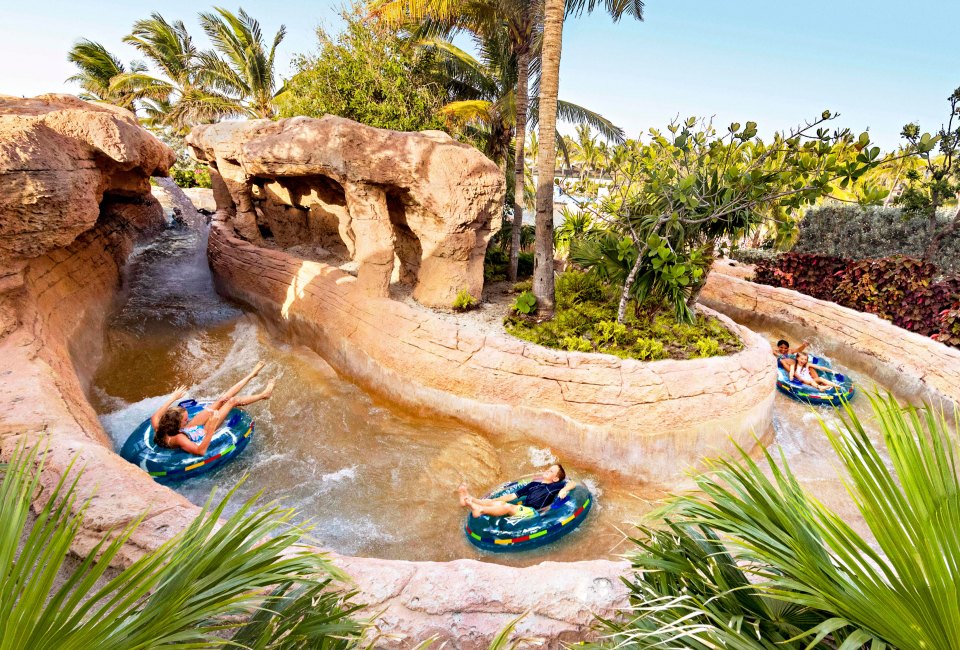 4/27/19
- By
Kelley Heyworth
Like many kids, my boys started begging to go to Disney around the time they could walk. Once they were swimming, however, the object of their spring break fantasies became Atlantis—the Bahamas mega-resort known for its gigantic water park, marine life encounters, and luxe casino. For years, unsure whether a place nicknamed "Vegas by the Sea" was the best choice for a family vacation, my husband and I brushed aside their pleas. But after another harsh Boston winter, we broke down and booked a trip, figuring our boys were at the ideal ages—12, 10, and 7— to appreciate all the 'tweeny bopper fun that Atlantis offers (and for which it charges big).
We had a fun-packed five-day stay, and along the way, accumulated plenty of advice for other families who are considering an Atlantis trip, including whether or not it is a kid-friendly destination. Here are the main things moms and dads should know to make sure their vacation in Paradise (Island) lives up to the hype.
Find more top places to stay on vacation in our Hotels & Resorts Guide for Families.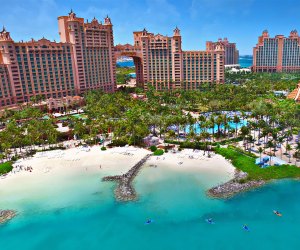 Located on Paradise Island, the sprawling Atlantis resort offers half a dozen hotels and plenty of waterside entertainment.
Where and What is Atlantis?
First, a primer on Atlantis: The resort itself covers most of the tiny Paradise Island, one of 16 main islands of the Bahamas, and is a 30-minute taxi ride from an international airport in the country's capital of Nassau. There are two ways to enjoy Atlantis: Staying in one of six hotels on the sprawling property and enjoying the adjacent water park and beach amenities (included in your stay) as well as resort childcare and children's programs (at an extra cost); or booking a room a non-Atlantis hotel nearby and purchasing day passes to the Atlantis complex.
Kid-friendly Attractions at Atlantis
Whether you are an Atlantis hotel guest or coming in for a day trip, you'll have a bonanza of options for family fun. A must-do: Aquaventure, the 141-acre Atlantis water park featuring 18 water slides for kids 48 inches or taller, "river rides" for preschool-aged children and older, and 20 swimming areas (including three that are especially baby- and toddler-friendly). But there's also a marine habitat, where you can see some 50,000 animals and even book a swim with dolphins, sea lions, or stingrays as well as four lifeguarded beaches with white sand and turquoise waves. On rainy days, hit the movie theater, kids' game room, or try the "make-your-own-stuffed-animal" spot. All of these activities are within walking distance of one another or hop aboard the complimentary shuttles that stops at all the hot spots on the property every 10 minutes or so.
The downside to having access to so many attractions is figuring out how to manage your time (and budget). This is what we learned—sometimes the hard way—and hopefully, it'll help guide your family when planning your own Atlantis experience.

Select a hotel, such as The Coral, with kid-friendly rooms and amenities.
Top Tips for Your Atlantis, Paradise Island Stay
1. Book a family-friendly room. There are certain hotels on- and off-site that are more family-friendly than others. Consider The Reef or the recently renovated The Coral if staying on-site with kids. The Reef (where we stayed and highly recommend) has the benefit of full kitchens in each room and the option for a 2-bedroom suite, which as we parents know is definite perk when traveling with kids. It's also right next to two pools that tend to be less crowded than others. Finally, there's a Starbucks in the lobby—helpful when sharing a room with early risers. For the slightly more budget conscious, The Coral has the added bonus of a special Kids Concierge area, where staffers are dedicated to setting up family activities, and spacious room options that are helpful to families. The other lodging options close to the water fun—The Beach, The Towers, and The Cove, in ascending order of price—are all welcoming to families, but we've heard that noise from college kids and nightlifers can be an issue, especially around spring break time. (Booking note: Many travel websites offer "deals" on Atlantis we found the best rate on The Reef on Priceline.com.)
2. Save money by staying (just barely) off-site. The Comfort Suites Paradise Island is a fave of families looking to save some money while also enjoying Atlantis, which is (literally) minutes away on foot. Kids stay FREE here and the overnight comes with complimentary breakfast and day passes to Aquaventure, the marine habitat, and beaches.
RELATED: 30 Best Warm Weather Vacation Ideas for Families

Book dinner reservations well ahead of your trip. We loved the seafood at Frankie Gone Bananas.
3. Get dining reservations up to a month in advance of your trip. There are 21 restaurants at Atlantis, but not all are ideal for feeding hungry, exhausted kids after a day of sliding and swimming. Carmine's (Italian), Frankie Gone Bananas (local seafood), and Seagrapes (casual buffet) are good options, and we also loved Chop Stix (Chinese, with a kids menu) for a special night out. These restaurants often book up weeks in advance, so do yourself a favor and make reservations a few weeks (up to 90 days) before your trip. Want something more quick and casual? Ordering a pie from Marina Pizzeria and bringing it back to the room is a great choice after a tiring day.
4. Speaking of food...Order a grocery delivery or visit a market off-site to cut food costs. Atlantis is not an all-inclusive resort; in fact, unless you order a meal plan (which may feel restrictive), everything down to morning coffee from the hotel lobby costs a pretty penny. We had breakfast and lunch staples delivered on our arrival day from Instagopher, and then splurged on fun meals out in the evening. If you do want to go the "cooking at home" route, stay at The Reef which has en-suite kitchens, or another lodging spot with kitchenettes.
5. Go to the water park early or late. The water slides are really the calling card of Atlantis, and lines for the most popular slides (for kids 48 inches or taller) start building up by late morning when day-trippers arrive. If you have a chance, hit the park when it opens at 10am or just before it closes in late afternoon. If you have brave (and tall) kids, consider trying the Leap of Faith (a near vertical drop into an enclosed acrylic tube surrounded by sharks), but for most elementary schoolers, the Serpent Slide and Jungle Slide are faves that offer plenty of thrills. Our whole family had a great time floating along the Rapids River, which carries tubers along with gentle waves and never gets too crowded to enter. Little ones don't have to worry about lines at Splashers, the splashy playground situated in shallow water.

It will cost you, but the dolphin encounter was my kids' favorite activity. Photo by Mommy Poppins
6. Try to budget for one Dolphin Cay experience. Atlantis offers many marine encounters at an added cost, including opportunities to splash around with sea lions and stingrays, but it's the dolphin experiences they're famous for—and for good reason. My husband and boys did "Swim in Wonder," an hour-long encounter for kids ages 6 and older that included many chances to pet and even ride a team of friendly dolphins. Younger children will enjoy "Dip 'N Discover" experience, which involves playing with the dolphins in waist-high water (and is free for kids 3 and under). These activities aren't cheap, especially when adding on a professional photo purchase; we ended up spending several hundred dollars on the whole experience. But my kids all say it was the coolest thing they did at Atlantis.
7. Claim pool chairs first thing in the morning. Poolside real estate can be hard to find by lunchtime, so it's a good idea to claim chairs (with towels or a flip-flop or two) as soon as the pool opens around 9am, even if you aren't going to park there all day. I'd suggest skipping the cabanas: These private tents close to the pools are tempting but spendy, and if you are bouncing from pool to slide to the beach to the lagoon, you won't be spending much time there. That was our experience anyway, but you know your family best.
8. Consider a kids' program for a little grown-up R and R. Atlantis offers babysitting options, as well as a drop-off kids camp type of program. We have older kids, so we opted not to sign up for one of Atlantis's many children's program, but these programs are surely sanity-saving options for those with little kids. Children ages 3 to 12 can "choose their own adventure," including cooking lessons, arts and crafts, outdoor play, and more during a morning, afternoon, or evening block of time. If you'd like to have a baby or toddler cared for during naptime or nighttime, Atlantis has CPR-certified sitters that can come to your room for $25 per hour and up. After a long day of tracking your little one's every movement at the water's edge, I can see this as coming in quite handy.
9. Get your passports in order before booking. Remember that all family members, including babies, require passports to enter the Bahamas, which can take up to six weeks to process. Be sure those are ordered or valid at least a couple months before your departure.
RELATED: Caribbean Travel Guide for Families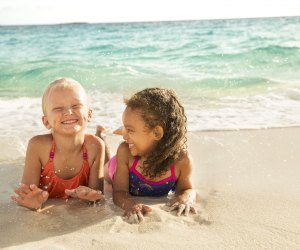 Soak up the low-key moments with family and friends, from beachtime to simply strolling the grounds.
10. Take some time to slow down and soak up a moment (and one another). It's the plain, albeit corny, truth: Simple, no-cost family time can be the best part of a vacation, even at a glitzy, activity-packed place like Atlantis. Many highlights of our stay were low-key moments with one another: lingering over dinner at Chop Stix, reading together in a tucked-away hammock, and simply strolling around the lush property and spotting lizards and little hermit crabs. Avoid scheduling every moment of your Atlantis trip, which will allow for these serendipitous, relaxed moments that really make a family vacation special—even at "Vegas by the Sea."
Photos courtesy of Atlantis except where noted