Resort Passes and Daily Pool Rentals Near You: Family Resort Daycations for Everyone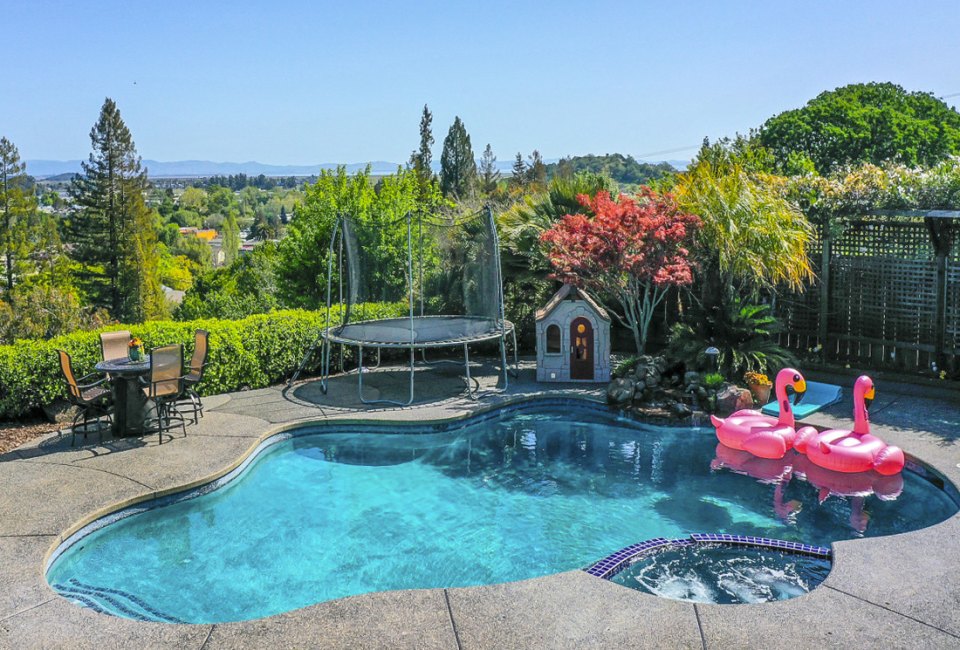 8/18/22
- By
Meghan Rose
Swimply and Resort Pass solve the problem for those of us who dream of having a private backyard pool or membership to a swanky private pool but don't have unlimited funds with resort passes and daily pool rentals.
Pools by the hour? Yes, please. This summer has been blisteringly, blazingly hot. It's also been a year when many public pools have been shut down due to a lack of lifeguards or filled to capacity early in the day. Private swim club memberships either cost big bucks or sold out of memberships well before summer started. That's where Swimply and Resort Pass come in. Swimply is a new(ish) app that allows anyone to rent out private pools by the hour. It's basically the Airbnb of private pools. And Resort Pass is a program that allows you to purchase day passes to private hotel pools, without having to rent a room.
Genius. Read on for how to book your own pool day online, in an instant. If you're looking for a bigger getaway, like at one of the best family resorts with water parks check out our Guide to Family-Friendly Resorts and Hotels.

This pool in Atlanta is available for families to rest for a private swim or pool party. Photo courtesy of Swimply
Swimply: Rent a Private Pool Near You
I've been hearing about Swimply for a while, but it seems like it really exploded this summer. Basically, Swimply is Airbnb for pools. If you don't happen to have a backyard pool and would like to rent one for an afternoon or whole day, this is the service for you. You can use it as a mini daycation for your family, to host a birthday party for kids, or for an extended family get-together.
Find exactly what you're looking for by filtering pools by popular features: hot tubs, pool toys, BBQs, lounge chairs, picnic tables, heated pools, fire pits, outdoor kitchens, water slides, pet-friendly, and most importantly (for me)— private bathrooms. You can also filter for pools that are chlorinated or salt water and indoor or outdoor.
RELATED: Top Hotels with Outdoor Water Parks for Families with Kids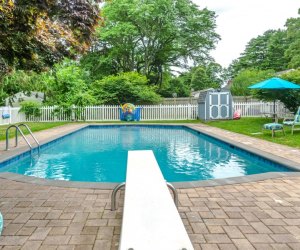 Dive in! Just bring a towel and sunscreen. Photo courtesy of Swimply
Lose yourself in looking at pictures of lush and gorgeously landscaped backyards, where you can choose from pools with mountain views, city backgrounds, or total privacy. Then when you find the one you want, simply book it online. Most pools have a number of people that the base price allows (typically 5), and then you can add more people for a fee per person, per hour. Speaking of which, most pools rent by the hour and some have a minimum number of hours you must reserve. If you live someplace chilly, keep an eye out for extra charges for heating the pool.
Swimply is available across the country, though you'll find listings vary wildly by location in terms of offerings and prices. If you're in need of a private pool oasis for a party or just a little getaway, it's worth checking out. Swimply is also beta testing the rental of other types of spaces, including tennis courts, home gyms, and private music studios. I'm definitely keeping an eye on this rollout, as I can't wait to have a tennis party for my daughter on a private court.
RELATED: Beach House Rentals That Families Will Swoon Over

No need to shell out for a pricey hotel stay. Photo courtesy of the Sheraton Carlsbad Resort and Spa
Resort Pass: Day Passes to Hotel Pools
Resort Pass is another option for a lovely daycation at a pool: get a day pass at a gorgeous hotel pool near you. No need to pack up towels or snacks, simply find a pool near you and select your rental: offerings range from a simple day pass, which gets you use of the hotel pool facilities, to reserving a private daybed or cabana for multiple people. While you might get sticker shock at the prices on some of the cabanas, check the fine print: often they accommodate 6 or more people and come with water and fruit or other perks, and at the end of the day, the posh-sounding option may actually save you money!
Hotel chains like Hilton, W, Sheraton, Kimpton, Ritz-Carlton, Marriott, Four Seasons, and many others are available. Pick a date, check availability, and book online. Be sure to check the fine print, as some hotels do not offer day passes for children. And some require a minimum food purchase in addition to the day pass.
RELATED: Best Florida Keys Resorts and Hotels for Families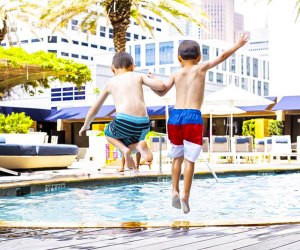 Day passes to hotel pools let you play for the day. Photo courtesy of The Four Seasons in Houston
Book as soon as you know of the date you may be interested in planning a daycation, as hotel pools only sell limited day passes, so daytrippers don't interfere with the comfort of hotel guests.
While booking time at a hotel pool through Resort Pass isn't as private as renting a private pool through Swimply, it can have its advantages: namely that it feels more like a vacation. Hotel pools are usually perfectly heated and have a hot tub (some also let you use the other facilities like the gym), wifi, towel service, and poolside food and drink service.
That said, if a pool party or pretending that you have your own backyard pool is your goal, Swimply is the perfect option. So whatever kind of pool day you're looking for, one of these easy-to-book services will do the trick!
Disclosure: We may earn a small commission if you click through our link and make a purchase. This revenue helps us maintain this site, so thank you for supporting us.
Click Here to Sign Up!
i