Atlanta's Center for Puppetry Arts and The Jim Henson Collection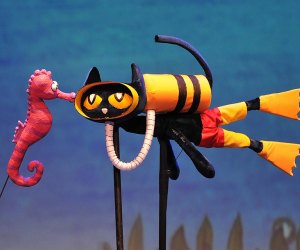 2/24/23
- By
Rebecca Ruffin Leffler
Head to the Center of Puppetry Arts in Atlanta if you're looking to spark creativity in your little ones and expose them to an entertaining and ancient art form. You don't have to be a kid to enjoy the Center for Puppetry Arts —parents especially enjoy seeing Elmo, Oscar the Grouch, and other favorite Sesame Street characters from their childhoods. And because the museum rotates its collection of 5,000 items, guests often see different puppets and props on subsequent visits.
Visit just the museum or purchase the Family Series Performance ticket, which includes a live puppet performance, a 20-minute puppet-making workshop, and museum admission. Insider tip: Before entering the museum, be sure to ask for the children's scavenger hunt at the ticket counter. Kids will be asked to find certain objects in the museum and pose for photos with certain puppets. Upon completion, they receive a prize!
For more ideas on kid-friendly museums, check out our Museum Guide for Kids and Families in Atlanta. And subscribe to the free Mommy Poppins newsletter delivered directly to your inbox to stay up to date on upcoming events.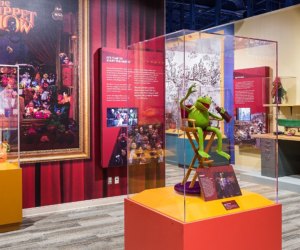 The Jim Henson Gallery is a must-see for Muppets fans.
Located in Midtown Atlanta, the Center for Puppetry Arts is one of the few puppet museums in the country. The center opened in 1978 and subsequently doubled in size after a major expansion in 2015. The Worlds of Puppetry Museum features the Global Gallery, the Jim Henson Collection, and a special-exhibit space.
Global Gallery
Did you know that puppet performances began thousands of years ago and catered primarily to adults? In this gallery, kids and adults learn about puppetry throughout the ages, as well as customs and different puppet forms from five continents.
Visitors will see Punch and Judy from England, Guignol from France, and the Corpse Bride stop-motion puppet from the United States. Some of the museum's rarest puppets are the Bunraku puppets from Japan, which require three people to operate.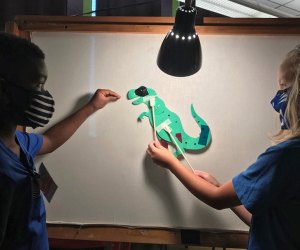 Kids get a chance to operate a shadow puppet.
Kids can try out the marionettes featuring two knights and a dragon. Standing behind the puppet theater, they'll operate the puppet's body while seeing the activity on the stage through plexiglass.
Another cool exhibit is the Vietnamese water puppets. These rod puppets glide across the water's surface and are operated by hidden puppeteers (standing in the water) with long wooden poles. A video next to the stage shows a water puppet performance in action. Kids can operate shadow puppets and see the video detailing how puppets are created.
Jim Henson Collection
Muppet fans rejoice! The Center for Puppetry Arts holds the largest collection of Muppets in the world thanks to the donation of over 500 items from The Jim Henson Foundation. In fact, Kermit the Frog and Jim Henson cut the ribbon at the center's opening in 1978 and performed at its 10-year anniversary.
This gallery begins with an overview of Henson's early creations, such as Omar and Rowlf the Dog, while clips from his shows and television commercials play on video monitors. You'll walk through Henson's office before entering the workroom, where shelves line the walls with boxes of fabric scraps, feathers, foam rolls, and other materials for making Muppets. Look at Henson's hand-drawn sketches on the bulletin board and get up close to see Dog (the mechanical Muppet from The Storyteller) in the center of the room.
With the theme song playing above, enter a mock-up of Sesame Street with Big Bird, Bert & Ernie, and of course Kermit the Frog. Other exhibits include characters from The Muppet Movie, Fraggle Rock, The Dark Crystal, and Labyrinth. A favorite activity for kids in this section is to perform with real puppets in front of the television camera.

The center hosts live performances throughout the year, geared for all ages. Photo of Stellaluna by Chris Hunt
Center for Puppetry Arts: Live Puppet Performances
The center performs over a dozen different performances each year including the Christmas classic, Rudolf the Red-Nosed Reindeer. Upcoming shows include Penguin in My Pocket and Charlotte's Webb. With engaging visual effects, catchy music, and lighting, the performances keep everyone entertained and last just under an hour. After the show, the puppeteers come out to greet the audience and demonstrate puppet techniques.

Create a Puppet Workshop allows kids to create their own puppets after each performance.
Center for Puppetry Arts: Education
Puppet Workshops
After each kid-friendly performance, visitors can head upstairs to create their own puppets. The session lasts around 20 minutes and is tailored to kids ages 4 and up. However, parents can assist younger children. If kids are tired and need to go home, take a puppet-making kit to-go at the ticket counter.
Sensory Programming
The Center for Puppetry Arts offers several Sensory Sundays throughout the year. While the center lowers the lights and volume, parents may also request light-reducing sunglasses and sound-reducing headphones during the visit. When kids head to the puppet-making workshop, they will find increased space to spread out, fidget toys, and gloves to reduce texture sensitivities. During the museum visit, kids can take a break in the quiet area with puppets and coloring books.
Film Series and Other Events
Throughout the year, the center hosts film screenings related to puppetry arts. Upcoming movies include The Muppet Movie, Ghostbusters, and Labyrinth. Tickets include museum admission. Kids ages 13 and younger must be supervised by a guardian for PG-rated movies.
The center offers Sketchbook Saturdays (for all ages) once a month and the Teen Puppet Club in March. Adult programming includes puppet workshops, retreats, and evening performances such as The Ghastly Dreadfuls and Tesla vs. Edison.

Kids interested in a more in-depth puppet experience can participate in summer's Puppet Discovery Camp.
Kids get more in-depth puppet experience at summer camp! The week-long camps run 9am-3pm, with extended care options. Enroll children ages 5-7 for Puppet Arts Camp where they will learn about puppetry, music, and visual arts through craft activities and games. The Puppet Discovery Camp caters to kids ages 8-9 with more-in depth exposure to puppetry styles and puppet design. To take puppetry arts a step further, Puppet Theatre Camp allows children ages 10-12 to create, write, and perform their own shows. All camps culminate with an open house/performance for parents and friends on Friday afternoons.
Center for Puppetry Arts: Know Before You Go
Tickets for the museum are $16 for adults and $12 for children ages 2-12. The Family Series Performance tickets, which include the performance, puppet workshop, and museum, vary in price by performance and date.
The dedicated parking lot is free but often fills up. You can travel by MARTA, exiting at Arts Center Station.
When attending a performance, arrive about a half hour early so you can park and go to the restroom.
While there is no on-site restaurant, you can find vending machines on the lower level.
Unless noted, photos courtesy of the Center for Puppetry Arts