Best Zoos, Aquariums, and Animal Encounters in Orlando and Central Florida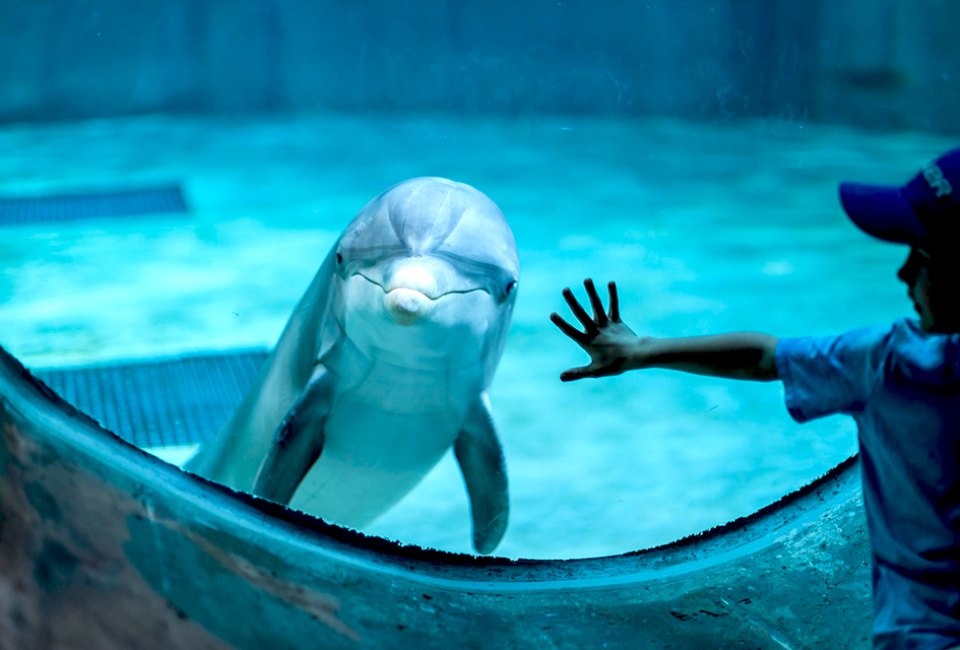 4/21/23
- By
Charlotte B
Orlando zoos and aquariums create the best childhood memories, especially gazing at wild animals that kids wouldn't otherwise have a chance to see. Central Florida is home to many zoos, aquariums, and attractions that offer opportunities to get up close and personal with native and exotic animals, reptiles, and more. Here are the top places to see animals in Central Florida, beyond the theme parks.
Want to enjoy wildlife from the comfort of your own car? Check out these exciting Orlando wildlife drives!
Be sure to also bookmark our Florida Family Travel Guide for more ideas for summer fun around the state.
Central Florida & Orlando Zoos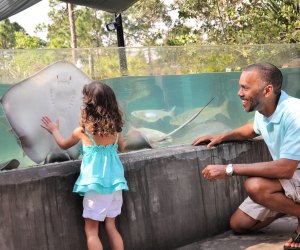 Catch up with friendly rays at the Brevard Zoo. Photo courtesy of Florida's Space Coast Office of Tourism
Brevard Zoo is a 75-acre attraction divided into five areas. Expedition Africa includes giraffes, cheetahs, zebras, rhinos, and meerkats. In Lands of Change, walk alongside red kangaroos and wallabies and venture through a free-flight bird aviary. Wild Florida houses native animals such as American alligators and crocodiles, bobcats, black bears, and more. Rainforest features exotic animals, including snakes, birds, monkeys, flamingos, and jaguars. And lastly, Paws On includes a petting zoo, aquarium, touch tank, tortoise-themed playground, and a shallow play lagoon.

Feed the animals at Central Florida Zoo's petting zoo. Photo by the author
Home to more than 350 animals, this zoo and botanical garden covers 116 acres just north of Orlando. Meet and feed giraffes, watch endangered Indian rhinoceros play in the pool, and see the black bear house exhibit. Other animals that call the Central Florida Zoo home include otters, eagles, cheetahs, spider monkeys, lemurs, and more. Kids are sure to love the Barnyard Buddies petting zoo, children's garden, playground, and tropical splash ground.
RELATED: 25 Secret Orlando Spots Kids Will Love

Visit the majestic giraffes at Zoo Tampa at Lowry Park. Photo courtesy of the zoo
Less than two hours from Orlando, Zoo Tampa is home to over 1,300 animals, including koalas, tigers, monkeys, elephants, and many more. The fun starts as soon as you enter, with a free-flight aviary and manatee splash area. In addition to the hundreds of animals, guests can enjoy rides such as a roaring springs water adventure, a carousel, tiger coaster, express train, and Wild Africa Safari. Little ones will love the Billabong splash pad and the covered Koala Clubhouse play area.
Central Florida & Orlando Aquariums
Visit the aquarium made famous by the Dolphin Tale movies! Clearwater Marine Aquarium's mission is to restore and preserve our marine environment. Visit Hope the dolphin, as well as her playful dolphin friends. Guests will also see otters, sea turtles, pelicans, sharks, and stingrays. The aquarium offers several animal care experiences for guests, including a VIP dolphin experience, stingray feeding, and salad-building for sea turtles! The aquarium sits next to Clearwater Bay, so visitors can book on-water tours and boat rides.

The Florida Aquarium is one of the best aquariums in the country. Photo courtesy of the aquarium
Rated one of the best aquariums in the United States, The Florida Aquarium is home to over 8,000 animals. Walk through Wetlands of Florida, complete with free-flying birds, alligators, and river otters. Venture to Journey to Madagascar and see ring-tailed lemurs and hissing cockroaches. Check out the three interactive touch pools, including stingrays, moon jellies, and sea cucumbers. For older kids, add on tickets for SeaTREK, a guided underwater walking tour! Bring swimsuits to enjoy the splash pad during warmer months, with a designated area for toddlers.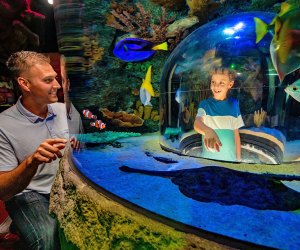 Become a part of interactive exhibits at Sea Life Orlando Aquarium. Photo courtesy of the aquarium
This indoor attraction is a perfect activity to escape rain and/or heat. At Sea Life Orlando, learn about a variety of sea creatures, touch starfish and anemones, get up-close views of stingrays, sharks, and sea turtles, and walk through a 360-degree tunnel surrounded by water. Other interactive exhibits include a jellyfish wall, sub-aqua play area, Everglades replica, virtual reality theater, and more.
RELATED: 11 Best US Aquariums for Your Next Family Vacation

Spread your wings at the Audobon Center for Birds of Prey. Photo by the author
Central Florida Animal Encounter Attractions
Since opening its doors more than 40 years ago, the Audubon Center has treated more than 20,000 injured or orphaned birds of prey, including hawks, owls, kites, falcons, and eagles. The facility focuses on rescue, treatment, rehab, and release of Florida's native raptors. Visitors can tour the center and learn about conservation and protection, and the role these raptors play in our local environment.
*Update 2023: Back To Nature Wildlife Refuge is temporarily closed to visitors due to renovation. It is expected to re-open in late 2023.
Take a walk through this wildlife rehabilitation center, where the goal is to rescue, raise, rehab, and release injured and orphaned species native to Florida, and provide a home to those animals that are not releasable. Resident animals include bobcats, lemurs, goats, turtles, squirrels, and more. There is a picnic pavilion on-site as well, so pack a lunch to enjoy after visiting with the animals.
The CARE Foundation is a non-profit exotic animal rescue center and wildlife educational facility, providing permanent homes to more than 200 non-releasable animals, including bears, monkeys, big cats, crocodilians, reptiles, and more. Visitors can book experiences such as CAREtaker for the Day or a King of the Jungle Tour.
RELATED: Fun Things to Do with Toddlers in Orlando

It's gators galore at Gatorland! Photo by the author
Known as the Alligator Capital of the World, Gatorland is home to more than 2,000 American alligators, including a white gator swamp with rare leucistic and albino alligators. Visitors can also spot crocodiles, wild cats, birds, and snakes, too. Check out Baby Gator Marsh, with more than 60 of the youngest hatchlings, and catch one of the park's famous gator shows. Guests can zip line over gators at speeds of almost 30 MPH. Splash around Gator Gully Splash Pad, feed goats at Allie's Barnyard, and sightsee on the Gatorland Express Train.
Don't miss this roadside attraction, with a massive 200-foot-long alligator sculpture leading guests to the park entrance. Jungle Adventures features encounters with "real Florida" animals such as a Florida panther, black bears, gray wolves, white-tailed deer, and alligators. Guests can take a Jungle Swamp cruise and watch a gator feeding show. There is also an Old Florida Indian village replica with live guided tours.
RELATED: Best Places to See Manatees Near Orlando
Reptile World houses more than 80 species of snakes, as well as a Nile crocodile, alligators, birds, and iguanas. A must-see is the venom extraction show, occurring twice daily, where visitors can watch how venom is taken from several species of venomous snakes, including coral snakes, cobras, and rattlesnakes. This venom is used for both research and in the production of anti-venom. Guests can hold baby alligators, feed turtles, and watch snake feedings as well.
Spot zebra, water buffalo, alligators, snakes, and more on a giant monster truck tour of this 2,500-acre citrus and cattle ranch. After touring the ranch, visit with other animals, including chickens, goats, pigs, a kangaroo, donkey, a miniature horse, and more. Showcase of Citrus also offers u-pick fruits, gem mining, an old-fashioned country store, catch-and-release fishing, and a playground.
Located in the headwaters of the Florida Everglades, this attraction boasts wild experiences, including airboat rides, an alligator park, animal encounters, and drive-thru safari. The gator park houses more than 200 native and exotic animals, including the lovable two-toed sloth, lemurs, bobcats, porcupines, and a Florida panther. Visitors can enjoy animal shows, a covered playground for kids to burn off energy, and the Hawk Swamp boardwalk.
Sign up for the Mommy Poppins Newsletter today!