Best Orlando Restaurants with Play Spaces for Kids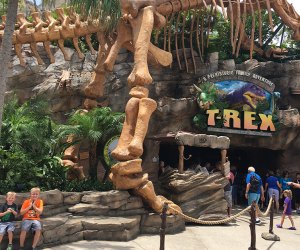 8/27/21
- By
Katie LS
Whoever invented the restaurant-with-playground concept deserves a medal. The combination of restaurants with play spaces gives parents a chance to enjoy a meal, while the kids burn off energy.
Orlando has a variety of restaurants that offer entertainment for kids, from the world's largest McDonalds, to dinosaur discovery at the T-Rex Café. Keep reading to discover some of the Orlando restaurants with play spaces that are highly recommended by locals and tourists alike.
For more playtime activities around Central Florida, check out our list of the best playgrounds in Orlando, indoor play spaces for kids in Orlando, and local indoor entertainment centers.
Keep up with what's going on in Orlando for kids with Mommy Poppins' weekly newsletter, and browse our full events calendar here.
Orlando Restaurants with Play Spaces for Kids to Let Loose
The focus here is more on the games —you'll find everything from bowling and go-karting to arcade games—but the restaurant serves up a full range of hot meals, too. Parents rate this option high for family fun, especially with older kids and teenagers.
Boxi Park is an open-air venue featuring a variety of food truck-style eateries. In addition to some amazing food options, guests can enjoy live entertainment and kids can play on the recently expanded playground. There's also sand volleyball and a Barxi dog park, so bring your four-legged family member as well.
Most children are familiar with this famous mouse's restaurant, which features an array of interactive games for all ages. The menu options are a variety of pizza and appetizers, and fun, seasonally themed treats are sometimes available. Check your nearest location for weekly specials such as Two for Tuesday and All-You-Can-Play Wednesday.
This popular gaming attraction also has a full-service restaurant with an expansive menu, including a variety of kids' meal options. The game room features hundreds of interactive arcade games as well as virtual reality games.
Billiards tables, arcade games and bowling lanes—with smaller balls and shorter lanes than normal—entice kids and adults before and after a meal. There's also an indoor playground next door for little ones.
Open for breakfast through to dinner, this restaurant offers scenic views over the lake and indoor and outdoor dining options, as well as a covered outdoor playground for the kids.
Parents love this laid-back seafood restaurant for its outdoor playground, which keeps kids entertained before and after their meals.
RELATED: Orlando Waterfront Restaurants to Try with Kids
This popular seafood establishment is conveniently located near the Walt Disney World theme parks, and features an outdoor playground next to the restaurant.
Main Event combines arcade games and bowling with a bar and restaurant, and offers plenty of entertainment for kids ages five and up to choose from. Check their website for specials, including free meals for kids on Tuesdays.
Millie Moo's combines a spacious indoor play area to keep kids busy and entertained, with a cafe serving coffee and light meals for kids and grown-ups. Local moms love it for the great toys and welcoming environment. The play space is geared towards kids 7 and under.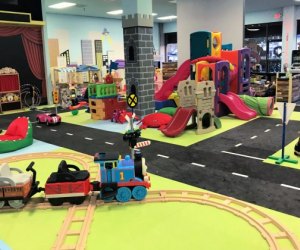 Orlando restaurants with play spaces like Millie Moo's, pictured here, is fun for the whole family. Photo courtesy Millie Moo's
This pancake restaurant is entertainment in itself: Each table has a griddle, and diners cook their own pancakes from batter served at the kitchen. Along with the interactive mealtime, a swimming spring next door is a great way to cool off before or after the meal. The Mill is very popular, so expect to wait for a table during peak hours.
Here's something out of the ordinary: Let your kids dig up a dinosaur bone while you finish your meal. Part attraction, part restaurant, the T-Rex Cafe at Disney Springs combines a full restaurant with a huge range of dinosaur-themed activities to keep the kids amused. This place fills up —reservations are recommended and be prepared for a noisy ambience.
Kids of all ages can find something to do at Via Entertainment. The Leesburg location has a dedicated play space for kids under 55" with a ball pit, indoor bounce house, toys, and more. Older kids can go bowling, zoom around on go-karts, and play arcade games.
If you think you know McDonald's restaurants with play spaces, think again. This emblematic Golden Arches on Sand Lake Road is said to be the world's largest. It's open 24 hours, has three floors, a room full of arcade games, as well as a large indoor playground structure. The menu also offers an expanded version of the typical McDonalds' fare. Be aware that it can get crowded during busy times.