Easy Waterfall Hikes for Families in Northern NJ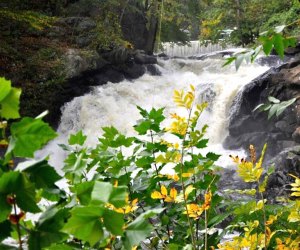 There's a lot more to East Coast waterfalls than the iconic Niagara Falls in Upstate New York. New Jersey has plenty of beautiful waterfalls—many of them accessible via an easy hike or walk. From the roaring Paterson Great Falls—the second-most-powerful waterfall east of the Mississippi—to the charming Hemlock Falls in the South Mountain Reservation, we've rounded up a handful of waterfall hikes in northern NJ that you can tackle with even the littlest trekkers.
Waterfall hikes are great for goal-oriented kids and anyone who needs a reminder that sometimes the best adventures are in our own backyards. Read on for our picks.
Note: Due to the coronavirus, parks and their amenities and facilities may be closed or limited. Please click through to the individual websites for the most up-to-date information.
Sussex County, NJ Waterfall Hikes
Stokes State Forest – Branchville
This over 16,400-acre mountainous forest in the Kittatinny Mountains extends from the southwest portion of High Point State Park to the eastern side of the Delaware Water Gap National Recreation Area. There are 24 trails to choose from, with the one-mile Stony Brook Trail passing by a waterfall. For this trail, park at the Kittle Field lot. In the southern part of the forest, the Tillman Ravine is another area worth exploring with older kids. This two-mile loop passes by Tillman Falls, featuring long meandering cascades and streams. You can find a step-by-step trail guide here. NOTE: A short drive from Stokes State Forest is Buttermilk Falls, the tallest waterfall in New Jersey. Its hiking trails aren't appropriate for little ones but would be great for older kids.
Passaic County, NJ Waterfall Hikes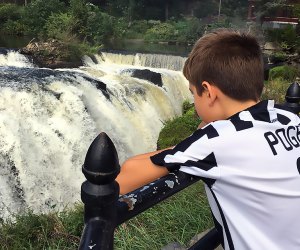 Paterson Great Falls is a spectaluar sight. Photo by Elaine Paolini Quilici
Paterson Great Falls National Historical Park – Paterson
This huge waterfall is a sight to behold. It's located in a national historical park, and the hike is about a 1.5 miles there and back. There's a handy self-guided walking tour Mill Mile app that you can listen to while hitting the key sights. Suggested donation for entry into the park is $2 per adult.
Morris County, NJ Waterfall Hikes
Boonton Falls – Boonton
Boonton Falls is located in Grace Lord Park, which also houses playgrounds, hiking trails, and stone ruins. The best time to view see the falls is in the early spring when the water cascades are at their peak. Park near the Makey Funeral Home just before the Rockaway River bridge on West Main Street to enter Grace Lord Park. Great directions for finding Boonton's "Little Niagara" are available on the Mountain Lakes website. Read more about the town of Boonton here.
Essex County, NJ Waterfall Hikes
RELATED: Favorite NJ Reservations with Fun Outdoor Kids' Activities and Hikes

Hemlock Falls is a picturesque cascade nestled in the South Mountain Reservation.
South Mountain Reservation – West Orange
Hemlock Falls is a 25-foot waterfall that's beautiful, especially after a rainfall. You can try the 5.5-mile trail with older children, but there are several ways to approach it that even preschoolers can handle. Check out our review for some tips. Note that if you do the longer hike, the trail is said to be not as well marked, so be sure to bring a map if you want to find the falls.
Somerset County, NJ Waterfall Hikes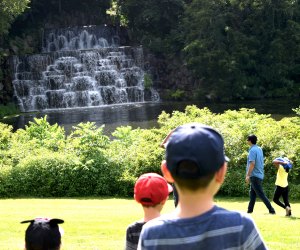 Enjoy a day at Duke Farms and stop to gaze ar the waterfall. Photo by the author
Duke Farms – Hillsborough
If you've never been to Duke Farms, you're in for a treat. This free, private, meticulously kept park has 18 miles of walking trails, including one that leads to the Great Falls by the Duke Reservoir. The trail is paved and stroller friendly, and just a 30-45-minute walk from the parking lot. The tiered manmade waterfall is set to go off four times a day for 10 minutes at a clip, so check the daily schedule at the front desk. Some single-stall bathrooms and picnic areas are located near the falls. Bonus: there's a cute cafe, a reading nook for kids, and nice bathrooms in the beautiful Visitors Orientation Center.
Washington Valley Park – Bridgewater/Bound Brook
Washington Valley Park may not look like much more than a hidden driveway from the roadside, but take the yellow trail from the parking lot on Gilbride Road and a whole new world awaits. You'll need to cross the street, turn left, and about 50 feet ahead is the start of the yellow trail through the forest. It won't be long before you'll come across the Buttermilk Falls (not to be confused with the Buttermilk Falls in Sussex County) at the East Branch Reservoir. Continue along the two-mile trail and you'll find a hawk-viewing spot. This easy-to-moderate hike is very appropriate for kids.
Unless noted, photos courtesy of the parks