A Dozen Easy Fall Hikes in NJ for Families with Small Children
These easy hikes in New Jersey are just the right pace for families with young kids. Pick the right trail, pack enough snacks, and pad your expected walking time by another hour for extra break time for little legs, and you'll have a great day soaking up the fall scenery around Jersey's many forests and state parks.
The fall season might just be the perfect time to get the family outdoors for a nature walk or easy hike, when trees are ablaze with fall colors and temperatures are just right. Plus, it's the perfect antidote to all that screentime that comes with this year's remote learning. Before setting out, make sure everyone dresses in layers and wears comfortable shoes, and don't forget to pack sunscreen, bug spray, plenty of water — and the masks for 2020. Happy hiking!
NOTE: Most all NJ nature centers remain closed during the pandemic. This means some bathrooms, events, and other activities are also canceled while trails remain open for use. Authorities continue to recommend mask-wearing and social distancing to stop the spread of coronavirus.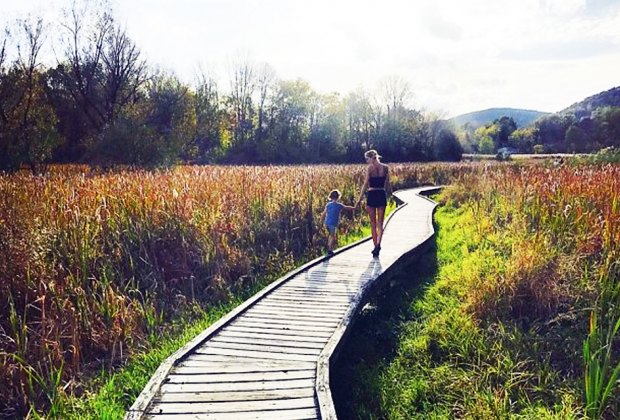 Experience a low-key piece of the famous Appalachian Trail on the Pochuck Boardwalk. Photo by fernjelen via Instagram
Why not start the kids off with a hike on part of America's quintessential trails? Head to this handmade boardwalk trail connecting Pochuck Mountain and Wawayanda Mountain. It's an easy, two-mile loop through breathtaking scenery and a spectacular suspension bridge. It is a popular spot, so you may want to try a weekday hike or early weekend morning.
Smooth trails and boardwalks through 530 acres of marshes and forests make this shore-area hike a win for families and birdwatchers. Seven miles of trails, including one to the beach, offer scenic views of Barnegat Bay and osprey nesting areas. Don't miss the butterfly garden or exhibits at the recently renovated Cooper Environmental Center, featuring a live osprey camera, bird-watching area, live reptiles, and fish. The park also offers crabbing, fishing, and picnic areas.
RELATED: Waterfall Hikes for NJ Kids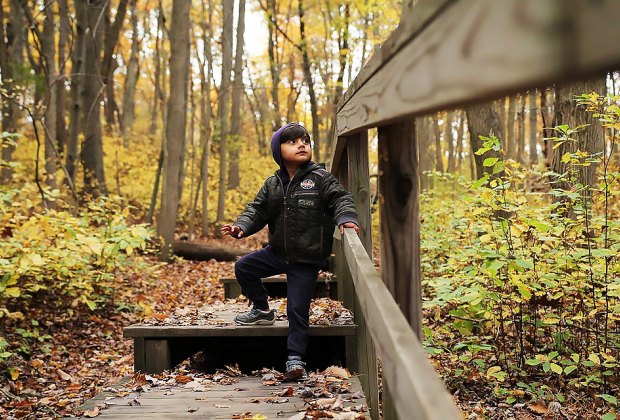 Enjoy the beginner trail at Cheesequake State Park. Photo by Ali Chandra
​With saltwater marshes, freshwater swamps, open fields, and a hardwood forest, this state park boasts five well-marked trails that range from easy to moderate. The beginner yellow trail is a shaded loop with boardwalks, stairs, and views of Hooks Creek Lake. The more moderate red, green, and blue paths include some inclines and wooden plank bridges over streams and marshes. Cheesequake also features biking, boating, camping, and playgrounds.
This sprawling, 685-acre park offers a ton of attractions, including an amazing playground, picnic areas, paddle boats, mini-golf, and a couple of short, easy trails, both under a mile long. The Lois Howe Nature Trail features nine stations that identify animal tracks, birds, insects, and other creatures you might see along the way. The Powder Mill Pond Trail circles the pond includes some small hills along with views of a duck nesting place, a heron's cove, and other natural wonders.
RELATED: Top NJ Reservations for Exploring with Kids

Cross the Red Bridge at the Arboretum — at Duke Farms. Photo courtesy of the farm
Closed on Sundays during COVID.
This outdoor wonderland features 18 miles of picturesque trails, some paved and some gravel, leading through woodlands and gardens, around lakes and lagoons, and alongside fountains, sculptures, and a waterfall. Walk or ride bikes through this popular green space and don't forget to pack a picnic! The property, formerly owned by heiress Doris Duke, features family scavenger hunts, a tram ride, an orchid greenhouse, and an organic cafe. There's also a seasonal farmers market on Sundays.

The terrain level is very easy to easy with many boardwalks at Great Swamp National Wildlife Refuge.
The Wildlife Observation Center off of Long Hill Road in Harding offers an easy loop that runs about a mile through the woods and includes some bridges, marshy sections, and water. There are a few benches along the way, too, and wildlife to spot. The refuge, though, offers multiple entry points and paths and chances to see birds and other creatures.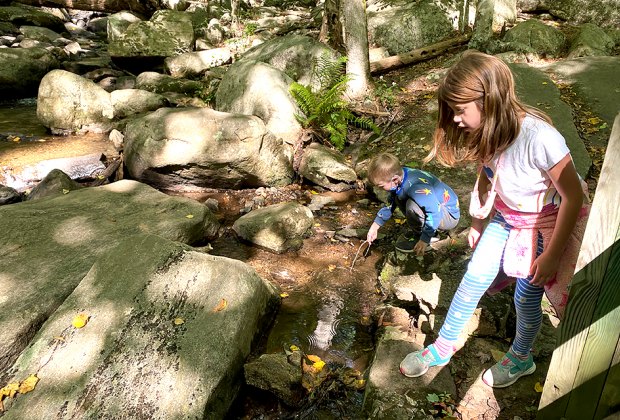 Take a break to explore along the trails at Hacklebarney State Park.
This sprawling park has both wooded and and paved trails, so you can bring a stroller—though you may have to carry it over some spots of rough terrain, and stairs. Picnic benches are scattered throughout the park, often with views of the winding river. Take the red blazed path for a longer hike that includes a rocky path along the water, and several small bridges, or you can cut things short as you go, taking one of several cut-through paths. It's rewarding family walking spot with a mini playground reward toward the end of the hike, or refuel up at the nearby Hacklebarney Farm Cider Mill.
Known for its Revolutionary War reenactments, Jockey Hollow is also home to meandering, wooded hiking trails along babbling brooks and rolling hills. The main trail is a loop that runs more than five miles, but when your little troops are tired out, you can turn around and head back. Older kids will love that the houses on the property are relics of another era. Eager for more Revolutionary War history? Take your budding historians to another New Jersey Revolutionary War site.

Loantaka has an easy, well-marked 3.5-mile round-trip paved trail, as well as wooded options.
This park is a great choice for young bikers, scooters, and strollers because its trails are mostly paved. The reservation is divided into four areas: Seaton Hackney Stables, South Street Recreation Area, Loantaka Brook Park, and the Loantaka Way trail, all totaling about 570 acres and five miles of trails. Step into this reservation a short way from the bustle of downtown Morristown, and you're immersed in the sights and sounds of nature.

There are multiple trailheads at South Mountain Reservation and plenty of woods to explore.
An oasis in the middle of densely populated Essex County, South Mountain is loaded with hiking trails, mostly flat, including the popular "fairy trail" near the Millburn Library and the popular waterfall hike. But it also includes a zoo, paddle boats, mini golf, and playground. Enter at the Cherry Lane lot to be near the playground and picnic pavilion, restrooms, and the paved walking loop around the Orange Reservoir near the zoo, or check out our review for more trailhead directions.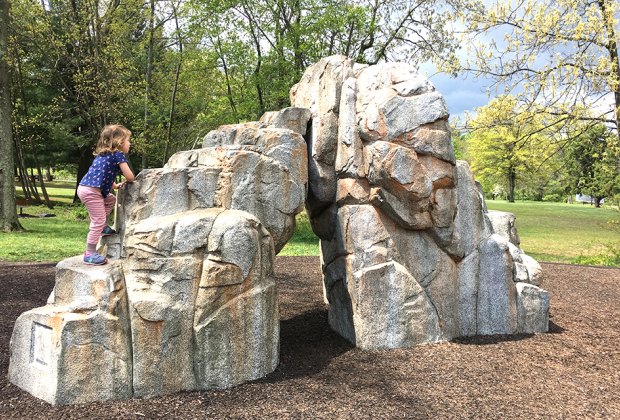 Take a hike and do some climbing at Watchung Reservation.
Head out for a leisurely fall afternoon in the lower Watchung Mountains, strolling along scenic Lake Surprise and the Blue Brook. With 13 miles of trails ranging from easy to moderate, Watchung Reservation also features a playground, restrooms, and plenty of parking. The historic abandoned village is another draw for young explorers. Trailside Nature Center houses exhibits on wildlife and habitats found in the reservation and often hosts activities for young children. (Note: This nature center is closed during the pandemic.)
In the heart of the pinelands, about 30 miles from Atlantic City, Wharton is the largest state forest in New Jersey. The Batsto Lake trail hike will take you through historic Batsto Village with beautiful views of the lake. Three different beginner trails, each under five miles, pass through the wonders of this state forest, which is home to bald eagles, hawks, herons, swans, owls, river otters, fox, deer, and many birds. A nature center on the banks of Batsto Lake offers a variety of programs and exhibits on Pinelands wildlife and botany.
For even more family-friendly hikes, visit the New York - New Jersey Trail Conference, or check out our Parks & Playgrounds Guide.
This article was first published in 2013 but has since been revised.
Photos by Mommy Poppins staff except where noted.