Day Trip: 10 Things To Do at Colonial Park in Somerset, NJ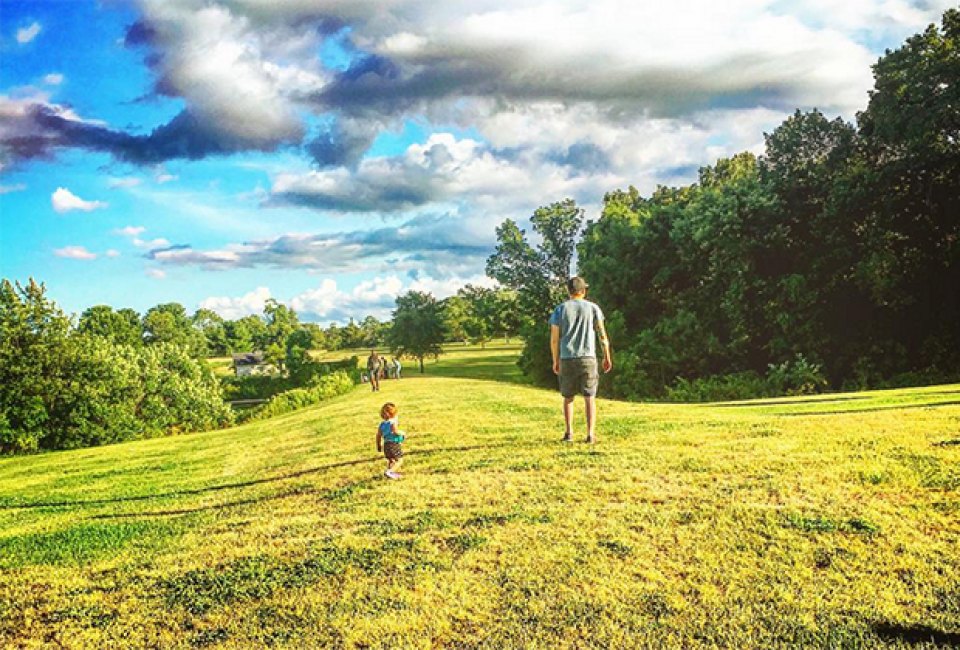 5/22/17
- By
Kaylynn Chiarello Ebner
Looking for Central NJ park outing that's more than just swings and slides? Make Colonial Park in Somerset, NJ, your next day trip destination. This sprawling, 685-acre park has activities to suit children and adults of all ages. Here are 10 ways to enjoy a day there.
1. If Fido likes to pal around with the rest of your pack, check out the three-acre, leash-free dog park.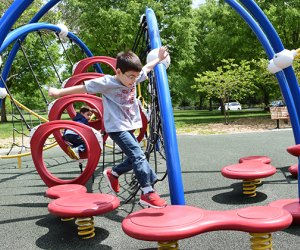 The playground's unique equipment allows kids to climb, balance, swing, and slide. Photo by the author.
2. A big draw of the park is the playground equipment, which features many inclusive activities for kids of all abilities and interests. There are a dozen swings (including some molded chair swings), a sensory wall, a roller table, tons of climbing structures, and a Sway Fun area where families can sway on large benches. The padded playground is surrounded by benches, covered seating, and pretty landscaping.
3. Get active and complete a lap on the fitness route. Walk, jog, or cycle around the 1.5-mile loop and stop at fitness challenges along the way.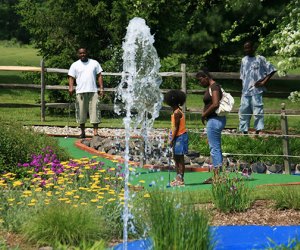 Enjoy 18 holes of mini-golf on a beautifully landscaped course. Photo courtesy of the park.
4. Enjoy a round of mini-golf at the putting green. It's not super fancy, but this 18-hole course is beautifully landscaped and shady; my little guys (ages 3 and 6) loved the straightward course. Bonus: it's a short walk from the playground equipment and is perfectly accessible to strollers and those in wheelchairs.
5. The gorgeous grounds of Colonial Park are perfect for a picnic lunch. There are groves with grills available for rental to large groups.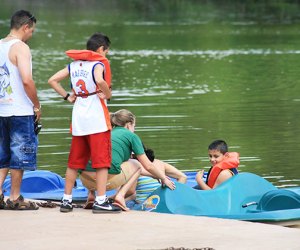 Go for a spin on the paddleboats and take in the gorgeous park views. Photo courtesy of the park.
6. Just off the putting green, take a paddleboat for a spin. Rentals are for 30-minute increments and can be purchased as a package deal with mini-golf.
7. The Lois Howe Nature Trail includes a main trail with several smaller branch trails that lead visitors past lawns, trees, fields, and ponds.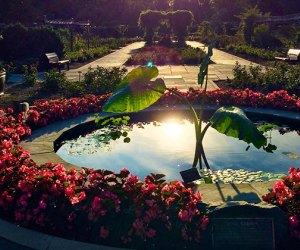 Take a break from playing to stop and smell the roses. Photo by alz1227 via Instagram
8. Don't miss the Rudolf W. van der Goot Rose Garden, a serene, fenced-in spot with more than 3,000 roses. The nearby 5.5-acre arboretum is a treat for anyone who loves plants, trees, and flowers.
9. Each year, the park's three large ponds are stocked with fish. Grab your fishing pole and teach your little one how to reel one in.
10. In wintertime, go ice skating and cross-country skiing.
What's Nearby?
The park has lots of bathrooms and beverage vending all around, which is great. The park is located in a residential area, and there really aren't any restaurants in walking distance. The closest grub is probably at Panera and Moe's on Schoolhouse Road.
A note on parking: There's tons of it, but there are multiple lots, which can be confusing. Check out a map of the property to figure out which lot is closest to your favorite activities.
Top photo by garrettthegarrett via Instagram
Places featured in this article:

Sign up for our free
newsletters.
Mommy Poppins is a family activity website that helps people find things to do with kids.
©
2023
MommyPoppins. All Rights Reserved.
mp-prod4-v4.32.99
We use cookies and other data collection technologies to provide the best experience for our customers.
Learn More
Sign up for the Mommy Poppins Newsletter today!