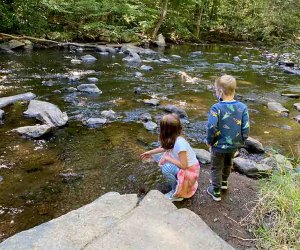 Hacklebarney State Park: Kid-friendly Hikes Along the River in NJ
Hacklebarney State Park is quickly becoming my family's favorite place to hike in New Jersey. It has bridges, rocks to scramble over, stairs, plenty of picnic tables, big trees soaring overhead, and wild rivers and creeks running through it. There's even a modest playground tucked into a little clearing toward the very end of the hike, a nice reward for kids and all their hard work.
Editor's note: While we are trying to promote safer activities that occur outdoors or with social distancing guidelines in place, please keep your family and others safe by always wearing a mask and maintaining an appropriate distance. If you arrive at an event that appears too crowded, try using the "nearby" search feature on our Event Calendar to find something else to do.

Hacklebarney's hiking trails offer plenty of kid-friendly sights.
Before venturing out, take a look at the trail map to plan your walk with the kids. There are several paths, all leaving from the main trailhead at the parking lot and offering several ways to loop back around, either creating a longer or shorter hike, depending on what works best for your family. The trails are operating in a one-way direction during COVID-times. Even just a 10-minute walk into the park brings you to fun bridges, water, and picnic tables where you can enjoy a picnic under the trees. There's a huge staircase about five minutes in that always thrills my kids.
Best Hikes in Hacklebarney State Park
Most trails at Hacklebarney State Park, located in Morris County, are fairly flat and wide, although there are some narrow and slippery spots. Some trails are packed hard, paved, or made of gravel. I have seen at least a couple of families push a stroller through the woods here, but I wouldn't recommend it. Along the path, hikers encounter stairs, narrow bridges, and even a long stretch of path filled with rocks and boulders.
If you have the time, explore the Red Wallaby River Trail. It's the longest one and winds around the park, including directly next to the Black River. Watching the river rush by is always a thrill for kids, especially as they leap over the stony path, throw sticks from the bridges, and look for fish below. Some sections allow kids to get right next to the water, either from a small beach or the rocks. This section of the trail, next to the river, is very rocky and narrow, which might be more challenging if you're carrying a kid (us!) walking with older family members, or if anyone has mobility issues.
RELATED: 10 Favorite NJ Reservations for Hiking and Playing

Kids love scrambling along the trail on the banks of the Black River.
Hikers can peel off the red trail—and shorten their trip slightly—by taking one of the blue paths that intersect with the Red Wallaby River Trail. Given that the main trail was so crowded during our most recent visit, my family started on the red trail, ducked onto the Wintershine Loop, and then onto the Blue Jeans Loop before turning back to the main path toward the parking lot. It was a quieter hike through the woods, but we missed the River Trail with its more challenging rock scramble along the water.
We always budget 2 hours for a hike, but that's because we go with a toddler. It's easy to shorten a walk on these trails or speed up if you don't have young kids in tow, and even add more mileage.
RELATED: Great Day Trips to New Jersey State Parks and Forests

Take a detour to the playground before you wrap up your hike at Hacklebarney State Park.
Either way, you're sure to see plenty of mini waterfalls, walk a few bridges, and enjoy some terrific foliage at this stunning New Jersey park. In spring and summer, the trails are almost always covered in gorgeous (and cooling) shade from the enormous trees, including hemlocks, that fill the park. And, although it's relatively small—just a few swings and a small play structure with slides—my kids are always thrilled to come across the playground tucked into a meadow as the hike winds back to the parking lot.
The parking lot size is generous, so we've never been shut out, even during the pandemic, when outdoor activities and hiking are quite popular. There's a ranger station at the top of the lot, and the volunteers often have stickers and nature activities for kids.
There are benches and picnic tables scattered throughout the park, so pack a lunch and plan to take a break mid-hike.
RELATED: 10 Best Farms for Family-Friendly Entertainment in New Jersey

The Hacklebarney Farm Cider Mill is one of the family-friendly attractions near Hacklebarney State Park.
What's Near Hacklebarney State Park?
If there's time, and it's not too crowded, grab a snack, ice cream, or cider at the nearby Hacklebarney Farm Cider Mill. The kids can visit the chickens, and picnicking is encouraged. There are several other family-friendly NJ farms with more entertainment in the area, including Alstede, Ort Farms, and Stony Hill.
Know Before You Go to Hacklebarney State Park
Go early. It's a popular state park, so getting there in the morning ensures a quieter hike.
The bathrooms are decent and were open and functioning in fall 2020.
It's a carry-in, carry-out park, so you won't find a trash can.
Hacklebarney State Park is dog-friendly, so expect to meet quite a few along the trail.
Print the trail map before you go, although you will find it in a few spots in the park, and the signage is generally good here.
The address is GPS friendly; we've never gotten lost just punching it into Google Maps.
All photos by the author