Great Day Trips to New Jersey State Parks and Forests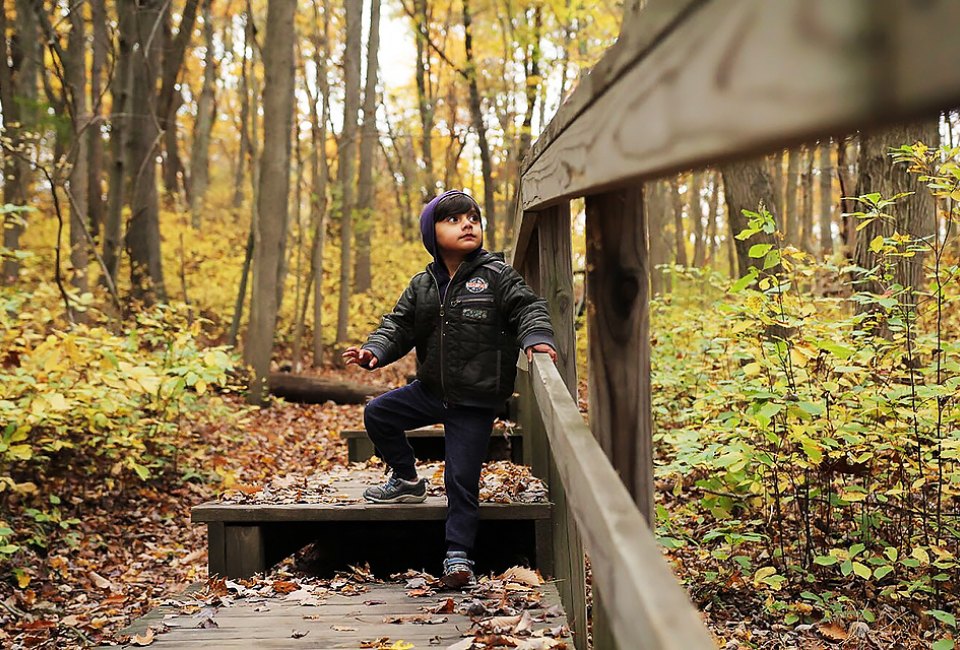 4/16/23
- By
Elaine Paoloni Quilici
While most non-residents don't equate New Jersey with beautiful green spaces worthy of a day trip, there are a whopping 36 state parks and 13 state forests to explore in New Jersey.
We've picked nine destinations that are perfect for a fun-filled day trip, where hiking, biking, and swimming are just some of the fun outdoor activities to enjoy. Add acres of gorgeous scenery and some wildlife-spotting, and NJ state parks and forests make for an ideal day of family fun in the fresh air.
For more great ideas about the great outdoors in New Jersey, like where to find the best nature centers, check out our Guide to Playgrounds & Parks in NJ.
Subscribe to our newsletters to get content like this delivered directly to your inbox.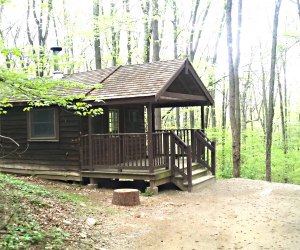 Rent a cabin or pitch a tent at Jenny Jump State Forest.
State Parks to Visit in Northern New Jersey
This is the highest point in New Jersey, at 1,803 feet above sea level. Best known for its monument and 20-acre swimming hole, Lake Marcia, High Point gives visitors a chance to see three states from the top of its 220-foot-tall obelisk. Glimpses of he Catskills, Pocono Mountains, and Wallkill River Valley can be seen from the top of the monument. There are lakes and streams stocked with trout and small-mouth bass, and more than 50 miles of hiking trails.
Jenny Jump is the perfect name for this state forest, as kids can jump off the flat boulders that line the 11 miles of trails. When glaciers receded from Jenny Jump 21,000 years ago, they gouged through New Jersey and caused much damage and sediment in this area. There are some unusual rock formations carved out by the glacier giving Jenny Jump some personality, and unique photo ops. For stargazers, The United Astronomy Clubs of NJ (UACNJ) provides public programs on Saturday evenings from April through October, from 8-10pm, in which an astronomy presentation is followed by an observing session, weather-permitting. Stop at Hot Dog Johnny's in Buttzville (yes, Buttzville—your kids will laugh when you drive through this tiny town), and try some of the state's best hot dogs and fresh buttermilk.
RELATED: Best Lakes for Swimming with Kids in New Jersey

Worthington State Forest offers classes and programming for kids.
Worthington State Forest is home to one of our favorite hiking and fishing spots, Sunfish Pond. There is an easy circular trail around the pond that is perfect for little hikers, providing shade and plenty of resting places. Worth noting for science buffs: Sunfish Pond was carved out by a glacier. There are 26 miles of trails, and it's always fun to drive down one of the earliest (and bumpiest) roads in New Jersey, Old Mine Road. Off of Old Mine Road, you can access Turtle Beach, named after the bog turtles that reside there. Turtle Beach is a little-known swimming area located right on the Delaware River.
If you want a view with your hike, check out this National Historic Landmark that spills over into New York State. The New Jersey portion covers 12 miles and 2,500 acres of rugged terrain and includes two national recreation trails. Hike from the scenic cliffs down to the shores of the Hudson River. You can stop at playgrounds and picnic areas for a rest, or visit the nature sanctuary. A variety of events are offered in the park, from a summer sea glass hunt to the fall Harvest Moon Beach Fire.
Stokes State Forest is 15,482 acres of fun and exploration. The crest of Sunrise Mountain is one of the most popular landmarks to visit at Stokes State Forest. Part of the Appalachian Trail, Sunrise Mountain boasts views of scenic New Jersey farmland as well as an evergreen forest. Bring your suits and go for a swim in Stony Lake, and see if you can find Rainbow Bridge over Lake Ocquittunk. You might even see a bear—nothing can be more exciting than that!
RELATED: Best Playgrounds in New Jersey: 12 That Are Worth the Drive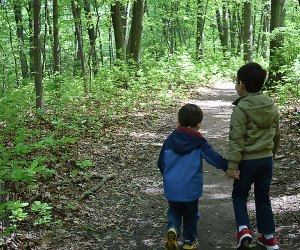 Cheesequake State Park has short, family-friendly trails as well as trails for more experienced hikers. Photo by Kaylynn Ebner
State Parks Worth a Day Trip in Central New Jersey
North meets South (as far as ecosystems go) at this state park. The area consists of a mix of open fields, freshwater and saltwater marshes, a white cedar swamp, Pine Barrens, and a hardwood forest. Head to the Nature Center to gather information and set off on one of five color-coded hiking and biking trails. A variety of picnic areas with tables and grills are scattered throughout the park. Fishing, boating, and camping are also allowed. During summer, lifeguards oversee swimming at Hooks Creek Lake. There are changing rooms, restrooms, and a concession available for convenience. In winter, kids can sled down the nearby hill.
Head to Washington Crossing State Park if you want to add a little history to your hike. Celebrate the American Revolution by visiting the site where George Washington and his troops spent the night after crossing the Delaware River on December 25, 1776. The Visitor Center Museum can help educate families with its exhibits on the subject. The period-preserved Johnson Ferry House is another way to get a glimpse into 18th-century life. Various events and living-history demonstrations are offered throughout the year. When you've soaked up enough history, head out to explore the park's 15 miles of moderate trails. There are also playgrounds, fishing, camping, and picnic areas.
RELATED: Favorite NJ Reservation with Outdoor Kids' Activities and Hikes

The gorgeous swimming areas at Wharton State Forest are monitored by lifeguards in the summer.
State Forests to See in South Jersey
Wharton State Forest – Atlantic, Burlington, and Camden counties
Animal lovers will have fun pointing out the many forms of wildlife that live in this park. Bald eagles, hawks, ospreys, swans, owls, river otters, turkeys, beavers, fox, and deer are just some of the residents. Use your cell phone for a free guided tour of Batsto Village, a former bog iron and glass-making center. You'll hear pre-recorded information and see short videos when you scan the QR code at each of the 18 historic sites. Feel free to camp, fish, hike, bike, boat, and swim (lifeguards monitor swim areas in summer). There are also playgrounds to enjoy, and the picnic facilities and food concession stands keep families fueled.
State Parks on the Jersey Shore
If you're bored of the beach, check out this green space down the Shore. Water lovers can fish in or canoe down the Manasquan River that winds through the park. Hikers, bikers, and even horseback riders can explore the paths that bypass more than 200 species of wildflowers, trees, and plants, in addition to plenty of birds and other wildlife. Pet-friendly camping is also available. Allaire Village, a 19th-century iron-making community, includes old buildings that once housed a general store, blacksmith, carpenter, and more. Each year it hosts a variety of programs, including living-history events. You can also take a 15-minute ride on the Pine Creek Railroad. The narrow-gauge railway is one of the oldest operating in the country. Train aficionados can even book their next birthday party there.
Helpful Tools for Visiting NJ State Parks and Forests with Kids
For more information, check out the directory for the New Jersey State Park Service.
Want to see a musket-firing demonstration? Find this and other family-friendly events on the Division of Parks and Forestry's monthly events calendar.
Don't forget to download the New Jersey State Parks & Forests Guide Pocket Ranger and Trail Tracker, an interactive trails map of New Jersey state parks.
This article was first published in 2011 and has since been updated.
Photos courtesy of the parks unless noted
Sign up for the Mommy Poppins Newsletter today!