Best Swimming Lakes in New Jersey You Need To Discover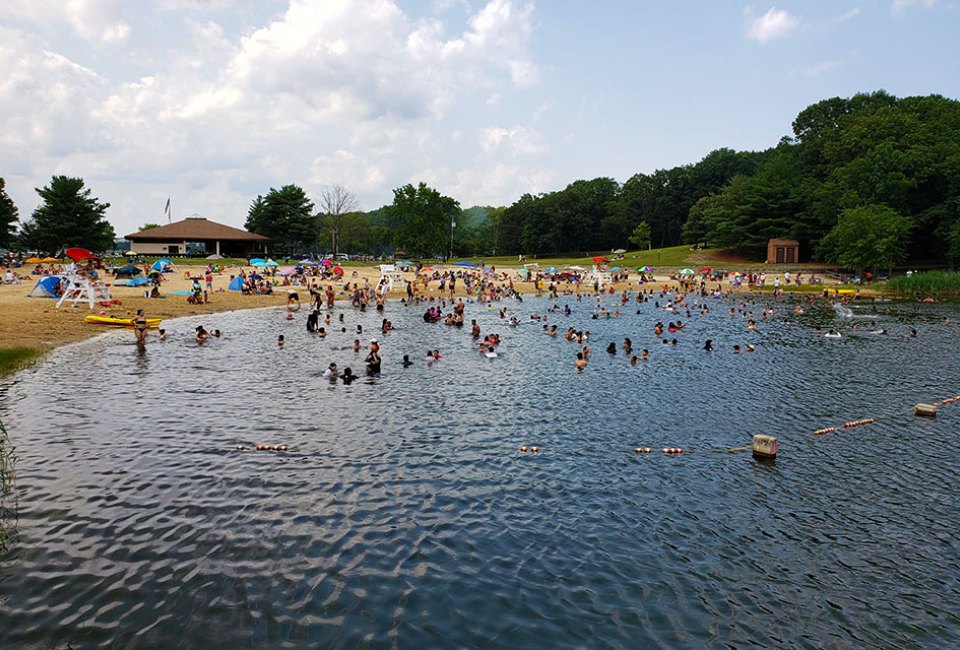 5/14/23
- By
Kaylynn Chiarello Ebner
Sign up for our FREE newsletters to get posts like this delivered to your inbox.
Arrive early on weekends and holidays since the parks get very busy. When parks reach capacity, entry is closed. The NJ State Parks Facebook page regularly updates which parks have reached capacity, so be sure and check there before heading out. NJ state park lakes' swimming hours are typically 10am-6pm and are open for swimming starting in mid-June.
Note that the lakes' swimming hours are subject to change due to weather and staff changes. Check the NJ Department of Environmental Protection's daily swim schedule for updates.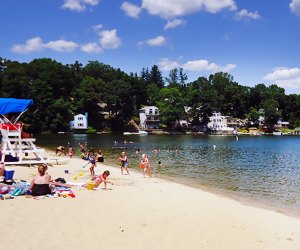 With 45 miles of shoreline, Lake Hopatcong offers plenty of activities for the whole family. Photo courtesy of Morris County
The 4-square-mile Lake Hopatcong is New Jersey's largest freshwater lake, offering outstanding boating, fishing, water sports, and swimming. Located just 30 miles from the Delaware Water Gap and 40 miles from New York City, Lake Hopatcong's 45 miles of shoreline boasts restaurants, marinas, and public beaches. Swimming is permitted during the summer months while lifeguards are on duty. In addition to changing areas and a concession, there are volleyball courts and playgrounds near the beach.
RELATED: Best Family Campgrounds in New Jersey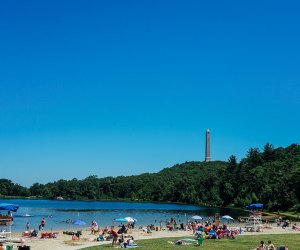 Cool off in Lake Marcia after a hike in High Point State Park. Photo courtesy of New Jersey Department of Environmental Protection
At 1,803 feet above sea level, the view from the High Point Monument is a spectacular panorama of rich farmland and forest that spans three states. Spring-fed Lake Marcia is cool and refreshing for swimmers. The beach is protected by lifeguards, and there is a bathhouse and food concession adjacent to the beach. In addition, High Point offers more than 50 miles of trails as well as picnic and camping facilities. Read our full review of High Point State Park.
RELATED: Gorgeous NJ Pools Offering Day Passes

The crystal-clear waters of Lake Wawayanda draw lots of visitors every summer. Photo courtesy of Wawayanda State Park
During the summer months, the clear waters of beautiful Lake Wawayanda, part of Wawayanda State Park, draw folks from all over the state. The park is known for its scenic hills, trails (including part of the Appalachian Trail), and tranquil atmosphere. Swimmers love that the lake is crystal clear, offering glimpses of fish as they swim by. Adjacent to the beach are changing stations, restrooms, a first-aid station, and a concession stand. Visitors can also rent a variety of boats, including canoes, rowboats, and paddle boats. The lake gets crowded on the weekends, so be prepared to arrive early.
Located in the heart of Cheesequake State Park, the 6-acre Hooks Creek Lake is a great family destination and a relaxing alternative to the hustle and bustle of the nearby Jersey Shore. The lake is clean and uncrowded during the week. Playgrounds, concession stands, restrooms, and changing areas are available lakeside. The park is also a great place to explore with kids. It is home to fresh- and salt-water marshes, five different trails, campsites, a nature center with live animals, and a crabbing bridge.
RELATED: Best NJ Shore Beaches from Sandy Hook to Cape May

Spend the day on beautiful Atsion Lake. Photo courtesy of Wharton State Forest
Take a cool dip in the pristine waters of Atsion Lake. Located within the Wharton State Forest, the lake is a popular destination for families looking for an alternative to the Jersey Shore. The swimming area boasts three comfort stations with showers and restroom facilities. There are also barbecue grills, a playground, ball fields, trails, nature crafts, and concession stands near the lake. If you plan to go on the weekend, get there early as the park often fills and is closed by 10am.
RELATED: Swimming Lakes Near NYC for a Family Dip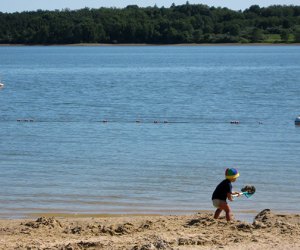 Swim, boat, or fish at Round Valley Reservoir. Photo by David via Flickr
Swimmers, boaters, and fishermen enjoy the blue waters of Round Valley Reservoir. Swimming is permitted while lifeguards are on duty in the day-use area only. Swimming is not allowed in the main reservoir. There are plenty of beach-side amenities, including playgrounds, volleyball courts, changing areas with showers, and a concession building that sells food and beach supplies.
There is no swimming allowed at Lake Absegami until further notice while a major capital improvement project at the forest's beach complex is being completed.
Bass River State Forest was the first forest acquired by New Jersey in 1905 for public recreation, water conservation, and wildlife management. Lake Absegami, a 67-acre lake created in the 1930s, is the center of the forest's recreational facilities. It provides an area for swimmers as well as a serene setting for boating and canoeing. After taking a swim, check out the trail through the Absegami nature area, which stretches through the woods and a small bog.
RELATED: 35+ Splash Pads and Spraygrounds in New Jersey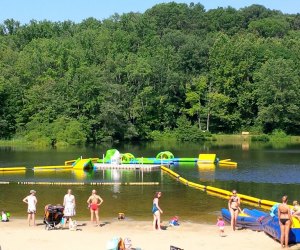 Sunrise Lake Beach Club is one of our favorite summer destinations. Photo courtesy of Morris County
With an inflatable obstacle course (for ages 7 and older), Sunrise Lake Beach Club is one of our favorite summer destinations. The sandy beach is perfect for building sandcastles and playing volleyball, and kids can enjoy swimming and paddle boats. Restrooms, showers, and changing facilities are available. The lake is open to the public from Memorial Day through Labor Day; however, aside from holidays, it is closed on Mondays and Tuesdays. Parents with toddlers can check out the lake's Tiny Tot programs on Mondays starting in late June through August, when the beach club opens exclusively for kids 4 and under and their parents. The best part: Children 4 and under are FREE! This is a great opportunity for little ones to play and explore without large crowds and older kids. Seasonal and daily passes are available. Book reservations online.
Tomahawk Lake offers everything a family could ask for during the hot summer months. Situated on 200 gorgeous acres, the grounds feature a swimming beach with a lifeguard and a water park that boasts a variety of water slides and rides, including bumper boats and a one-person water coaster. Parents will appreciate Papoose Land, a specific area designed for children 4 feet and under. There is also an 18-hole miniature golf course, a volleyball and horseshoe area, picnic areas, and a rustic, outdoor beer garden with live music on the weekends. The park only accepts cash but does have an ATM on the premises. For more information, visit the park's website. Open Memorial Day weekend through Labor Day weekend.
This man-made lake offers swimming and a sandy beach. Nearby, there's a playground, basketball and volleyball court, softball field, a picnic area, locker rooms, and a concession stand. There's also a Wibit Play Area in the water as well as a diving dock. Purchase day passes or buy season passes. You can even book birthday parties by the lake.
Located on Lake Barnegat, the Wibit floating playground is open for Ocean County residents only. Admission is $10 per session for Lacey Township residents and $18 for non-Lacey Township residents. An additional beach badge is required for ages 5+ and costs $8 for the season. Beaches will be open beginning Saturday, June 17, 2023.
Belleplain State Forest consists of a woodsy 21,000 acres in Cape May and Cumberland counties. It is also home to the beautiful Lake Nummy. Visitors will find a beach complex containing changing areas, restrooms, a first-aid station, and a concession stand offering refreshments, beach supplies, and novelties. Picnic areas are nearby and include tables, charcoal grills, and restroom facilities.
RELATED: Top Water Parks for New Jersey Kids and Families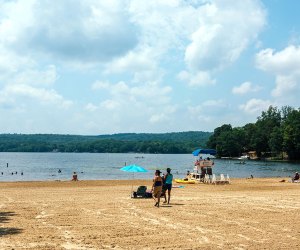 Enjoy the beach at Smartswood Lake. Photo courtesy of the New Jersey Department of Environmental Protection
Swartswood became New Jersey's first state park in 1915, established to ensure residents would have access to one of the state's largest freshwater lakes. Swartswood Lake is the park's main attraction, drawing families who enjoy swimming, fishing, boating, and kayaking in its calm waters. The lake offers a modest swimming area and a nice beach, both spotless and welcoming. In addition, visitors can rent pedal boats, canoes, and kayaks. Next to the beach, visitors can access restrooms, changing areas, showers, a first-aid station, and a kid-friendly (and reasonably priced) concession stand.
Parvin Lake has a sandy beach and a small swimming area along with 15 miles of hiking trails. You can also canoe and kayak on Parvin Lake, and canoe rentals are available. Playgrounds, a picnic area, bathrooms, and a concession stand are located on either side of the beach.
This camp has it all! Spend the day boating, fishing, and enjoying the climbing inflatables, two pools, fields, splash park water playground, water trampoline, obstacle course, summer sledding slide, water slides, and wading pool! Located on a 4-acre lake, it also has bathrooms, a picnic area, and a snack bar. The swimming dock even has an enclosed area for smaller swimmers. Although this is a summer camp, you can purchase day passes to explore the facilities, Children under 12 are $15 and everyone over 12 is $35.
This post, originally published in 2014, is updated annually.
Sign up for the Mommy Poppins Newsletter today!
i