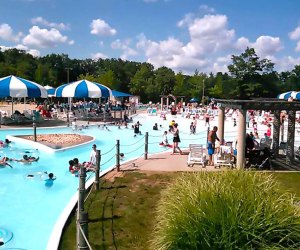 Best NJ Swimming Pools with Day Passes for Families and Kids
While many camps and vacations may be on hold this summer, swimming pools have been given the green light to open in New Jersey beginning June 22. And good news for those who aren't quite ready to take the plunge on a pool membership: There are pool clubs throughout New Jersey that allow guests to spend the day swimming without membership or residency. Many of them feature splash pads, kiddie pools, water slides, and playgrounds, making a day at the pool one of our favorite summer activities for kids.
Read on for a dozen NJ swimming pools that offer day passes without restrictions. And be sure to sign up for our FREE newsletters to get posts like this delivered to your inbox.
Please note that pool facilities may allow limited capacities this summer, possibly resulting in guest limitations. Check with each pool for non-member guidelines.
Best Swimming Pools in Northern NJ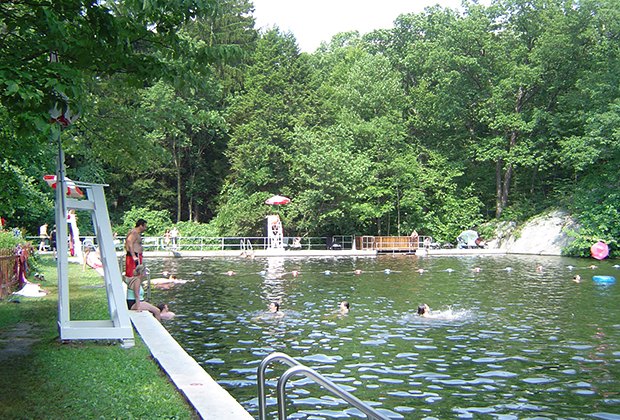 Cool off in a stream-fed, chemical-free swimming pool in Ringwood. Photo courtesy of Highlands Natural Pool
2020 Update: Open for the season with limited day passes. Passes must be bought on site; no longer offering online purchases.
This unique combo of a lake and pool may be worthy of a day trip! Highlands Natural Pool is located next to Norvin Green State Forest and is filled with stream-fed freshwater, with no chemicals. While you're there, take advantage of the snack bar, games like volleyball, and everything Norvin Green State Forest has to offer. Day passes are $12 per adult on weekdays or $15 on weekends and holidays. Reduced fees are charged for seniors (65+) and children (12 and under, 13-17).
2020 Update: Open June 27 for season. Day passes are only available for Bergen county residents at this time.
Palisades Park Swim Club now welcomes ALL New Jersey residents to purchase day passes. Bergen County residents pay $15 per person, and all others pay $20.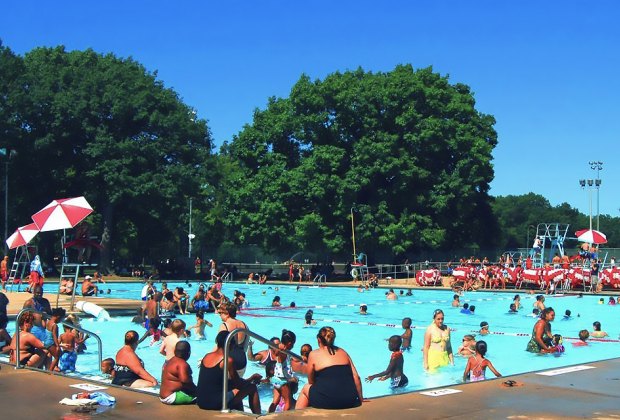 Hang out with friends at the Olympic-size outdoor pool in Rahway. Photo courtesy Union County
2020 Update: No update yet.
Located in the scenic Rahway River Park, this Union County pool offers residents and non-residents the opportunity to swim, play, and lounge. The property includes an Olympic-size lap pool, a fenced-in baby pool, diving boards, a small playground, and snack bar. See website for day rates.
RELATED: Best NJ Water Playgrounds and Splash Pads for Kids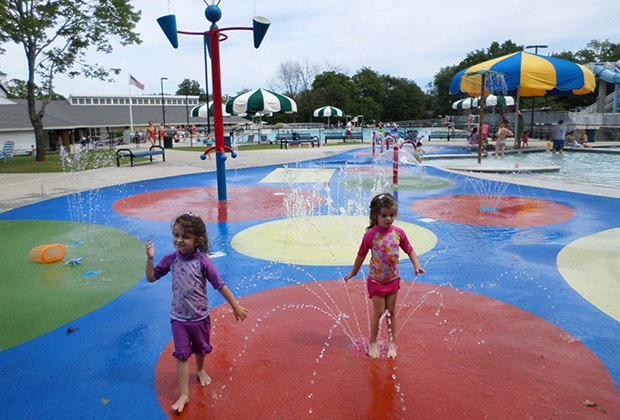 Take a break from swimming to play at the sprayground at Westfield Memorial Pool. Photo by the author
2020 Update: Opening June 27 with limited capacity. Guest passes are on hold.
This awesome community pool is a swim club and sprayground in one, featuring a 50-meter pool, diving pool, water slides, and a fenced-in kiddie pool with spray area. No need to leave for lunch—the pool houses a full-menu snack bar and picnic area. While membership requires residency, anyone can purchase a day pass for $40 per day per person.
Best Swimming Pools in Central NJ
2020 Update: No opening date yet.
Spending the day at Crystal Springs is like going to an amusement park. Aside from the full-size and kiddie pools, the club includes an enclosed splash pad, a giant water slide, and even a lazy river. Membership plans are offered for town residents and non-residents, but visitors may purchase day passes anytime.
2020 Update: Closed temporarily.
Rain or shine, bring the family for a swim at Five Star's indoor, heated pool. Both Eatontown and Edison offer open swim times, with a lifeguard, for only $10 per person. You can also purchase a punch card for $80, which includes 10 open-swim visits. The Eatontown location features a family swim time on the weekends. Open swim at the Princeton pool costs $12, with a 10-visit punch card for $99.
RELATED: Best NJ Lakes for Summer Swimming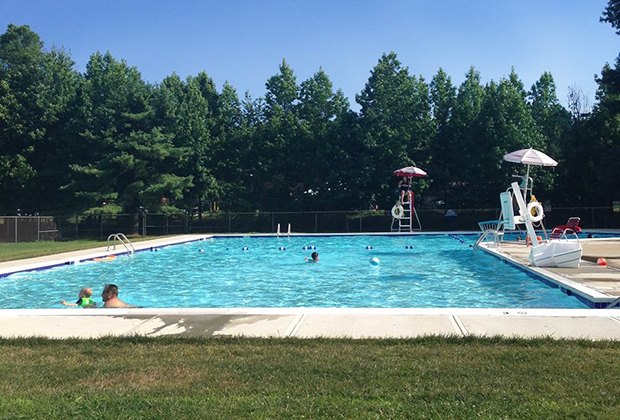 Fort Monmouth Recreation Pool is an inexpensive way to cool off with the family. Photo courtesy of the pool
2020 Update: Opens on June 22 with day passes available.
Go for a swim at Fort Monmouth's Olympic-size pool, offering weekday rates of $7 per person or $20 for a family of four. Weekend rates are $10 per person or $30 for a family of four. Be sure to check out the pool's open-swim schedule, as the pool is used by camps at certain times. While visiting, check out Fort Monmouth's other drop-in opportunities, such as crafts and family gym time.
2020 Update: Opening plans in the works.
Manville visitors have the choice of two different public pools to swim for a day. Both facilities house full-size pools and playgrounds. All non-residents pay $10 a day for a guest pass.
2020 Update: Opening July 1.
The YMCA's beautiful Oakcrest Club boasts a six-lane pool, a spiral tube slide, and a zero-entry kiddie pool with spray fountains. The club also features a playground and ball courts. Visitors may purchase day passes for $15 per person or $50 per family of up to five.
RELATED: 15 Awesome Water Parks for NJ Kids and Families

Warrenbrook's kiddie pool is a welcoming spot for little ones. Photo by Mommy Poppins
2020 Update: Closed for the season.
Somerset County's Warrenbrook Pool welcomes residents and non-residents to spend the day swimming and relaxing. Both a large pool and kiddie pool, as well as a snack bar, are part of the facility. Day pass prices vary by age.
2020 Update: Open plans in the works.
With a 9,000-square-foot family pool, a lap pool, and a 1,700-square-foot wading pool, WaterWorks is the perfect spot to make a splash. Kids will love the sprayground, two-story slide, and play area. The center also features a full-service concession stand and recreation deck. Guest passes may be purchased anytime. See website for fees, which vary by age and residency.
Best Swimming Pools in Southern NJ
2020 Update: Opening July 3 with guest passes on hold.
The Roberts Pool complex features three swimming pools, including a wading pool, plus a nearby playground. A day pass is $10 for Collingswood residents and $20 for non-residents.
The post was originally published in 2016 and is updated annually.