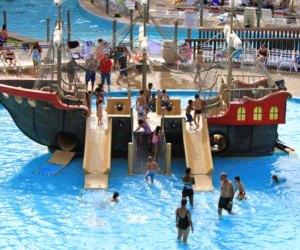 Top Water Parks for New Jersey Kids and Families
COVID-19 UPDATE: We have updated this article with 2021 information, but some attractions and amenities listed from past years may not be available this year. Please also call ahead for sudden closures due to weather or health concerns.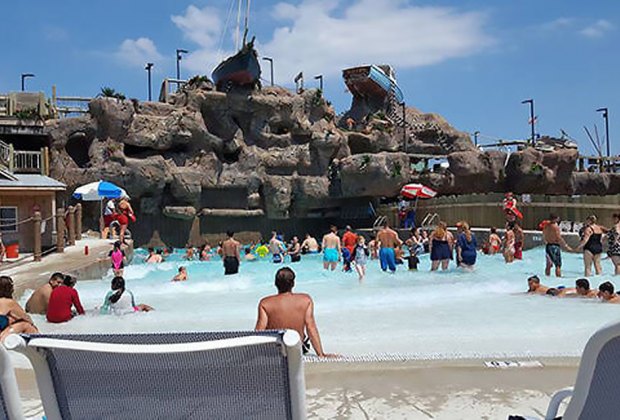 Cool off in the wave pool at Casino Pier & Breakwater Beach Waterpark.
2021 Update: Some rides and attractions may remain closed for the 2021 season. Others may be open and closed on a rotating basis throughout the summer. Check the site for updates
Casino Pier offers loads of over-the-top fun like classic amusement park rides, an antique carousel, arcade, and go-karts, all right along the Seaside Heights boardwalk. Meanwhile, Breakwater Beach is a state-of-the-art water park with a wave pool, water slides, and The Perfect Storm, a huge, interactive kids' water play area.
RELATED: Best Jersey Shore Beaches for Families: Cape May to Sandy Hook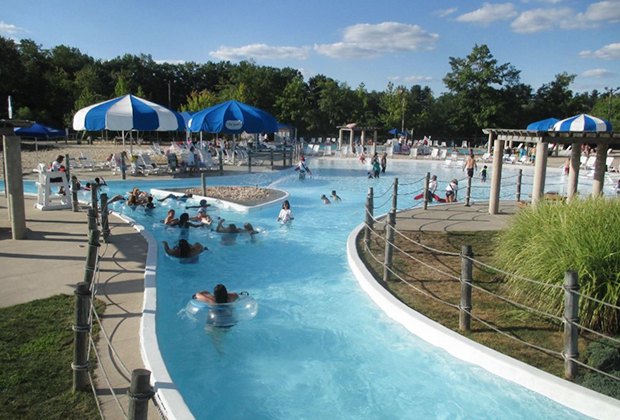 Take a relaxing ride on Crystal Springs' Lazy River.
2021 Update: Tentatively opening for weekends May 30-June 27 12:00-6:00pm; and daily June 28-August 29, September 4-9 12:00-6:00pm. Online ticket reservations only. (Also, bring your own chairs.)
Crystal Springs is the first municipal water park in New Jersey. The bountiful facility boasts several pools, a splash pad, lazy river, water slides, and more. There's a picnic area with grills to use free of charge on a first-come-first-served basis, but if you don't feel like cooking, you can purchase snacks and food. Chairs, life vests, and tubes (for the Lazy River) are available, but in limited supply. The park's bathrooms, concession stand, and first-aid office were renovated in 2017.
2021 Update: Opens for the season on weekends May 29-June 13, and then daily June 19- September 6. The park will also be open on the weekend of September 11. Water park is included in theme park admission. Buy tickets online for specific dates.
A true family amusement park with rustic, old-fashioned charm, Land of Make Believe mixes a traditional country fair experience with thrilling rides. Pirate's Cove is where you'll find the water attractions, including America's Largest Wading Pool, pirate-themed water slides and rides, and a water playground. Swimsuits are required for everyone, and be sure to pack a waterproof diaper cover or swim diaper for your diaper-wearing tots. Strollers aren't allowed inside the water park, but you can park it right at the entrance for easy access. Food is available for purchase, but you can also bring your own and eat in the spacious picnic area.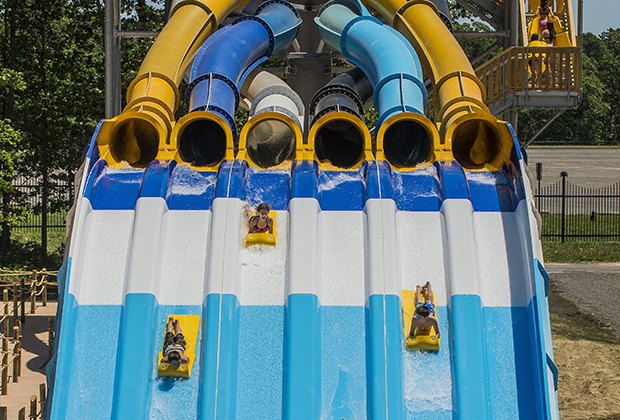 The Big Wave Racer at Hurricane Harbor features fast slides and several steep drops.
2021 Update: Open weekends starting May 15, then daily starting June 18. Expect temperature checks before entering the park.
This water park is part of Six Flags, so expect crowds (especially on weekends). The 45-acre park features big rides like Tornado and Hurricane Mountain, yet still offers plenty of adventure for younger kids. Next to Taak It Eez Ee Creek, a laid-back river featuring waterfalls and rapids, sits Hurricane Harbor's Calypso Springs, a 100,000-gallon beach-entry-style activity pool where parents and kids of all ages can swim and play together. The food is your standard theme-park fare of hamburgers, chicken fingers, and pizza. Coolers are prohibited.
2021 Update: Opening date TBA.
This winter ski resort transforms into a summer water park with 22 wet attractions, several of which were designed for the littlest visitors. There's Fishing Village, a multilevel, interactive play fort with water slides and spray cannons; Lil' Dippers, which offers scaled-down thrills for little ones; and Lost Island River, a pint-sized lazy river. Cabanas and locker rentals are also available.
2021 Update: The park opens daily June 19-August (plus the weekend of June 12).
On your next Ocean City vacation, don't miss out on this fun-filled water park, complete with a lazy river, body slide, tube slide, and Splash Down Falls for daredevil sliders. Younger kids can splash around in Lil' Buc's Bay, a shallow-water environment. Other unique activities include OC Jumpers, which launches participants 25 feet into the air, and the OC Adventure Peak climbing wall.
RELATED: Jersey Shore Boardwalks and Amusement Parks for Family Fun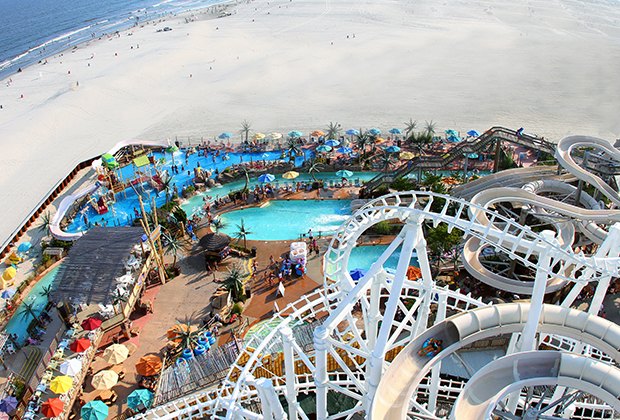 When you've had enough of the beach, head over to Raging Waters Water Park!
2021 Update: Reopening June 12 with online ticketing.
Up for a wet challenge? Dare to try the Shotgun Falls, Rocket Raft Run, speed slides, and rope swings at this park full of adventure right on the boardwalk in Wildwood. For tamer fun, there's a family fountain pool, pirate ship, and three-level interactive Camp KidTastrophe. Food and cabana rentals are available for visitors at all Morey's Piers water parks.
2021 Update: Opening May 29 for weekends and daily starting June 19.
Located across the street from the famous Keansburg Amusement Park, this summer family-favorite features more than 18 slides, splash zones, a kiddie lagoon, and toddler play area, plus the lazy river (which you may need after a long day in the sun!). Lockers and dressing rooms are available, along with lounge chairs and umbrellas. There's also a full-service snack bar, plus tons of yummy boardwalk eats only steps away.

Sahara Sam's will keep kids splashing all day long.
2021 Update: The outdoor water park opens Memorial Day Weekend with online reservations. The indoor water park is open Thursdays-Sundays. Due to limited capacity, online reservations are required.
This outdoor oasis features a swimming pool, wave pool, splash park, full-service Tiki bar, and cabana rentals. Admission to The Beach Club is included at no extra cost, and families can go back and forth between the indoor and outdoor water parks. Inside, there's a large arcade to keep the kids busy and a bar/lounge for adult fun, too. You can also host your child's birthday party here.
RELATED: Best Water Playgrounds and Splash Pads in New Jersey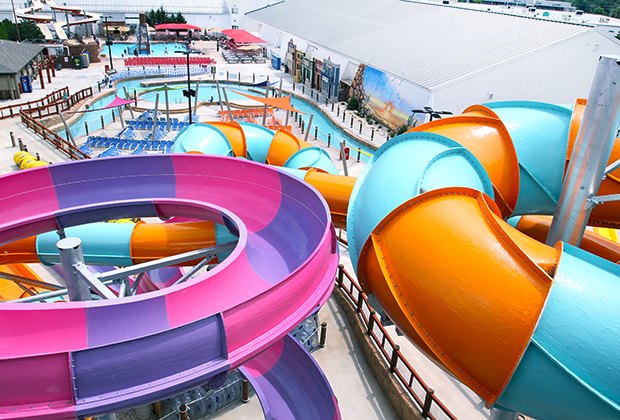 Go for a spin on the four water slides at Splashplex.
10. Splashplex — East Hanover and Mount Laurel
2021 Update: Opening date of the new park is tentatively scheduled for June 12 with online ticketing and reservations.
With four water slides (two speed slides, a Constrictor Tube slide, and inner tube slide), a water tower, pool, splash pad, and lazy river, Splashplex's 130,000-foot expansion (completed in 2015) will knock your flip-flops off. New for 2021 is a major expansion of the Mount Laurel site with the opening of The Island at Splashplex. The expansion boasts a relaxation pool, cabanas, and a new 50-foot slide tower with mat racer and a Boomerango Slide.
2021 Update: Opens for the season on June 19. with a number of new procedures in place, including breaking the day into two sessions with timed tickets.
There's no shortage of water fun in Wildwood! Located on the boardwalk, this water extravaganza features 20 attractions. Get soaked at the Giant Bucket, zoom on the body flume at the Abyss, and challenge the speed and height of the Terminator slide. For the not-so-daring, there are the Hydro Zone squirters and Hurricane Island water play area. Even babies get in on the action at the soft and gentle Zoe Zone. If you work up an appetite, check out the Flow House for food, drinks, and a simulated surfing wave.
2021 Update: Opens for the season on June 12.
This Long Beach Island summer favorite features eight whirling water slides, a multi-level water play structure, Lazy Crazy River, and a special area for toddlers called Cowabunga Beach. You can also rent cabanas for your family to relax in between play.
2021 Update: Water park opens on weekends starting May 22.
The construction-themed amusement park has rides and games and also debuted a brand-new water park in 2020. The Water Main, as it's called, includes a tot splash area, main pool, and slide tower, as well as a number of pool activities, including a challenge course and basketball. There are cabana rentals, too. Admission to the water park is included in the ticket price for the theme park, so visitors can enjoy both options on one trip.
2021 Update: Reopening June 19
Located at the end of Surfsider Pier, this tropical-themed water resort offers both wild and relaxing activities for Wildwood visitors. Slide into the action on the five-story Cliff Dive and six-lane Wipeout! water slides, or take it easy at the bubbly Water Lilies Swim Up Bar or on the 1,000-foot-long Endless River. The younger set can take a dip in The Puddle swimming pool. Be sure to grab a bite to eat at the Stubborn Brothers Beach Bar & Grill.
NJ Water Parks Closed in 2021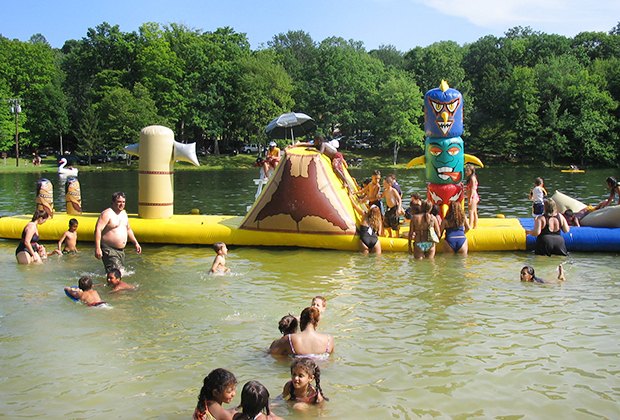 Tomahawk Lake's Papoose Land is a perfect play area for tots.
Closed for the 2020 season.
Tomahawk Lake Waterpark – Sparta
One of NJ's best-kept secrets, this water park sits on a 200-acre property that also includes an 18-hole mini-golf course. The 20-acre Tomahawk Lake is surrounded by NJ's largest white sand beach, perfect for picnicking. The water park features plenty of rides and slides, plus Papoose Land for younger tots, with kiddie canoes, ride-on lily pads, and climbers. The lake also offers paddle wheelers and bumper boats. Birthday parties are held on weekdays, and party-goers will enjoy full access to the water park, mini-golf course, and boat rides.
Closed indefinitely.
CoCo Key Water Resort – Mount Laurel
This wet indoor jungle gym is perfect for rainy days. There's a lazy river, plunging water slides, tube rides, and a baby wading pool. Adult guests can take advantage of the relaxing indoor/outdoor spa with giant, warm-water whirlpools. Dry off at the video arcade or dine at one of the resort's family-friendly restaurants. With so much to do, you might want to make your trip to Coco Key into an overnight at the resort's Hotel ML.

All photos courtesy of the respective parks.
This article originally published in 2013 and is updated annually.