Land of Make Believe: A Charming Family-Friendly Amusement Park in NJ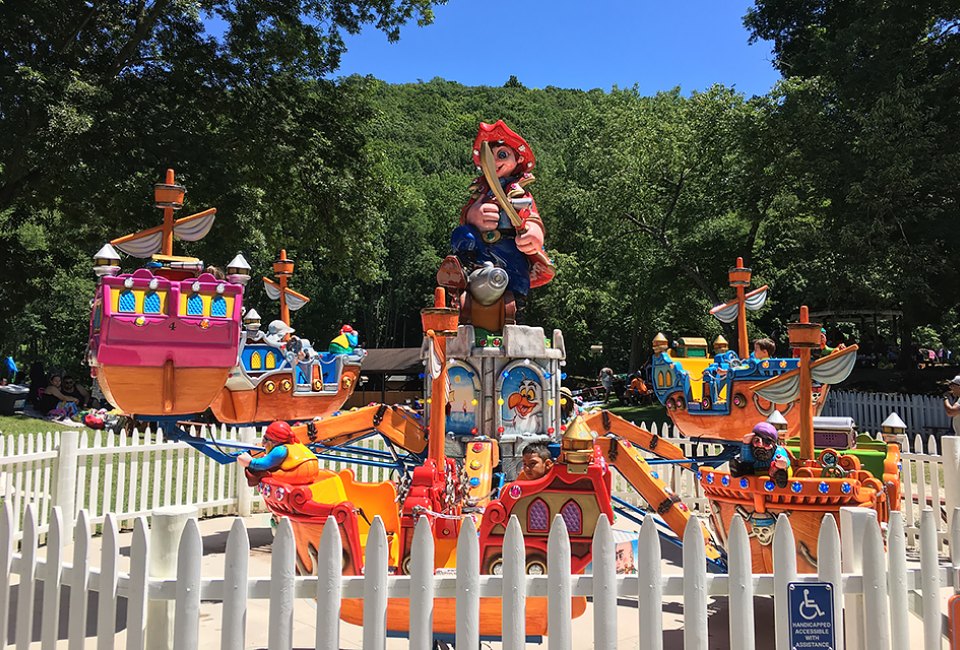 3/27/19
- By
Margaret Hargrove
For more than 60 years, Land of Make Believe in Hope, NJ, has entertained and amused families and kids of all ages. Designed as an amusement park where kids and adults can have fun together, there's literally something for everyone. And the best part is that it's affordable. The Pay-One-Price policy covers both the amusement park rides and water park, giving you the convenience to move from attraction to attraction without the hassle of endlessly having to reach into your pocket. Parking is also free, and you can even bring your own food and drinks to picnic right inside the park.
Perhaps you visited Land of Make Believe when you were a kid. I know I did. That's why I was eager to talk a walk down memory lane and introduce my 5-year-old daughter to the thrills and adventures of my own youth. While I found that a lot has changed since then, the essence of this charming amusement park remains.
Read on to experience a bit of this magical-sounding amusement park for yourself.
High and Dry
Spread out across its 30 acres and surrounded by trees, Land of Make Believe features a great selection of classic kiddie rides. There's a Carousel, Ferris Wheel and Tilt-A-Whirl. A locomotive train takes you on a scenic ride around the perimeter of the park, or you can jump onto the back of the farm tractor for an old-fashioned hayride into the woods.
Since we arrived right when the park opened and it was still a bit too cool for the water, we stashed our valuables in a locker and tackled the dry rides first. This proved to be a great strategy, as lines were almost non-existent and we practically walked right on to each ride.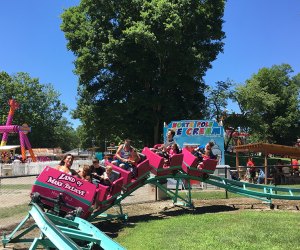 You'll want to hop right back in line after a ride on the roller coaster.
My little daredevil made a beeline for the Thriller roller coaster, a ride I never would have chosen, as a kid or grown-up. I took one for the team and hopped into one of the roller coaster cars. After three loops around the track, we were both ready to get off and do it again. And again and again. Eventually, the neighboring Tornado ride also caught her eye, and we twisted and turned and flew around in dizzying circles. To give my stomach a chance to settle—my daughter was still going strong—she jumped on Jump Around Frog, where the frogs hopping happily around were momentarily enough to feed her need for speed.
Geared toward tiny thrill seekers, a majority of rides at Land of Make Believe have a 36" height requirement to ride alone, but adults are welcome on almost every ride (except Red Baron Planes and Dixie Car). There are plenty of benches if you want to take a break—or quell a queasy stomach—while your little one goes from ride to ride.
RELATED: Great Amusement Parks for Toddlers and Preschoolers in New Jersey

Kids looking for a big thrill will find it on the Scream Machine.
Land of Make Believe's newest attraction, Scream Machine 360, sits smack-dab in the middle of the park. You can't miss it: The giant pink and orange pendulum swings and lifts riders, all the while spinning seats upside down, offering a higher octane of fun for bigger thrill seekers and older kids.

Drop' N Twist is for those with a stomach of steel!
After a go on Drop' N Twist and Tilt-A-Whirl (insert nauseous emoticon here) we both decided it was time to cool off and head to Pirate's Cove.
RELATED: 15 Awesome Water Parks for NJ Kids and Families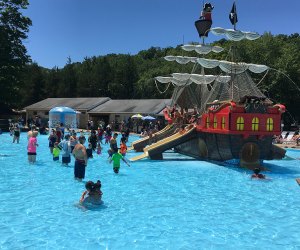 After hitting the rides, head to Pirate's Cove to cool down and splash around.
Wet and Wonderful
Swimsuits are required for everyone at Pirate's Cove. And while this didn't apply to my almost-Kindergartner, be sure to pack a waterproof diaper cover or swim diaper for diaper-wearing tots. Strollers are not allowed inside the water park, but you can leave it right at the entrance for easy access.
Swapping shorts for a swimsuit, my daughter jumped right into the giant wading pool. Nestled in the middle is the half-submerged Buccaneer Pirate Ship, a giant climbing structure with slides and tunnels to explore. There are also several mini slides around the edge of the pool, so impatient little ones will never have to wait their turn for a slip 'n slide.

Relax in your tube as you float along Blackbeard's River.
Across the bridge from the wading pool is Blackbeard's Pirate Fort. Listen out for the cannons to know when the ginormous bucket is about to dump 1,000 gallons of water on swashbucklers standing below. No seats were available around the pool area, so we joined the crowd waiting for Blackbeard's River. Although we had to wait close to 15 minutes for a double tube, it was worth every minute. It's a lazy river crossed with waves, rapids, waterfalls, and water bombs. I could have easily done two or more loops, but my daughter was ready for more action.
Pirate's Escape, Pirate's Plunge, and the Black Hole are three of the Land of Make Believe's extreme water slides; the Sidewinder features an unbelievable four story drop, the only slide of its kind in New Jersey. Lines are long (with steep steps to climb), so pack your patience for these elevated, looping, hair-raising water slides.
RELATED: Wild West City: A Cowboy Theme Park in New Jersey

The sweet balloon ride is perfect for little visitors.
We loaded up on ice cream and snow-cones before hitting all of our favorite dry rides one more time (sans the Tilt-A-Whirl). The park has a nice, easily walkable layout. It not only felt incredibly safe, but it was simple and old-fashioned. It was a totally stress-free environment. Kids over 12 may be a bit bored, but the water rides are more than enough to provide fun and excitement.
Food and Fuel
There's a picnic grove with tables where you can relax and enjoy your picnic lunch. Or spread out a blanket under the shade of a nearby tree. Alcohol, grills, and glass bottles are not permitted, and coolers are searched at the gate.
Food at Land of Make Believe is relatively inexpensive, so don't feel pressured to bring your own. You'll find the usual amusement park fare, including chicken nuggets, hot dogs, hamburgers, and, of course, ice cream. You can get a hot dog or chicken nuggets, fries, and a drink for about $10. Bottled water is $2 each, and an ice cream cone is $4—though one word of caution for your sprinkles lover: there are no toppings. Don't forget to grab a bag of cotton candy or caramel corn for the road home.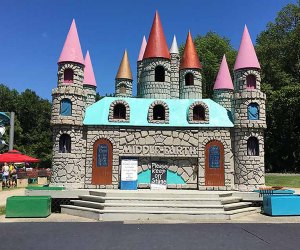 Dress up and take the stage at the Middle Earth Theatre.
Fun Extras
In addition to rides and water, Land of Make Believe has a few midway games and an arcade with skee ball and other favorites. Next to the picnic grove sits the Middle Earth Theatre, where several times a day kids are invited onstage to don costumes and perform in the interactive plays. You'll find a few farm animals at Old McDonald's Farm, where you can also pose for pictures with the talking scarecrow. For an extra fee, treasure hunters can sift through sand at the mining company.
Cool off at Santa's Barn, located just beyond the colorful Candy Cane Forest. Also home to a pizza parlor and ice cream shop, this welcome respite from the heat includes an air-conditioned stroll through Santa's summer North Pole. You'll find him relaxing on his sofa at the end, ready to hear your child's early Christmas wish list and hand out a small treat. On the day we visited, it was a red Santa-shaped cookie cutter.
One final challenge is the Land of Make Believe Maze. Work in teams or see who can find their way out the fastest before you exit through the gift shop.
Know Before You Go
Land of Make Believe only accepts cash or Discover cards. There is an ATM, but it's probably a good idea to come with cash in hand. Admission is $32 for ages 2 and up is. Kids under 2 are free, but are limited to the water park and select rides.
The park is open (weather permitting) weekends only from Memorial Day through mid-June, then daily until Labor Day plus the weekend after. Hours are 10am-6pm, though the water park closes at 5:30pm and amusement rides shut down at 5:45pm.
Rental lockers are located near the entrance to the water park. Small lockers are $8 per day, and large lockers are $12. There's also an additional $10 key deposit, which you'll get back when you return your locker key.
Photos by the author
This post was originally published in 2015 and is updated annually.
Places featured in this article:
Click Here to Sign Up!
i