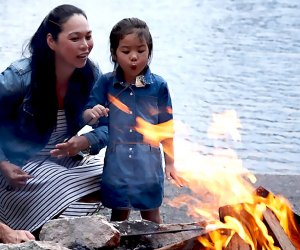 35 Mother's Day Activities in Westchester That Aren't Brunch
It's almost time to celebrate Mom! While we love nothing more than a great Mother's Day brunch (in fact, there are a lots of kid-friendly area restaurants to try), wrangling little ones in a restaurant isn't always the most relaxing experience.
So whether you're trying to avoid a mid-meal meltdown courtesy of your toddler or just looking to get outside and enjoy the beautiful spring weather, we rounded up 35 things to do this Mother's Day that don't require restaurant reservations. Some take place on Saturday—because, let's face it, we deserve more than a day!
Looking for more things to do in Westchester and the Hudson Valley? Consult our Event Calendar and sign up for our newsletters!
1. Create art together using elements found in nature at any of six participating facilities on Saturday, May 11.
2. Interact with animals and more at a family-friendly farm.

Boundless Adventures has thrilling activities for the whole family. Photo courtesy of Boundless Adventures
3. Climb to new heights at this treetop adventure course.
4. Drop in for a family clay class on Saturday, May 11.
5. Enjoy a free performance by the West Point Band, continuing its Masterwork Concert Series, on Saturday, May 11.
6. Gather your pack and head to Throw Mama to the Wolves, where you'll meet and learn more about these animals. Saturday, May 11.
7. Enjoy an outing of FREE STEM fun at the season opening of the Science Barge on Saturday, May 11.
8. Spend the day exploring a quaint Hudson Valley town, such as Beacon, Cold Spring, or Rhinebeck.
RELATED: Family-Friendly Mother's Day Brunch Spots in Westchester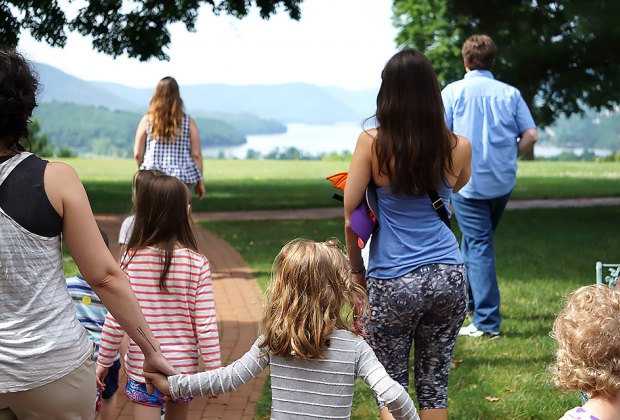 The Boscobel House has sweeping views as well as family-friendly activities. Photo courtesy of Boscobel House
9. Visit Boscobel House and Gardens for family fun at the Bring the Kids! program on Saturday, May 11, when the theme will be "clay creations."
10. Stroll the grounds and view the exhibits at the Hammond Museum & Japanese Stroll Garden…
11. …or enjoy a picnic and meander the elegant grounds of Caramoor.
12. Check out the zoo, merry-go-round, and hiking trails at Bear Mountain State Park.
13. Get adventurous with zip lining on one of the three courses at Hunter Mountain.
14. Splurge on a day of scalable adventure at the rustically lovely Mohonk Mountain House.
15. View the exhibitions of art inspired by the moon at the Hudson River Museum (stick around for the related workshops), timed to coincide with the 50thanniversary of the first lunar landing.
Stroll through the gorgeous fields of tulips at the Tulip Festival in Albany. Photo courtesy of the festival
16. Take a ride to Albany for the annual Tulip Festival, whose attractions include not only vast quantities of Dutch bulbs, but a kids' zone and the coronation of this year's Tulip Queen.
17. Head to the Rye Arts Center and create a Zentangle tile photo frame together on Saturday, May 11.
18. Enjoy an afternoon walk along the Scenic Hudson RiverWalk Park at Tarrytown, before stopping at Lighthouse Ice Cream or heading to Pierson Park for some playground time.
19. Build a fairy house for a wee one with your wee one at Muscoot Farm on Saturday, May 11...
20. ...or hang with the animals at Muscoot and watch the annual sheep shearing on Sunday, May 12.
21. For even more nature-inspired fun, head to Greenburgh Nature Center's Mommy's Lil' Sprouts event for storytime, seed planting, and more. Sunday, May 12.
22. Tour one of the many historic mansions in our area, such as the Rockefellers' Kykuit estate…
23. …or take a behind-the-scenes tour of Lyndhurst for a servant's perspective à la "Downton Abbey" (sell-out alert!)
RELATED: 25 Spring Festivals and Fairs for Westchester and Hudson Valley Families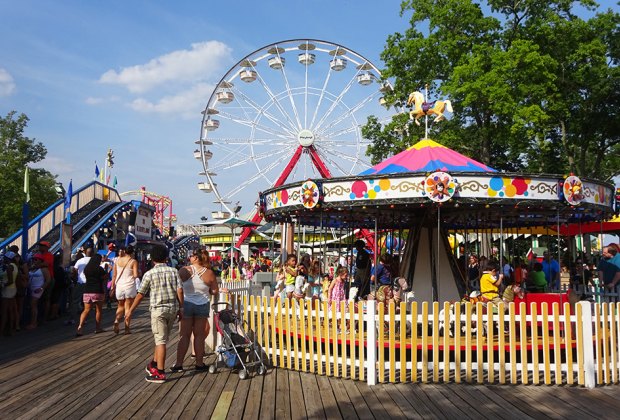 Moms ride free on Mother's Day at Rye Playland. Photo by Susan Miele
24. Dragon Coaster anyone? Playland opens on Mother's Day weekend, and on Mother's Day moms ride FREE.
25. Check out the cool outdoor sculptures at Storm King Art Center and stay for an optional art workshop.
26. Shop the Hastings Flea Market and enjoy entertainment and kid fun, too.
27. Pick up lunch or pack some homemade sandwiches (bonus points if Mom's not the one making them!), and visit one of these great local parks for a family-style picnic and fun.
28. Grab your wheels and helmets and go for a bike ride down the (closed) Bronx River Parkway, now that Bicycle Sundays are back for the season…
29. …or try one of these bike paths.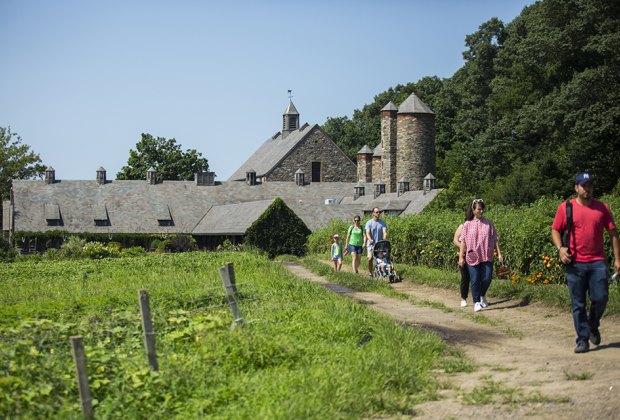 The whole family can explore the vegetable fields and beyond at Stone Barns Center for Food and Agriculture. Photo by Molly M.Peterson
30. Spend the day at Stone Barns Center for Food and Agriculture, where you can learn about how the farm operates.
31. Try the current craze of rolled ice cream.
32. Save on the cost of Mom's ticket on a sightseeing cruise along the Hudson River.
33. Trade your favorite brunch spot for a family-friendly beer garden.
34. Sign up for a 5K or 2-mile walk at this female-only race in Yorktown Heights that also offers kids' attractions. Sunday, May 12.
35. Head to the Bronx for Mother's Day activities at the Botanical Garden or Wave Hill.
This originally posted in 2017 and is updated annually.