Best Bike Rides in and Near Westchester for Family Cycling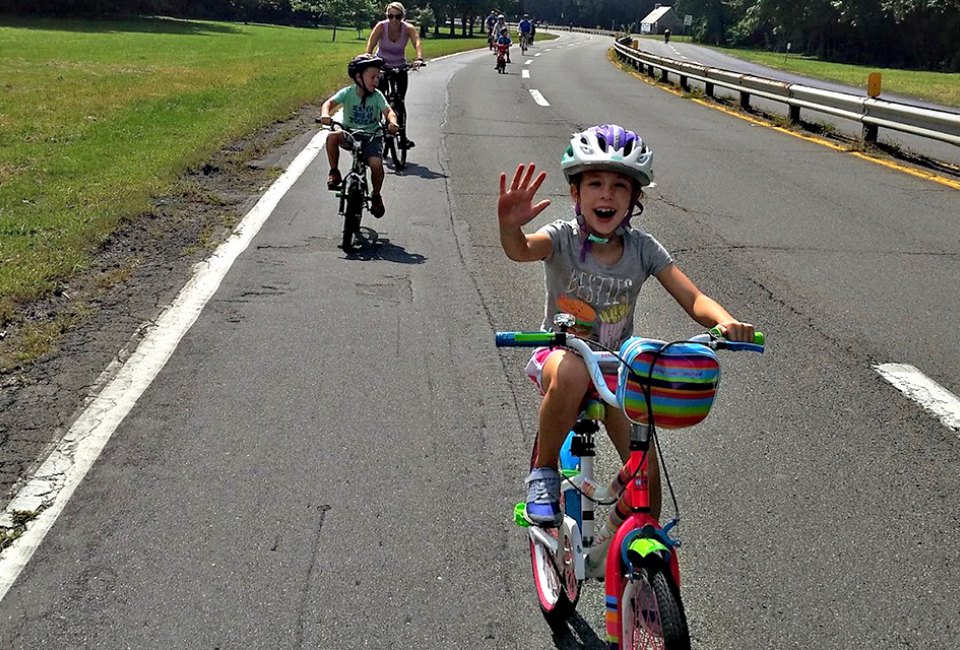 7/31/20
- By
Susan Miele
For both exercise and family bonding, a bike ride along a scenic bike path is a great way to spend a lovely day in Westchester. Whether your kids have recently ditched their training wheels or are older and ready for action, we've got a cycling destination for your clan. And, if your four-wheeled rider is ready for the big time, here are some pointers on how to help your child ride without training wheels.
Read on for more details on bike paths and trailways throughout Westchester County. For more outdoor excursions, consider embarking on one of these Hudson Valley hikes, and check out our Summer Activity Guide for more seasonal fun.
Please note: While we've attempted to provide highlights of these bike paths at their best, some of the features and amenities listed below are closed due to the coronavirus pandemic. Please click through to each trail to verify operating hours, conditions, and available facilities before visiting.
A quick note about safety—be sure all riders in your party wear helmets and follow New York State law, which requires all cyclists under the age of 14 to wear a helmet, whether they are cycling themselves or just along for the ride. Beware that many bike paths are shared with joggers and walkers, so ride with courtesy and caution.
For nearly 100 years from the late 1870s to the 1970s, the New York Central Railroad Putnam Division, or Old Put, ran from the High Bridge section of the Bronx to Brewster in Putnam County. Today, the former path of Old Put has been transformed into three sections of multi-use trail: The Old Putnam Trail in the Bronx, the South County Trailway in Southern Westchester (14 miles spanning southern and central Westchester), and the North County Trailway (22 miles spanning northern Westchester and southern Putnam County). The bike path is paved and closed to traffic, though there are frequent, well-marked street crossings. Take note: The North County Trailway is currently undergoing a re-paving project, and some sections are closed, so check your route before heading out.
Running mostly parallel to the Bronx River and Bronx River Parkway, the Bronx River Pathway is one of Westchester County's oldest parks. The park is divided into three sections: The southernmost section is a 1-mile loop that begins and ends near Oak Street in Mount Vernon. The next section runs from Palmer Road in Bronxville through Crane Road in Scarsdale and includes a small loop around Bronxville Lake, which is well-suited for the youngest riders. A bit north of Crane Road, the path picks up again and follows the Bronx River Parkway up to Kensico Dam Plaza. On Bicycle Sundays in the spring and summer, the entire Bronx River Parkway is closed to vehicular traffic and open for biking, jogging, and walking.
The Tarrytown Lakes extension is a short, multi-use path very popular with locals and families. Just about a mile long, there are parking areas at either end of the trail, which is paved and off-road with only one small crossing, depending on where you park. The Tarrytown Lakes Extension is accessible to experienced riders from both the North and South County Trailways. Though it's not a challenging ride, cyclists should be comfortable riding alongside traffic for a short way and crossing an intersection.
RELATED: 10 Great Family Hikes in Westchester and the Hudson Valley
If off-road cycling is more your family's cup of tea, check out the Old Croton Aqueduct for diverse terrain and even more varied landscapes. Running atop the path that once brought water from Northern Westchester to New York City, this 26.2-mile bike path has portions that are paved and unpaved, wooded and suburban, challenging, and smooth sailing. A word to the wise—avoid biking this path right after a rainstorm or during the spring melt as portions tend to get muddy, and it floods in certain spots.
Sprain Ridge Park is home to some of Westchester's best off-road biking. This heavily wooded park has several bike paths of various topography. Best-suited for beginners are the Danny Wray Ramble and Boyce Thompson Lane. Not a beginner? Check out the advanced trails for steep drops, tightly spaced jumps, and stream crossings. In all, there are 5 miles of mountain-biking trails winding their way through 278 acres. There are also picnic grounds, a county swimming pool, and a playground.
Another county park, Blue Mountain, is located right off Route 9 in Peekskill, shortly before the circle for the Bear Mountain Bridge. Blue Mountain's 7 miles of varied bike trails are considered one of the best mountain-biking trail systems in the Hudson Valley. Each trail is marked with leveled blazes—beginners should follow the yellow markers, while orange signals intermediate trails, and red is for advanced riders. Be forewarned: Even the beginner trails include some significant uphill portions. Trails are shared with hikers, and biking behavior codes are noted. The park is open daily from 8am to dusk year-round. Parking fees apply in peak season; those holding a county parks pass can save.
For less experienced bike riders, Kensico Dam Plaza offers a tame spot for a casual outing. In addition to other attractions, such as a playground, picnic tables, and lots of green space for running, the plaza is ringed by a road well-suited for little pedalers. Parking is free.
A work in progress, when complete the Westchester RiverWalk will span more than 50 miles through 14 municipalities along the Hudson River, and more than 30 miles will be designated for public recreational purposes, similar to Manhattan's West Side Promenade. Portions in Croton and Tarrytown are already open.
Perched 212 feet above the Hudson River, this 1.28-mile bridge is the longest elevated pedestrian bridge in the world. Closed to vehicular traffic, the bridge is available to bike riders and pedestrians and is a comfortable ride for all abilities with beautiful views of the Catskills and Hudson Highlands.
This post, originally published in September 2014, has since been updated.