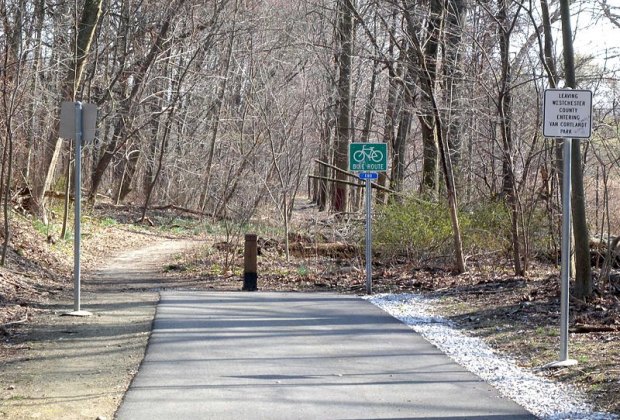 Best Bike Paths for Family Cycling in Westchester
When you think bike riding, do you picture your kids riding around in front of your house or on your block? Why not venture beyond your neighborhood and check out exciting and beautiful ways to enjoy a family bike ride! Westchester offers so many scenic, safe and fun bicylce paths and trailways, you might be surprised at how easy it can be get around the county by bike. With several paths running north to south and a number of shortcuts that allow riders to connect between paths, it is possible to ride safely between many Westchester towns.
For recreational rides, the options range from gentle looping paved parks that are great for learning to ride a two wheeler to jaw dropping jumps and chances to race alongside parkway traffic. Read on for more details on bike paths and trailways throughout Westchester County. And don't forget to check out Summer Activity Guide for more ways to enjoy the summer with kids in Westchester.
A quick note about safety--be sure that all riders in your party are helmeted in accordance with New York State law, which states that all cyclists under the age of 14 are required to wear a helmet whether they are pedaling or just riding in a carrier. The following paths are also popular with joggers and walkers, so ride with courtesy and caution!
North and South County Trailways
For nearly 100 years from the late 1870s to the 1970s, the New York Central Railroad Putnam Division, or Old Put, ran from the High Bridge section of the Bronx to Brewster in Putnam County. Today, the former path of Old Put has been transformed into three connecting bike paths- The Old Putnam Trail in the Bronx, The South County Trailway in Southern Westchester and The North County Trailway in Northern Westchester and Southern Putnam counties. Together, these three paths span more than 40 miles connecting New York City and suburban Putnam. Picking up at the Bronx/Westchester border, just outside of Van Cortlandt Park, the South County trail runs through the Rivertown communities of Yonkers, Hastings-on-Hudson, Ardsley, Dobbs Ferry, Irvington, Greenburgh and Elmsford before turning into the North County Trailway and crossing through Mount Pleasant, Briarcliff Manor, Millwood, Yorktown Heights, and into Somers. The path is paved and closed to traffic, though there are frequent, well marked street crossings.
Bronx River Pathway
Running largely parallel to the Bronx River and Bronx River Parkway, the Bronx River Pathway is one of Westchester County's oldest parks. Though it will one day be completed to run 23 consecutive miles from the Bronx up into Westchester County, the park currently exists in 3 unconnected sections. The southernmost section is a 1 mile loop that begins and ends near Oak Street in Mount Vernon. The next section is my personal favorite and runs from Palmer Road in Bronxville through Crane Road in Scarsdale. It includes a small loop around Bronxville Lake that is perfect for the youngest riders. A bit north of Crane Road the path picks up again and follows the Bronx River Parkway up to Kensico Damn plaza. On select Sundays in spring and summer, the Bronx River Parkway itself is closed to traffic and open to bicycles.
Tarrytown Lakes Extension
Tarrytown Lakes extension is a short multi-use path that is very popular with locals and families. Just about a mile long, there are parking areas at either end of the path. Since the path is so short, we usually park at one end and jog or bike all the way down and then turn around and jog or bike back. The path is paved and off-road with only one small crossing, depending on where you park. It is particularly busy in the afternoon and evening hours. Tarrytown Lakes Extension is accessible to experienced riders from both the North and South County Trailways--though it's not a difficult ride, riders do need to be comfortable riding alongside traffic for a short way and crossing a busy intersection.
Old Croton Aqueduct
If off-road riding is more your family's cup of tea, check out the Old Croton Aqueduct for diverse terrain and even more diverse landscapes. Running atop the path that once brought water from Northern Westchester to New York City, this 26.2 mile path has portions that are paved and unpaved, wooded and suburban, challenging and smooth sailing. A word to the wise--avoid biking this path right after a rainstorm or during the spring melt as portions of the path tend to get muddy and flood in certain spots.
Sprain Ridge Mountain Bike Trails
Sprain Ridge Park, located in Yonkers, is home to some of Westchester's best off-road biking. This heavily wooded park has several paths, but the ones most highly recommended for beginners are the Danny Wray Ramble and Boyce Thompson Lane. Not a beginner? Check out the advanced trails for steep drops, tightly spaced jumps and stream crossings! There are also picnic grounds and a playground for family members who might prefer to keep their feet on solid ground.
Blue Mountain Reservation
Another county park, Blue Mountain is located right off Route 9 in Peekskill, shortly before the circle for the Bear Mountain Bridge. Blue Mountain's 7 miles of varied bike trails are considered one of the best mountain biking trail systems in the Hudson Valley. Each trail is marked with leveled blazes--beginners should follow the yellow markers while orange signals intermediate trails and red is for advanced riders. Be forewarned--even the beginner trails include some significant uphill portions.