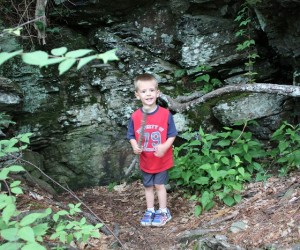 10 Great Hikes with Kids in Westchester and the Hudson Valley
For Westchester and Hudson Valley families seeking together time in nature, we've rounded up ten destinations for family hikes. Whether you seek an easy walk for little legs or a more challenging excursion for adventurous types, our list can be your new go-to resource for trailblazing.
Time spent in nature is associated with reduced stress and numerous health benefits. Connecting kids with nature can also help instill a lifelong love of nature and a feeling of responsibility for the environment. Fortunately, there's no shortage of green space in our area, and hiking is a great activity that can be enjoyed in all kinds of weather. So fill your water bottle, lace up those sturdy shoes, and choose your preferred setting, be it lake, woods, or waterfall. Read on for details!
Please note that some of the destinations or activities listed below may be closed or canceled during the COVID-19 shut-down.
The 179 acres offers three miles of trails winding through forests, fields, and along the shore. Explore wildlife in their natural habitat, and visit the Nature Center to learn more. Bring binoculars, if you have, as the sanctuary has been recognized by the National Audubon Society as an "important bird area." The sanctuary is open daily from dawn to dusk, and The Nature Center's hours are Tuesday-Saturday, 9am-5pm in spring and fall. Because the sanctuary is part of Rye Playland, the same parking fees apply (in the off-season, parking is free). A county park pass is not required. Pets not allowed (except for service animals).
The 190 acres of this county park include a lake, swampland, and forest. Explore walkways, rock walls, and water views, and be on the lookout for dragonflies, migratory birds, and turtles. A trail map shows all the choices of hiking paths to try. Follow the History Trail to the remains of a 19th-century farmhouse and early 20th-century stone-mining operation, and pop into the nature center for educational displays and live animals. The park is open dawn to dusk with the Nature Lodge and front gate open Tuesday-Sunday, 9am-4pm. County park pass is not required. Free parking. No pets allowed.
A former research facility of the Brooklyn Botanic Gardens, The Kitchawan Preserve is set on 208 acres and includes vernal pools as well as open fields and woodlands that attract birds and butterflies in late spring. Kitchawan. Along the trails are some stone-wall remnants from a century ago where crop dividers and private properties once stood. Try the Teatown-Kitchawan Trail, an easy walk with kids that connects several Westchester parks. The preserve is open 7 days from 8am to dusk. There is no admission fee, and a county park pass is not required. Dogs are welcome but must be leashed.
RELATED: 10 Easy New York State Park Hikes for Families
In addition to offering hiking and views of the Old Croton Dam and spillway, Croton Gorge Park also welcomes picnicking and fishing. The park is open seven days from 8am to dusk all year. From May to September, parking fees apply on Fridays, Saturdays, and Sundays ($5 with a county park pass; $10 without). Leashed pets are welcome.
Choose from three hiking trails at the Russel Wright Design Center, the easiest being the .75-mile Wickopee Trail Loop, which includes the Log Bridge stream crossing. All trails move in one direction. The preserve is open daily during daylight hours. Pets are not allowed, but picnicking is. Suggested donation: $5
About an hour and a half north of central Westchester in lovely New Paltz, this beautiful preserve in the Shawangunk Mountains offers a variety of trails, a stunning waterfall, and a pristine lake with a beach for swimming. Many trails are easy for the kids, and there are wide open spaces for picnicking and playing ball. Sportier types can look into snowshoeing, rock climbing, bouldering, and more. The park is open 9am-7pm daily. A $10 vehicle entry fee is charged. Leashed dogs are welcome with restrictions in certain areas.
Taconic State Park offers numerous options for exploration, including the Harlem Valley Rail Trail and the Copake Iron Works Museum. Of note is Bash Bish Falls—​just over the border in Massachusetts—the sights and sounds of which are a reward for your trek. Open daily from sunrise to sunset. $7 vehicle entry fee into Taconic State Park. Dogs are permitted with restrictions.
RELATED: Best Bike Paths for Family Cycling in Westchester
This lesser-known haven for hikers straddles Larchmont and New Rochelle on 60 acres that include the Sheldrake Lake and Goodliffe Pond, in addition to forested trails. Keep an eye out for ducks, turtles, dragonflies, hawks, and cormorants on the pond, and tiptoe over to the frog pond to see if there's anyone perched atop the lily pads. Pop into the bird blind, a stone shelter intended to facilitate observation of birds without scaring them off; kids might imagine this to be a fort or clubhouse.
With so much to do at Bear Mountain, it's hard to go wrong with this destination. For an easy walk with a stroller or a toddler, take the paved trail around Hessian Lake and enjoy the scenery, especially lovely in autumn. More moderate and difficult hiking is also accessible; the Appalachian Trail passes through. At the peak, the Perkins Memorial Tower relates the history of the park and surrounding region through beautiful tile mosaics. Augment your hiking expedition with a visit to the playground, the amazing Trailside Museums & Zoo, a stop inside the Bear Mountain Lodge, and a ride on the antique merry-go-round, an absolute must-do for children of any age. If you're visiting in summer, take a row- or pedal-boat out on Hessian Lake. From October to March, there's an outdoor ice-skating rink and great sledding.
Highlights of this lovely state park include a beautiful pond and sheep meadow where you'll see livestock relaxing on the hillside. Formerly the grounds of the Rockefeller estate, the trails are crushed stone carriage roads, remnants of that era. Sites include the Pocantico River, Swan Lake, stone bridges, colonial stone walls, and streams. The trail map helps illustrate the span of this natural haven. Leashed dogs are welcome. Open year-round from 7am till sunset. Expect a $6 seasonal vehicle fee.
Photo credit: MommyPoppins.com
This post was originally published in 2013 and has been updated for 2020.