Day Trip Guide: Top 10 Things to Do at Bear Mountain State Park
Now that school's almost out and schedules are a little looser, it's a great time to explore with the kids. There's no shortage of day trips to take in the Hudson Valley, and we know it's hard narrowing down a spot that keeps every family member happy. Nestled against the Hudson River and featuring something for kids of all ages, Bear Mountain State Park in Rockland County is one place our family has returned to each year.
With hiking, paddleboat rentals, a large playground, ample room for picnicking and even a zoo, the park has plenty of options to fill an entire day. Our summer readers will be especially happy to learn the swimming pool opens for the 2017 season on Saturday, June 17. We recently visited the park and have what you need to know about this year-round destination, including our top 10 favorite things to do.
Looking for more things to do in and around the Hudson Valley? Consult our Event Calendar and follow us on Facebook.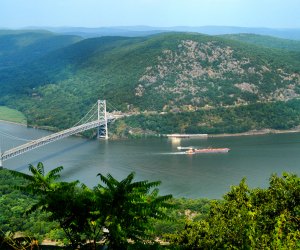 Bear Mountain has breathtaking views. Photo courtesy of New York State Office of Parks, Recreation and Historic Preservation
1. Visit the Trailside Museums and Zoo. When you compare it with that big zoo in the Bronx, the Trailside Zoo can be admittedly a wee bit underwhelming. All of the New York-native creatures have been injured or orphaned, and aren't fit to return. (One member of our family has given it the unfortunate nickname of the "Roadkill Zoo.")
But if you leave those Bronx Zoo expectation at home, the Trailside Zoo is an extremely manageable and cute little zoo. The main stars of the show are the bears in their den, but you'll also have the chance to see eagles, foxes, coyotes and beavers. There are also several museum buildings; the Herpetology House has a decent array of reptiles, amphibians and fish, and the Geology Museum features a particularly cool geode display involving a black light that wowed my 6-year-old. Bring the kids to the History Museum building for an education of the local area.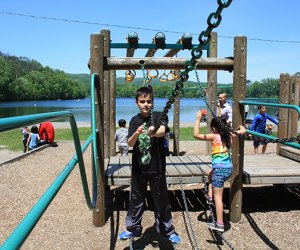 The playground at Bear Mountain is great for a range of ages. Photo by the author.
2. Have a picnic. There is plenty of lush green grass for picnicking at Bear Mountain, and there's ample space for running around and playing Frisbee. You'll often find large groups congregating next to Hessian Lake, which is also where the large playground is located. The playground has a range of climbing activities that are fun for both preschoolers and tweens.
If that area is too crowded, you can always park a blanket on the lawn adjacent to the parking lot. There are also a few prime benches near the Hudson River that offer amazing views of the Bear Mountain Bridge—follow the signs for "Scenic Views and the Trail to Fort Montgomery" from the zoo.
3. Walk across the Bear Mountain Bridge. Don't forget the binoculars for some stunning views of the Hudson River. The pedestrian lanes are guarded by very high gates, so it's safe even for little ones. The lanes are wide enough for two people to walk side-by-side and should fit most strollers.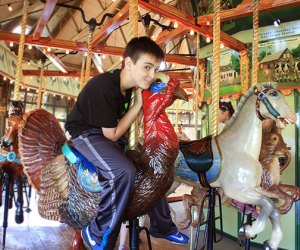 Take a spin on a turkey or other animal native to the area. Photo by the author.
4. Take a spin on the merry-go-round. Why ride a horse when you can ride a skunk? The indoor carousel at Bear Mountain houses 42 hand-carved replicas of native animals, including bears, wild turkeys, foxes, rabbits and much more. Rides are a $1 per person, and children under 42 inches must be accompanied by an adult. Take note that it's open Wednesdays through Sundays during the summer, and only on weekends and holidays the rest of the year.
5. Rent paddleboats. While there's no swimming permitted in Hessian Lake, you can rent paddleboats for $10 per person per hour. (Each boat must have at least one person who is 16 or older.)
6. Go ice skating. During the winter, the Bear Mountain Ice Rink holds public skating sessions several days a week. Bring your own skates or rent from the shop. Kid sizes are available, but only figure skates.
7. Have Sunday brunch at Restaurant 1915 at the Bear Mountain Inn. Looking for something a little more casual? There's the Hiker's Café on the ground floor of the Inn offering a wide variety of sandwiches, burgers and pizza, and you can also find a small snack stand inside the carousel building. Check out the large gift shop next to the Hiker's Cafe, which has a wide variety of apparel, tsotchkes, snacks and camping toys.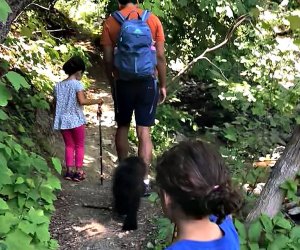 8. Go for a hike. In addition to a 6-mile span of the Appalachian Trail in the park, there's numerous hiking and bike trails for all skill levels, as well as cross-country skiing in the winter.
9. Visit the docks. While not necessarily a safe destination for little ones, the docks are another prime spot for spectacular Hudson River views. Bring your fishing poles and tackle.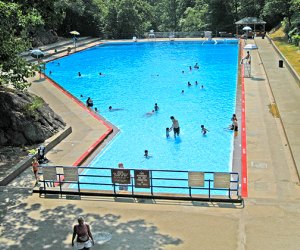 Take a dip in the pool. Photo courtesy of New York State Office of Parks, Recreation and Historic Preservation
10. Go swimming. The pool opens on weekends June 17 and is open seven days a week beginning June 24. The fee is $2 per person. The hours vary depending on when you visit.
What to Know Before You Go
The park is open from 8am through sunset. The zoo is open from 10am-4:30pm, but the bears and coyotes go off exhibit at 4pm.
Restrooms can be found in the zoo and near the Hiker's Cafe in the Bear Mountain Inn.
Parking costs $10 per car, and the suggested donation for the zoo is $1 per person.
Bear Mountain is a very popular destination for school field trips in June, so keep that in mind if you're planning a weekday visit.
Looking to extend your stay beyond a day trip? The Bear Mountain Inn is accepting reservations.
Top photo by vanessaaa.fx via Instagram.