Best Indoor Playgrounds and Play Spaces in Miami, Fort Lauderdale, & West Palm Beach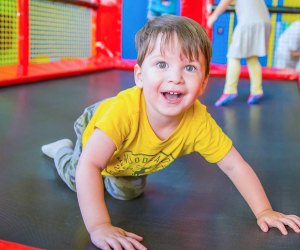 1/28/23
- By
Lindsey Scannell
Indoor play spaces are the answer for South Florida days that are raining, hot, or just because. The Miami area overflows with great places to visit, and outdoor family fun is everywhere you look, but when the word of the hour is air conditioning, these indoor playgrounds beat the heat for kids of all ages. Some of them even offer great solutions for birthday parties.
Read on for our recommendations for where to play indoors, when outdoors is not an option.
Subscribe to our newsletters to get stories like this delivered directly to your inbox.
Indoor Play Spaces around Miami
An indoor play space geared toward children under the age of 8, this play space features a large play structure with slides, ball pit, soft equipment, tunnels, and more. Don't forget your socks, as they are required in all play areas. Admission starts at $14.99 for one hour, or $18.99 for unlimited play.
For children up to 12 years of age, this play space offers a playground, soft-play, virtual reality motion station, arcade, PS4/Nintendo Switch Station, and entertaining fun games that encourage tons of fun and allow your child's imagination to take over. Marina Kids Park offers parents a "super fun drop" service that allows them to drop off their children so they can dine and enjoy the entertainment at CityPlace Doral while their children play. Admission starts at $15 per child.

Photo courtesy of Launch Trampoline Park
With a location in West Palm Beach as well, this indoor trampoline park has something for everyone. Attractions include a Ninja Fun Course, zipline, arcade with prizes, battle pit, launch pad trampolines, basketball, dodgeball, tumble tracks, and more. On Friday nights, a glow party is hosted for activities under black lights. Admission starts at $21 per person, and there is a toddler time on Sundays for children age 7 and younger.
With locations in Cutler Bay, Pompano Beach, Doral, and (coming soon!) Pembroke Pines, this trampoline park is fun for the whole family. With similar features at all locations, attractions include toddler zone, drop zone, ultimate dodgeball, foam zone, freestyle jump, and air court. General admission tickets start at $19 per person, and grip socks are required to jump.
Indoor Play Spaces In and Around Fort Lauderdale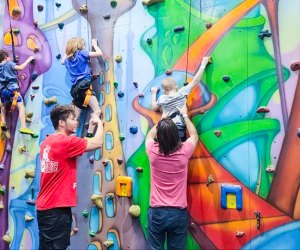 Photo courtesy of Flippo's Playground and Cafe
With locations in Fort Lauderdale, Hallandale, and Sunrise, this indoor playground is the perfect place for children of all ages. The indoor play spaces are seperated to keep kids safe. The toddler area is for kids age 3 years and under, and another indoor playground is for children 3 years to 14 years old. The facilities also have arcades, sports courts, lazer maze, and ball blaster. Safety is a big part of the experience, with 24/7 surveillance and monitoring, trained attentive staff, clean state-of-the-art structures, unique wristbands for secure entry and exit, and a secure modern play area. Admission starts at $11.99 per child.
With an inclusive philosophy, this indoor play place for children of all ability levels is one where everyone can grow together through play. The indoor play area has sensory equipment that is specifically designed to aid children with sensory processing disorders, though all ability levels benefit from the equipment while playing together and learning from each other. The gym includes a zip line, zip box with slide, crash pit, trampoline, tunnel, carpet swings, climbing structures, and more. Admission starts at $14 per child. Visit the website or Facebook page for hours and special programming information.

Photo courtesy of I Love Indoors
An air conditioned facility for children ages 0 to 6 years old, this play spaces offers parents the ability to play with their children on play structures and in imagination-inspiring themed play areas (supermarket, firehouse, restaurant, ball pit, etc.), or relax in the parent lounge. Children are able to learn through hands-on discovery, role playing, physical activity, and parent/child interaction. In the parents lounge, parents can work on their computers or phones, or talk to other grown-ups while watching their children explore. Admission starts at $15 per child.
With locations in Miami (Kendall- please check facebook for re-opening after renovations), Davie, and Coconut Creek, Off the Wall is the perfect indoor play area for kids of all ages. Each location has similar activities such as open jump, dodge ball, arcade with prizes, joust, virtual reality, trampolines, and more. Food and beverages are available for purchase and televisions with sports games play most of the time. Admission varies based on chosen activities. For jumping, skid resistant socks are required.

Photo courtesy of X-treme Action Park
This huge indoor play space offers so many activities kids can play all day without ever feeling like they are done. The fun includes bowling, an arcade with prizes, roller rink, rock climbing, go karts, trampolines, an escape room, virtual reality, mini golf, ropes course, and a restaurant. Pricing for individual activities starts at $12 per person.
A safe and fun open play, indoor playspace for kids ages 0 to 6 years of age, this play place specializes in active, imaginary play by offering a simulated traditional city main street complete with furniture, toys, and costumes. The space stimulates kids' imaginations, encouraging problem solving and allowing them to refine their social skills. Playtown Museum provides an educational experience where children and caregivers can engage with a variety of features and activities with a focus on the pretend play, in addition to a slide and toddler area. Admission starts at $12 per child.
Indoor Play Spaces around West Palm Beach

Photo courtesy of La-La Land
This indoor playground is 15,000 square feet and has a three-level indoor play structure, covering 5,600 square feet with colorful tubes, slides, climbing structures, obstacle course, and ramps. The many activities for kids include a giant, four-person wave slide, a foam ball fountain, two foam ball dumping baskets, rainbow bridges, pyramid obstacles, web net bridges, two automatic foam ball loading machines, donut slides, ninja course, rope course, and rock climbing wall. Parents have a special seating area where they can watch their children play while enjoying snacks and drinks. There is also a soft, contained play area that caters to toddlers with stairs, ramps, and toys. Socks are required in all play spaces. Admission starts at $15 per person with other activity add-ons.
With locations in Miami, Wellington, Pembroke Pines, Plantation, Coral Springs, and Boynton Beach this indoor play space is one for all ages, including adults. From a toddler zone to a leap of faith area there is something for everyone. The parks have wipeout, tumble zone, runway, sky rider, virtual reality, rock walls, performance and apex trampolines, dodgeball, and basketball as well as many other challenges to suit any interest. All day tickets start at $15.99 and socks are $3.49.
Kids can explore a role-play town including dress-up costumes, a fresh market/grocery store, gas station, firehouse, diner, hair salon, and more—all perfect for children ages 8 and under. This indoor play space also has a tot spot designed for crawlers and early walkers. Open play starts at $25 per child for the week.
Defy - Palm Springs
Defy is an extreme action park for kids who want to have as much air time as possible. Activities include wall tramp, basketball, zip line, battle beams, high end air tramp, extreme dodge ball, kid jumps, ninja course, and aerial silks—to satisfy the need for extreme in anyone. Tickets start at $18.99 per child, varying based on day and age.