All Aboard South Florida's New Train: Riding the Brightline to Miami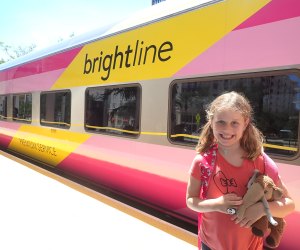 11/6/22
- By
Jackie Jones
No traffic, comfy seats, and an element of adventurous fun—these are all reasons why my family has fallen in love with the Brightline train, the high-speed rail service that connects West Palm Beach to Miami (with a stop in Fort Lauderdale). Anyone who lives in South Florida can tell you that the roads between these cities get congested, especially on a Friday afternoon. The Brightline presents another option for travelers. For kids and their parents, it also means an experience they're unlikely to forget.
So what exactly can you expect aboard the Brightline? And when does this South Florida train service expand to other cities in Florida? Read on for all of the details, including a special Miami Polar Express Christmas Train. And to find out about more of our favorite train rides in Florida, check out our 10 favorite scenic train rides in Florida.

Where does the Brightline Train Go in Florida?
Currently, the Brightline Train travels between West Palm Beach, Fort Lauderdale, and Miami. Two additional station openings are imminent along this route: Boca Raton in late 2022 and Aventura in 2023.
When does the train arrive in Orlando? A connection continuing to the South Terminal of Orlando International Airport is underway, with plans to open in 2023. Despite early reports otherwise, there are no plans for a Brightline station at Disney World. A station is already under construction in Tampa, though, as the next planned expansion beyond Orlando.
What are the Brightline Train Stations Like?
Perhaps because I have been to train stations in other large cities, I was not prepared for how clean the Brightline train stations are in both West Palm Beach and Miami. Seriously, I am impressed. With bright colors and modern interiors, these stations look to be the future of rail travel. Parking at the West Palm Beach garage was pretty seamless, too (FYI: it costs $5 a day if you book online, or $15 a day if you pay on-site).
After being greeted by friendly staff members who even offered my kids activity books and juice boxes, we checked in and went through security, which was a breeze at both stations. The waiting areas have comfy chairs and outlets, plus fun touches like artwork by locals. Hungry? All three train stations have a market where travelers can buy snacks and drinks, as well as a restaurant and bar called Mary Mary. Miami's Central Station also features a juice bar in its lobby. I am not sure my kids noticed any of these details, though; they were much more concerned with the ride ahead!
The On-Board Experience from West Palm to Miami
Like airline reservations, tickets for the Brightline vary depending on when you travel. Typically, prices range from $10 to $30 each way, and Brightline regularly runs promotions. Our family opted to ride Premium on our train down to Miami (which is basically first class) and Smart on the ride home to West Palm (which is basically coach). The upgrade cost us $37 more per person, which didn't seem outlandish, so we decided to splurge. If this is in your family's budget, I recommend it. Not only did we have access to a lounge with free, high-quality snacks, salads, and coffee before departure, but the food and drinks were complimentary on-board the train as well (including cocktails.) Premium travelers also get a larger seat and a free Tesla ride to anywhere within 5 miles of their arrival station!
Still, Smart class is nothing to scoff at. We were quite comfortable riding coach, where travelers still get leather seats and onboard WiFi. We booked seats with a table so we could play card games and travel bingo while looking out the window. And while the trip is not scenic 100% of the time (expect to see some graffiti), there is plenty of beauty to take in, from majestic Florida palm trees to the impressive skyscrapers of Miami. My daughters found the experience to be so relaxing. Plus, these new trains move at speeds around 80 miles per hour, so a trip from West Palm to Miami takes about 70 minutes, versus the typical 90 minutes or more traveling by car. Delays do happen of course; because of a car accident on the tracks, our trip to Miami was delayed by about 30 minutes. Fellow passengers told us this was a rare occurrence, and Brightline reps responded by giving us a voucher for a complimentary train ride in the future.

In December, trains from Miami head straight to the North Pole! ​Photo courtesy of Brightline
Miami's Polar Express Christmas Train
If you're looking for something festive to do this holiday season, consider donning the Christmas PJs and taking the Brightline's Polar Express out of MiamiCental Station. This special Christmas train on the Brightline is a one-hour journey to meet Santa Claus and enjoy hot chocolate and treats along the way. Passengers get to relive the magic of the classic story on a ride that features dancing chefs, singing conductors, a read-along with the classic children's book, and a Christmas gift for kids. Multiple journeys per day are offered throughout December.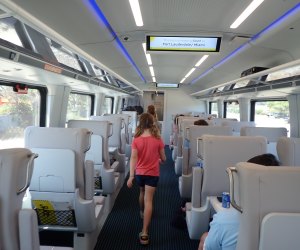 Luggage, Pets, Special Deals, and Airport Connections
Brightline riders are allowed to carry on two pieces of luggage free of charge, as long as each piece is under 40 pounds. Guests can pay to check heavier bags, too. Traveling with pets? Dogs and cats are allowed on the train as long as they are leashed or crated. And if you are concerned about noise for your little one, rest assured that Brightline locomotives have diesel-electric engines, so sound is reduced (as well as emissions).
Airport connections in each of the cities are a breeze: free shuttles leave for the nearby airport from the Brightline station in West Palm, Fort Lauderdale, or Miami 10 minutes after the train arrives. These shuttles are first come, first served; to remove all worry, you can either buy a Premium ticket with the free Tesla ride, or add on a $5 shared, reserved airport ride when booking your ticket.
While most of the travelers on our trip were commuters heading to the Fort Lauderdale airport, the Brightline often runs promotions specifically for families. This fall, kids age 12 and under can ride for half off with the purchase of an adult ticket. Toddlers age two and under are always free while riding on a parent's lap.
All photos are by the author unless otherwise noted.