30 Things To Do in the Florida Keys with Kids (Besides Key West )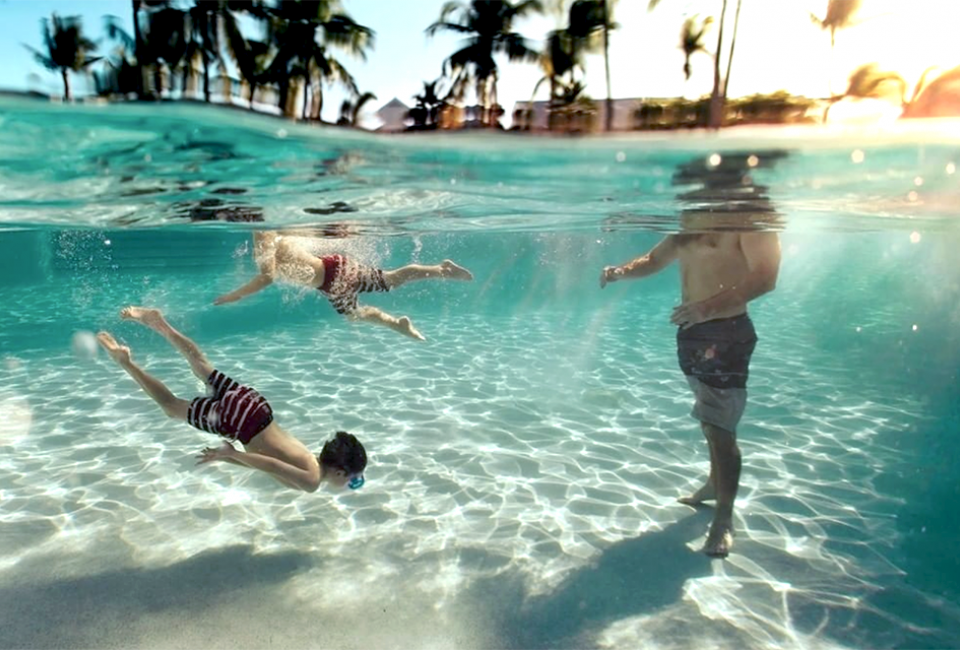 10/16/21
- By
James Smith
While Key West attracts most of the attention, parents don't have to make the 150-mile, traffic-strewn journey to the southernmost of the Keys to introduce their kids to the magic of this extended chain of islands. There are almost too many things to do in the Florida Keys with kids, beginning with Key Largo just 90 minutes south of Miami and continuing through Islamorada and all the way to Sugarloaf Key, in the Lower Keys.
So read on for the best things to do in the Florida Keys with kids north of Key West—including the top Florida Keys resorts and Florida Keys Hotels for families and the best Florida Keys restaurants—and use the driving time you save to pack in another adventure before you (sadly) have to depart.
For the uninitiated, the Florida Keys are a 125-mile stretch of islands that extend to the south and west from the tip of Florida, in Homestead. Of the 800-plus islands, only 30 are populated.
The Keys are divided by geographic region. The Upper Keys extend from Key Largo south to Marathon, where the Middle Keys begin. Continuing past Marathon, the Lower Keys begin at Seven Mile Bridge and end at Key West.
Most visitors use a traditional South Florida airport such as Miami or Fort Lauderdale and drive south along US 1, the only access road through the Keys. You can, however, fly into Key West from select destinations and begin your journey from the south.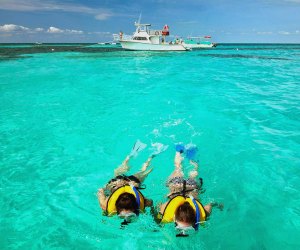 The water at John Pennekamp Coral Reef State Park is so bright it doesn't look real. Photo courtesy of the park
Things To Do in Key Largo with Kids
Begin your journey from the north at the Florida Keys Visitor Center in Key Largo, site of some famous Hollywood epics. There, you can plan an itinerary that includes water sports, beaches, tours, and other attractions. Staff are eager to help.
Key Largo calls itself the "diving capital of the world," and why not? John Pennekamp Coral Reef State Park, the first undersea park in the United States, offers a colorful introduction to aquatic life. Dive, snorkel, kayak, or, if the kids are too young, take a glass-bottom boat excursion. If none of those are appropriate, visit the theater and mini aquarium to see ocean life up close.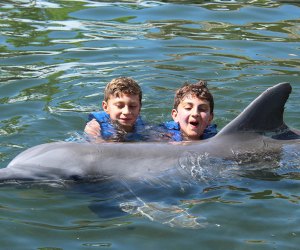 Dolphin Plus Marine Mammal Responder is a dolphin rescue center. Photo courtesy of the company
The Dolphin Plus Marine Mammal Responder is one of the top dolphin rescue and rehabilitation centers in the nation. But chances are your kids will be more interested in its swim-with-the-dolphins program. It's not cheap—little is in the Keys—but for a once-in-a-lifetime opportunity, few things top a ride with these gentle creatures.

Meet fabulous winged creatures at the Florida Keys Wild Bird Center. Photo courtesy of the center
If your kids prefer their nature interactions on dry land, don't miss the Florida Keys Wild Bird Center, a few miles south in Tavernier. Visit the pelicans, owls, parrots, hawks, herons, and more that call the Keys home. Hint: There is a boardwalk here that offers spectacular sunset views.

Cruisin Tikis Key Largo has actual tiki boats. Photo courtesy of the cruise

If you want to do something completely kitschy— and who doesn't in the Keys?—consider a tiki boat excursion from Key Largo. These are, in fact, engine-powered tiki huts that sail across Florida Bay. Boats sail all day, and the sunset cruise is especially breathtaking. Most sails allow guests the option to swim, snorkel, or dive.
6. Try a Water Sport
What are the Keys if not a shoutout to water activity? It's impossible to list the number of snorkeling, diving, kayaking, and paddle boarding venues from Key Largo to Sugarloaf Key, but a simple Google search will turn up plenty. Call to make sure the excursion you prefer is age-appropriate.

Kids learn to sail at the Mark Sorensen Youth Sailing Program. Photo courtesy of the program
7. Learn To Sail
If your kids have never sailed before, they will benefit from the volume of instructors who call the Keys home. Youth sailing programs abound in the Keys, where the gentle breezes of Florida Bay provide an ideal learning environment. There are youth sailing camps from Key Largo all the way to Big Pine Key.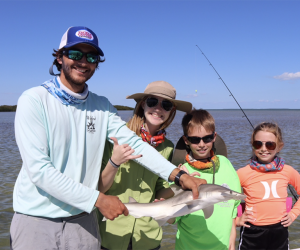 And they learn to fish at Florida Keys Fun Fishing. Photo courtesy of the company
Things To Do in Islamorada with Kids
Islamorada, Spanish for "Purple Island," is about 20 minutes south of Key Largo. It is considered the sports fishing capital of the Keys, and kids can enjoy that and plenty more.
8. Go Fishing
Islamorada Family Fishing offers kids an opportunity to catch snappers, mackerel, catfish, sea trout, and more. Take off in one of the company's bay boats for a half day and learn about the Keys' aquaculture and maybe catch dinner. There are plenty of places in the Keys that will clean and cook what you catch, by the way.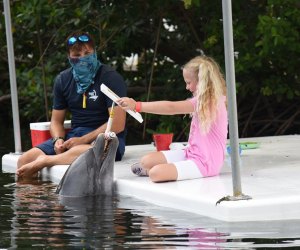 Animals are the stars at Theater of the Sea. Photo courtesy of the theater
Theater of the Sea is one of Islamorada's top family attractions. Meet the sharks, sea lions, dolphins, and alligators that call the region home. Dolphins, sea lions, and parrots all star in their choreographed performances, and kids can swim with the dolphins, too.
This offshore island is accessible only by kayak, which by itself is kind of cool. You can rent a kayak at one of several Islamorada marinas and paddle the half-mile to the island. While there, swim, hike, fish, or try bird spotting within the park's 11 acres.
This lighthouse sits three miles off the Islamorada coast, and while it lacks the rustic charm of a New England lighthouse, its reef location is ideal for kids eager to view lobsters, parrotfish, barracuda, and more; not to mention the wreck of the USS Alligator. Snorkeling trips depart daily from Islamorada marinas.
12. See Fossils
Windley Key Fossil Reef Geological State Park offers something for vacationers eager for a break from water activities. Fossilized coral and other ancient marine life are preserved among the limestone and rocks of the park's 1.2 miles of trails.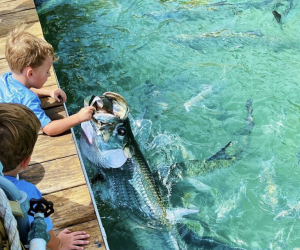 Feed the tarpon at Robbie's Marina. Photo courtesy of the Marina
13. Feed the Tarpon
Robbie's Marina in Islamorada is a bit more than boats and beer. At this Islamorada institution, visitors can eat, shop, charter a boat, and feed the resident fish. But this is no koi pond and the tarpon are not goldfish. The tarpon are, in fact, five to eight feet long and 80 to 150 pounds and swim in water only a few feet deep. A bag of food is about $3 and tarpon will eat right out of a child's hand.
14. Hit the Beach
The must-do-everything vibe on a Keys vacation needs to give way occasionally to some relaxation. Anne's Beach in Islamorada, devastated by Hurricane Irma in 2019, has reopened with all its traditional charm. The water is shallow for swimming, but the easy current and light waves makes it ideal for little waders. And then there are those sunsets…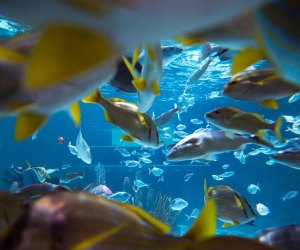 Aquarium Encounters has a huge variety of marine species to feed. Photo courtesy of the aquarium
Things To Do in Marathon with Kids
Marathon and the signature Seven Mile Bridge offer some of the most iconic Keys scenery, and there are plenty of great things to do with kids.
Sure, you didn't travel all the way to the Keys for a slow ride across a bridge. But this overseas thoroughfare—it really is about seven miles long—offers panoramic views of the Atlantic Ocean to the east and the Gulf of Mexico to the west. Park and take a bike across some portions, or walk if you and the kids are feeling ambitious.
Florida Keys Aquarium Encounters is an immersive (sorry, couldn't resist) aquarium experience that allows guests to interact with marine life. Enjoy in-water coral reef, stingray, and even shark experiences. For those less daring, a traditional aquarium experience is available.
17. Relax at the Beach (again)
Sombrero Beach in Marathon is a white-sand Atlantic Ocean paradise where families can fish, barbecue, swim, play volleyball, and more. It's the perfect respite for visitors worn out after sightseeing, and it's handicapped-accessible.
18. Save a Turtle
If you are sensing a pattern, you're correct. The Keys are all about wildlife rescue and prevention, right down to the reef-preserving sunscreen. The Turtle Hospital is a small, nonprofit rehab center where kids can help save some of the Keys' most essential sea turtle species.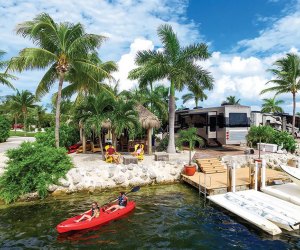 Try beach camping at Bahia Honda State Park. Photo courtesy of Visit Florida
Things To Do in the Lower Keys with Kids
Key West is the "capital" of the Lower Keys, but we said we weren't going there this trip. Here are a couple of nearby attractions for kids.
19. Experience Beach Camping
Bahia Honda State Park in Big Pine Key is known for balmy sea breezes, year-round kayaking and snorkeling, and beachfront camping. Campsites and rental cabins offer overnight adventures. Also enjoy hiking and ranger-led activities.
20. Build a Sand Castle
The sand at Bahia Honda State Park is ideal for sand-castle construction. Pick a spot on the Atlantic or Gulf side, bring a bucket, and have at it. Just don't forget to pause for the sunset.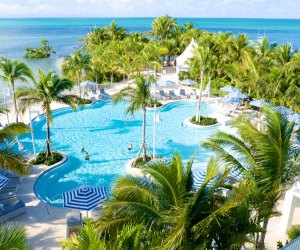 Isla Bella means beautiful island, and it sure is! Photo courtesy of the resort
Florida Keys Resorts and Florida Keys Hotels for Families
There are countless places to stay with kids in the Florida Keys. Here are a few of our favorites.
With a mile of waterfront over 24 tropical acres in the shadow of Seven Mile Bridge, what's not to like about Isla Bella? Enjoy daily and seasonal activities, water sports, and plenty more.
This resort is really a series of townhomes that each face the water. For kids, that means plenty of room to swim and lounge in the sand.
This established resort is set among 27 beachfront acres with a private fishing pier and free rental kayaks. There are loads of activities, a game room, and even an eight-hole golf course on site.
Amenities at this 17-acre resort include a private beachfront, a large pool, and plenty of water sports. It's also located near John Pennekamp Coral Reef State Park, so there's plenty for kids to do.

Hawks Cay Resort has a fabulous pirate-themed pool and splash pad. Photo courtesy of the resort
Water activities at this resort are centered around a pirate-themed splash pad and saltwater lagoon where guests can interact with dolphins and sea turtles. There are also loads of activities for kids, including a kids club, a game room, a playground, and more.

Blond Giraffe Key Lime Pie is the stuff of legend. Photo courtesy of the restaurant
Florida Keys Restaurants Kids Love
There are so many great restaurants in the Florida Keys, it's impossible to list them all. Seafood dominates, but a good burger or pizza is never far away.
26. Marina Bites
If you prefer to eat outdoors on the water, try Robbie's Marina in Islamorada or Snook's or Snappers in Key Largo. Castaway has been a Marathon institution since the 1950s.
27. Pizza Joints
Enrico's in Tavernier serves up New York-style pizza. The Stone Oven Pizzeria in Islamorada features a host of specialty pies and more. Upper Crust Pizza in Key Largo is popular among locals.
28. Burgers, Etc.
Almost every marina restaurant has a burger option, but here are a few more of our favorites: M.E.A.T. Eatery and Taproom in Islamorada, Burdines Waterfront in Marathon, and Big Pine Rooster in Big Pine.
29. How About a Beer?
There are two delightful breweries in the Upper Keys for moms and dads who crave a craft beverage. Try Islamorada Beer Company's Sandbar Sunday or Channel Marker IPA, or the honey-infused Iguana Bait or Sun Session IPA from Florida Keys Brewing Company in Islamorada. Both breweries welcome kids!
30. Did You Say Pie?
Chicago might boast of deep-dish pizza; Philadelphia has cheesesteaks. In the Keys, the signature dish is Key Lime pie. It's sold by the slice, by the pie, or frozen on a stick as an ice cream alternative. Try the Key Lime Pie Lady in Islamorada, the Blond Giraffe in Tavernier, or the Green Turtle Inn in Islamorada.
Click Here to Sign Up!
i