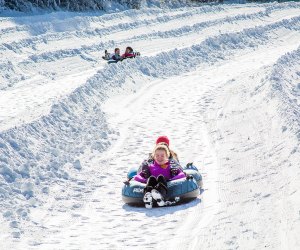 Snow Tubing Parks Near Boston
What's easier than skiing, more thrilling than sledding, and a wicked big deal here in Massachusetts? Snow tubing! At these snow tubing parks near Boston, kids (and adventurous parents) can launch down a well-groomed trail in a soft-sided innertube, maximizing comfort as well as giggle-inducing speed. For a low-stress, relatively low-cost family day that will earn you major points with the kiddos, check out one of these tubing parks, all within two hours of Boston.
For other ways to hit the slopes, check out our favorite Boston-area sledding hills, or these Northeast family ski resorts that are opening safely this season. Our Boston Winter Fun Guide has even more ideas for getting out and enjoy the fresh air with your family.
2020-21 update: Due to the fluctuating nature of COVID-19, businesses listed below could change their hours or policies at any time, so be sure to contact attractions and venues before heading out. If you are traveling to an activity outside of your state or local area, check if COVID cases are on the rise in the area, as well as any travel restrictions, advisories, or quarantine orders.
Tubing Parks in Massachusetts
Nashoba Valley's Snow Tubing Park—Westford
Luckily, an hour (or less) drive from Boston lands you in the largest tubing park in New England, with as many as 18 lanes available and more than 600 snow tubes on site. An easy tow-handle lift brings you to the top of the hill, where you can decide which lane you'd like to try. Don't worry about making a wrong decision. Tickets are good for two hours, so you and the kids can try them all. Note, only one person is allowed per tube. The tubing park has an on-site lodge with a snack bar where you can take a break and warm up.
Age/height requirements: 6 years or 42 inches tall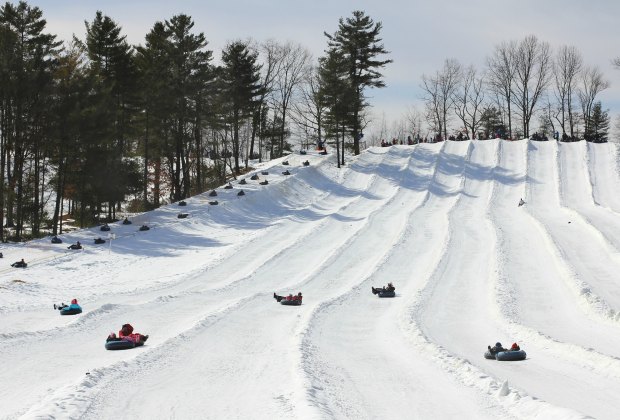 You'll find plenty of room to glide among the 18 lanes at Nashoba. Photo courtesy of Nashoba Valley Ski Area
Ski Ward—Shewsbury
With eight lanes, 200 tubes, and two lifts, snow tubing at Ski Ward in Shrewsbury is a blast. For an extra thrill—one that kids especially like—go at night. By the way, the end of winter doesn't mean the end of tubing. Ski Ward also offers summer tubing.
Age/height requirements: 6 years and 42 inches tall
Berkshire East—Charlemont
This tubing park isn't huge, with just three lanes, but the 450-foot runs are definitely a thrill. A magic carpet easily gets you up the hill, a major plus when pulling a tube. This mountain has a one person per tube policy, so prepare your kiddos in advance. And a visit to Berkshire East, which also features skiing and boarding in the wintertime, is supporting renewable energy: It's the only ski area in the world to generate 100% of its electricity from onsite renewable energy.
​Age/height requirements: 42 inches tall
Ski Butternut—Great Barrington
Offering up 200 tubes, 14 lanes, and a magic carpet to transport you to the top, this mountain is a full service operation. They even guarantee 100% snow-making coverage so that there is snow when your own backyard doesn't have it! Must be able to ride in a tube by yourself, only single tubes available.
​Age/height requirements: none
Tubing Parks in New Hampshire
McIntyre Ski Area—Manchester, NH
This hill just an hour from Boston is serious about tubing. A conveyor carpet easily ferries tubers up to the top of the hill, where there are 8 tubing lanes and plenty of grooming machines for a smooth ride, one person per tube only.
Age/height requirements: 5 years and 44 inches tall
Loon has regular tubing lanes and also a tots-only section. Photo courtesy of Loon Mountain
Pats Peak—Henniker, NH
So popular is tubing here in Henniker that sessions sometimes fill up, so make reservations ahead to hit the hill, which is 85 feet wide and 600 feet long. Or, go at 5pm on Saturday for no-reservations POP Tubing, when there's music and lights, too.
Age/height requirements: 5 years and 44 inches tall
Loon Mountain—Lincoln, NH
Part of the reason this is one of our favorite family ski mountains in New England is its tubing park, which is a great way to keep kids who are too young or not so excited about skiing or boarding entertained. A special feature here is a separate tot tubing area, where little ones can tube without worrying about big kids or teens crashing into them. Reservations are strongly recommended.
Age/height requirements: For big tubing hill: 8 years and 48 inches tall; tot tubing: anyone under 50 pounds (parental supervision required)
Originally published in January 2018