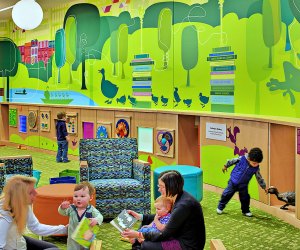 Best Free Indoor Play Places for Kids Around Boston
Free Places to Play in Boston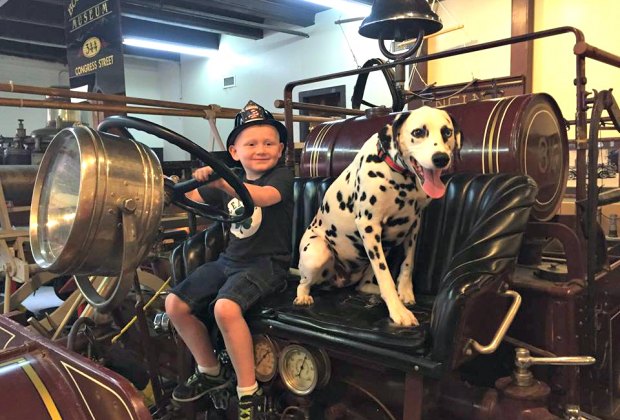 Kids are encouraged to climb aboard the engines and play pretend. Photo courtesy of the Boston Fire Museum
Boston Fire Museum—Boston
This gem of a museum accepts donations, but doesn't charge admission. If your child loves trucks or imaginary play, this is a fabulous spot for a Friday evening or Saturday visit—kids are welcome to climb aboard the engines on display, ring some bells, and pretend they're real-life firefighters, to their hearts' content.
Boston Public Market Kids' Nook—Boston
The cute little play area tucked away in the Boston Public Market features plush fruit and veggie toys, shopping carts, and other playthings that make little ones feel as if they, too, are doing some important shopping and food prep. Programs—like the New England Aquarium mobile touch tank—often stop by.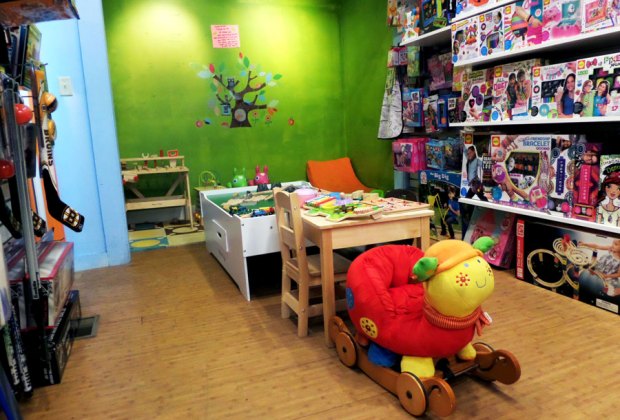 A toy store with toys to play with? Yes, please! Photo courtesy of Magic Beans
9. Magic Beans—Boston (and Brookline, Cambridge, Norwell, and Wellesley)
Know how you take kids to a toy store and they want to, you know, play with the toys? At Magic Beans, they can: Stores have a cordoned-off play area that's filled with favorite items straight from the shelves. The trick: getting them out of there when it's time to go home.
Children's Room at the Boston Public Library's Central Branch—Boston
Lots of libraries have a few wooden toys or blocks sprinkled about, but we recently wrote about some very special public libraries with legit play spaces where kids can really have fun. Since the second floor of the Johnson Building was renovated in 2015, the Central Library in Copley Square has become one of the greatest little-kid play areas in the city. The bright, colorful space has loads of soft, squishy toys, several interesting manipulatives, an array of puzzles and games built into the wall at kids' eye level, and lots of room to move.
BCYF Family Gym—Roslindale (winter 2020); spring and fall locations TBD
This free, weekly program which runs in the spring and fall is an awesome outlet for city families. Kids are invited to drop in and explore an array of colorful gym equipment (from soft foam climbing structures to parachutes) in gyms in various Boston different neighborhoods on Saturday mornings. Parents are encouraged to join in the fun, but there are also staffers on hand to help supervise kids.
Free Places to Play West of Boston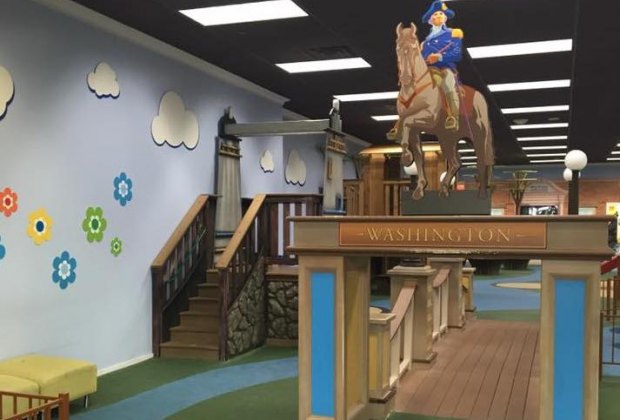 Boston-themed Beantown is a fave mall play space. Photo courtesy of Moms of Massachusetts
Beantown—Natick
Located on the second floor next to Wegman's in the Natick Mall, Beantown is helpful for parents who want to take a break from shopping (and for their kids who never wanted to shop in the first place). Kids ages 10 and under enjoy athe Boston-themed playspace, which features a "Green Monster" to climb, ducklings to ride on, and a big pirate ship. Hint: Weekends, especially around the holidays, can be a zoo, so consider doing your shopping—and playing—on a weekday.
Lego Store—Natick (and Burlington, Braintree, and Peabody)
For kids who are less inclined to climb than tinker, the Lego stores at the Natick, Burlington, North Shore, and South Shore malls are a great outlet between errands. Along with free-build stations that are always set up around the store, there are special activities and challenges every month. Every store has its own calendar describing these events, so be sure to check before you head to the mall.
Free Places to Play North of Boston
Northshore Mall Play Area—Peabody
Near Macy's—which is also where Santa parks around holiday time—the play area features imagination-building climbing structures that are especially great for littler ones. There's also a small "activity nook" with some manipulative wheels and mirrors for less rambunctious players.
Burlington Mall Children's Play Area–Burlington
There's a playhouse and a variety of climbing structures situated on a carpet made to look like a natural landscape—with rocks and logs and such—at this centrally located area in the mall, near the food court. Best of all, the entire, carpeted space is surrounded by comfortable benches, so it's easy to keep track of the kids while they play.
Free Places to Play South of Boston
South Shore Plaza Play Area—Braintree
Also located, helpfully, near the Food Court, where you can grab a bite to eat before or after playing, the South Shore Mall play area was constructred by the same company who designed the Burlington Mall Play Area (above), so it also features the same sturdy, colorful climbing structures, like planes and cars. Our kids have especially enjoyed climbing through the "log" tunnel (again and again and again).
Juju B's — North Attleboro
A local favorite with families, this gem of a store has thoughtful free programming for children as well as a sensory table and rug areas where children can explore. They regularly offer free craft activities, yoga classes and other programs ideal for toddlers, all with a chill vibe and a wonderful assortment of consigned toys and clothing. You'll find other local parents shopping and happy toddlers pushing one of the kid-sized shopping carts, or a preschooler reading book or pushing a car on a rug. A kid-friendly bathroom and easy parking top it off.